Full Board Meeting of Manhattan Community Board 4 (CB4)
Wednesday, January 4, 6:30pm via Zoom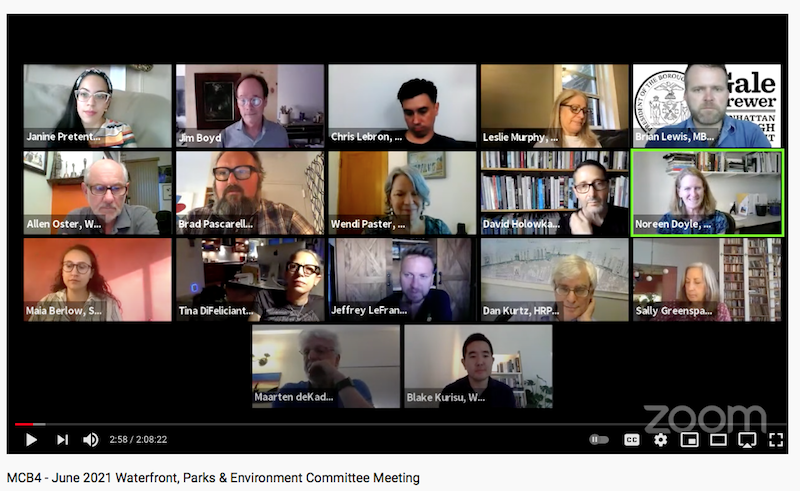 BY SCOTT STIFFLER | Curious about a noisy new construction project, an affordable housing lottery, or the bar whose alcohol-serving hours just changed? Don't wait until the deed is done to become informed. Attend the meetings of your local community board, where all of the abovementioned and more are up for discussion—and change—months (sometimes years!) before they get set in stone and make their way to the brick and mortar world.
Manhattan Community Board 4 (CB4) is the board for Chelsea matters, if that sort of thing matters to you (it should!). The 50-member board divides its work between eight committees dedicated to specific topics (including the Waterfront, Parks & Environment committee and the Business Licenses & Permits committee). A visit to one of these committees (they meet monthly) is the first step in the process for issues that come before the board. Letters of recommendation generated from committee meetings are discussed, debated, and voted on, on the first Wednesday of the month, when CB4's full membership meets—hence the catchy tittle, "Full Board Meeting."
Which brings us to the matter of Wednesday, January 4, 2023: The first Full Board Meeting of the new year—and for the civically engaged, it's going to be a humdinger, with letters coming before the full board on a number of matters the community has strong opinions about, having made those opinions known by participating in the very committee meetings responsible for generating the letters that wil be voted on, come January 4. (Letters, if approved or approved pending changes, are then sent out to their intended recipients, often a NYC Department, and cc'd to local electeds who have been involved in the issue.)
To access the Agenda as well as each letter the Board will be voting on, click here.
ITEMS OF NOTE ON THE AGENDA INCLUDE;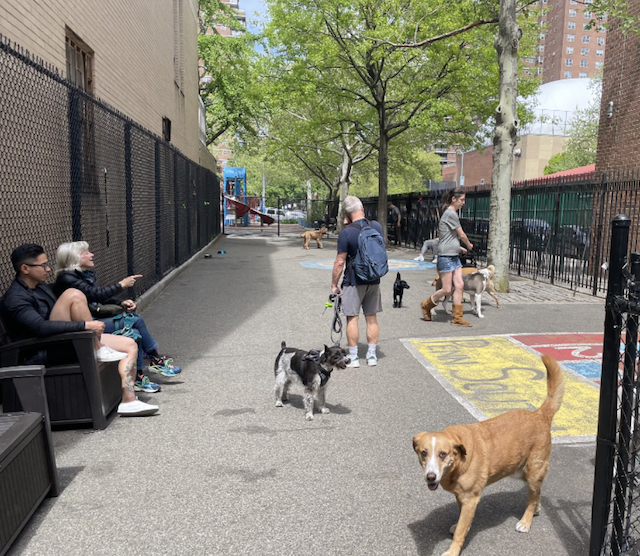 Waterfront, Parks & Environment Committee (WPE)
Item 07: Letter to Parks re Penn South Dog Run | When nearby dog runs were closed for repairs and upgrades, a "temporary" dog run was installed in the Penn South area–a deed done by the NYC Parks & Recreation Department without the proper amount of vetting CB4 would have preferred. Nonetheless, the Dog Run proved immensely popular with Penn South and other nearby residents. But they're not the only ones with a dog in the fight (so to speak; dog fighting is bad!). Opposition soon formed from those nearby who say the barking is a constant quality of life infraction during the Run's operating hours. CB4's Waterfront, Parks & Environment (WPE) Committee heard (and hardly for the first time) from supporters and detractors, at their December 8 committee meeting. Among the matters that were bones of contention: if the Penn South Run was understood to be temporary, until repairs on nearby Dog Runs were complete. That time has now come and gone, and as the committee discussion ran its course, content was determined for the letter CB4's full membership will vote on, come January 4. No spoilers here, folks, but you can view the entire December 8 WPE discussion by clicking here. It begins at the 03:20:55 point in time.
MORE DOG RUN MATTERS AT THE JANUARY 12, 2023 WPE MEETING | Apart from whatever letter the Full Board generates after discussing Item 07, the Dog Run has not had its day by a long shot. It's on the agenda of the Thursday, January 12 WPE committee. Held via Zoom, you can register to attend by clicking here. To attend by telephone, dial 646-518-9805 (Webinar ID: 935 1888 3814). The NYC Parks & Recreation Department is scheduled to make a presentation whose topic is described by CB4's January committee agenda roundup as, "Siting of Dog Run in Chelsea"–and that's what this issue comes down to: Location, location, location.
Transportation Planning Committee (TPC)
Item 11: Letter to MTA re 28th Street Substation Project Construction Update
Item 14: Letter to 22nd Street Open Street Representatives re 22nd Street Open Street Recommendations
Both of these agenda items elicited spirited–and substantial–public input, when the TPC had their December 21 meeting. To view it as an archieved offering on CB4's YouTube channel, click here.
For Agena Item 11, at issue is the MTA's proposed (and inevitable?) construction of an underground power station on West 28th Street. That puts it in very close proximity to some of Penn South's 10 residential towers. Construction noise and the relative danger or safety of a 24/7, power-generating presence in the neighborhood are among the points of discussion and debate.
On the matter of Agenda Item 14: A product of the pandemic era when there was less traffic and people needed nearby relief from sheltering in place, NYC's Open Streets program blocks most vehicular traffic from traversing a particular block during its hours of operation (as much as 8am-8pm in some cases). West 22nd Street, between Seventh and Eighth Aves., was an early adopter of the program. Now, with the COVID-related conditions that created it on the wane, the macro debate is whether or not Open Streets should exist at all. In the micro sense: Whether this particular patch of 22nd Street is a good match for the program.
To view the letters that apply to Agenda Items 11 and 14, click here.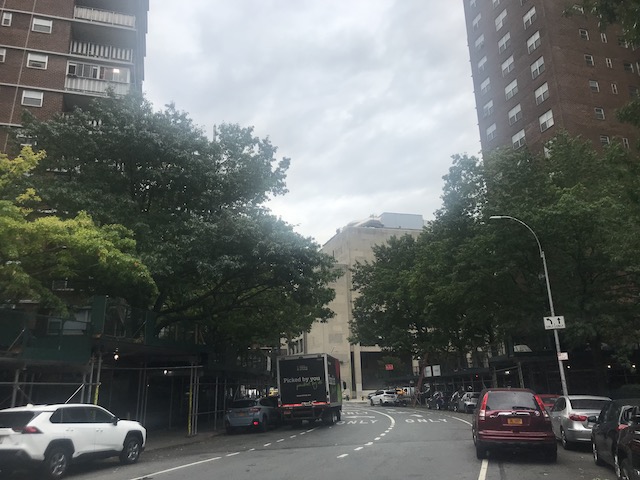 HOW TO SPEAK AT THE CB4 FULL BOARD MEETING | Do you have an opinion about anything mentioned above–or something else you'd like to put before the full board? Those who participate in the Public Session of January 4's meeting get two minutes of uninterrupted time to speak. Click here to sign up for a slot. Early sign-up to speak at the public session closes at 5pm on the day of the meeting. Those who do not sign up by 5pm can raise their virtual hands using the raise hand function through Zoom (*9 by phone) once the public session starts, with a 1-minute grace period.
In addition to the Public Session, January 4's meeting will also give the public the chance to weigh in on the building commonly known (these days, at least) as "Bayview"–as in, the former site of Bayview Women's Correctional Facility.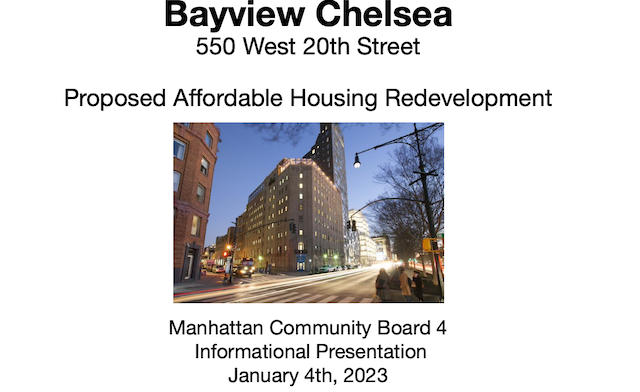 Flooded by Superstrm Sandy, the iconic structure at 550 West 20th Street  was originally a Seamen's YMCA. Still-standing terra cotta designs and other elements reference that history, and preserving that history while advancing the building's future as an Affordable Housing Redevelopment is addressed in the presentation CB4 will give prior to the public statements. To access that presentation click here. To find the proposal (a PDF titled "Bayview Chelsea CB4 Presentation"), click here. To sign up for comment on the matter, click here.  (This is only to participate in the Bayview discussion; the Public Session requires its own registration to speak.) Note: This public hearing is being conducted in advance of the RFP, or Request for Proposal, whose issuing will result in a developer being assigned to the project.
To attend the January 4 Full Board Meeting via Zoom, click here.
To view via CB4's YouTube channel (viewing only; no public participation), click here.
To attend by phone, dial 646-518-9805 (Webinar ID: 986 0945 5541).
To access the agenda and other background material, click here.
Chelsea Community News is an independent, hyperlocal news, arts, events, info, and opinion website made possible with the help of our awesome advertisers and the support of our readers. Our Promise: Never a paywall, no pop-up ads, all content is FREE. With that in mind, if circumstances allow, please consider taking part in our GoFundMe campaign (click here). To make a direct donation, give feedback, send a Letter to the Editor, or contact our founder/editor, send an email to Scott Stiffler, via scott@chelseacommunitynews.com.
To join our subscriber list, click here. It's a free service provding regular (weekly, at least) Enewsletters containing links to recently published content. Subscribers also will be sent email with "Sponsored Content" in the subject line. That means it's an exclusive message from one of our advertisers, whose support, like yours, allows us to offer all content free of charge.