In This Week's "THIS WEEK IN CHELSEA"
Manhattan Community Board 4's Full Board Meeting / Free Reading from Three Authors with New Works / Erik Bottcher's Monthly Housing Clinic / Winter Wonderland Photo Ops in the Meatpacking District / Two Art Exhibits at Hudson Guild Spaces / Basketball Clinic and Glow in the Dark Pickleball at the Chelsea Recreational Center
Full Board Meeting of Manhattan Community Board 4 (CB4): Wednesday, January 4, 6:30pm via Zoom| The fist full board meeting of 2023 starts with CB4's full membership reviewing letters generated by its 8 committees–for approval, or approval pending agreed-upon changes. There is the opportunity for public participation via signing up to speak prior to CB4's presentation on Bayview building. The Public Session also afforts you the opportunity to speak before the board on any topic, or topics, of your choosing. Click here for info on how to register and to find out more about Agenda Items that have generated sustantial participation by the public at prior CB4 meetings (the Penn South Dog Run; West 22nd Street's Open Street).
Free Reading from Three Writers with New Books: Friday, January 6, 7pm-8:30pm at Hudson Guild Elliott Center (441 W. 26th St. btw. 9th & 10th Aves.), Gural Room, first floor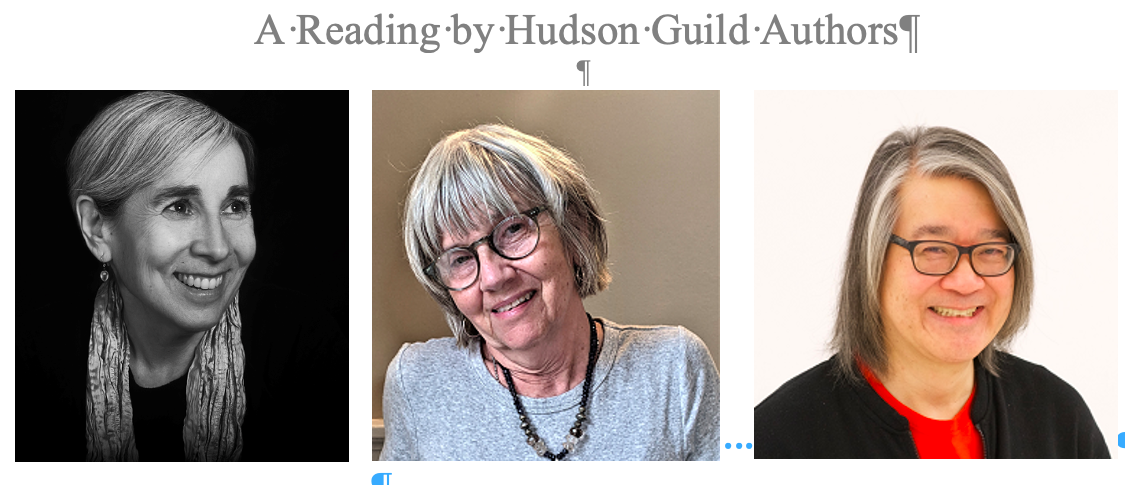 Michele Herman, Michelle Tokarczyk, and Alvin Eng will read from their works, followed by the trio serving as panelist participants, in a post-reading a discussion moderated by Jonathan Kuhn. Books will be available for purchasing and signing, and light refreshments will be served. Michele Herman, teacher at The Writers Studio and developmental editor, will read from her first novel, Save the Village. Michelle M. Tokarczyk, professor emerita of English at Goucher College, will read from her poetry book, Galapagos:Islas Encantadas. Alvin Eng, playwright/author, educator, and acoustic punk raconteur, will read from his memoir Our Laundry, Our Town: My Chinese American Life from Flushing to the Downtown Stage and Beyond.
NYC Council Member Erik Bottcher's Monthly Housing Clinic: Tuesday, January 10 | On the second Tuesday of every month, 4pm-6pm, Chelsea's 3 Council Member, Erik Bottcher, hosts this free clinic that pairs District 3 residents with an attorney-in-the-know, who will hear about your housing challenges and recommend actions to eliminate or mitigate the situation. To schedule an appointment, send an email to district3@council.nyc.gov.
A Winter Wonderland Photo Op in the Meatpacking District | As charismatic as they are geometric, the Snow People of the Meatpacking District are on display now and ready to pose with you for an only-in-New-York photo op that travels just as well across town as it does across the (snow?) globe. Click Here  for details on this interactive happening presented by Meatpacking (the Meatpacking Business Improvement District).
Happening at the Hudson Guild Galleries | This Is What Love Is, Paintings of Family, Friends and Lovers delivers on the promise of its title, in this exhibition of work by Joe M. Gilmore. On view through January 4, 2023 at Hudson Guild Gallery (Elliott Center, 441W. 26th St. btw. Ninth & 10th Aves.). Hours: Tues.-Fri. 10am-6pm, Sat. 12pm-3pm.
Currently at Guild Gallery II is Light Spills and Sprites. Carol Salmanson's wall-mounted sculptures showcase her skills with LEDs, reflective materials, and paint. The resulting layers of light and color foster a familiarity reminiscent of medieval stained glass windows and Byzantine mosaics. It's likely to stir emotions whether one moves through the exhibition conscious of its influences or not. On view through January 11, 2023 at Hudson Guild's Fulton Center (119 Ninth Ave. btw. W. 17th & 18th Sts.). Admission to both galleries is free. For more info, see the two flyers that accompany this writeup or click here to visit an applicable page on the Hudson Guild website.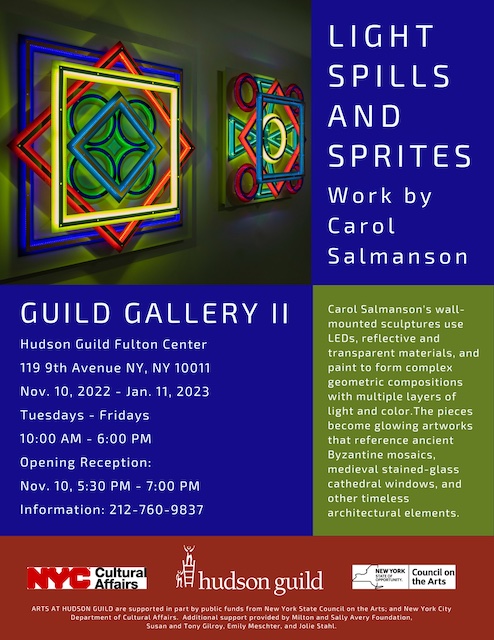 Basketball Clinic at the Chelsea Recreation Center (430 W. 25th St.) on Sunday, January 8, 3pm-5pm | For more info, see the below flyer and/or contact Ronald Lashley via email, at Ronald.Lashley@parks.nyc.gov.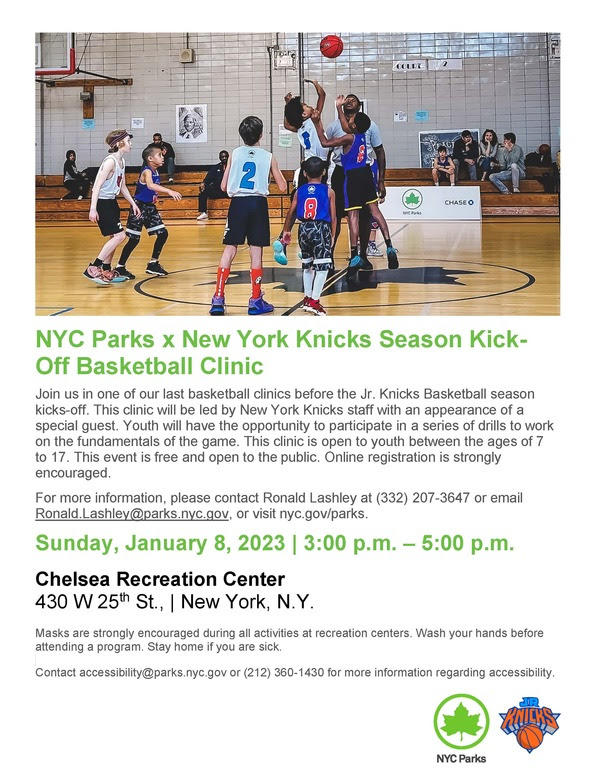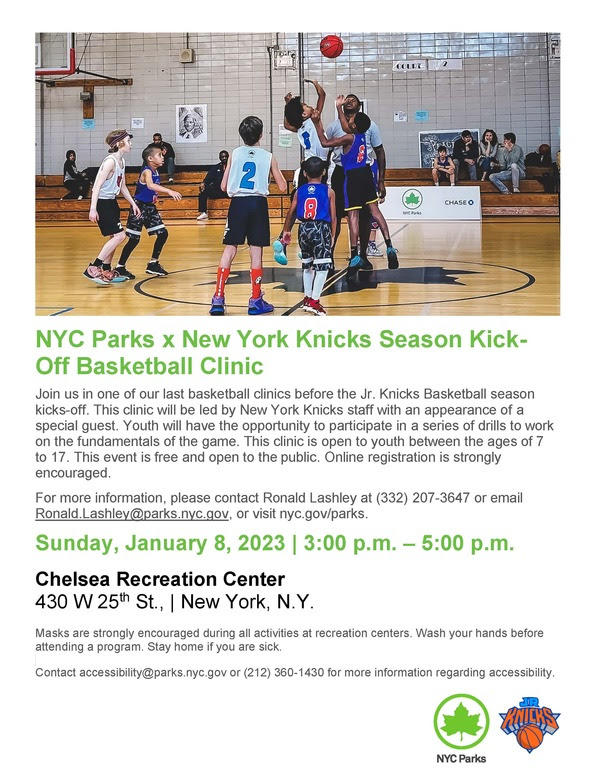 Glow in the Dark Pickleball at the Chelsea Recreation Center (430 W. 25th St.) on Friday, January 13, 5:30pm-7:30pm | For details, see the below flyer.
—Listings compiled by Scott Stiffler
Chelsea Community News is an independent, hyperlocal news, arts, events, info, and opinion website made possible with the help of our awesome advertisers and the support of our readers. Our Promise: Never a paywall, no pop-up ads, all content is FREE. With that in mind, if circumstances allow, please consider taking part in our GoFundMe campaign (click here). To make a direct donation, give feedback, send a Letter to the Editor, or contact our founder/editor, send an email to Scott Stiffler, via scott@chelseacommunitynews.com.
To join our subscriber list, click here. It's a free service provding regular (weekly, at least) Enewsletters containing links to recently published content. Subscribers also will be sent email with "Sponsored Content" in the subject line. That means it's an exclusive message from one of our advertisers, whose support, like yours, allows us to offer all content free of charge.