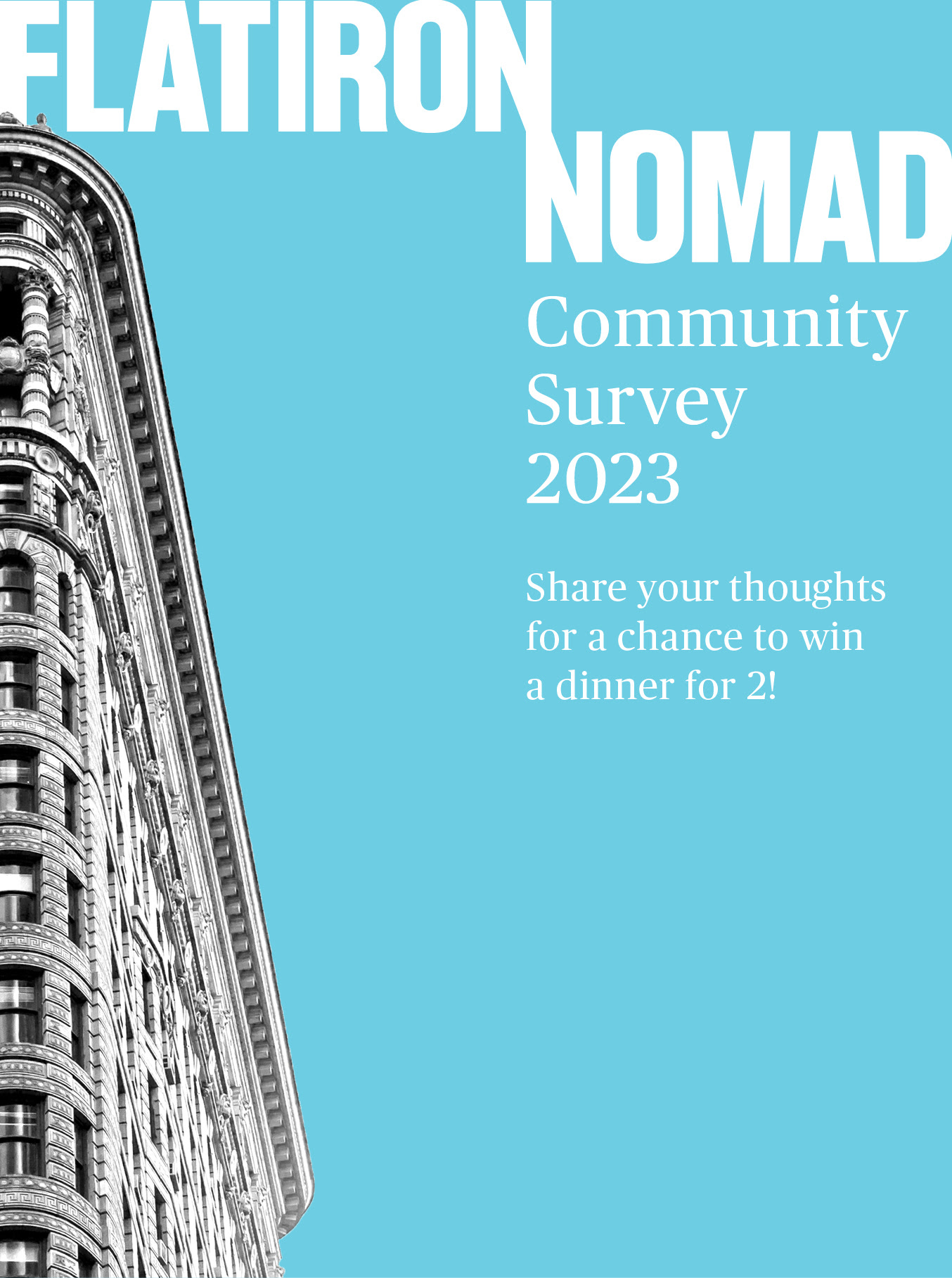 BY SCOTT STIFFLER | "You are what makes Flatiron & NoMad the heartbeat of NYC. We would love your thoughts," said organizers, in an early 2023 posting to the website of the Flatiron NoMad Partnership (click here to visit the site).
Noting that the Partnership's team is "ready to hit the ground running," they're asking the public to "take a few minutes to give us feedback on the neighborhood and the work that we do each day. Your responses help inform how we prioritize projects and can be most helpful for the community in the year to come."
Click here to participate in the survey.
Respondents will be entered to win a $100 gift card to Koloman, Zaytinya, Hawksmoor, or BLACKBARN.
The survey takes 10 minutes or under to complete (that's not a challenge, just an observation!). The survey include inquiries as to the participant's affiliation to Flatiron and NoMad (Live in the neighborhood? Work in an office building? A visitor/tourist from outside of NYC?) what type of businesses you frequent in Flatiron/NoMad, and what type of business and cultural attractions you'd like to see more of in the area.
Continuing its inquiries, the survey solicits your thoughts on whether the Flatiron/NoMad area has "adequate public seating and bike parking" and asks, "Which streetscape, beautification, and placemaking efforts would you like to see more of in Flatiron and NoMad? Other inquiries include participant assessments of the area's general level of cleanliness, perception of safety, and preference for additional street lighting. There is also the opportunity to advocate for more community events—with choices including outdoor fitness classes, live music and theatrical performances, and neighborhood networking events.
Chelsea Community News is an independent, hyperlocal news, arts, events, info, and opinion website made possible with the help of our awesome advertisers and the support of our readers. Our Promise: Never a paywall, no pop-up ads, all content is FREE. With that in mind, if circumstances allow, please consider taking part in our GoFundMe campaign (click here). To make a direct donation, give feedback, send a Letter to the Editor, or contact our founder/editor, send an email to Scott Stiffler, via scott@chelseacommunitynews.com.
To join our subscriber list, click here. It's a free service provding regular (weekly, at least) Enewsletters containing links to recently published content. Subscribers also will be sent email with "Sponsored Content" in the subject line. That means it's an exclusive message from one of our advertisers, whose support, like yours, allows us to offer all content free of charge.