In This Week's "THIS WEEK IN CHELSEA"
Erik Bottcher's Monthly Housing Clinic / What to Know About RSV Webinar / The Full Board Meeting of Manhattan Community Board 5 (CB5) / Committee Meetings of Manhattan Community Board 4 (CB4) Throughout January / Winter Wonderland Photo Ops in the Meatpacking District / Art at Hudson Guild  / Pickleball at the Chelsea Recreational Center
NYC Council Member Erik Bottcher's Monthly Housing Clinic: Tuesday, January 10 | On the second Tuesday of every month, 4pm-6pm, Chelsea's 3 Council Member, Erik Bottcher, hosts this free clinic that pairs District 3 residents with an attorney-in-the-know, who will hear about your housing challenges and recommend actions to eliminate or mitigate the situation. To schedule an appointment, send an email to district3@council.nyc.gov.
What to Know About RSV Webinar on Thursday, January 12, 6-7:30pm | As noted here by the Centers for Disease Control and Prevention, Respiratory Syncytial Virus (RSV) is a "common respiratory virus that usually causes mild, cold-like symptom" but can be serious, "especially for infants and older adults." This 90-minute webinar, presented by a gaggle of elected officials including NYS Senator Brad Hoylman (see flyer for details), brings together medical experts from Lenox Health Greenwich Village to educate you on RSV symptoms, transmission risks, and treatment. Register at bit.ly/hoylman or by emailing hoylman@nysenate.gov.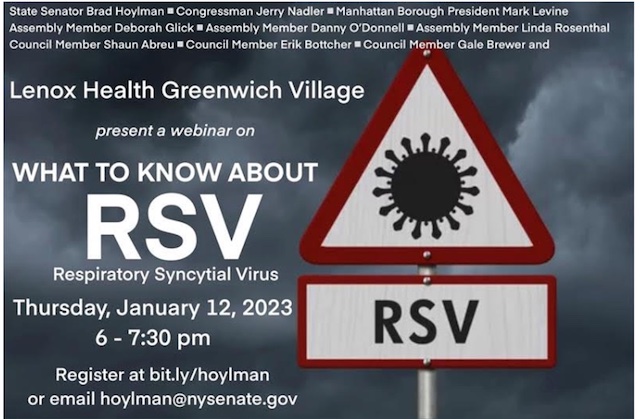 Manhattan Community Board 5 (CB5) Public Hearing and Full Board Meeting: Thursday, January 12, 6pm via Zoom | Those attending the monthly Full Board meeting of CB5 will find most matters have been thoroughly vetted by various committees by the time they reach this point in the process (i.e., a vote by the board's full membership to approve, reject, or amend what comes out of committee). But that doesn't mean hearts and minds can't be swayed—and CB5 encourages members of the public to have a go at it, via the Public Hearing period. It's your chance to have your say before the board votes on the evening's agenda items. (The other opportunity for public comment is at the public session, after votes have taken place and committee reports/updates have concluded.) And so, members of the public who would like to comment on any Hearing Agenda topic are given two minutes of uninterrupted time to participate. The meeting livestreams via the CB5 YouTube channel, where you'll also find recordings of past committee and full board meetings. To access the channel, click here. Matters coming before the Full Board on Jan. 12 include 5G LinksNYC Kiosk Towers in the CB5 District; the NYPD's Strategic Response Group deployment in more precincts; and an Independent Budget Office review of their NYC Fiscal Outlook Report. To register for the Jan. 12 Public Hearing and Full Board Meeting, click here. Note: That link registers you to attend, and also gives you the option of reserving a space for the evening's two opportunities for public comment.
Committee Meetings of Manhattan Community Board 4 (CB4) Throughout January | Our roundup of all January committee meetings of CB4 can be found by clicking here. At that destination, you'll find registration links to all of those meetings, plus info on agenda items.
A Winter Wonderland Photo Op in the Meatpacking District Through January 15 | As charismatic as they are geometric, the Snow People of the Meatpacking District are on display now and ready to pose with you for an only-in-New-York photo op that travels just as well across town as it does across the (snow?) globe. Click Here  for details on this interactive happening presented by Meatpacking (the Meatpacking Business Improvement District).

Happening at Hudson Guild Gallery II Through Jauary 11 | Currently at Guild Gallery II is Light Spills and Sprites. Carol Salmanson's wall-mounted sculptures showcase her skills with LEDs, reflective materials, and paint. The resulting layers of light and color foster a familiarity reminiscent of medieval stained glass windows and Byzantine mosaics. It's likely to stir emotions whether one moves through the exhibition conscious of its influences or not. On view through January 11, 2023 at Hudson Guild's Fulton Center (119 Ninth Ave. btw. W. 17th & 18th Sts.). Admission to both galleries is free. For more info, see the two flyers that accompany this writeup or click here to visit an applicable page on the Hudson Guild website.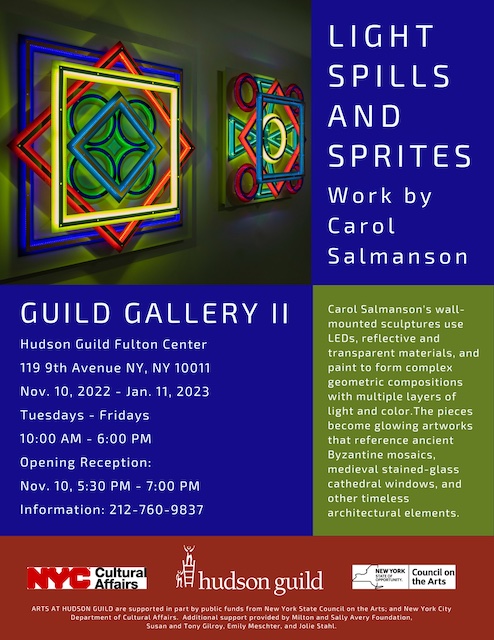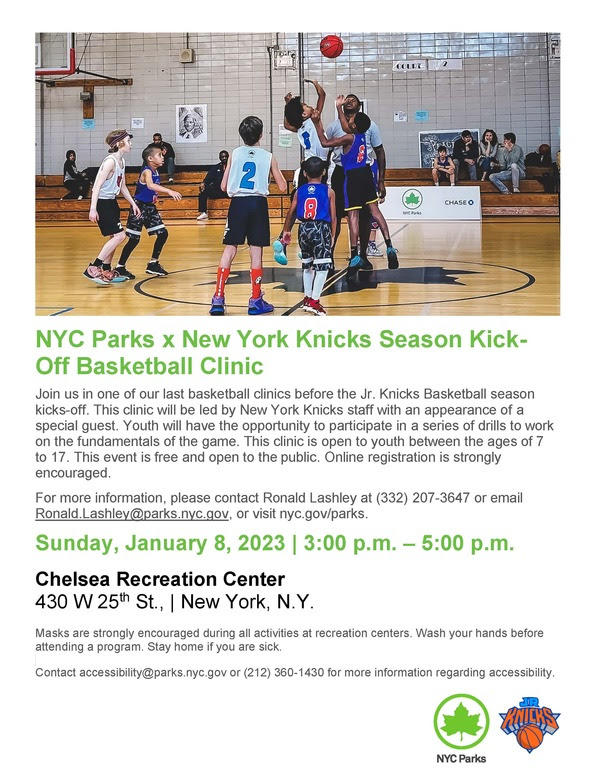 Glow in the Dark Pickleball at the Chelsea Recreation Center (430 W. 25th St.) on Friday, January 13, 5:30pm-7:30pm | For details, see the below flyer.
—Listings compiled by Scott Stiffler
Chelsea Community News is an independent, hyperlocal news, arts, events, info, and opinion website made possible with the help of our awesome advertisers and the support of our readers. Our Promise: Never a paywall, no pop-up ads, all content is FREE. With that in mind, if circumstances allow, please consider taking part in our GoFundMe campaign (click here). To make a direct donation, give feedback, send a Letter to the Editor, or contact our founder/editor, send an email to Scott Stiffler, via scott@chelseacommunitynews.com.
To join our subscriber list, click here. It's a free service provding regular (weekly, at least) Enewsletters containing links to recently published content. Subscribers also will be sent email with "Sponsored Content" in the subject line. That means it's an exclusive message from one of our advertisers, whose support, like yours, allows us to offer all content free of charge.