Masked Vigilantes on Silent Motorbikes
and
Air-India's Maharaja: Advertising Gone Rogue
Through February 12 at Poster House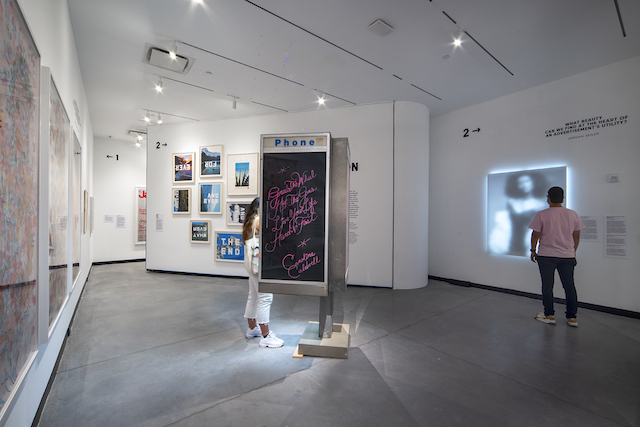 It's the final weeks for two whip-smart, visually dynamic exhibitions at Poster House—the country's first museum dedicated to the global history of posters. Taking its inspiration from artists who take their inspiration from posters, the Masked Vigilantes on Silent Motorbikes exhibition showcases the work of 20 modern and contemporary artists, several of whom are part of NYC's contemporary street art scene. Their works explore, note the curators, "how posters have become symbols of capitalism, beauty standards, and public dialogue that are ripe for artists to manipulate and critique in their work."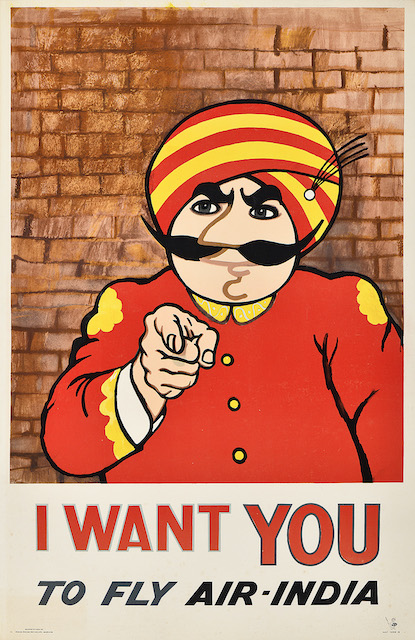 Elsewhere on site, the exhibition Air-India's Maharaja: Advertising Gone Rogue time warps you back to the mid-century golden age of Indian travel advertising via its use of the Maharaja, or "Rogue" figure, who made his debut just as India was emerging form British colonial rule. As real-life maharajas were on the wane, Air-India's mischevious mascot established himself as an uninhibited traveler with, notes the press material, "a reputation for daring and humor" known to adopt "different memorable personas in every destination."
Through February 12 at Poster House (119 W. 23rd St. btw. Fifth & Sixth Aves.). Thurs., Sat., Sun, 10am to 6pm and Fri., 10am–9pm. Tickets are $12 for adults and $8 for students, veterans, seniors. Tickets are available here.
Dialogue: Works by Wanda Payne and Taj Poscé 
At Hudson Guild Gallery, January 12-March 15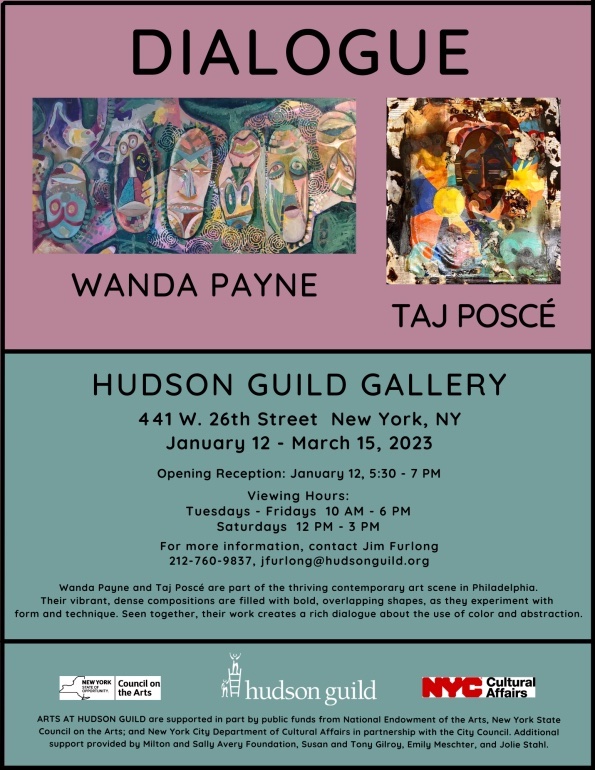 Representing the thriving contemporary art scene in Philadelphia, this exhibition of work by Wanda Payne and Taj Poscé highlights their "vibrant, dense compositions," which curator Jim Furlong notes are "filled with bold, overlapping shapes, as they experiment with form and technique. Seen together, their work creates a rich dialogue about the use of color and abstraction."
Hudson Guild Gallery is located in the Hudson Guild Elliott Center (441 W. 26th St. btw. Ninth & 10th Aves.). Free admission. An opening reception will be held from 5:30-7pm on Thurs., Jan. 12. After that, weekly viewing hours through March 15 are Tues.-Fri. 10am-6pm, Sat. 12pm-3pm. For info, call 212-760-9837 or click here.
Ar'n't I A Woman?
At Guild Gallery II, January 19-March 15
Artist Vija Doks's portrait paintings of famous women throughout history populate this exhibition, in which the artist strives to communicate the essence of each individual, while allowing the group's collective voice to make "very apparent," notes the promo material, "women's contribution to the world."
Guild Gallery II is located in Hudson Guild Fulton Center (119 Ninth Ave. btw. W. 17th & 18th Sts.). Admission is free. Following the opening reception from 5:30-7pm on Thurs., Jan. 19, weekly viewing hours through March 15 are Tues.-Fri., 10am-6pm. For info, call 212-760-9837 or click here.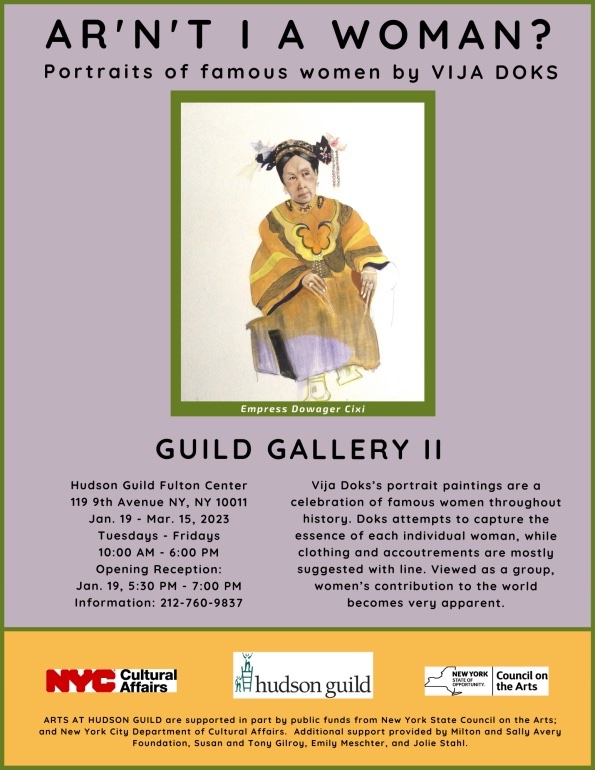 Chelsea Community News is an independent, hyperlocal news, arts, events, info, and opinion website made possible with the help of our awesome advertisers and the support of our readers. Our Promise: Never a paywall, no pop-up ads, all content is FREE. With that in mind, if circumstances allow, please consider taking part in our GoFundMe campaign (click here). To make a direct donation, give feedback, send a Letter to the Editor, or contact our founder/editor, send an email to Scott Stiffler, via scott@chelseacommunitynews.com.
To join our subscriber list, click here. It's a free service provding regular (weekly, at least) Enewsletters containing links to recently published content. Subscribers also will be sent email with "Sponsored Content" in the subject line. That means it's an exclusive message from one of our advertisers, whose support, like yours, allows us to offer all content free of charge.