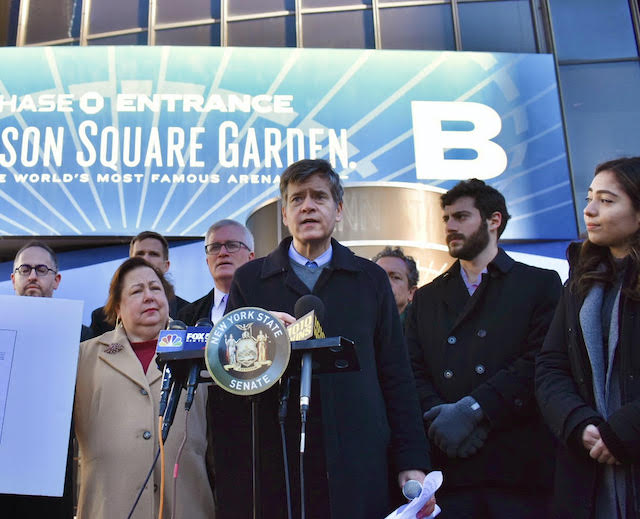 BY SCOTT STIFFLER | Facial recognition deployed at MSG Entertainment venues to eject patrons deemed hostile to corporate interests calls to mind its potential abuse by authoritarian regimes—but for now, MSG CEO James L. Dolan seems content to keep the creepy, deeply flawed technology trapped in the sticky resin of his own pettiness and paranoia.
Lately, Dolan & Co. have used facial recognition as a means of denying admission to such sworn corporate enemies as a young mom chaperoning a girl scout troop's field trip to Radio City Music Hall and a guy whose escalator ride en route to a Knicks/Celtics game went south, when he got the goodbye look from Madison Square Garden security personnel. Two other ticketholders have similar tales to tell, and elected officials fear this is both the tip of the iceberg and a slippery slope.
Calling such actions "a frightening prospect for every New Yorker and frankly, every visitor who may come through the doors" of an MSG Entertainment venue, New York State Senator Brad Hoylman-Sigal didn't let January 15's low temps or ill winds lesson his resolve.
Last Sunday afternoon was when a formidable coalition of elected officials and privacy advocates joined Hoylman-Sigal for an outdoor press conference near the Eighth Ave. and West 31st Street prelude to iconic (and apparently invite-only) Madison Square Garden. As noted in a press release sent by Hoylman-Sigal's office in conjunction with the event, the group demanded Dolan/MSG Entertainment "immediately stop the use of the inappropriate technology" to "discriminate against patrons and steal their personal information."
Joining Senator Hoylman-Sigal at the press conference were State Senator Liz Krueger, Senator Brian Kavanagh, Senator Kristen Gonzalez, Assembly Member Tony Simone, Assembly Member Alex Bores, Council Member Erik Bottcher, Albert Fox Cahn – Founder and Executive Director, Surveillance Technology Oversight Project (S.T.O.P.), and the Policing and Social Justice Project.
Putting MSG Entertainment's defiant use of the tech into Big Picture context, Senator Krueger called it "exceptionally frightening" and wondered how many others will look at what's being done at MSG venues and be emboldened to follow suit.
The imperfect tech, it was noted, misidentifies Asians and African Americans at a rate much higher than it does Whites. What's more, its cavalier use as a blunt instrument of corporate retaliation normalizes facial recognition's weaponization in the war against political dissent. As a wired.com article noted, "Iranian women are baring their heads to protest government controls. A top official said algorithms can identify anyone flouting dress codes."
It appears the future Krueger warned about is now, or at least knocking on our door. That's all the more reason, she said, "We need to be modernizing our laws" to keep up with misuse of emerging technology.
Albert Fox Cahn, of the Surveillance Technology Oversight Project, called facial recognition "unethical" and "immoral" as a prelude for stating, "It should be illegal. The only good facial recognition is facial recognition that has been outlawed."
Legislation takes time to pass—but there are other means of motivating MSG Entertainment to do the right thing. A January 15, 2023 letter to Dolan, signed by Hoylman-Sigal and other electeds, painted a frank picture of options on the table. "MSG Entertainment receives a NYS tax abatement for Madison Square Garden valued at approximately $43 million annually," the letter read, in addition to "a NYC special permit (expiring this year), and numerous licenses from the New York State Liquor Authority. With these factors in mind, we trust MSG Entertainment will act accordingly and immediately cease the use of personal biometric technology for non-security purposes." At the press conference, Hoylman-Sigal also noted that the Manhattan District Attorney's Office was looking into its options.
The electeds standing up against facial recognition don't just want the practice discontinued: They also want bad players to wipe clean the data compiled to profile the public. Stated at the press conference, and later articulated in their letter to Dolan thusly, was this demand: "MSG Entertainment must create and adhere to a written policy establishing guidelines for permanently destroying biometric data when the initial purpose of collecting such data has been completed, or within a reasonable time frame, whichever comes first, and we ask that you consider terminating the use of the technology at all, due to its inherent privacy violations and discriminatory outcomes."
Reached on Thursday, January 19 for an update on the situation, Senator Hoylman-Sigal's Office said they've not heard from Dolan/MSG Entertainment other than the public statements already issued. That statement is several days old. An online pix11.com report of 7:45pm on January 15 quoted the company as stating, "MSG instituted a straightforward policy that precludes attorneys from firms pursuing active litigation against the Company from attending events at our venues until that litigation has been resolved. While we understand this policy is disappointing to some, we cannot ignore the fact that litigation creates an inherently adversarial environment. All impacted attorneys were notified of the policy. We continue to make clear that impacted attorneys will be welcomed back to our venues upon resolution of the litigation."
At last Sunday's press conference, newly minted New York State Assembly Member Tony Simone (who as of Jan. 1 succeeded the retired Richard Gottfried as Assembly District 75's rep) demonstrated that MSG Entertainment is so antsy to exact revenge on those who would cross them, they feel the need to strike before facial recognition tech sees the defiant ones coming through the front door.
As Chelsea News reported on January 17, Assembly Member Simone was "disinvited from an NHL outreach program with the Rangers because he turned up at a press conference with other local politicians and activists who blasted facial recognition technology that James Dolan, the CEO of Madison Square Garden Entertainment is using to boot attorneys whose firms are involved in litigation with his company."
Simone wasn't just disinvited from attending the event—he was "supposed to drop a ceremonial puck" at a January 26 Rangers game, noted Chelsea News. The "this is what you get for associating freely with people" snub wasn't just an act of ill-advised bullying: It was a slap in the face of the LGBTQ+ community: Simone is openly gay, and the event he was disinvited from is a National Hockey League-sponsored "Hockey is for Everyone" evening of outreach meant to woo LGBTQs. That puts on shaky ground any NHL/Rangers effort to position themselves as champions (or a least allies) of a community that has been historically harassed, rendered invisible, and otherwise silenced.
Mentioning the LGBTQ+ angle contextually but not opportunistically, Simone did his profession and orientation proud at the January 15 press conference. Likening the whole facial recognition situation to an episode of Black Mirror, Simone used the deflating power of humor to jab puppet master Dolan, stating, "Jim, c'mon, stop it."
Sadly, Simone's deft use of bro-code verbiage failed to reach Dolan's heart or mind: MSG Entertainment has yet to disavow its use of facial recognition or indicate it plans to erase its ill-gotten collection of many, many faces that might just include yours.
Note: The final paragraphs of this article were updated for the sake of clarity, in the early minutes of Friday, January 20, 2023.
–END–
Chelsea Community News is an independent, hyperlocal news, arts, events, info, and opinion website made possible with the help of our awesome advertisers and the support of our readers. Our Promise: Never a paywall, no pop-up ads, all content is FREE. With that in mind, if circumstances allow, please consider taking part in our GoFundMe campaign (click here). To make a direct donation, give feedback, send a Letter to the Editor, or contact our founder/editor, send an email to Scott Stiffler, via scott@chelseacommunitynews.com.
To join our subscriber list, click here. It's a free service providing regular (weekly, at least) Enewsletters containing links to recently published content. Subscribers also will be sent email with "Sponsored Content" in the subject line. That means it's an exclusive message from one of our advertisers—whose support, like yours, allows us to offer all content free of charge.