Pearl River Mart Celebrates the Year of the Rabbit
Saturday, January 28, 5-7pm
At Chelsea Market (75 Ninth Ave. btw. W. 15th & 16th Sts.)
BY SCOTT STIFFLER | Few among us can resist the promise of "Lion Dancing, Lucky Foods, and Libations"—and why should they try? That incredibly effective teaser (shamelessly "borrowed" as our headline) is the prelude to a press release that came across our desk recently, directing the public to Chelsea Market anchor establishment Pearl River Mart. This "eclectic emporium where you can find one-of-a-kind Asian-inspired home furnishings, fashion, and everything in between" will offer a family-friendly celebration of the Chinese/Lunar New Year's start, with a slate of activities and opportunities.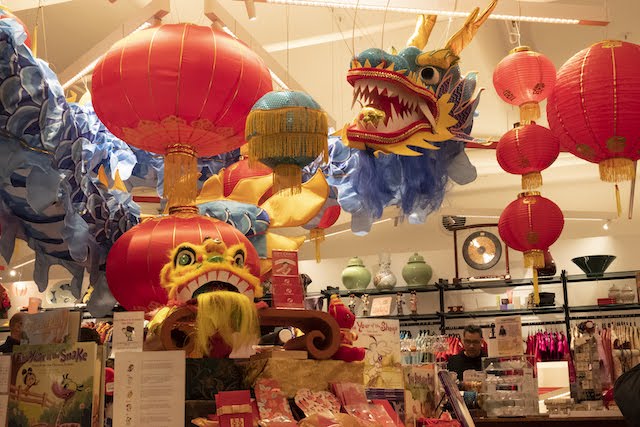 Saturday, January 28, 5pm:  The fun begins on Chelsea Market's main concourse with a dynamic performance by the renowned Wan Chi Ming Hung Gar Institute Dragon and Lion Dance Team. Then, on the lower level, it's happy hour and lucky food specials from Pearl River Mart Foods' vendors (Mao's Bao, Kimbap Lab, and Tea & Milk) as well as more Lunar New Year treats.
Attendance is free and open to the public (food and drinks for purchase).
Featured Item: Year of the Rabbit Friendship Box
Sharing food and culture and a spirit of mutual curiosity is the foundation built by Pearl River Mart's founders. Performing all of those tasks and more, Pearl River's Friendship Box is packed with things to nosh on, while nourishing the mind. This edition of the Box ($50) includes such good fortune facilitators as cute rabbit items, lucky red money envelopes, a lucky charm, a noisemaker to scare away evil spirits, a zodiac activity book, and the newest Chinese pocket almanac.
For more Pearl River Mart info, click here. For all things Chelsea Market, click here.
–END–
Chelsea Community News is an independent, hyperlocal news, arts, events, info, and opinion website made possible with the help of our awesome advertisers and the support of our readers. Our Promise: Never a paywall, no pop-up ads, all content is FREE. With that in mind, if circumstances allow, please consider taking part in our GoFundMe campaign (click here). To make a direct donation, give feedback, send a Letter to the Editor, or contact our founder/editor, send an email to Scott Stiffler, via scott@chelseacommunitynews.com.
To join our subscriber list, click here. It's a free service providing regular (weekly, at least) Enewsletters containing links to recently published content. Subscribers also will be sent email with "Sponsored Content" in the subject line. That means it's an exclusive message from one of our advertisers—whose support, like yours, allows us to offer all content free of charge.