In This Week's "THIS WEEK IN CHELSEA"
10th Precinct Community Council & Build the Block Meetings / Bold Visions for a New Above-Ground Penn Station: A Public Forum  / The Smuggler at the Irish Repertory Theatre / Art at Hudson Guild / Manhattan Borough President Mark Levine's State of the Borough Address / Manhattan Community Board 4 (CB4) Full Board Meeting
The 10th Precinct Community Council: Wednesday, January 25, 7pm via Zoom | The citizen-run Council meets at 7pm on the last Wednesday of the month, via Zoom unless otherwise noted. Council President Larry O'Neill hosts the event, which typically sees 10th Precinct Commanding Officer Captain Robert Gault on hand to discuss the latest crime statistics, trends, and enforcement efforts. O'Neill then moderates a Q&A session in which Gault responds to attendee questions regarding local matters of concern. Electeds and City representatives are often in attendance, and usually amenable to taking questions from neighborhood residents, business owners, and other stakeholders who typify the turnout. Also likely to attend Council meetings, whether live or via Zoom, are 10th Precinct detectives, Community Affairs officers, and other staff, often called upon by Gault when the topic turns to their area of expertise. Note: Follow the Community Council on Facebook by clicking here. O'Neill posts the Zoom link on the Council's Facebook page. So visit and follow the page, yes, but since you're here, we'll also give you that info. Just prior to 7pm on January 25, click here to attend. The Meeting ID is 814 8873 1820. The Passcode is 036623. To attend via phone/one-tap mobile, dial 646-558-8656.
The 10th Precinct Sector A Build the Block Meeting: Thursday, January 26, 5pm at the Joyce Theatre (175 Eighth Ave. at W. 19th St.) | NYPD Build the Block meetings, held quarterly, provide an opportunity to interact with the two-person NCO (Neighborhood Coordination Officer) team responsible for their assigned sector. NCOs have dedicated hours every week during which they create new contacts and strengthen existing relationships with residents, business owners and others. The 10th Precint has three Sectors: A, B, and C—while the 13th Precint, which is responsible for some sections of easternmost Chelsea, has four Sectors: A, B, C, and D. Click here to find your Build the Block meeting. Enter in your address, and the search result yields info on your Sector, along with contact info for your NCOs and the date/location of their next meeting. As these dates are scheduled far in advance, the NYPD offers this advice: "All meeting times, dates, and locations are subject to change. Please call your local precinct and speak to a Neighborhood Coordination Officer to verify correct meeting information." It's a good idea to check in on the day of the scheduled meeting, as plans do sometimes change on short notice (in which case the 10th Precinct's Twitter account, @NYPD10Pct, is a reliable source for last-minute info). Sector A's area of coverage is W. 14th St. to W. 21st St., Seventh Ave. to the Hudson. Your Sector A Neighborhood Coordination Officers (NCOs) are: PO William Lleras (email: William.Lleras2@nypd.org ) and PO Taimoor Ahmad (email: Taimoor.Ahmad@nypd.org).
Bold Visions for a New Above-Ground Penn Station: A Public Forum | Thursday, January 26, 6:30-8:30pm at The Great Hall at Cooper Union (7 E. Seventh St.) and on Zoom
ReThinkNYC
—an organization focused on the NYC region's transportation infrastructure, land use, governance, and socio-economic issues—invites you to contemplate design and construction scenarios for a new, above-ground Penn Station. It's the latest element in their preservation-minded, common-sense counterproposal for the wholesale destruction of the area put forth by New York State Governor Kathy Hochul and supported by a gaggle of capitulation-prone cronies (with chief benefactor Vornado Realty Trust at the wheel of Hochul's fast-careening clown car).  Ambitious yet achievable plans envisioning an above-ground Penn Station will be presented by three eminent architects: Vishaan Chakrabarti (PAU), Alexandros Washburn (Grand Penn Community Alliance), and Richard Cameron (Atelier and Co.). These proposals are followed by a Q&A session, with inquiries from a panel of architectural authorities as well as the general public. Sam Turvey, Chairperson, ReThinkPennStationNYC.org, moderates this free (ticket required for admission) live event, also accessible via Zoom. To register for the live presentation, click here. To register for attendance via Zoom, click here. Recently Revised Venue Visitor Guidelines: Visitors must show proof of vaccination or a negative PCR test by a third party (not home test) within three days of their visit or a negative rapid test result taken by a third party (not home test) on the day of the visit. Results from street booth testers will be accepted.
The Smuggler: A Thriller in Rhyme at the W. Scott McLucas Studio in the Irish Repertory Theatre (IRT) Through Feb. 26 | Writer Ronán Noone never strays from rhymed verse, in this one-person show whose scheduled run at the Irish Rep would have come the year after its acclaimed 2019 production as part of the Origins 1st Irish Festival (where Noone won the Best Playwright award). But the global pandemic of 2020 had other plans, forcing the Rep run to be cancelled—or, more accurately, postponed. "Irish Rep is proud to return to this production and bring it to our stage this winter," said IRT's Charlotte Moore, Artistic Director and Ciarán O'Reilly, Producing Director, of the current run. Michael Mellamphy reprises his 2019 performance in the role of Irish immigrant Tim Finnegan. When the aspiring writer loses his job as a bartender, he gets drawn into the world of smuggling. The act itself is plenty shady—but what he's tasked with smuggling is the thing that reveals the dark underbelly of Amity, a Massachusetts summer colony where old money and newly arrived migrants make for a combustible mix. "The Smuggler," notes the press material, "examines how far one man will go to restore his self-respect and asks the question, 'What does it mean to be an American citizen?' "
In previews now. Opening Night, Jan. 26 for a run through Feb. 26. Performances are on Wednesdays at 2pm & 7pm; Thursdays at 7pm; Fridays at 8pm; Saturdays at 2pm & 7pm, and Sundays at 3pm. Tickets begin at $50, available at IrishRep.org. The Irish Repertory Theatre is located at 132 W. 22nd St. (btw. Sixth & Seventh Aves.). As of Jan.1, most performances at Irish Rep will be Mask-Optional. All Wednesday matinee and Saturday evening performances are Mask-Required.
Dialogue: Works by Wanda Payne and Taj Poscé 
At Hudson Guild Gallery, Through March 15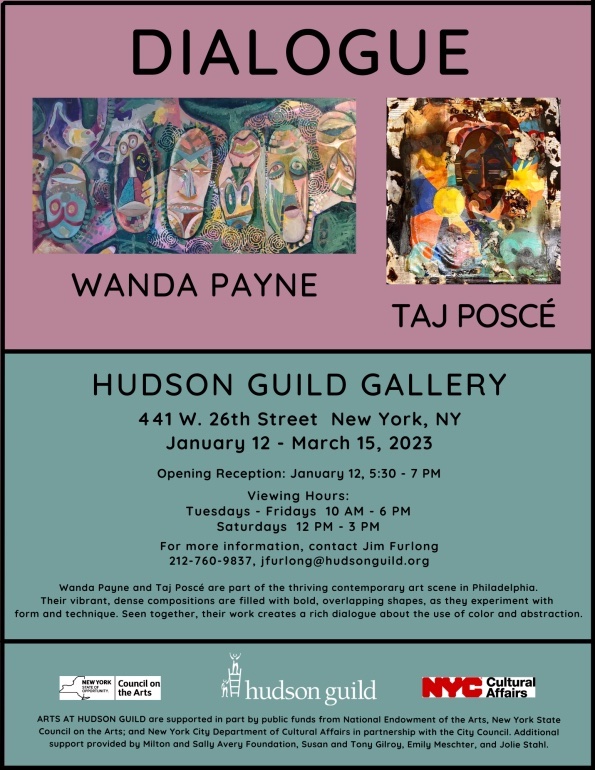 Representing the thriving contemporary art scene in Philadelphia, this exhibition of work by Wanda Payne and Taj Poscé highlights their "vibrant, dense compositions," which curator Jim Furlong notes are "filled with bold, overlapping shapes, as they experiment with form and technique. Seen together, their work creates a rich dialogue about the use of color and abstraction."
Hudson Guild Gallery is located in the Hudson Guild Elliott Center (441 W. 26th St. btw. Ninth & 10th Aves.). Free admission. An opening reception will be held from 5:30-7pm on Thurs., Jan. 12. After that, weekly viewing hours through March 15 are Tues.-Fri. 10am-6pm, Sat. 12pm-3pm. For info, call 212-760-9837 or click here.
Ar'n't I A Woman?
At Guild Gallery II, Through March 15
Artist Vija Doks's portrait paintings of famous women throughout history populate this exhibition, in which the artist strives to communicate the essence of each individual, while allowing the group's collective voice to make "very apparent," notes the promo material, "women's contribution to the world."
Guild Gallery II is located in Hudson Guild Fulton Center (119 Ninth Ave. btw. W. 17th & 18th Sts.). Admission is free. Following the opening reception from 5:30-7pm on Thurs., Jan. 19, weekly viewing hours through March 15 are Tues.-Fri., 10am-6pm. For info, call 212-760-9837 or click here.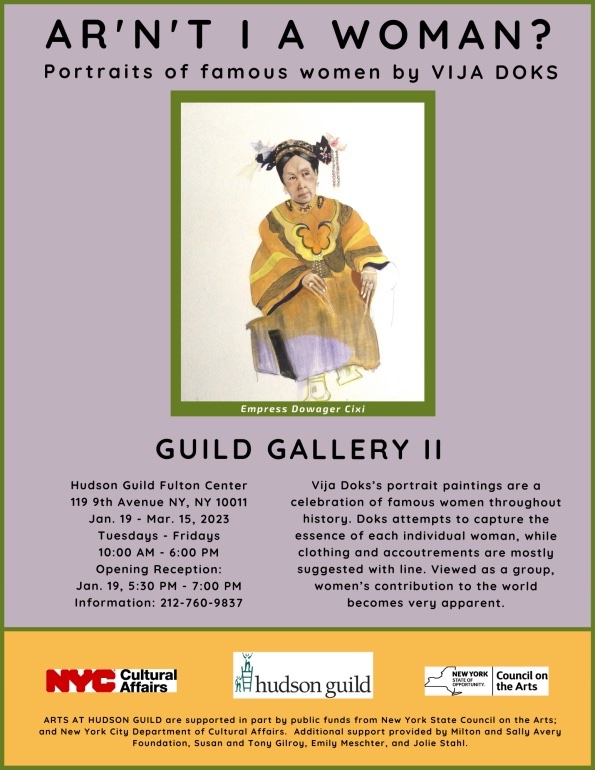 Manhattan Borough President Mark D. Levine's State of the Borough Address: Tuesday, January 31, 6pm at The City College of New York, Shepard's Hall—The Great Hall (160 Convent Ave.) | MBP Mark Levine's work for the betterment of Manhattan gets a review by the man who lived it. "During my first year," he noted, in the event's advance press, "we took steps to make Manhattan more equitable, more resilient, and healthier than ever before." Levine's speech will examine the state of those steps, with an eye toward what the coming year has in store. Following that, he notes, attendees are invited to "celebrate our community with a performance and light refreshments at the end. Doors open at 5pm; 6pm start time. Required: Masks and proof of vaccination or proof of a negative COVID-19 test within five days of attending the event. For special accommodation requests or questions, email events@manhattanbp.nyc.gov. Translation of the event will happen in Spanish, French and Cantonese. Reservations are free, but required. To secure your general admission seat, click here.
Full Board Meeting of Manhattan Community Board 4 (CB4): Wednesday, February 1, at 6:30pm via Zoom| CB4's full membership meets on the first Wednesday of the month, with the lion's share of the agenda devoted to reviewing the policy, protocol, and process suggestions contained in letters generated by its eight committees. (Many letters get majority vote approval, some are sent back to committee, and others are approved pending agreed-upon changes; rarely are they voted down.) Other regular features of a Full Board gathering include reports by local elected officials or their reps, and the always interesting, often zesty, occasionally zany Public Session, which gives you the opportunity to speak before the board on any topic(s) of your choosing. Intrigued? Sign up for the Public Session via https://tinyurl.com/FullBoardPS. Get the meeting's online access info via this Zoom Registration Link. Don't want to register? View Live Stream via CB4's excellent YouTube channel (which allows you to watch the proceedings, but not participate.). To attend via phone, dial 646-518-9805.
Chelsea Community News is an independent, hyperlocal news, arts, events, info, and opinion website made possible with the help of our awesome advertisers and the support of our readers. Our Promise: Never a paywall, no pop-up ads, all content is FREE. With that in mind, if circumstances allow, please consider taking part in our GoFundMe campaign (click here). To make a direct donation, give feedback, send a Letter to the Editor, or contact our founder/editor, send an email to Scott Stiffler, via scott@chelseacommunitynews.com.
To join our subscriber list, click here. It's a free service provding regular (weekly, at least) Enewsletters containing links to recently published content. Subscribers also will be sent email with "Sponsored Content" in the subject line. That means it's an exclusive message from one of our advertisers, whose support, like yours, allows us to offer all content free of charge.