BY SCOTT STIFFLER | NYC Restaurant Week—which began on January 17—isn't contained to a mere seven days on the calendar. The annual wintertime gastronomic go-to happens through February 12. Its prix-fixe two-course lunches and three-course dinners for $30, $45 and $60 are available at nearly 500 restaurants across all five boroughs—but we're containing our coverage to Chelsea Community News' namesake neighborhood, with a nod to the nearby areas we're in the process of embracing, as we expand the scope of our editorial coverage. First up, here's what's on the plate in Chelsea (click here for the nabe's full list of participants).
Chelsea Table + Stage (152 W. 26th St.)
An ever-changing entertainment lineup and a menu featuring American fare, a curated wine list, and specialty cocktails
City Winery (Pier 57 & 11th Ave.)
Intimate, state-of-the-art concert venue alongside a winery, patio, restaurant, tasting bar, and secondary performance space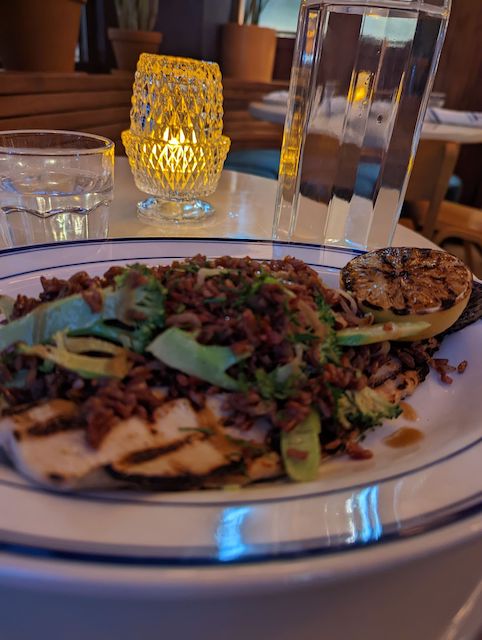 Fonda (189 Ninth Ave.)
Contemporary Mexican cuisine blending care and authenticity with creative urban flourishes
Piggyback by Pig & Khao (130 W. 30th St.)
Reflective of the traditional recipes, ingredients, and cooking techniques found throughout Asia
Motel Morris (132 Seventh Ave.)
Seasonal American, with global influences and fun nods to classic American dishes
The Orchard Townhouse (242 10th Ave.)
A comfy vibe with a menu offering American plates and imaginative rethinks on classic cocktails
THE MEATPACKING DISTRICT (click here for the full list of participants)
Fig & Olive—Downtown (420 W. 13th St.)
Menu captures the essence of the French Riviera, taking full advantage of seasonal ingredients
Catch NYC (21 Ninth Ave.)
A seafood-centric menu and lively atmosphere for sit-down, with delivery and to-go options
Mollusca (1 Little W. 12th St.)
Seafood restaurant with influences from all around the world
THE FLATIRON DISTRICT (click here for the full list of participants)
Burger & Lobster Flatiron (39 W. 19th St.)
Starters include calamari, oysters and lobster bites, with main course selections such as Nebraskan beef burgers, wild Atlantic lobsters, lobster rolls
Mr. Mista Oh (41 W. 24th St.)
Authentic Korean dishes including short ribs (galbi-jjim), bibimbap (hot stone rice bowl with assorted vegetables), and sun-dobu (soft tofu stew)
Wagamama—Nomad/Flatiron (210 Fifth Ave.)
Nourishing noodle dishes updated seasonally, all inspired by fast-paced Japanese ramen bars and a celebration of Asian food
HUDSON YARDS & MANHATTAN WEST (click here for the full list of participants)
Spanish Diner (435 W. 30th St.)
Large portions of Spanish favorites in a casual, high-energy outdoor space under the High Line
Kyma Hudson Yards (445 W. 35th St.)
Embracing traditional dishes, using the highest quality extra virgin olive oil from the Peloponnese and fresh fish flown in daily from the Mediterranean
Queensyard (20 Hudson Yards)
Modern American cuisine with style and design influences from London and the rooms of an English country home
Hidden Leaf (75 Manhattan West Plaza)
Draws its inspiration from China, Myanmar, Laos, Thailand, and Vietnam to create a pan-Asian dining adventure
HELL'S KITCHEN (click here for the full list of participants)
Longo Bros. (474 Ninth Ave.)
Casual atmosphere with a careful emphasis on making traditional Italian dishes of distinction, with equal attention paid to the accompanying cocktails
Chez Josephine (414 W. 42nd St.)
A French-American menu and live piano music in an intimate Parisian setting
Etcetera Etcetera (352 W. 44th St.)
Italian cuisine in the heart of Hell's Kitchen, perfect for pre-dinner cocktails, post-theatre dinners, and everything in between
If you find yourself on a day where you've had your fill of food, it's worth noting that NYC Restaurant Week happens under the umbrella of NYC & Company's NYC Winter Outing, whose other offerings include 2-for-1 tickets at more than 40 museums, attractions, tours, and performing arts for NYC Must-See Week.  Also underway is NYC Hotel Week, with 23% off standard retail rates at more than 140 hotels. So greet those out of town guests with open arms, hand them they keys to your place, and spoil yourself with a discounted stay at hotel where you can liberally deploy the Do Not Disturb sign! All programs take place through February 12. Reservations are bookable at nycgo.com/winterouting.
–END–
Chelsea Community News is an independent, hyperlocal news, arts, events, info, and opinion website made possible with the help of our awesome advertisers and the support of our readers. Our Promise: Never a paywall, no pop-up ads, all content is FREE. With that in mind, if circumstances allow, please consider taking part in our GoFundMe campaign (click here). To make a direct donation, give feedback, send a Letter to the Editor, or contact our founder/editor, send an email to Scott Stiffler, via scott@chelseacommunitynews.com.
To join our subscriber list, click here. It's a free service providing regular (weekly, at least) Enewsletters containing links to recently published content. Subscribers also will be sent email with "Sponsored Content" in the subject line. That means it's an exclusive message from one of our advertisers—whose support, like yours, allows us to offer all content free of charge.