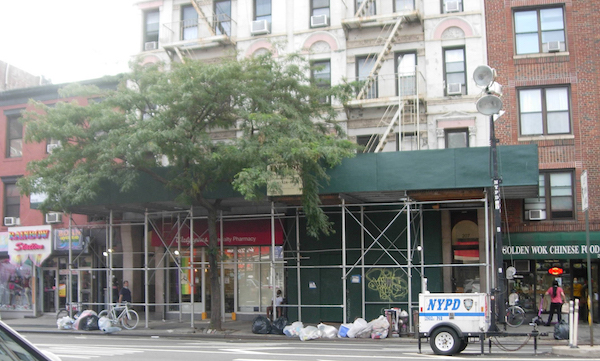 BY SCOTT STIFFLER | If yesterday's announcement that a troubled patch of Chelsea will see a two-week surge of social services sounds familiar, it's because the area of focus saw a similar burst of boots-on-the-ground outreach last August.
Responding to longstanding quality of life concerns along West 21 Street's PS11 elementary school and a block-long stretch starting at the nearby corner of Eighth Ave., 10th Precinct Commanding Officer Captain Robert Gault sent a January 22 email to parents, school administrators, residents, and other stakeholders.
"The 10th Precinct," noted Gault, "will be overseeing [present and available upon request but not coordinating] a two-week 'whole of government' surge deployment. This model of outreach seeks to improve conditions by connecting individuals to much-needed behavioral health and homeless services."
The coordinated effort creates outreach teams with members from the NYC Department of Homeless Services, the NYC Department of Health and Mental Hygiene, and municipal health care provider NYC Health + Hospitals (the principle player in last August's outreach effort).
From Monday, January 23 through Sunday, February 5, outreach teams will depart twice a day from the corner of West 24 Street and Eighth Ave. In two-hour blocks (11am-1pm and 6pm-8pm), says Gault, they will "canvass the area together to offer an array of services to all unsheltered individuals they engage, and work to get them inside."
In addition to providing services to those in need and ready to receive help, Gault added that he expects "the increased presence will mitigate the disorder and unlawful conduct frequently reported by the community."
Questions? Comments? You've two opportunities to interact with Chelsea's 10th Precinct this week. First, on Wed., Jan. 25 at 7pm, the citizen-led Community Council meets via Zoom. A 10th Precinct rep—likely Capt. Gault himself—will be in attendance to go over local crime stats and answer questions from attendees. To attend the online meeting, click here just prior to 7pm on Jan. 25. The Meeting ID is 814 8873 1820. The Passcode is 036623. To attend via phone/one-tap mobile, dial 646-558-8656.
The next day, Thurs., Jan. 26, 5pm at the Joyce Theater (15 Eighth Ave. at W. 19th St.), the 10th Precinct's Sector A NCOs (Neighborhood Coordination Officers) hold their first quarterly Build the Block meeting of 2023. Like the Community Council, an anything-goes Q&A forms the backbone of Build the Block proceedings. Sector A's area of coverage, FYI, is West 14th Street to West 21st Street, Seventh Ave. to the Hudson. (The 10th Precinct is divided into Sectors A, B, and C). Your Sector A NCOs are PO William Lleras (email: William.Lleras2@nypd.org) and PO Taimoor Ahmad (email: Taimoor.Ahmad@nypd.org).
Chelsea Community News is an independent, hyperlocal news, arts, events, info, and opinion website made possible with the help of our awesome advertisers and the support of our readers. Our Promise: Never a paywall, no pop-up ads, all content is FREE. With that in mind, if circumstances allow, please consider taking part in our GoFundMe campaign (click here). To make a direct donation, give feedback, send a Letter to the Editor, or contact our founder/editor, send an email to Scott Stiffler, via scott@chelseacommunitynews.com.
To join our subscriber list, click here. It's a free service providing regular (weekly, at least) Enewsletters containing links to recently published content. Subscribers also will be sent email with "Sponsored Content" in the subject line. That means it's an exclusive message from one of our advertisers—whose support, like yours, allows us to offer all content free of charge.