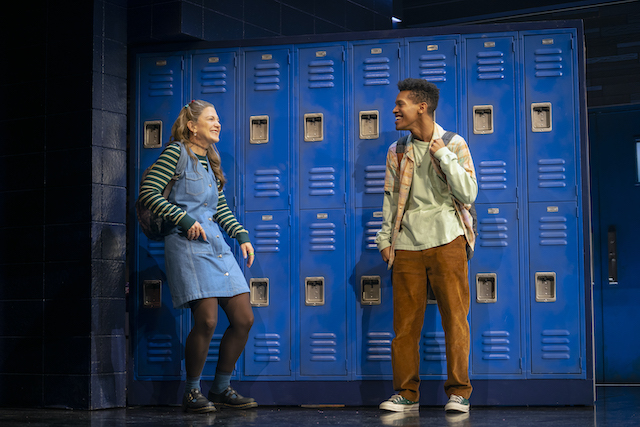 BY CHARLES BATTERSBY | Over the last decade the "Sick Lit" genre of young adult fiction has grown in popularity. Tragic tales of teenagers with terminal illnesses have filled stages, pages, and movie screens, but Kimberly Akimbo has a clever twist: Its teenage heroine has a rare aging disease, and she looks like a woman in her 60s, even though she's really 16. With this story, there is an excuse to replace the waifish ingenues with a leading lady. This story was first presented as a play (written by David Lindsay-Abaire) in 2001, before the teen Sick Lit trend had even begun. Now the play has been recreated as a Broadway musical (Book & Lyrics also by Lindsay-Abaire, Music by Jeanine Tesori) starring Tony Award winner Victoria Clark as Kimberly.
Although the audience is likely to know that Clark is playing a teen before they even enter the theater, the show still starts with Clark nervously chewing on a candy necklace. It's Director Jessica Stone's clear visual statement that 15-year-old Kimberly isn't quite old enough to have outgrown a childlike sweet tooth, or her childlike insecurities.
She stands outside the town's dilapidated ice skating rink, and the audience can quickly deduce from the faded 70s signs, and neglected 70s architecture that we're seeing a run-down New Jersey town in the late 90s. The opening number, Skater Planet, even refers to the setting as "Buttcrack Township," and the song gives Kimberly and the other teen characters the chance to sing about how they want to get out of their hometown. The music here, and in most of the show, is peppy, but this is a deliberate contrast to the grim reality of Kimberly's medical condition. The song, Make A Wish is a private moment for Kimberly that brings the audience to tears early on.
The story is split between Kimberly's homelife, school romance, and a crime caper. Her parents are an alcoholic dad (Steven Boyer) and an accident-prone drama queen of a mother (Alli Mauzey). Both of these parents understand that their daughter will be dead soon and have developed a detached attitude towards Kimberly. It's painful, and occasionally funny, to watch the disengaged and dysfunctional family attempting to play normal. And always failing.
Making things worse is that mom is pregnant, and everyone understands that Kimberly's imminent death makes the impending baby somewhat like a replacement hamster.
Bonnie Milligan arrives halfway through the first act, playing Kimberly's lawless, scheming aunt. Aunt Debra is a funhouse mirror image of Kimberly; Debra's body ages at the normal rate, but her mind is stunted with the impulsive, irresponsible nature of a teen.
Debra needs Kimberly's help with illegal shenanigans, and this fuels the plot in the second act. The nature of the criminal scheme isn't stated during the first act. However, there many moments of physical comedy where Debra prepares the outlandish materials needed for the crazy caper. She tries to sneak through a window while carrying huge gallon jugs of mysterious chemicals, and nonchalantly drags a full-sized postal mailbox through the living room.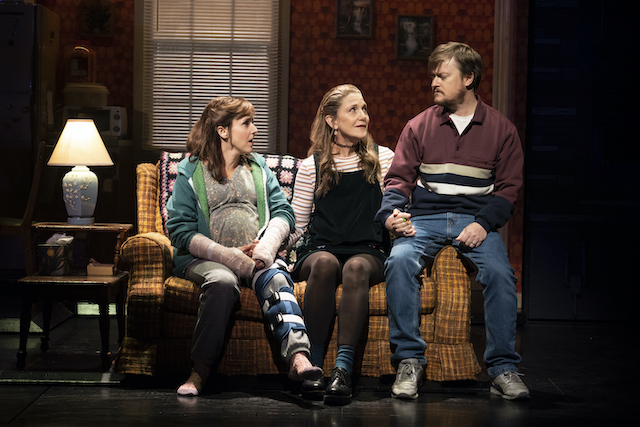 Kimberly is soon shown to be the most emotionally mature member of her family. Wise beyond her years, in addition to her physical age. Her parents were married in their teens and seem to have halted their emotional growth like the other adults in her life.
Kimberly's school crush, Seth (played by Justin Cooley) is a nerdy outcast who speaks Elvish fluently and shamelessly. Made all the more notable because the show is set in the late 1990s, back before Lord of the Rings was cool. He also loves puzzles and anagrams. The show's title in based on an anagram used flirtatiously in one of their duets where Kimberly sings about Seth's charming quirks, while he barks out random words and syllables while struggling to find a clever anagram using the letters of her name.
Cooley inhabits his role as Seth painfully well, giving us a fully realized awkward teen who bonds with other outcasts in a sweetly innocent manner. A quartet of schoolkids rounds out the cast (with an insubstantial subplot involving the Show Choir's big competition). These other kids are mostly there as a chorus to hear what the principal cast has to say, but they do have one poignant number where they sing about their dreams, and what they'll do when they grow up.
The music, by Tesori, and the story work well together. The score captures the late 90s setting and isn't overtly modern. It is energized and pleasant, but what makes it shine is Clark's beautiful, soulful voice.
Unfortunately, people with Kimberly's condition typically die at 16, so she has little time to live out her dreams. Clark's performance as the tragic yet optimistic teen is the strongest part of the show. Her face as Kimberly's schoolmates sing about their future is utterly haunting. A reminder for the audience that her future will be over in a year or so. Later in the show she angrily exclaims, "Getting older is my affliction. / Getting older is your cure," handily summing up the show's message of living in the moment.
"Kimberly Akimbo" can be seen at the Booth Theater (222 W. 45thSt.). Runtime: 2 hours, 25 minutes (includes an intermission). Admission requires proof of vaccination and/or negative COVID-19 test. masks are optional but strongly encouraged for all guests. For tickets and more info, click here. Ticket refunds and exchanges are no longer being offered (Read More).
Chelsea Community News is an independent, hyperlocal news, arts, events, info, and opinion website made possible with the help of our awesome advertisers and the support of our readers. Our Promise: Never a paywall, no pop-up ads, all content is FREE. With that in mind, if circumstances allow, please consider taking part in our GoFundMe campaign (click here). To make a direct donation, give feedback, send a Letter to the Editor, or contact our founder/editor, send an email to Scott Stiffler, via scott@chelseacommunitynews.com.
To join our subscriber list, click here. It's a free service provding regular (weekly, at least) Enewsletters containing links to recently published content. Subscribers also will be sent email with "Sponsored Content" in the subject line. That means it's an exclusive message from one of our advertisers, whose support, like yours, allows us to offer all content free of charge.