In This Week's "THIS WEEK IN & AROUND CHELSEA"
NYC Council Member Erik Bottcher's Monthly Housing Clinic / Manhattan Community Board 4 (CB4) February Committee Meetings / A Conversation About NHC's Housing Crisis / An Homage to Black Trailblazers of Theater & Performance at Marble Collegiate Church / Fat Tuesday Feast / The 200 West 22nd Street Block Association Kickoff Meeting / Black History Month Concert
NYC Council Member Erik Bottcher's Monthly Housing Clinic: Tuesday, February 14 | On the second Tuesday of every month, 4pm-6pm, Chelsea's 3 Council Member, Erik Bottcher, hosts this free clinic that pairs District 3 residents with an attorney-in-the-know, who will hear about your housing challenges and recommend actions to eliminate or mitigate the situation. To schedule an appointment, send an email to district3@council.nyc.gov.
The February Committee Meetings of Manhattan Community Board 4 (CB4) | To attend a full board meeting of Manhattan Community Board 4 (CB4) is to burrow into the marrow of community concerns such as affordable housing, public parks projects, landmarking efforts, and liquor license renewals. But before the full board sinks their choppers into such meaty matters, CB4's eight individual committees are the first stop in the process. The letters they generate—submitted for a vote when the full board meets on the first Wednesday of the month—articulate CB4's approval, disapproval, or recommended actions regarding a particular topic. The public is invited to attend, and speak up, at these monthly committee meetings. For a full listing of all committee meetings this month, click here (listings include links to register for each Zoom-held meeting).
New York City's Housing Crisis: Wednedsay, February 15 at 5:30pm Online | NYC Council Member Erik Bottcher hosts this conversation about the city's housing situation, with an eye toward what the future might hold. See the below flyer for details. To attend this online event click here.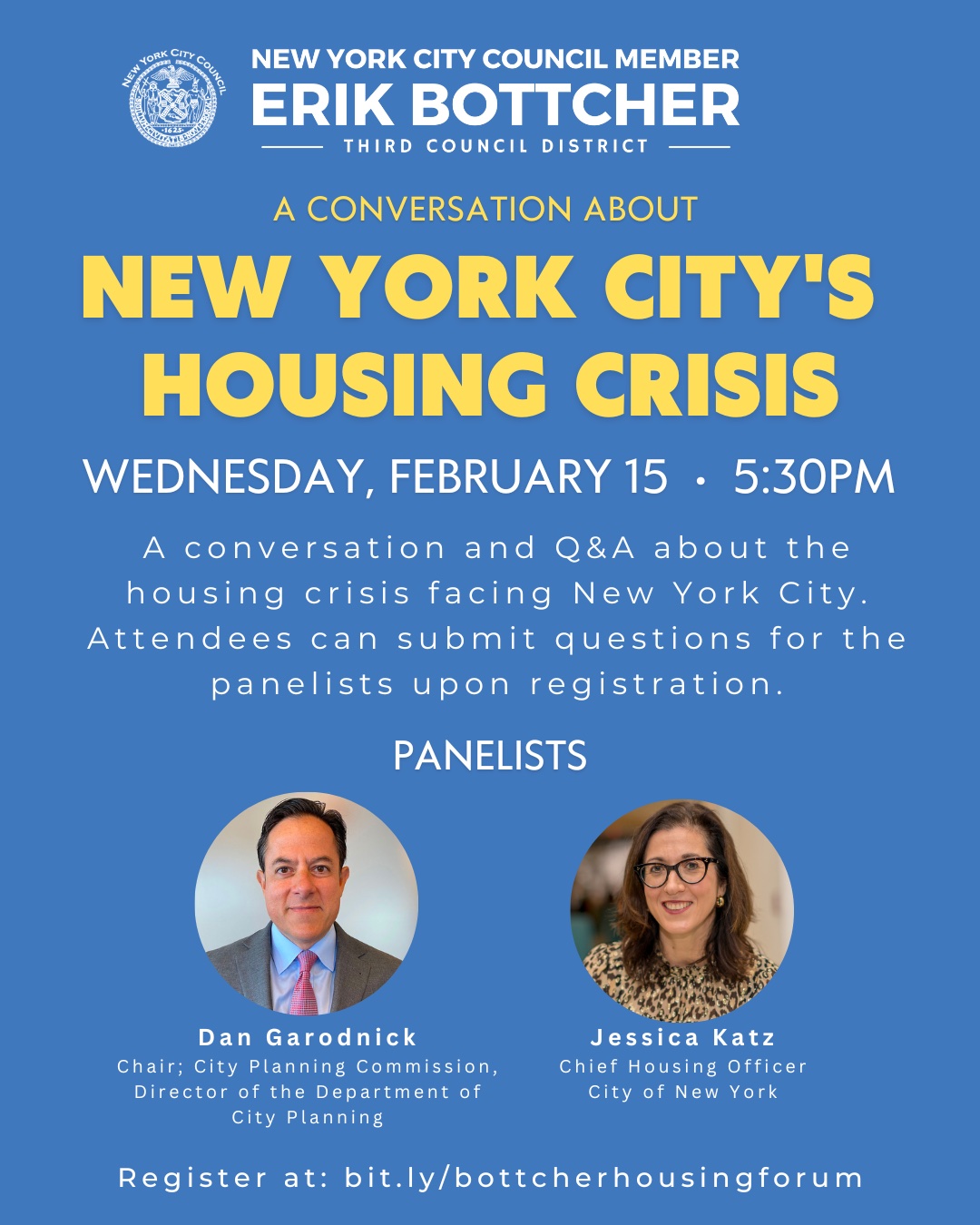 Making Space on the Great White Way: An Homage to Black Trailblazers of Theater & Performance: Sunday, February 19, 12:15pm at Marble Collegiate Church (corner of Fifth Ave. & W. 29th St.) | The latest installment of Marble's Racial Justice Series pays tribute to the Black actors, composers, and playwrights who have made countless contributions to Broadway's signature style and aesthetic—yet for many years, were not given the opportunity to perform on America's premiere stage. "This event will be interdisciplinary in that the brilliant artists featured will combine dialogue, storytelling, and performance, " says Rev. Rashad McPherson, Associate in Music and Ministry at Marble Collegiate Church. Guest performers and presenters include Broadway luminaries Natasha Yvette Williams (Some Like It Hot), Q. Smith (Come From Away), and Will Man (Hadestown National Touring Company). The event is free, welcome to all, and will be streamed live at marblechurch.org.

NEXT WEEK IN & AROUND CHELSEA
Fat Tuesday Feast: Tuesday, February 21, 6:30-8pm at The General Theological Seminary (440 W. 21st St. btw. 9th & 10th Aves.) | Good Shepherd New York, Open Street West 21, and General Theological Seminary combine their formidable forces for this free event that sends 2023's Epiphany and Mardi Gras on their way. But first: A catered pancake meal and a live jazz trio! Please RSVP (click here) to help ensure there's enough food to go around. The event occurs in Hoffman Hall on the West side of campus in the Desmond Tutu building.
The 200 West 22nd Street Block Association Kickoff Meeting: Monday, February 27 | See the below flyer for details. Contact event oganizers via email: 200west22streetba@gmail.com.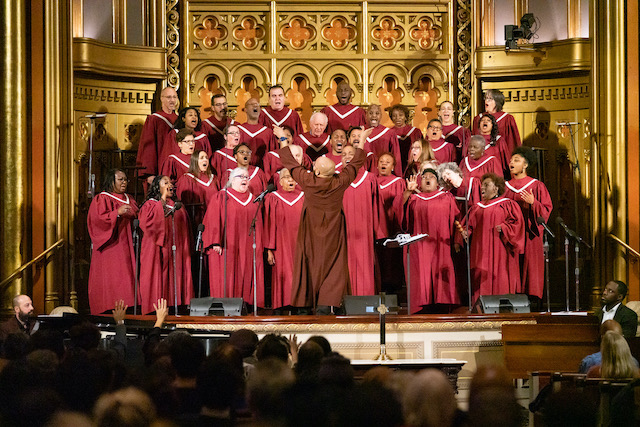 Black History Month Concert: Sunday, February 26, 2:30pm at Marble Collegiate Church (W. 29th St. & Fifth Ave.) | The legendary Marble Community Gospel Choir performs live, in concert, in the historic Marble Church Sanctuary. Directed by Rev. Rashad McPherson, Marble's Associate in Ministry & Music, this highly-anticipated gospel celebration—titled All My Help: Songs of Encouragement for Unpredictable Times—will feature "a varied, soul-stirring repertoire of Gospel music, ranging from classic Negro Spirituals, to high-energy, feel-good anthems," says Rev. McPherson, adding, "Our theme weaves a thread of love and encouragement through the entire event, serving as a reminder that you are loved, valued and never alone." Tickets for this in-person event are $20, $15 if purchased by February 24. Senior and student tickets (with ID) at the door are $15. Purchase tickets at marblechurch.org.
Chelsea Community News is an independent, hyperlocal news, arts, events, info, and opinion website made possible with the help of our awesome advertisers and the support of our readers. Our Promise: Never a paywall, no pop-up ads, all content is FREE. With that in mind, if circumstances allow, please consider taking part in our GoFundMe campaign (click here). To make a direct donation, give feedback, send a Letter to the Editor, or contact our founder/editor, send an email to Scott Stiffler, via scott@chelseacommunitynews.com.
To join our subscriber list, click here. It's a free service provding regular (weekly, at least) Enewsletters containing links to recently published content. Subscribers also will be sent email with "Sponsored Content" in the subject line. That means it's an exclusive message from one of our advertisers, whose support, like yours, allows us to offer all content free of charge.