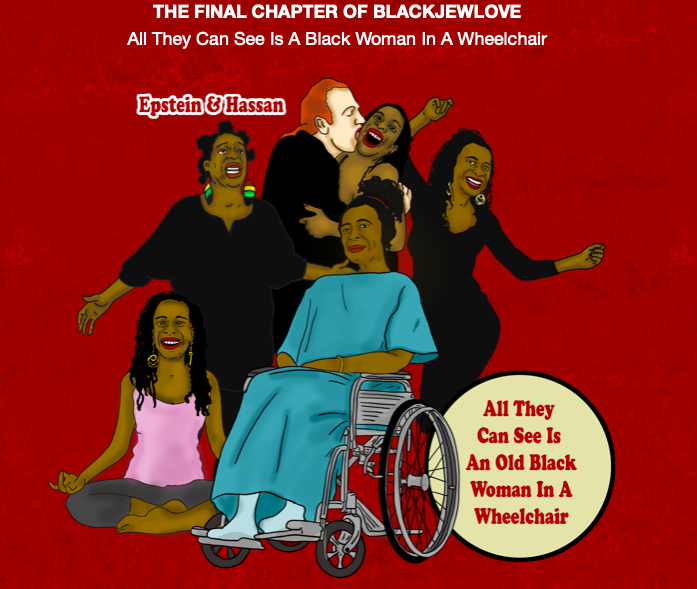 BY TRAV S.D. | For almost 40 years Epstein and Hassan (Steve Krantz and Naima Hassan) formed a romantic and artistic partnership which saw them through a series of two-person shows, bookings in variety settings like burlesque bills and launch parties, as well as their own podcasts and radio programs. Billing themselves as "The Black and the Jew," the daring duo spoke with disarming frankness about just about everything that makes Americans uncomfortable, especially race, class, and sexuality.
Their shows had titles like What You Can and Cannot Say During Interracial Sex and Dirty Truth Tellers. Their fans included the likes of Larry Flynt and Al Goldstein, though Bill Cosby hated them. In NYC, they were fixtures at venues such as Joe's Pub, The Cutting Room, The Museum of Sex, La Mama, P.S. 122 (now Performance Space New York), Franklin Furnace, the Blue Angel, Surf Reality, and Theater for the New City. They also toured to other cities through the U.S., Canada, and the U.K. And then, after years of performing the unspeakable, the unthinkable happened. On October 25, 2022, Naimah Hassan died of a combination of factors including cancer, kidney disease, and COVID.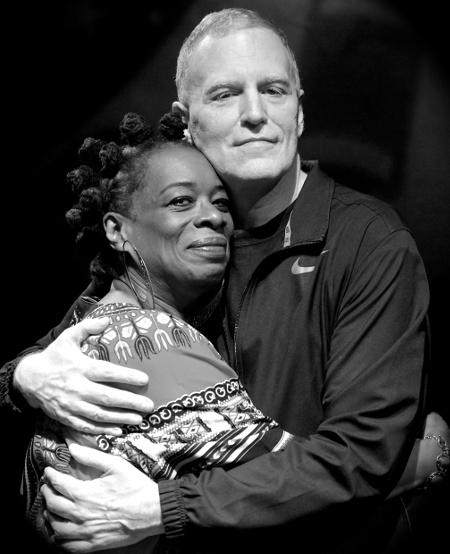 In the wake of such a personal and professional loss, Epstein could perhaps have been forgiven if he had chosen to throw in the towel. And many of his fans might be forgiven for assuming that he would have no path forward without Hassan. But that's not the case. The pair actually developed a new show together while Hassan was on her death bed, including a script about the ordeal both of them went through during her last months. Epstein performs it solo, supplemented by some final statements that were videotaped by Hassan during her final days. That show, entitled All They Can See is An Old Black Woman in a Wheelchair is now playing Saturdays, 7:30pm, through Marc 25 at Alchemical Studios (50 West 17th Street, 12th Floor).
Those expecting 75 minutes of unrelieved misery and grief are advised that the show is leavened with plenty of other ingredients, including lots of the team's patented humor, maximal doses of righteous anger about America's profit-driven healthcare system and the racism that afflicts it (hence the show's title), as well as profoundly moving moments of introspection and wisdom drawn from the couple's shared Tibetan Buddhist faith.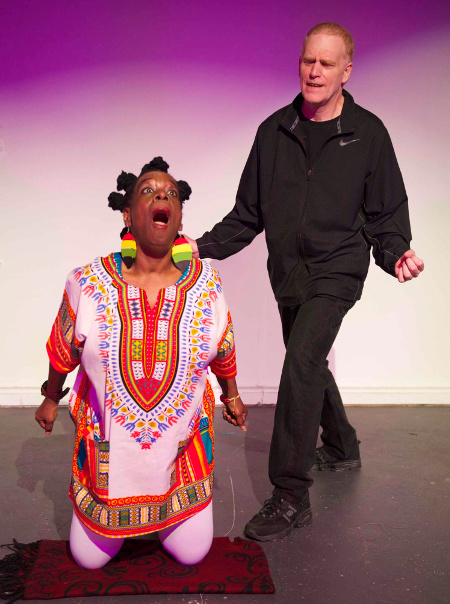 We also get to hear the Epstein and Hassan story, biographical details that the pair never previously included in their shows because they had no reason to. Ultimately, jazz was what brought the couple together. Epstein managed several well-known jazz clubs, working as a doorman and an emcee. Hassan was an aspiring jazz singer, as well as a trained actress and improv teacher. Hassan loved that she was the first black woman in a line of Buddhist teachers stretching back a thousand years. Epstein is especially proud that jazz great Art Blakey called him "his son." Given that Blakey started out in Fletcher Henderson's band, it's fair then to say that one thread which began with the birth of jazz, and another one that began with the Buddha, came together and intertwined in the persons of Epstein and Hassan. And this show is the Final Chapter of that "BlackJewLove," which was the phrase they always used to describe their relationship.
Until this week, All They Can See is An Old Black Woman in a Wheelchair had only two more scheduled performances: February 18 and 25. It gives me great pleasure to report that Epstein plans to keep it going through March 25. And after that? I hope he plays it for a good long time, because it is an amazing, transformative experience. I should quickly add that you don't need to be an Epstein and Hassan fan of 20 years standing like this reporter in order to appreciate the piece. I'm confident that this show would be just as moving, funny, and eye-opening if it were your introduction to the couple. Hassan is very much alive in this show. But further, I want to add that when this particular show finally plays itself out, as it eventually must, I hope that Epstein will continue on as a solo performer. He had a front row seat to the kind of racism his wife experienced for 40 years, with the final year worst of all. His testimony is as funny and as biting as the comedy of Lenny Bruce, and as sorrowful as the blues. Everybody needs to hear it.
The Final Chapter of BlackJewLove: "All They Can See Is An Old Black Woman In A Wheelchair" is performed Saturdays, 7:30pm, through March 25 at Alchemical Theatre (50 W. 17th St.12th floor, btw. Broadway & Fifth Ave.). Tickets are $20. For reservations, call 212-242-6216. For artist info, visit theblackandthejew.com. Venue info at alchemicalstudios.com.
Chelsea Community News is an independent, hyperlocal news, arts, events, info, and opinion website made possible with the help of our awesome advertisers and the support of our readers. Our Promise: Never a paywall, no pop-up ads, all content is FREE. With that in mind, if circumstances allow, please consider taking part in our GoFundMe campaign (click here). To make a direct donation, give feedback, send a Letter to the Editor, or contact our founder/editor, send an email to Scott Stiffler, via scott@chelseacommunitynews.com.
To join our subscriber list, click here. It's a free service provding regular (weekly, at least) Enewsletters containing links to recently published content. Subscribers also will be sent email with "Sponsored Content" in the subject line. That means it's an exclusive message from one of our advertisers, whose support, like yours, allows us to offer all content free of charge.