SCOTT STIFFLER | Compelling reasons continue to reveal themselves, in the years-long effort to landmark and repurpose a West Chelsea building owned—but not currently used—by the NYC Department of Sanitation (DSNY). The three-story property at 128 West 17th Street is the only known surviving Manhattan structure once used for the segregated public schooling of African American New Yorkers.
From 1860 to 1894, the building functioned as Colored School No. 4, educating grammar and primary grade students ranging from 4 to 14 years of age—and welcoming their parents and grandparents via evening classes.
"Its graduates and teachers were the progenitors of myriad citizen leaders who would effectively build the community of Harlem, even farther Uptown, into the renowned 20th-century capital of Black America," said author, Black New Yorker, and public independent historian Eric K. Washington, in a Chelsea Community News article of June 23, 2022 (click here to read it). Washington has been at the forefront of efforts to bestow protective status upon the building by having it declared a NYC landmark.
Those efforts, which began in 2018 when Washington file a request for evidence (RFE) that compleled the LPC to asesss the building' viability as a landmark, took a decisive step forward this week. On the morning of Tuesday, February 14, the LPC unanimously voted to "calendar" Colored School No. 4. That action will establish date in the coming months, on which members of the public may express their thoughts on the storied structure at 128 West 17th Street.
"Calendaring is the first step in the designation process; how apropos that yesterday was both Valentine's Day and Frederick Douglass's birthday!" said Washington, in a 11:09am email sent on the day after the LPC's vote.
Chelsea Community News CCNews) spoke with Washington just over an hour later, to find the author-turned-investigator-turned-preservationist (a tale worthy of its own book) recalling his mood going into the LPC's February 14 meeting.
"Obviously, I was antsy," he said. "We didn't know what the holdup was. It felt like it was inordinately prolonged amount of time [from RFE to Balendaring]. But after the [Feb. 14] LPC hearing my impression was, they were being thorough."
Statements made by the LPC prior to their vote confirm that impression.
Prior to an overview of the School's history given by landmarks preservationist and LPC member Marianne Hurley, LPC Director of Research Kate Lemos said, "This [agenda item] is one we've been working on carefully and have prioritized as part of our efforts to recognize sites of importance to African American history—particularly, the period between the Civil War and the Harlem Renaissance, which is not well-represented by landmark designations."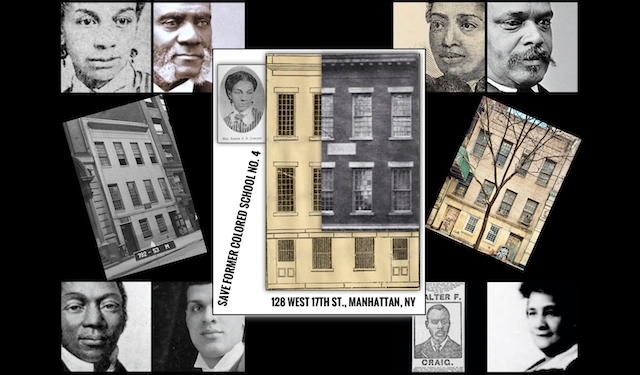 In her overview, Hurley also noted that landmark designation would "represent that history and the African American community living on the west side of Manhattan."
Of the school's name and its present ownership, Hurley noted, "Manhattan removed the word colored from the public schools names in 1886 Colored School number 4 became grammar School number 81, but it continued to serve African American children. Eight years later, in 1894, New York City closed the school the building has remained in city ownership. It was leased to various Veterans Association groups in the early twentieth century. By 1936 the Department of Sanitation was using it as one of their facilities, and it remains the building's owner."
Hurley also spoke to structural integrity, insofar as a building's retention of historically significant features impacts its viability as a landmark. "Although the front facade was updated some time in the 1930s by reclining with beige brick and by replacing doors and windows at the first story," she said, "it still retains its form and the configuration of its original 25-foot-wide bay façade. The former Colored School Number 4 illustrates not only what a small New York City public school looked like before the Civil War, but also the story of prominent teachers and graduates within the African American community."
Hurley concluded by stating, "The Research Department recommends that the Commission vote to calendar the former Colored School Number 4 as an individual landmark."
In a prelude to her call for a vote on the matter of calendaring, LPC Chair Sarah Carroll reinforced earlier remarks by Lemon, noting LPC's awareness of the West 17th Street structure "came to our attention through the request for evaluation from Eric Washington, who had has done a significant amount of research on this property… and there is no question that it is significant on so many levels, to so many different layers of our history. And so I would be delighted if we could make a motion, and to calendar it today and vote on that so that we can hold a public hearing in the near future."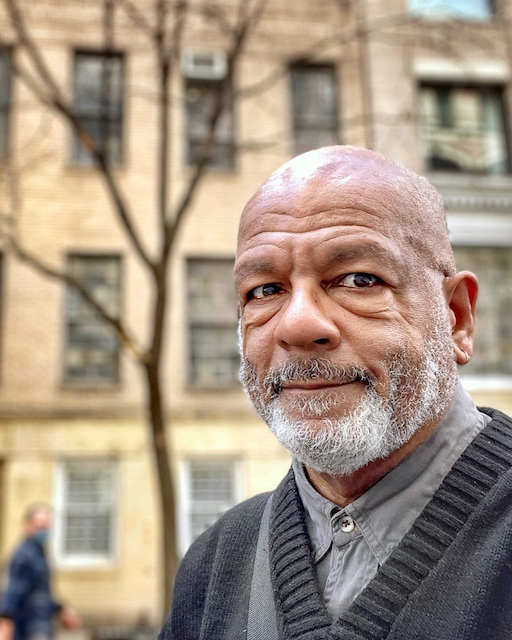 Carroll also spoke to the ripple effect this action may have, sating, "I'm hoping we will see more designations, more thinking on the part of the Commission, related to not just its school buildings, but schools; the kind of the cultural history and specifically the African American cultural history of educational institutions in the city. There are many stories and important sites to consider. So I'm very, very, very proud to think that we're to participate in this particular potential calendaring."
Time will tell if Colored School No. 4's presence on the LPC radar sets off more pings resulting in protective landmark status for other sites claiming a strong connection the history of African Americans in NYC. For now, though, two questions loom large for the future of Old Colored School No. 4. For the moment, let's take it as a purely theoretical given, that the LPC will bestow landmark status. That brings to mind matters of ownership and future usage—two important considerations that have long been on the periphery of discussions among preservationists.
"I can just say there's a strong general consensus it should be used in some way that echoes its use, and its demographic, when it was a school," says Washington, who sees the location as a magnet for "readings, education, classes" and more actions/activities "highlighting the African American experience in NYC… I did a casual survey, and pretty much everybody is on the same page, that it should be used as  lyceum [a public hall for lectures, concerts, etc.]."
On the matter of ownership, Washington said if the City retains that right, he hopes ownership is moved to an agency/department best suited to its stewardship.
But what's on the mind of the public? That is a matter for you to weigh in on, when the LPC's calendaring of Old Colored School No. 4 gets its official date. Chelsea Community News will note that, with a preview listing in our weekly "This Week In and Around Chelsea" events column. Meantime, Washington notes the public can express their support by signing a petition he created that advocates for the landmarking of Old Colored School No. 4. To sign the petition, click here.
–END–
Chelsea Community News is an independent, hyperlocal news, arts, events, info, and opinion website made possible with the help of our awesome advertisers and the support of our readers. Our Promise: Never a paywall, no pop-up ads, all content is FREE. With that in mind, if circumstances allow, please consider taking part in our GoFundMe campaign (click here). To make a direct donation, give feedback, send a Letter to the Editor, or contact our founder/editor, send an email to Scott Stiffler, via scott@chelseacommunitynews.com.
To join our subscriber list, click here. It's a free service provding regular (weekly, at least) Enewsletters containing links to recently published content. Subscribers also will be sent email with "Sponsored Content" in the subject line. That means it's an exclusive message from one of our advertisers, whose support, like yours, allows us to offer all content free of charge.