BY SCOTT STIFFLER | Held on the third Tuesday of the month—sans July, August, December—the 13th Precinct Community Council provides a forum where the public can interact with Police Officers, Detectives, and top leadership from the precinct tasked with protecting and serving a southern portion of Midtown Manhattan that includes swaths of easternmost Chelsea.
Presently conducting business via Zoom, Council President Serge Harnett assured the February 21 meeting's attendees that efforts were being made to conduct future Council meetings via a "hybrid" format that allows participation online or in the brick and mortar "real world" realm that was the norm in pre-pandemic times.
"I've been asking for months, for hybrid [meetings], said stalwart Council attendee Gail—to which Police Officer Andrew LeBron (of the 13th's Community Affairs Office) noted, "We're working on privacy issues [with staff from] Downtown. We want to do hybrid," he assured.
"Thank you for your consideration," said Gail, who recalled her stint as a virtual presence at a brick and mortar Build the Block meeting "several months back" when a friend "went [in person] and did Facetime with me." Alas, Gail's freewheeling DIY model is not one the NYPD is likely to replicate.
Local resident Edith asked about a Build the Block meeting she was aware of from an online listing that, she noted, could no longer be located. But her recollection of the venue proved correct, when Chelsea Community News conducted our own online search, (click here to visit the page we used). "It should be February 23," correctly observed Officer LeBron. Indeed, the Sector B Build the Block meeting is scheduled for Thurs., Feb. 23, 5:30pm at the 13th Precinct (230 W. 21st St.). Until Wed., Feb. 22, it was scheduled to take place at Cafeteria (119 Seventh Ave. at W. 17th St.), and promoted that way at Tuesday night's Council meeting (hence Edith's recollection was spot-on, albiet temporarily).
Before proceeding any further, a bit of background for the uninitiated: Build the Block meetings allow residents, business owners, and other neighborhood stakeholders to interact with the pair of NCOs (Neighborhood Coordination Officers) assigned to their sector (the 13th Precinct is divided into Sectors A through D). NCOs are given time each week to traverse their Sector, establish and maintain good relations, and address local concerns. These Build the Block meetings, held quarterly, are comprised mostly of a wide-open Q&A session where attendees are encouraged to speak their mind, and one or both NCOs (and occasional guests) do their best to address the matter (frequently committing to specific actions outside of the meeting).
"All meeting times, dates, and locations are subject to change. Please call your local precinct and speak to a Neighborhood Coordination Officer to verify correct meeting information," noted the NYPD, as part of our search results. Those results also noted that Sector B's NCOs (Neighborhood Coordination Officers) are PO (Police Officer) Christopher Keeley and PO Marisa Gonzalez. Contact them via Christopher.Keeley@nypd.org and Marisa.Gonzalez3@nypd.org. (PO Gonzalez responded quickly to Chelsea Community News' request for confirmation of the change of venue–by which time an updated flyer, seen below, had been created and distributed.)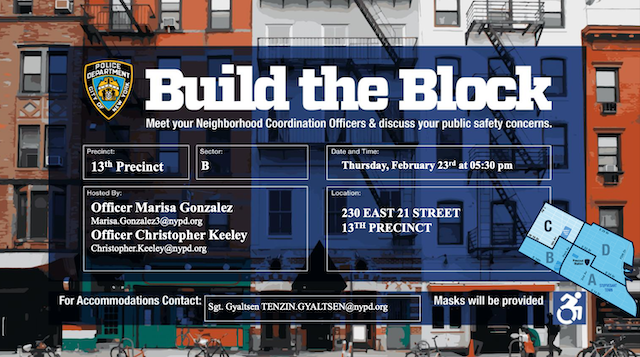 Sector A has already conducted its first quarter meeting. "Please check back at the end of March, 2023 for information on your next Build the Block Meeting in this sector," noted the search result. Sector D listed Feb. 16's 6pm meeting as having taken place at Alexandria Center for Life Science (430 E. 29th St.).
Later on in the meeting, responding to complaints about the noise level—and density—of musicians whose sudden swarming of Washington Square Park is as sure a sign as any that spring approaches, Officer LeBron and a colleague suggested calling 311 so the complaint is accounted for, and compels a response. They also noted, in response to an inquiry, that vigilant Police Officers are empowered—in fact, expected—to observe quality of life infractions or emergencies and take immediate action, with no directive from 311 or 911 necessary. "Absolutely," assured Officer LeBron, who noted filing your observance via 311 or 911 "is just a proper way to document these things." As for the musicians, they will, when the noise level is applicable, receive summonses from freshly minted Police Officers "sent to the park to make sure we're addressing" quality of life infractions.
On the topic of summonses, Police Officer Xavier Alvarez noted that 522 "moving [violation] summonses" were handed out by 13th Precinct personnel to bicyclists last year, and 51Ebikes (electronically powered bikes) were seized. "Our NCOs are writing a lot of these summonses," noted Officer Alvarez. Those caught riding their bikes on the sidewalk, he added, receive a "C Summons," 23 of which have been handed out so far this year. That classification compels the recipient to follow a number of protocols not required of those who are issued a standard summons.
A few minutes later, Officer Alvarez responded to a complaint by Jamie, regarding the recklessness and speed with which bicyclists head West on 14th Street. The corner of West 14th St. and Seventh Ave. is a particularly dangerous juncture, she noted, after specifying that she's an avid biker who frequently comes into physical contact with speeding cyclists headed towards her—in the wrong direction—as she navigates her way along the bike lane. Jamie also noted many elderly residents in her building (the Vermeer; 77 Seventh Ave. btw. W. 14th & 15th Sts.) are pedestrians at the mercy of speeding bicyclists. Officer Alvarez assured her, "I'm gonna reach out to the 10th Precinct and see if we can set something [a collaborative enforcement action] up on that corner [Seventh Ave. & W. 14th; notable in that it represents the dividing line between the10th and 13th Precincts].
Everythign the traffic will allow—and where to draw that line—was addressed elsewhere in the meeting, when West 16 Street resident Carrie spoke about the regularly occurring "nightmare" that unfolds between around 10:30pm and 12:30am. That's when, says Carrie, trucks used by "private waste [removal] companies come speeding down our block [W. 16th St. btw. Sixth & Seventh Aves.]" even though there is, on multiple sides of the street, "signage posted" that forbids use of the street by trucks—of the through-traffic variety or otherwise. Carrie noted mere signage does not discourage these refuse-collecting vehicles, who barrell down her block on their way to buildings in the Ninth and 10th Avenue areas."
The block's two speed bumps aren't much of a deterrant either, she said, noting normally restful "people in my building take sleeping pills" to cope with the regular rumblings. "I spoke to my block association president," recalled Carrie, "and they said, 'Speak to your precinct.' " That, then, is what brought Carrie to the meeting—although she was reluctant, noting the police must have enough to occupy themselves during that time of the night, "when there is more nefarious stuff happening."
Officer Alvaez was game, however, and noted that Carrie's West 16 Street location finds her "flanked by two truck routes" where the vehicles "are allowed. We can watch them and monitor them," he noted, and issue summonses if they don't have a good reason to be on a specific block.
Council president Harnett asked Carrie to leave her contact information with Detective Arlotta, implying a collaborative effort in the pursuit of enforcement and mitigation. Chelsea Community News will also be pursuing other aspects of the situation not addressed in the above reporting—including the possible installation of cameras to record truckin' scofflaws, and efforts by residents to engage with elected officials and the companies responsible for refuse removal on blocks to the west.
The next 13 Precinct Community Council meeting is Tuesday, March 21. Please direct any questions before the meeting via email to Detective Vincent Arlotta ( vincent.arlotta@nypd.org). These questions will be answered first.
–END–
Chelsea Community News is an independent, hyperlocal news, arts, events, info, and opinion website made possible with the help of our awesome advertisers and the support of our readers. Our Promise: Never a paywall, no pop-up ads, all content is FREE. With that in mind, if circumstances allow, please consider taking part in our GoFundMe campaign (click here). To make a direct donation, give feedback, send a Letter to the Editor, or contact our founder/editor, send an email to Scott Stiffler, via scott@chelseacommunitynews.com.
To join our subscriber list, click here. It's a free service providing regular (weekly, at least) Enewsletters containing links to recently published content. Subscribers also will be sent email with "Sponsored Content" in the subject line. That means it's an exclusive message from one of our advertisers—whose support, like yours, allows us to offer all content free of charge.