BY SCOTT STIFFLER | A new Chelsea workshare, conference, and media ".Space" destination is using the occasion of its Grand Opening as a means to help you discover, appreciate, and purchase the work of Andra Gabrielle. A Trunk Show featuring the gifted custom clothier will be held from 5pm to 8pm on Thursday, March 2, at 1HomeOffice .Space (245 Eighth Ave. btw. W. 22nd & 23rd Sts.). To register, click here.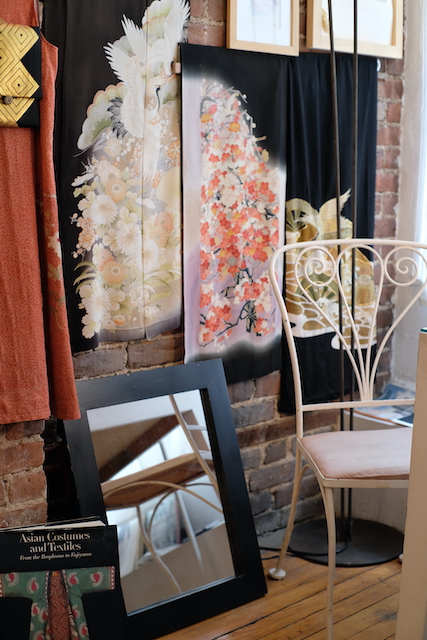 The exceedingly modest Gabrielle can be counted among the unassuming Chelsea residents whose artists' studios produce world-class, critically praised, custom-made work. In Andra's case, the art shows itself not on canvas, but in her one-of-a-kind apparel. Those who've added Andra's creations to their wardrobe after a consultation coo about her ability to conjure garments that not only compliment one's body type, but serve as a conduit with which to confidently present one's crystalized essence to the world. If that seems like a bold claim for clothing, well, seeing is believing—and that, March 2 event organizers say, is their purpose.
"Well, I've known her since I've moved into the neighborhood," says longtime resident and businessperson Daniel Balarezo. The new space that will showcase Andra's work, says Balarezo, builds "on our 30-year history [of 1HomeOffice], where customers get their mail, printing services, as well as package shipping and pick up." For 1HomeOffice .Space he noted, "We have created a secluded enclave at the courtyard level below the store."
That Andra's Trunk Show has the honor of helping 1HomeOffice .Space make is public debut is fitting, noted Balarezo, who credits the under-the-radar, knows-everyone artist with connecting him to local electeds and city services that have been invaluable over the years. But the March 2 event is in no way a mere payback gesture of "Thanks." Balarezo's awe at Andra's technical and creative talents all but compelled him to create the event, he noted, saying, "I come from a fashion background. I know what it's like to make custom clothes for people. Andra's garments are beautiful—and individual."
"There's so much history she stitches into her clothing," says Steve Badolato, a manager of the 1HomeOffice .Space, noting Andra makes a limited number of her pieces, "and that's it. Articles have called her work 'museum quality,' because of the detail she puts into each one. Barney's, Bergdorf Goodman, and Nieman Marcus have carried her stuff. Sarah Jessica Parker, Susan Sarandon, Julia Roberts, Michelle Pfeiffer, and Glenn Close have all worn her clothing."
As for the exceedingly modes artist herself—who may be blushing as you read this—Andra said, in a mailing sent by Balazero to promote the March 2 event, "I want to make clothes with respect. It's a privilege to be able to do this with my life, and I continue to meet people who can teach me."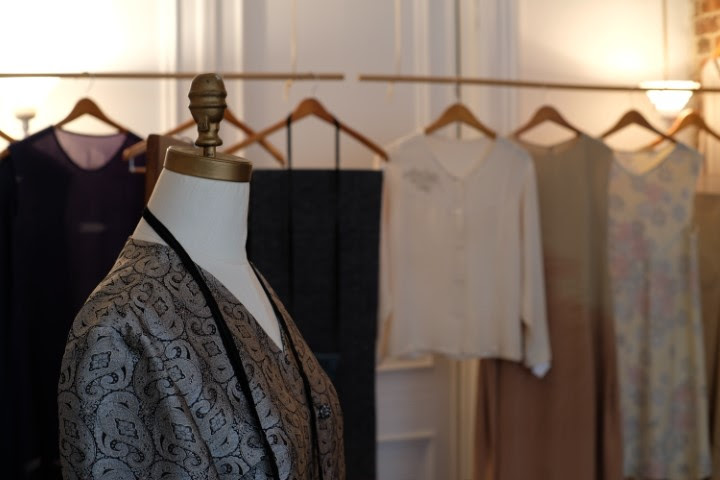 Enough said—except to reiterate: To register, click here.
Having said that, a bit of background on the host venue: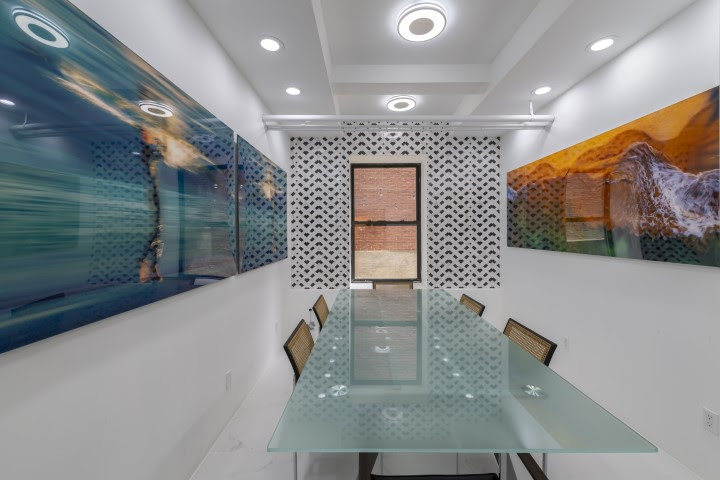 "We've been working on this space for three years," says Balarezo, noting it's "going to be a workshare space used for multiple purposes… We have four private studios and 17 [common area] workstations, and one room that's going to be used primarily as a podcast studio." Additionally, WiFi will be available, as will printing and video conferencing abilities.
Badolato said the space will "have a full kitchen" that people can rent out as well as a "big courtyard we'll start working on [greening] in the spring. There's nothing like it in this area," he observed, noting it was designed with the post-pandemic worker in mind—one who has retained the work from home routine, but wants an occasional (or regular) break from the four familiar walls of their domestic workspace, at a place that's close to home and offers some much-needed socialization.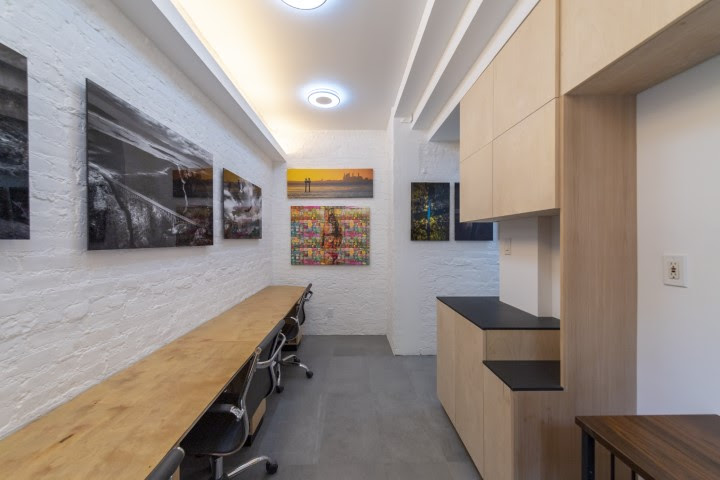 "Now our customers, Chelsea neighbors, and small businesses can create and collaborate in work-stations and conference rooms, experience art in a gallery setting, relax in a secluded Chelsea courtyard, and decompress from the street frenzy on Eighth Avenue," say the 1HomeOffice .Space creators.
–END–
Chelsea Community News is an independent, hyperlocal news, arts, events, info, and opinion website made possible with the help of our awesome advertisers and the support of our readers. Our Promise: Never a paywall, no pop-up ads, all content is FREE. With that in mind, if circumstances allow, please consider taking part in our GoFundMe campaign (click here). To make a direct donation, give feedback, send a Letter to the Editor, or contact our founder/editor, send an email to Scott Stiffler, via scott@chelseacommunitynews.com.
To join our subscriber list, click here. It's a free service provding regular (weekly, at least) Enewsletters containing links to recently published content. Subscribers also will be sent email with "Sponsored Content" in the subject line. That means it's an exclusive message from one of our advertisers, whose support, like yours, allows us to offer all content free of charge.