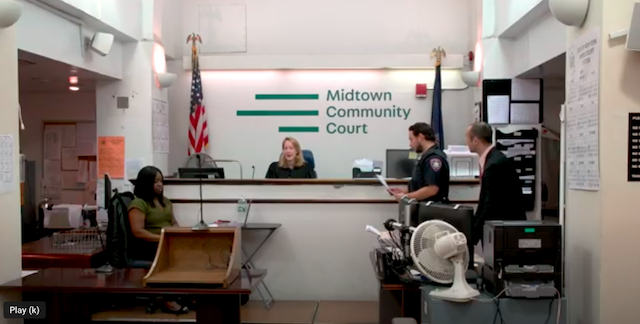 BY SCOTT STIFFLER | Founded in 1993 as a way for non-violent offenders to avoid incarceration if they access social serices and/or perform community service, calls to restore full-time operations of Midtown Community Court (MCC; 314 W. 54th St.) began soon into its COVID-era closure. Those calls were answered in March of 2022, when MCC reopened as a Fridays-only Misdemeanor Mental Health Court (MMHC) processing those with mental health issues.
When Chelsea Community News profiled the Court in February, 2023 (click here to read the article), Lucian Chalfen, Director of Public Information, New York State Unified Court System, noted MCC was about a month away from expanding by one or two additional days, "to accommodate the young adult calendar, 18-to 25-year-olds who received DATs (desk appearance tickets) for non-violent misdemeanors."
What Chalfen spoke of has come to pass. Beginning on March 16, explained MCC Project Director Danielle Mindess in a March 27 email to Chelsea Community News, Midtown Community Court "began to see 18-25-year-olds, [Manhattan] borough-wide, who receive a DAT)." As such, MCC is now open on Thursdays, with Judge Wang (the Misdemeanor Mental Health Court judge) presiding. Regarding the new court cases being heard by Wang, explained Mindell, "The NYPD put a policy into effect that requires officers to make all 18- to 25-year-old DATs returnable to Midtown [Community Court] on Thursdays and Friday afternoons, so on Thursdays and Friday afternoons we have an Emerging Adult Court calendar, and on Friday mornings it's the Misdemeanor Mental Health Court."
In a March 24 Enewsletter, NYS Senator Brad Hoylman-Sigal (D-WFP, Manhattan and Chair of the Senate Judiciary Committee) said MCC's "proven methods to prevent repeat offenses are crucial during this trying period for our neighborhoods" and called the expansion an "important step forward" in the longstanding call to restore MCC's pre-COVID Monday through Friday schedule.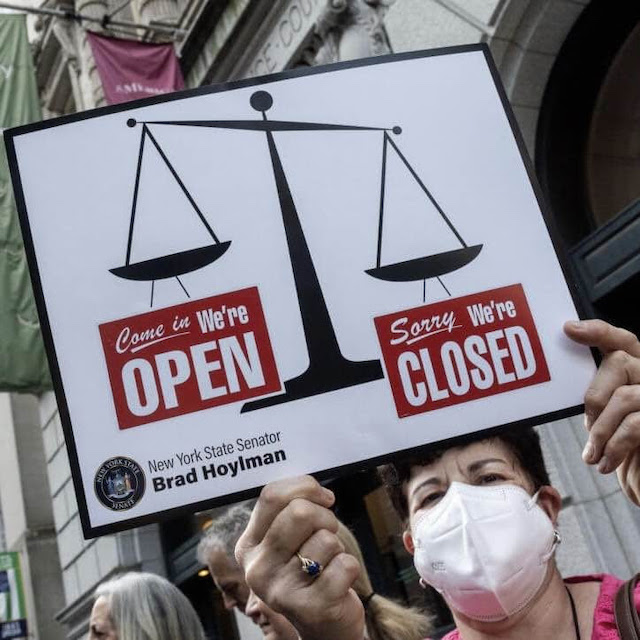 On March 16, the first day of the expanded calendar, Hoylman-Sigal was joined at a press conference by others who, like the senator, have been steadfast advocates of MCC's full restoration (incluing District 3 NYC Council Member Erik Bottcher and District 75 NYS Assembly Member Tony Simone, both of whom represent Chelsea). The addition of Thursdays, noted a press release sent by Sen. Hoylman-Sigal's office following the event, was the result of a working group convened by the senator and "consisting of local elected officials, representatives from OCA [NYS Office of Court Administration], CJI [Center for Justice Innovation], the Manhattan District Attorney, and the defense bar." For the past several months, the group has been meeting "to create a plan to broaden MCC's jurisdiction so in-person court operations occur more days each week. These efforts build on successful advocacy efforts to partially reopen MCC for the first time since the beginning of the pandemic."
At the press conference, Sen. Hoylman-Sigal praised "MCC's data-proven methods" for helping to "reduce recidivism and improve quality of life," while doubling down on the necessity of restoring MCC to its pre-pandemic status. "Without a fully functional Midtown Community Court," said the senator, "we're fighting quality of life crimes and recidivism with one hand tied behind our back."
Asked about the move toward a full-time court schedule, MCC's Mindess said, "We are hoping that OCA will continue to increase our open days as the volume increases, but I have no specific information about the timeframe. Only they can speak to that."
In a March 29 email to Chelsea Community News, Lucian Chalfen, Director of Public Information, New York State Unified Court System, noted that having just added Thursdays to MCC's weekly calendar, it is "too soon to tell… any further additions to that court will be driven by case volume. We are very mindful of court resources and closely monitor activity so that we can place both judicial and non-judicial resources in areas that are the most beneficial."
Chelsea Community News will continue to follow this story as it develops.
–END–
Chelsea Community News is an independent, hyperlocal news, arts, events, info, and opinion website made possible with the help of our awesome advertisers and the support of our readers. Our Promise: Never a paywall, no pop-up ads, all content is FREE. With that in mind, if circumstances allow, please consider taking part in our GoFundMe campaign (click here). To make a direct donation, give feedback, send a Letter to the Editor, or contact our founder/editor, send an email to Scott Stiffler, via scott@chelseacommunitynews.com.
To join our subscriber list, click here. It's a free service provding regular (weekly, at least) Enewsletters containing links to recently published content. Subscribers also will be sent email with "Sponsored Content" in the subject line. That means it's an exclusive message from one of our advertisers, whose support, like yours, allows us to offer all content free of charge.