UPDATE! Originally announced as a limited run ending May 28, performances will continue through June 25. See the end of this article for ticket purchase info.
BY SCOTT STIFFLER | History hidden, faded, and somehow still here is just part of what awaits when a fact-spouting chatterbox with a direct if fleeting connection to fame takes you on… A Gaga Guide to the Lower East Side.
Intrigued? Want to know more? The advance press describes it thusly: "Phill has been conducting a walking tour of the Lower East Side with an emphasis on the exploits of his favorite pop star and downtown denizen, Lady Gaga—faithfully guiding inquisitive minds past the boyhood home of George and Ira Gershwin, to the sites of former Yiddish theaters and delis, and through Instagrammable, graffiti-strewn parks, right to the birthplace of Mother Monster. But a Yelp review has set off a chain reaction that threatens to take today's tour in a totally unexpected direction."
"This really is three shows in one," explains Gaga scribe Ron Lasko, of his first-ever produced play. "One third of it is places where Lady Gaga would hang out when she was at NYU, one third of it is an actual [14-block] historical walking tour of the Lower East Side, and one third is the story of this tour guide you are following around. Somehow it all just works and makes sense."
It works. It makes sense. Well, he would say that, right? The guy who wrote it? Normally you'd chalk that up to the sin of pride—but when Ron Lasko assures you something's going to hit its mark, you mark his words. That's what NYC arts writers, critics, and editors have come to learn over the years. As co-founder of Spin Cycle—a NYC-based PR, marketing, and event production company representing household names and soon-to-be sensations alike—Lasko is that rarest of publicists, one whose long track record skewers so far into the "Win" column that every show he promotes gets fast-tracked for review, feature, or special mention consideration (pending avilable resources).
Over the years, Lasko has played his part in making sure audiences and critics have found their way to (spitballing it here) thousands upon thousands of visionary works and utterly unique performers. Now, taking lessons learned from everything he's seen and done in the wide-ranging world of NYC theater, comedy, and cabaret—with a few pandemic-era lessons thrown in—Lasko's Gaga Guide… premiered this month of March, on the birthdate of its titular character. And chances are, it's damn fine. But why rest on the laurels of his successes and our speculation? We put the burden of proof on Lasko via a Q&A challenge—which, true to form, he delivered on in typical no-hyperbole-needed fashion.
Scott Stiffler for Chelsea Community News (CCNews): How many (hundreds of? thousands of?) shows have you seen over the years, whether for pleasure or as part of the business? Having been informed in that manner, what were the takeaways for this project as you wrote it, cast it, and began the rehearsal process?
Ron Lasko (Lasko): I have been in New York for 30 years and I am probably in a theater at least 100 times a year. So you do the math. It is a lot of shows. And a ton of those have been solo shows by people including John Leguizamo, Spalding Gray, Karen Finley, BenDeLaCreme, Annie Sprinkle, Latrice Royale. There were also hundreds of solo shows in the New York International Fringe Festival that I worked on for 21 years. So I have seen a lot of solo shows. I feel like I really know this genre and what works and what doesn't.
CCNews: What are some of the standout performers/productions you've represented over the years?
Lasko: I have been blessed to have worked on literally thousands of new shows including world premieres with playwrights including A.R. Gurney, Adam Rapp, Samuel D. Hunter, Thomas Bradshaw and Mac Wellman, to name a few. Most of my personal favorites were short runs seen by only a handful of people, but my favorites among the hits include the first revival of Mae West's Sex, The Guys with Sigourney Weaver, the immersive hit Then She Fell, Jinkx Monsoon's The Vaudevillians, and Sarah Kane's Crave starring Debbie Harry.
If I was forced to make a Top 10 list of Best Performances I've ever seen, I would have to agonize over it for days. But the number 1 spot on that list would be a no-brainer. One performance easily stands out above all others and that is Justin Bond as Kiki. I worked with Kiki & Herb for many years and I was always in awe. It was a master class in both acting and playwriting. Justin would start out with a modest script but would continue honing and deepening the character every night, allowing Kiki to riff on a story the audience was enjoying or sometimes go off on a completely different tangent. Somehow, Justin would remember what worked and what didn't, keeping the good parts and cutting at will. As the run progressed, stories would grow and morph and strengthen. And each new Kiki & Herb show would build off of the one before it. Truly breathtaking and inspiring.
I also owe a lot to Mara Lieberman and her Bated Breath Theater Company. During the pandemic she transformed her long-running play Unmaking Toulouse-Lautrec into an outdoor walking tour spectacular called Voyeur that ran for nearly a year. There were times it was the only live theater going in NYC. It was magical. I learned a lot about outdoor promenade theater from her. Her success very much inspired me to create this much more modest solo play.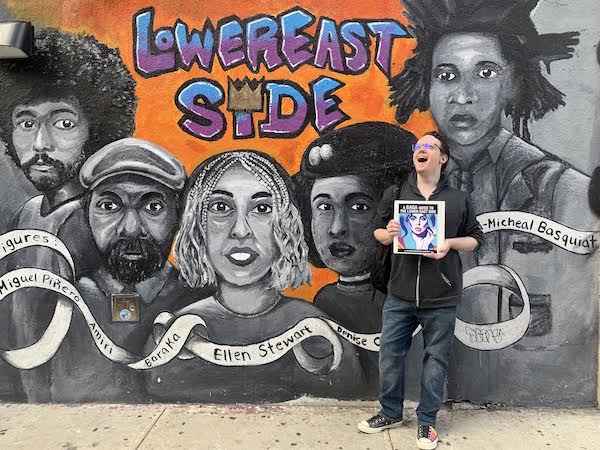 CCNews: Live theatre is unpredictable, as is—and you've also added the element of using 14 blocks of the great outdoors as your set. How do you prepare for that and how do you allow for improvisation within the scripted material?
Lasko: Some moments of improv are built directly into the text, with the actor interacting with audience members or commenting on something he sees. But there are always tons of colorful people on the streets and some will inevitably cross our path. So our actors are prepared to expect the unexpected.
And New Yorkers aren't shy. At one point during rehearsal, Phill was talking about people using the alley behind CBGB's to pee and a homeless woman in a wheelchair rolled by and informed us that she still uses the alley as a bathroom. At another point, Phill was talking about all the famous people who live in the L.E.S. and a man walking his dog kindly pointed out where Liev Schreiber lives.
CCNews: Alternating in the lead (and only) role of Phill are Lynwood McLeod and Adam Lawrence. Why did you settle on these two actors? What do they both bring to the role that was required, and what characteristics/skills allow them to put their own unique spin on it? (Note: After our interview with Lasko, Taylor Hilliard was added in the rotation of those playing Phil.)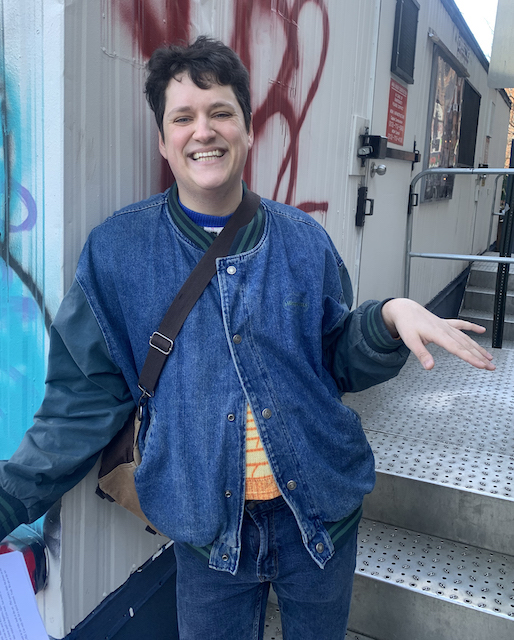 Lasko: I sifted through a lot of resumes, particularly since I wasn't set on any specific gender, ethnicity or body type, before I settled on these two actors. Adam Lawrence got the role because he works a lot with Bated Breath Theater Company, so I knew he could handle the unique demands of street theater. And Lynwood McLeod performs in clubs a lot under the drag persona Shirley U. Jest, so I knew that they would be able to embody this character and his almost pathological need for attention.
CCNews: The experience gives participants a good Lower East Side history lesson, alongside the Gaga-was-here markers. Why that choice? Did you find out anything about LES history during the course of research that informed the final product?
Lasko: I definitely learned a lot while researching the Lower East Side. There are lots of interesting historical tidbits sprinkled throughout the tour. My favorite part of the play is where I have traced the history of one lot on Houston Street—best known as the former Sunshine Cinema—that had nine significant past lives in the last 180 years. That is essentially a new identity every 20 years. Of course, it is next door to Yonah Shimmel Knish Bakery that has been there for over 100 years.
CCNews: You've been involved in the LES performance scene for—how long? What significant changes have you witnessed (venues, performers, etc.)?
Lasko: I was one of the initial group of people who created the New York International Fringe Festival and was the publicist for all 21 years it existed. Its success—and demise—very much mirror the growth of the Lower East Side. In the 90s, everything was scrappy. Everyone embraced the grunge. The festival was essentially gentrified out of the neighborhood. Now the decrepit buildings that were once performance spaces have been replaced by condos, farm-to-table
restaurants, or upscale bars serving craft beer and artisanal cocktails. The tour even leads audiences past the new Shake Shack opening soon on the LES.
But one of the themes of the play is embracing the change. New York constantly changes. And so do people.
CCNews: Could the LES of today birth an artist like Lady Gaga? What sort of artist is the scene nurturing, if indeed you can put your finger on such a thing?
Lasko: In the age of social media, stars are much more likely to be created and hone their skill and develop their talents in a smaller city. There is just more opportunity in places that aren't quite as expensive and competitive. But, of course, all roads really do lead to NYC. And there is always a pocket of young creatives somewhere in the city. Right now, Bushwick is what the LES used to be. And Long Island City/Astoria seems to be shaping up the next hotbed.
CCNews: Congrats on the production, thanks for your time, and please feel free to talk about anything not covered in the above questions.
Lasko: This show very much grew out of the pandemic. I live on the Lower East Side and was taking long walks every day, often down the same streets. One thing led to another and A Gaga Guide to the Lower East Side was born… this way.
THIS SECTION WAS UPDATED ON MAY 15… RECENTLY EXTENDED! First announced as a limited run ending May 28, performances will continue through June 25, Saturdays and Sundays at 3pm & 5pm.(shifting to 5:30pm beginning May 27). The audience meet-up point is 1 Extra Place (off First Street, between Bowery & 2nd Avenue. Running time is 95 minutes. The tour covers approximately 14 blocks, so please wear comfortable shoes. Please note that performances will be cancelled for inclement weather (heavy rain, lightning, or days above 90 degrees) and refunds will be issued. Tickets are $28 at www.SpinCycleNYC.com
Ron Lasko has served as publicist for artists and venues including BAM's Next Wave Festival, Serious Fun! at Lincoln Center, The New York International Fringe Festival, Anne Bogart, Richard Foreman, Philip Glass, Spalding Gray, John Leguizamo, Martha Graham Dance, Foundry Theatre, Bedlam, the cell, Third Rail Projects, The Flea, Karen Finley, Kiki & Herb, Ars Nova, Dutch Kills, The Civilians, Partial
Comfort, Amerinda, National Black Theater, Elevator Repair Service, Tribeca Performing Arts Center, Baruch Performing Arts Center, and countless performances by the stars of RuPaul's Drag Race (including Jinkx Monsoon, Courtney Act, Latrice Royale, Shangela, Alaska, Trixie Mattel and BenDeLaCreme). He is the co-founder of Spin Cycle, a PR, marketing, and event production company. As a theater critic, his reviews have appeared in Next, HX and Broadway.com. This is his first produced play.
Zack Carey's directing credits include the immersive theater hit Bleach, which ran for 125 performances in 2019, Boylesque (starring
RuPaul's Drag Race star Mimi Imfurst) at The Laurie Beechman Theatre, The Other Me at FringeNYC, and Club Nights at HERE. Regional credits include the Ohio premieres of Wallace Shawn's The Fever and Keith Curran's Walking the Dead.
Adam Lawrence's previous NYC credits include Voyeur: the Window of Toulouse-Lautrec (Emcee) and Chasing Andy Warhol (Andy/Original Devising Company) with Bated Breath Theatre Co. Other regional credits include Arts Center of Coastal Carolina (A Christmas Story) and Prather Productions (Singin' in the Rain, Holly Jolly Christmas). BFA from NYU Tisch's New Studio on Broadway.
Lynwood McLeod is a music education graduate of The College of Wooster where they began their professional career as a resident young artist in the Ohio Light Opera. Recent credits include Anita Martini in The Housewives of Secaucus (Off-Broadway), Larry Fanazzi in My Big Gay Italian Midlife Crisis (regional) and serving as dance captain to the The Rose Room's Late Night Circus: Craven (London premiere). Lynwood also performs in nightlife entertainment as the drag persona Shirley U. Jest.
–END–
Chelsea Community News is an independent, hyperlocal news, arts, events, info, and opinion website made possible with the help of our awesome advertisers and the support of our readers. Our Promise: Never a paywall, no pop-up ads, all content is FREE. With that in mind, if circumstances allow, please consider taking part in our GoFundMe campaign (click here). To make a direct donation, give feedback, send a Letter to the Editor, or contact our founder/editor, email Scott Stiffler, via scott@chelseacommunitynews.com.
To join our subscriber list, click here. It's a free service provding regular (weekly, at least) Enewsletters containing links to recently published content. Subscribers also will be sent email with "Sponsored Content" in the subject line. That means it's an exclusive message from one of our advertisers, whose support, like yours, allows us to offer all content free of charge.