In This Week's "THIS WEEK IN & AROUND CHELSEA"
 One Day Earlier Than Usual, the Full Board Meeting of Manhattan Community Board 4 (CB4) / E-Waste Recycling / Community Cleanups / In The Coming Weeks, In & Around Chelsea: Earth Day (April 22) in Clement Clarke Moore Park and The Return of Down to Earth Farmers Market Chelsea (April 22)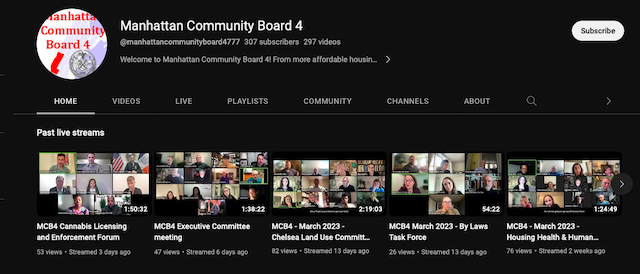 Full Board Meeting of Manhattan Community Board 4 (CB4): Tuesday, April 4, at 6:30pm via Zoom | CB4's full membership normally meets on the first Wednesday of the month, but does so one day earlier this time around, to compensate for the holiday calendar. As usual, the bulk of the agenda will b devoted to reviewing letters generated by its eight committees during the previous month. (Many letters get majority vote approval, some are sent back to committee, and others are approved pending agreed-upon changes; rarely are they voted down.) Make your opinion on this matter—or any matter, for that matter—known by participating in the Public Session, where you're given two minutes of uninterrupted time to address the Full Board. To participate, you must first register for the Zoom meeting by clicking here. Then sign up to speak by clicking here. Those who do not sign up in advance can raise their virtual hands using the raise hand function through Zoom (*9 by phone) once the public session starts. Don't want to register? View Live Stream via CB4's excellent YouTube channel (which allows you to watch the proceedings, but not participate.). To attend via phone, dial 646-518-9805 (webinar ID: 986 0945 5541). For our roundup of all CB4 committee meetings happening in April, click here.
E-Waste Recycling: Wednesday, April 5, 10am-2pm at Flatiron South Plaza (23rd St., Fifth Ave. & Broadway) | The Flatiron NoMad Partnership (an event co-sponsor in partnership with Councilmember Carlina Rivera, Lower East Side Ecology Center, and Madison Square Park Conservancy) urges you to "be a part of this green initiative during Earth Month." Bring your old electronics to donate. Accepted items include We accept working & non-working computers, monitors, printers/scanners, keyboards, mice, cables, TVs, VCRs & DVD players, phones, audio/visual equipment, cell phones, and PDAs. Participants will get to take home free plant seeds in exchange for their e-waste and can enter to win local area gift cards. For more info, click here.
Community Cleanups with NYC Council Member Erik Bottcher: Most Sundays Through May 21 | The District 3 Council Member whose area of coverage represents the West Village, Chelsea, and Hell's Kitchen areas invites citizen volunteers to clean house–by cleaning up their streets. Facilitating a tidy and inviting environment is one of the actions the Council Member has been advocating for since before he was running for that office. Years later, this annual tradition continues, now until the chilly winter of 2023. To participate, click here.  For more info, see the below flyer.
In The Coming Weeks, In & Around Chelsea:
—Listings Compiled by Scott Stiffler
–END–
Chelsea Community News is an independent, hyperlocal news, arts, events, info, and opinion website made possible with the help of our awesome advertisers and the support of our readers. Our Promise: Never a paywall, no pop-up ads, all content is FREE. With that in mind, if circumstances allow, please consider taking part in our GoFundMe campaign (click here). To make a direct donation, give feedback, send a Letter to the Editor, or contact our founder/editor, send an email to Scott Stiffler, via scott@chelseacommunitynews.com.
To join our subscriber list, click here. It's a free service provding regular (weekly, at least) Enewsletters containing links to recently published content. Subscribers also will be sent email with "Sponsored Content" in the subject line. That means it's an exclusive message from one of our advertisers, whose support, like yours, allows us to offer all content free of charge.