BY SCOTT STIFFLER | Don't let the elbow-length gloves, the cat-eye glasses, or the bouffant hairdos pull focus from what's really going on when The Kinsey Sicks take the stage. Their look may evoke Eisenhower-era cocktail culture throwbacks—but get their liberal dander up, and these ladies are more than ready for a throwdown.
And throwdown they have. For 25+years, comedic quartet The Kinsey Sicks have been touring the world, cutting albums, making movies, making videos, and staying indoors during a deadly global pandemic (where they made… more videos!). Their silly/stupid, clever/dumb lyrics are used with equal enthusiasm to perform parodies and original tunes that serve to proudly advance their queer agenda. In touring stage shows such as Things You Shouldn't Say and Electile Dysfunction, The Kinsey Sicks have truly earned their reputation as "the country's most potty-mouthed and politically outspoken drag quartet." And they outta know: They wrote that quote (it's fitting, nonetheless).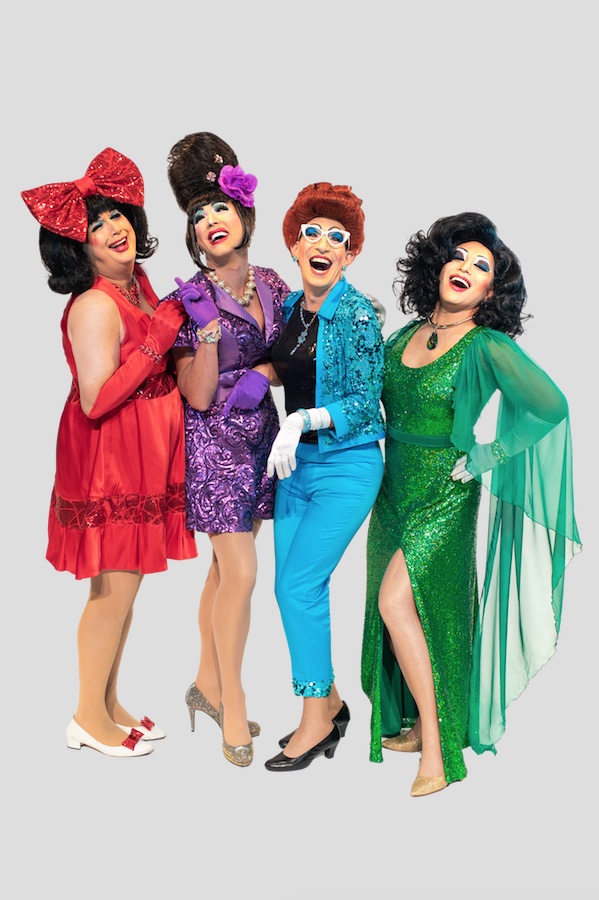 So when some GOPs from Tennessee managed to pass anti-drag legislation (thankfully, a judge prevented it from taking effect on April 1), there was little doubt this Dragapella® Beautyshop Quartet would clap back with a new show whose timely title is calculated to bait the haters.
"Join The Kinsey Sicks as we take on the latest right-wing scare calculated to vility the LGBTQ+ community," said the pre-show publicity that found its way to the Chelsea Community News Drag Desk.  That promo material was touting Drag Queen Storytime Gone WILD! in which our gals—Trixie, Winnie, Rachael, and Trampelina—are put, inexplicably, in charge of the morning assembly at your local elementary school.  The show finds itself at Birdland Theater in Midtown on Apri l 10.
The show has a paper-thin premise, to be sure, but more than enough for the radically queer quartet to hang on it a cavalcade of clever, radically risqué, laugh-out-loud politically charged songs from their repertoire—including, we hope, the trapped-indoors, pandemic-era take on the Beach Boys' Good Vibrations (reimagined as Good Ventilation). Equally skillful liberties might be taken with well-known hits from everybody from Celine Dion to Bobby McFerrin to Gilbert and Sullivan.
The parodies invariably have something more to offer besides clever riffs on the source material. More often than not, they address challenges faced by the LGBTQ+ community, as a new wave of legislation pops up at backwards-moving places all over the county. Knowing The Kinsey Sicks have just as good of a chance of popping up right alongside such dreck gives much-needed confidence that when the scales of justice are finally weighed, four queens with voices ranging from angelic high to basement bass level will have won new hearts and minds by proving that it's more fun to laugh with a drag queen than try to silence one.
The Kinsey Sicks in "Drag Queen Storytime Gone WILD!" On Monday, April 10, 8:30pm at Birdland Theater (315 W. 44th St. btw. 8th & 9th Aves.). There is a $40 music charge and a $20 food and beverage minimum. For reservations, call 212-581-3080 or click here. To visit the Kinsey Sicks website, click here.   
ABOUT THE KINSEY SICKS | The Kinsey Sicks has served up a feast of music and comedy to audiences at performing arts centers, music venues and comedy festivals throughout the US and internationally for over 25 years. Their phenomenal performance record includes an Off-Broadway show, an extended run in Las Vegas, two feature films, and three concert DVDs, ten albums, and appearances in over 40 US states, Canada, Mexico, Europe, and Australia. The Kinsey Sicks' award-winning a cappella singing, sharp satire and over-the-top drag have earned them a diverse and devoted following.
                            –END– 
Chelsea Community News is an independent, hyperlocal news, arts, events, info, and opinionwebsite made possible with the help of our awesome advertisers and the support of our readers. Our Promise: Never a paywall, no pop-up ads, all content is FREE. With that in mind, if circumstances allow, please consider taking part in our GoFundMe campaign (click here). To make a direct donation, give feedback, send a Letter to the Editor, or contact our founder/editor, send an email to Scott Stiffler, via scott@chelseacommunitynews.com.
To join our subscriber list, click here. It's a free service provding regular (weekly, at least) Enewsletters containing links to recently published content. Subscribers also will be sent email with "Sponsored Content" in the subject line. That means it's an exclusive message from one of our advertisers, whose support, like yours, allows us to offer all content free of charge.