In This Week's This Week In & Around Chelsea:
Storytime at the Cell Theatre / The 13th Precinct Community Council / Pop-Up Rigging Academy at Pier 57 / Closing Celebration at the Whitney / Earth  Day in Clement Clarke Moore Park / The Return of Down to Earth Farmers Market Chelsea / Paint Touch-Up Day / April Committee Meetings of CB4 / Community Cleanups / In Future Weeks of This Week In & Around Chelsea: The 10th Precinct Community Council / NYC Council Member Erik Bottcher in an Online Conversation with Manhattan DA Alvin Bragg / Chelsea Green Park Spring Fling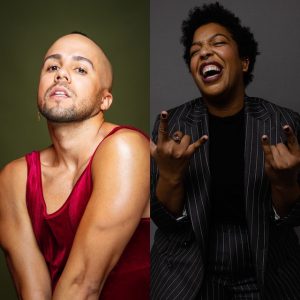 Storytime, April 17, May 15, June 19 at 7pm at the Cell Theatre (338 W. 23rd St. btw. 8th & 9th Aves.) | Theatre company What Will the Neighbors Say? presents this free night of music and storytelling (featuring an open bar and free hor d'oeuvres) on the third Monday of every month, through June. Each edition offers its own host and musical guest, who curate the theme and featured artists. Audience members inspired by the thin veil between stage and seating are, say the Neighbors, "encouraged to get up on stage and tell a story relating to that evening's theme, creating an authentic and powerful collective experience."
Doors open at 7pm, with music and stories from 7:30-9pm. Free tickets can be reserved by clicking here. The Neighbors are also hosting free virtual writing workshops on how to adapt real stories for the stage, taking place Sun. April 16, May 14, & June 18, 3-4pm. To reserve your spot, click here. To visit the Neighbors website, click here.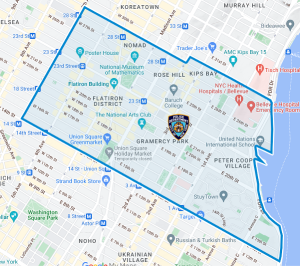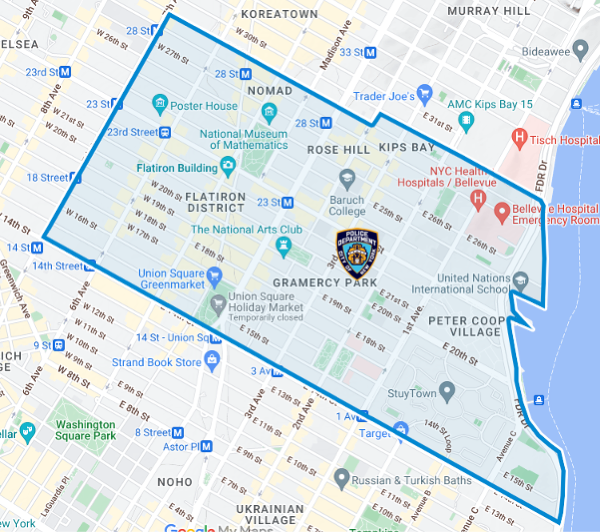 The 13th Precinct Community Council Meeting: Tuesday, April 18, 6pm via Zoom | Held on the third Tuesday of the month—sans months taken off in July, August, and December—the 13th Precinct Community Council provides a forum where the public can interact with police officers, detectives, and top leadership from the precinct tasked with protecting and serving a southern portion of Midtown Manhattan that includes swaths of easternmost Chelsea.
Presently conducting business via Zoom, Council President Serge Harnett moderates, fielding questions from attendees, as answered by top 13th Precinct leadership. In advance of the meeting, please direct public safety and quality-of-life questions to Detective Vincent Arlotta at vincent.arlotta@nypd.org (these questions will be answered first).
To attend the April 18 meeting, click here just prior to its 6pm start time. Meeting ID: 851 4172 1560. One-tap mobile: 646-558-8656.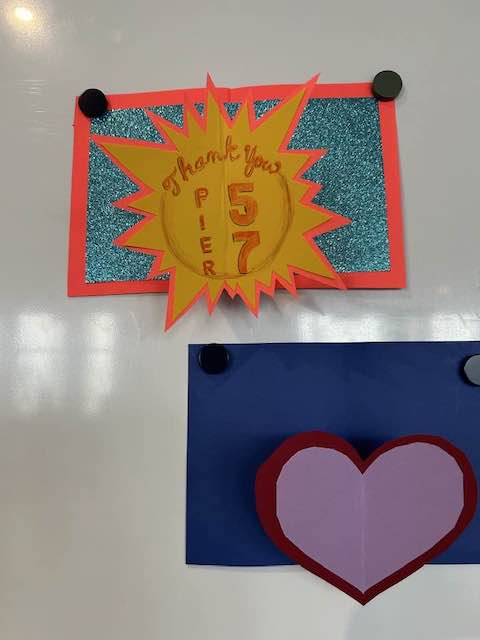 Pop-Up Card Rigging Academy: Wednesdays, 6pm at Pier 57 in the Seahorse Classroom | "Ever give someone a birthday card, graduation card, or condolence card and wished you had made it yourself, and that something could spring to life upon opening said card? Well sometimes wishes do come true." Talk about a narrative hook! If this class is as tongue-in-cheek fun to take as its descriptive text is to read—and we've every reason to believe that's the case—then Louie, I think this is the beginning of a beautiful lifelong practice of people making cards that spring to life upon opening. What's more, the class (which its creator whimsically insists is actually an "Academy) is free of charge and no advance sign-up is necessary. Chelsea's own Gustavo is your instructor. For more info, click here.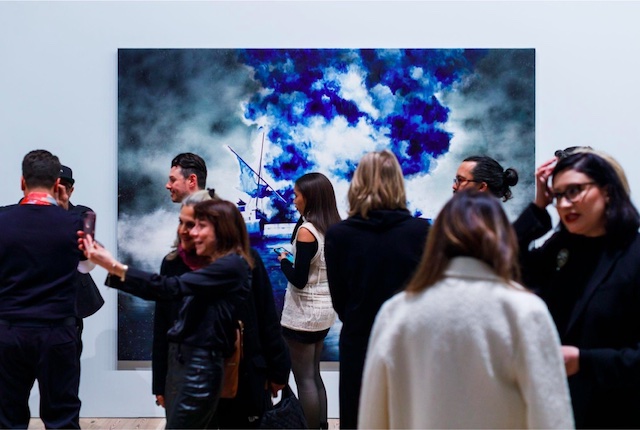 Closing Celebration for no existe un poshuracán: Puerto Rican Art in the Wake of Hurricane Maria / Thursday, April 20, 7:30-10pm at the Whitney Museum of American Art (99 Gansevoort St. btw. Washington & West Sts.) | A night of Puerto Rican arts and culture, presented with WNYC and Futuro Studios' podcast La Brega: Stories of the Puerto Rican Experience, will feature music by DJ Bembona, dancing, specialty cocktails for purchase, and a performance by non-binary Caribbean popstar Ana Macho followed by a Q&A with the artist, conducted by La Brega editor Mark Pagán. Individual tickets to the event are $45; $90 gets you two tickets plus a year-long membership to the Whitney. Ana Macho's Q&A and performance each require their own $10 tickets. All tickets can be purchased by clicking here. Can't make it to the Q&A and performance? Stream it live on the Whitney's YouTube channel. In celebration of the exhibition and Earth Day, the Whitney has made admission free on Saturday, April 22. Tickets are available while supplies last. Advanced tickets are strongly recommended; visit whitney.org/tickets.
The West 400 Block Association Celebrates Earth Day: Saturday, April 22, 11am at Clement Clarke Moore Park (10th Ave.  W. 22nd St). | Observe Earth Day by getting back to it: That's how it will be obsered by the West 400 Block Association and friends who'll gather inside Clement Clarke Moore Park–where there will be coffee, refreshments, games for the kids, and the thematically appropriate promise that "Plants and shovels will be provided."
Saturday, April 22: Opening Date for Chelsea 2023 Down to Earth Farmers Market: 9am-2pm, Sidewalk on North Side of W. 23rd St. off Ninth Ave. | April 22—and every Saturday after that through December 23—the Chelsea location of Down to Earth Farmers Market turns a patch of West 23rd Street into a fresh field of your favorite ingredients, always with the promise of new discoveries. Among the vendors on hand for opening day: Yellow Bell Farm, Berry Brook Farm, and Pickle Licious. To receive occasional news alerts from Down to Earth Farmers Market as well as a weekly preview of what's in store at their Chelsea location, click here to sign up. To visit the Chelsea page of their website, click here.
Paint Touch-Up Day: Saturday, April 22, 10am to 12pm |
The 500 West Block Association celebrates Earth Day by cleaning house—or, more literally, cleaning graffiti in and around its area. All are invited to meet on the northwest corner of 22nd Street and 10th Ave. (in front of the new Galleria Marketplace). Say the organizers, "We will come with our cordless spray paint guns filled with all the colors needed to paint over the graffiti on our street signs, mailboxes, and two building walls in our neighborhood. If you plan on joining us, please RSVP if you haven't done so already. We look forward to seeing you on Saturday!" The RSVP, FYI, is this email: 500westba@gmail.com.
The April Committee Meetings of Manhattan Community Board 4 (CB4) | CB4's full membership normally meets on the first Wednesday of the month, but did so one day earlier in April, to compensate for the holiday calendar. To see that meeting in its CB4 YouTube channel archive form, click here. As for the committee meetings happening in April, click here for our roundup, which includes registration links to
Community Cleanups with NYC Council Member Erik Bottcher: Most Sundays Through May 21 | The District 3 Council Member whose area of coverage represents the West Village, Chelsea, and Hell's Kitchen areas invites citizen volunteers to clean house–by cleaning up their streets. Facilitating a tidy and inviting environment is one of the actions the Council Member has been advocating for since before he was running for that office. Years later, this annual tradition continues, now until the chilly winter of 2023. To participate, click here.  For more info, see the below flyer.
In The Coming Weeks, In & Around Chelsea:
The 10th Precinct Community Council: Wednesday, April 26, at 7pm via Zoom | The citizen-run Council meets at 7pm on the last Wednesday of the month, via Zoom unless otherwise noted. Council President Larry O'Neill hosts the event, which typically sees 10th Precinct Commanding Officer Captain Robert Gault on hand to discuss the latest crime statistics, trends, and enforcement efforts. O'Neill then moderates a Q&A session in which Gault responds to attendee questions regarding local matters of concern. Electeds and City representatives are often in attendance, and usually amenable to taking questions from neighborhood residents, business owners, and other stakeholders who typify the turnout. Note: Follow the Community Council on Facebook by clicking here. To attend the March 29, 7pm Zoom meeting, click here. The Meeting ID is 831 4578 3754. The Passcode is 180123. To attend via phone/one-tap mobile, dial 646-558-8656.
District 3 NYC Council Member Erik Bottcher, in an Online Conversation and Q&A with Manhattan District Attorney Alvin Bragg: Wednesday, April 26, 5:30-6:30pm | This online series discusses issues of importance to the community with those whose positions influence their outcome. Shaping the conversation is host/moderator Erik Bottcher, Council Member for much (actually,most of) this website's coverage area. Informing his line of inquiry are the questions crafted by those in attendance, who can submit questions for District Attorney Bragg when accessing the sign-up form. To do so, click here.
Camp Chelsea Green: An All-Ages Spring Fling Block Party: Saturday, April 29, 10am-2pm Inside Chelsea Green Park and On the Block (W. 20th St. btw. Sixth & Seventh Aves.) |
Friends of Chelsea Green celebrate the return of flowers, warmer weather, and the ever-increasing frequency of activity in Chelsea Green Park. This well-curated event puts its summer camp theme front and center, with plenty of information on hand about NYC Summer Camps as well as other fun things for kids, this summer and beyond. The organizers also note the presence of their affordable Children's Book Fair to support Friends of Chelsea Green. "Have too many books? Bring them to us!" say the Friends, adding, "If you plan to attend our block party please consider bringing a few children's books to donate. We will keep the prices of the books cheap: 25c to $1, maybe a few at $2 but that's it! And no child will be turned away from receiving a book or two or more."
—Listings Compiled by Scott Stiffler
–END–
Chelsea Community News is an independent, hyperlocal news, arts, events, info, and opinion website made possible with the help of our awesome advertisers and the support of our readers. Our Promise: Never a paywall, no pop-up ads, all content is FREE. With that in mind, if circumstances allow, please consider taking part in our GoFundMe campaign (click here). To make a direct donation, give feedback, send a Letter to the Editor, or contact our founder/editor, send an email to Scott Stiffler, via scott@chelseacommunitynews.com.
To join our subscriber list, click here. It's a free service provding regular (weekly, at least) Enewsletters containing links to recently published content. Subscribers also will be sent email with "Sponsored Content" in the subject line. That means it's an exclusive message from one of our advertisers, whose support, like yours, allows us to offer all content free of charge.