MICHELE CARLO | Organized by the Whitney Museum of American Art to coincide with the fifth anniversary of Hurricane Maria, the first survey of Puerto Rican art at a major U.S. museum in 50 years takes its name—no existe un poshuracán (which loosely translates to "a post-hurricane world does not exist")—from while they sleep (under the bed is another country), a poetry collection by Puerto Rican writer Raquel Salas Rivera.
"When thinking about a title for the show, the verse 'no existe un mundo poshuracán' kind of caught my eye, it stood with me in my mind," says Marcela Guerrero, who organized the exhibition (Jennifer Rubio is Associate Curator, with Angelica Arbelaez, Rubio Butterfield Family Fellow, and Sofía Silva, former Curatorial & Education Fellow in US Latinx Art, Whitney Museum).
But academic and poetic provenance aside, no existe un poshuracán: Puerto Rican Art in the Wake of Hurricane Maria is neither dry nor expository, and hits with visceral impact delivered in five parts—Fractured Infrastructures; Critiques of Tourism; Processing, Grieving, and Reflecting; Ecology and Landscape; and Resistance and Protest—that take the viewer on a journey through the decades of colonization, exploitation, and neglect of the island, offering the historical perspective of the conquered.
Some works that were especially striking to me: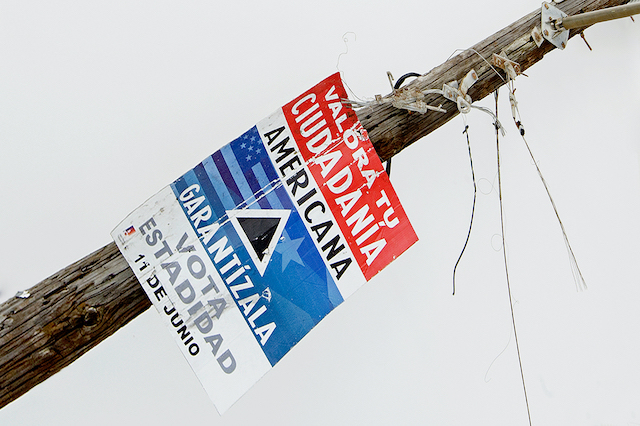 Gabriella Torres-Ferrer's Untitled (Valora tu mentira americana) shows a wooden electric post found among Hurricane Maria's aftermath with a poster still affixed that exhorts the populace to vote in a June 2017 referendum on the island's political status (remain a territory, became independent, or attain statehood). Of those who voted, 97% chose statehood—which has not yet happened, and did not protect the citizenry from a collapsed infrastructure.
Yiyo Tirado Rivera's La Concha 2022 speaks to the impermanence of commercialization. Since the 1940s, Puerto Rico has often been characterized as "America's Playground," with many iconic hotels erected around the San Juan area. Rivera's sand sculptures depict one of these hotels as a "here today, gone tomorrow" sandcastle—and, like an actual sandcastle, this work will slowly degrade over the course of the exhibition.
Javier Orfón's collection of cupey leaves (a tree shrub native to the island) inscribed with phrases such as "No reconozo plantas muertas" (I don't recognize dead plants), made me think of a long-ago visit to the forest El Yunque, and its multitude of diverse plant and animal life. The leaves remind one of how fragile—and integral—our planet is.
Garvin Sierra Vega used social media, specifically Instagram, to document ongoing public protests on the island in the summer of 2019 (Verano del 19). Colorful, graphic, and immediate, these posts broke news and information about Puerto Rico to a worldwide audience.
Elle Pérez's video Wednesday, Friday was shot at night in the aftermath of Hurricane Maria, without electric light except an occasional headlight or lamplight, and shows what life was like for Puerto Ricans island-wide during the power outages that continued for months afterward. It reminds me of a widely circulated Getty Images photo of a Puerto Rican town where the trees were so destroyed, they appeared to have exploded. That town was Corozal, the town where my mother's family is from and where two elders still live. That photograph reached thousands—and this video should reach thousands of thousands more.
Parting thoughts:
What makes an art exhibition notable: Its beauty, scope, disruption, techniques, relatability? no existe el mundo poshuracán has more than the sum of these—because you don't need to be Puerto Rican or from the diaspora to feel these artists' POV. Just ask anyone who lived through Hurricane Camille, Katrina, Andrew, Sandy … or most recently, Fiona and Ian. It is a reminder that it is not just the Caribbean that is at risk, but all of us. What also makes this experience notable are the artists. You may know Puerto Rico is not a state, but a U.S. territory. What you may not know is the long history of exploitation of and disregard for the island's inhabitants. From the birth control pill trials which duped island women into being guinea pigs in the 1950s, to the 1999 bombing at Vieques—a small island off PR's southeast coast which was used as a U.S. bombing range and training base for over 60 years—that killed a security guard and fomented protests that led to the base's shutdown, to a former U.S. President (whose name I won't dignify with a mention) tossing paper towels into the audience at a post-Maria briefing (to which I say, "Coño, at least you could have thrown Bounty!"), the U.S. thinks of Puerto Rico the way one would a pack of tissues—useful when you need it, easy to stuff away and forget about.
no existe un mundo poshuracán counteracts the one-sided view of mainland media. It chronicles, questions, provokes, confronts, reveals, mourns, and hopes. It depicts trauma and devastation, betrayal and loss, reflection, and action. This group of artists demands to imagine a different future for the island. I left the Whitney marveling at how many of these artworks incorporated language, which is perhaps fitting for an art exhibition inspired by poetry. As Raquel Salas Rivera says, "Marcela has found a way to interweave everything and make it feel like it's breathing… and gave it a whole other life."
VISITOR INFORMATION
"no existe un mundo poshuracán: Puerto Rican Art in the Wake of Hurricane Maria" is on view at the Whitney Museum of American Art (99 Gansevoort St. btw. Washington & West Sts.) through Sunday, April 23. For tickets and more information, call 212-570-3600 or click here. Public hours are Mon., Wed., and Thurs., 10:30am–6pm; Fri., 10:30am–10pm; and Sat./Sun., 11am–6pm. Closed Tues. Member-only hours: Sat./Sun., 10:30–11am. Visitors 18 years and under and Whitney members: FREE. Admission is pay-what-you-wish on Fri., 7–10pm. COVID-19 vaccination and face coverings are not required but strongly recommended. Visitors are encouraged to wear face coverings that cover the nose and mouth throughout their visit.
FROM THE WHITNEY, REGARDING CURRENT CONDITIONS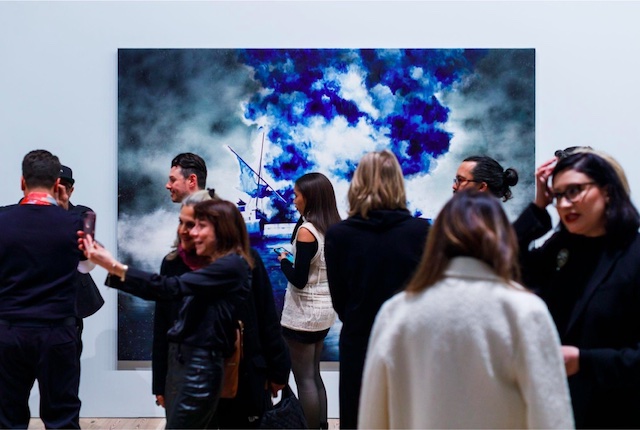 Hurricane Fiona made landfall on September 19, 2022 and struck Puerto Rico's southwest coastal municipalities leaving millions without power and inundating communities. The storm arrived five years after the island experienced the devastation of Hurricane Maria. To learn more about Puerto Rico's ongoing disaster recovery efforts through accessible data and a directory of initiatives and organization, please click here to visit The Disaster Resources Hub, a project of EL CENTRO, The Center for Puerto Rican Studies at Hunter College.
Thursday, April 20, 7:30-10pm
Throughout the Whitney
A night of Puerto Rican arts and culture, presented with WNYC and Futuro Studios' podcast La Brega: Stories of the Puerto Rican Experience, will feature music by DJ Bembona, dancing, specialty cocktails for purchase, and a performance by non-binary Caribbean popstar Ana Macho followed by a Q&A with the artist, conducted by La Brega editor Mark Pagán. Individual tickets to the event are $45; $90 gets you two tickets plus a year-long membership to the Whitney. Ana Macho's Q&A and performance each require their own $10 tickets. All tickets can be purchased by clicking here. Can't make it to the Q&A and performance? Stream it live on the Whitney's YouTube channel.
In celebration of the exhibition and Earth Day, the Whitney has made admission free on Saturday, April 22. Tickets are available while supplies last. Advanced tickets are strongly recommended; visit whitney.org/tickets.
–END–
Regarding the Reporter: Michele Carlo is a writer, storyteller, and sometime actor who has told stories across the U.S., including the MOTH Mainstage in New York, RISK! and Story Collider live shows and podcasts, on NPR (Latino USA and WNYC radio), and the WGBH-PBS series "Stories from the Stage." Michele is also the author of the NYC-set memoir Fish Out of Agua and a contributor to several literary anthologies. Follow her on Instagram: @michele_asshell. Click here to visit her website.
Chelsea Community News is an independent, hyperlocal news, arts, events, info, and opinion website made possible with the help of our awesome advertisers and the support of our readers. Our Promise: Never a paywall, no pop-up ads, all content is FREE. With that in mind, if circumstances allow, please consider taking part in our GoFundMe campaign (click here). To make a direct donation, give feedback, send a Letter to the Editor, or contact our founder/editor, send an email to scott@chelseacommunitynews.com.
To join our subscriber list, click here. It's a free service provding regular (weekly, at least) Enewsletters containing links to recently published content. Subscribers also will be sent email with "Sponsored Content" in the subject line. That means it's an exclusive message from one of our advertisers, whose support, like yours, allows us to offer all content free of charge.