In This Expanded Edition of This Week In & Around Chelsea:
NYC Council Member Erik Bottcher in an Online Conversation with Manhattan DA Alvin Bragg  / The 10th Precinct Community Council / NYCHA Tenants: Know Your Rights on Thursday, April 27, 4pm via Zoom / EVENT POSTPONED: Camp Chelsea Green: An All-Ages Spring Fling Block Party / Events From Earlier in the Week and Weekly & Short-Term Events: Community Cleanups / Down to Earth Farmers Market Chelsea / The West 400 Block Celebrates Day / Paint Touch-Up Day with the 500 West Block Association / CB4's Executive Committee Meets / Hudson Guild Theatre Company Presents Uncle Vanya 
District 3 NYC Council Member Erik Bottcher, in an Online Conversation and Q&A with Manhattan District Attorney Alvin Bragg: Wednesday, April 26, 5:30-6:30pm | This online series discusses issues of importance to the community with those whose positions influence their outcome. Shaping the conversation is host/moderator Erik Bottcher, NYC Council Member for much (actually, most of) this website's coverage area. Informing his line of inquiry are the questions crafted by those in attendance, who can submit questions for Manhattan District Attorney Bragg when accessing the sign-up form. To do so, click here. Clicking on that link also allows you to register for the event itself. (You'll get a follow-up email with the Zoom link allowing you to attend this online conversation.)
The 10th Precinct Community Council: Wednesday, April 26, at 7pm via IN PERSON at the 10th Precinct (230 W. 20th Street between Seventh & Eighth Aves.) | The citizen-run Council meets at 7pm on the last Wednesday of the month, via Zoom unless otherwise noted. For the April meeting, the following should be duly noted: "It's been a while and we have not had an in-person meeting since September." writes Council President Larry O'Neill. "I was asked that we hold and in-person meeting because we are a community and should get together. With that in mind, we will hold the next meeting at the following location: 230 W 20th St.(10th Precinct). Come and meet your neighbors." O'Neill hosts the event, which typically sees 10th Precinct Commanding Officer Captain Robert Gault or another member of the precinct's top leadership on hand to discuss the latest crime statistics, trends, and enforcement efforts. O'Neill then moderates a Q&A session in which a 10th Precinct rep responds to attendee questions regarding local matters of concern. Electeds and City representatives are often in attendance, and usually amenable to taking questions from neighborhood residents, business owners, and other stakeholders who typify the turnout. Note: Follow the Community Council on Facebook by clicking here.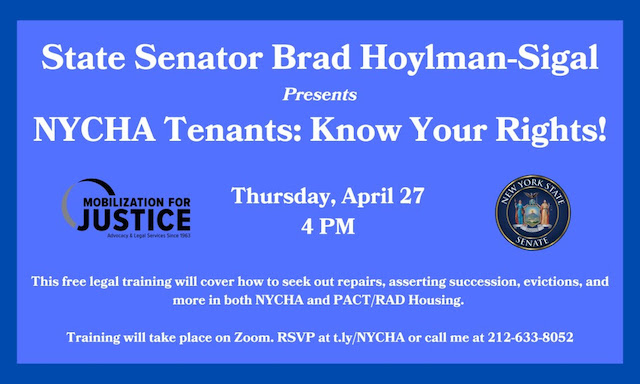 NYCHA Tenants: Know Your Rights on Thursday, April 27, 4pm via Zoom | This free legal training session, presented by New York State Senator Brad Hoylman-Sigal, is for NYCHA and PACT/RAD tenants. Learn how to get repairs done, assert your succession rights, and what to do during a termination or eviction. Attorneys from Mobilization for Justice will walk attendees through their rights as public housing residents and answer questions during the Q&A session. The training will take place on Thursday, April 27 at 4pm. The public is asked to please RSVP ahead of time (click here to do so). If in need of assistance, call 212-633-8052.
POSTPONED: This note via email, from event organizers: "Due to the rain on Saturday, we are rescheduling our event. 

Save the date: Saturday, 5/20, 10am-2pm. 

More information to come." 

Camp Chelsea Green: An All-Ages Spring Fling Block Party: Saturday, April 29, 10am-2pm Inside Chelsea Green Park and On the Block (W. 20th St. btw. Sixth & Seventh Aves.) |
Friends of Chelsea Green celebrate the return of flowers, warmer weather, and the ever-increasing frequency of activity in Chelsea Green Park. This well-curated event puts its summer camp theme front and center, with plenty of information on hand about NYC Summer Camps as well as other fun things for kids, this summer and beyond. The organizers also note the presence of their affordable Children's Book Fair to support Friends of Chelsea Green. "Have too many books? Bring them to us!" say the Friends, adding, "If you plan to attend our block party please consider bringing a few children's books to donate. We will keep the prices of the books cheap: 25c to $1, maybe a few at $2 but that's it! And no child will be turned away from receiving a book or two or more."
WEEKLY & LIMITED RUN EVENTS and STUFF FROM EARLIER IN THE WEEK
(calendar recalibrated on Tuesday)
Sunday, April 30 (and May 7/21): Community Cleanups with NYC Council Member Erik Bottcher | The District 3 Council Member whose area of coverage represents the West Village, Chelsea, and Hell's Kitchen areas invites citizen volunteers to clean house–by cleaning up their streets. Facilitating a tidy and inviting environment is one of the actions the Council Member has been advocating for since before he was running for that office. Years later, this annual tradition continues, now until through May 21. To participate, click here.  For more info, see the below flyer.
Down to Earth Farmers Market: Saturdays, 9am-2pm, Sidewalk on North Side of W. 23rd St. off Ninth Ave. | Every Saturday through December 17, the Chelsea location of Down to Earth Farmers Market turns a patch of West 23rd Street into a fresh field of your favorite ingredients, always with the promise of new discoveries. Among the vendors on hand for April 22's Opening Day: Yellow Bell Farm, Berry Brook Farm, and Pickle Licious. To receive occasional news alerts from Down to Earth Farmers Market as well as a weekly preview of what's in store at their Chelsea location, click here to sign up. To visit the Chelsea page of their website, click here.
The West 400 Block Association Celebrates Earth Day: 11am, Saturday, April 22 at Clement Clarke Moore Park (10th Ave.  W. 22nd St). | Observe Earth Day by getting back to it–the good earth, that is. That's how it will be obsered by the West 400 Block Association and friends who'll gather inside Clement Clarke Moore Park–where there will be coffee, refreshments, games for the kids, and the thematically appropriate promise that "Plants and shovels will be provided."
Paint Touch-Up Day: Saturday, April 22, 10am to 12pm

| The 500 West Block Association celebrates Earth Day by cleaning house—or, more literally, cleaning graffiti in and around its area. All are invited to meet on the northwest corner of 22nd Street and 10th Ave. (in front of the new Galleria Marketplace). Say the organizers, "We will come with our cordless spray paint guns filled with all the colors needed to paint over the graffiti on our street signs, mailboxes, and two building walls in our neighborhood. If you plan on joining us, please RSVP if you haven't done so already. We look forward to seeing you on Saturday!" The RSVP, FYI, is this email: 500westba@gmail.com.
Manhattan Community Board 4 (CB4) Executive Committee (EXEC) Meets: Monday, April 24, 6:30pm via Zoom | On the Agenda: NYU Capstone will give a presentation on access and connectivity on the far West Side of CB4's coverage area. (NYU Wagner's Capstone Program, it notes,  provides students with the centerpiece of their graduate education…Capstone teams spend an academic year addressing challenges and identifying opportunities for clients, or conducting research on a pressing social question—in a complex and real-world environment.) Elsewhere on the Agenda, there will be a discussion about CB4 shifting to a "hybrid" meeting format, in which public business is conducted both via Zoom and in-person. The EXEC Chair will report on CB4's active Task Forces and Working Groups, and other points of interest. Prior to a review of Old/New Business that conclude the meeting, a District Office Report covers the upcoming May installment of monthy Full Board meetings, and the committee schedule for that month as well. To register, click here. To attend by phone, dial 646-518-9805 (webinar ID: 916 5217 3279).
Hudson Guild Theatre Company Presents Uncle Vanya, Through April 30 at Fulton Center | Set in the present day, this version of Anton Chekhov's bittersweet comedy Uncle Vanya (adapted by Hudson Guild Theatre Co. director Jim Furlong) uses various rooms in the venue to take its audience to different places within the play's Rust Belt setting. The intimate nature of this production allows for only 30 viewers per performance. That said, reserving $10 tickets ASAP is strongly recommended, and can be done by clicking here. Performances at Hudson Guild's Fulton Center (119 Ninth Ave. btw. W. 17th & 18th Sts.) are April 20-30: Thurs./Fri., April 20/21 and 27/28 at 7:30pm; Sat./Sun. April 22/23 and Sun., April 30 at 2:30pm; and Sat., April 29 at 4pm.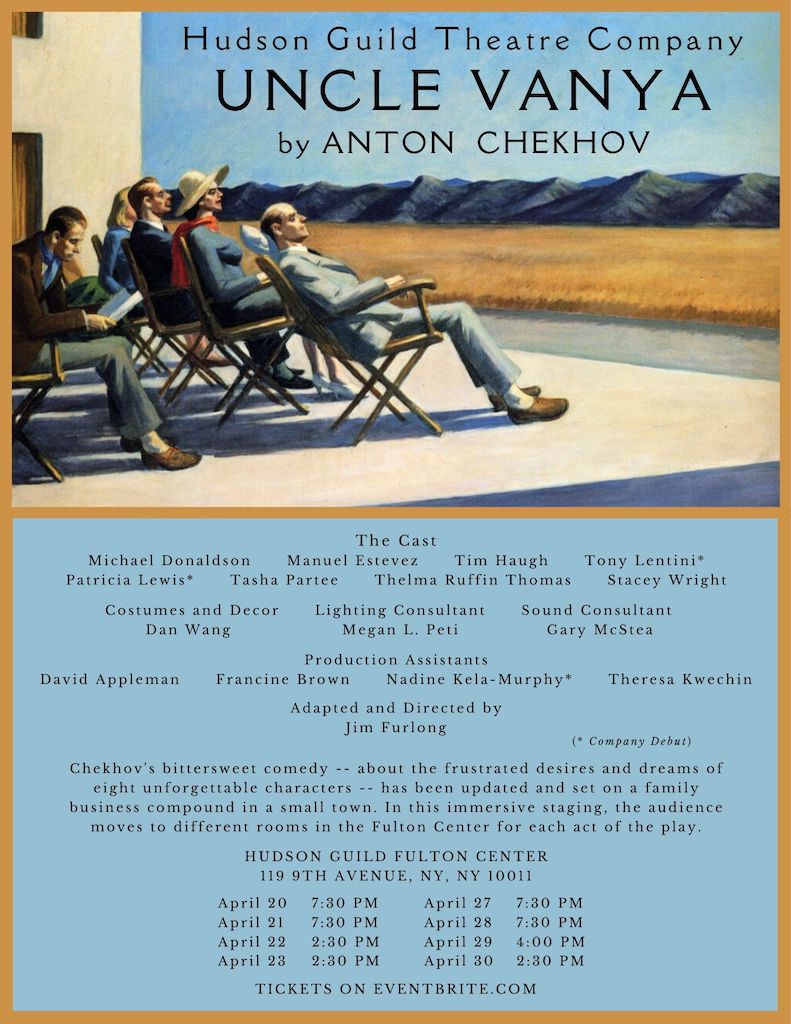 Chelsea Community News is an independent, hyperlocal news, arts, events, info, and opinion website made possible with the help of our awesome advertisers and the support of our readers. Our Promise: Never a paywall, no pop-up ads, all content is FREE. With that in mind, if circumstances allow, please consider taking part in our GoFundMe campaign (click here). To make a direct donation, give feedback, send a Letter to the Editor, or contact our founder/editor, send an email to Scott Stiffler, via scott@chelseacommunitynews.com.
To join our subscriber list, click here. It's a free service provding regular (weekly, at least) Enewsletters containing links to recently published content. Subscribers also will be sent email with "Sponsored Content" in the subject line. That means it's an exclusive message from one of our advertisers, whose support, like yours, allows us to offer all content free of charge.