BY ELIZABETH ZIMMER | The city is brightening, inside and out. Trees are in leaf, and theaters are full of diverse artists whose work addresses compelling esthetic and social issues. Seize the moment to visit an old favorite and/or discover someone new.
Shamel Pitts|TRIBE: Touch of Red | April 27-29 at New York Live Arts Theater | This boundary-breaking Black choreographer is a product of Brooklyn, La Guardia High School, Juilliard, and Ohad Naharin's Batsheva company, where Pitts learned the singular technique Gaga. His latest work, the third part of a trilogy, is inspired by both boxing and the Lindy Hop. He performs it with Tushrik Fredericks in an environment by sculptor Mimi Lien, styled like a fight arena. Playing the edge between violence and intimacy, his intention is to examine how "masculinity and vulnerability can be reconciled in a non-competitive, compassionate and healing way." You'll sit up close; you'll feel the glow. Thurs., April 27, Fri., April 28 and Sat., April 29, 7:30pm at the New York Live Arts Theater (219 W. 19th St. btw. Seventh & Eighth Aves.). Tickets start at $25 and can be purchased at NewYorkLiveArts.org or by calling 212-691-6500.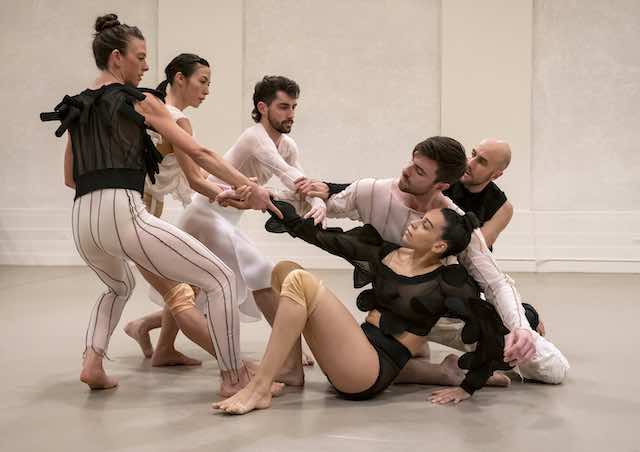 Trisha Brown Dance Company: May 2-7 at the Joyce Theater | The 51st season of this pioneering post-modern troupe is also the first time it has performed the choreography of anyone other than its founder, who died in 2017. Cuban-born artist Judith Sánchez Ruiz shows her newly commissioned Let's talk about bleeding, which has a score by Adonis Gonzalez. The rest of the program celebrates Brown's collaborations with composer Alvin Curran, reprising the 1991 For M.G.: The Movie, which commemorates Michel Guy, a French minister of culture, as well as the 2011 Rogues, a work that celebrates Brown's unmatched physicality. May 2-7 at the Joyce Theater (175 Eighth Ave. at W. 19th St.). For tickets ($16-$71), call 212-242-0800 or click here.  
Martha Graham Dance Company: April 18-30 at the Joyce Theater | This venerable modern company, now 97 years old, continues to evolve, taking in new talent even as it burnishes Graham's iconic works. New dances by diverse choreographers like Baye & Asa, Annie Rigney, and Hofesh Shechter stud three different programs during the troupe's two-week season at the Joyce.
Also on display is the retooled Canticle for Innocent Comedians, taking off from Graham's 1952 work, re-envisioned by choreographer Sonya Tayeh, enfolding vignettes by Alleyne Dance, Jenn Freeman, Juliano Nunes, Micaela Taylor, and Yin Yue, as well as the late Robert Cohan, who was a member of the original cast; one section has Graham's original choreography. The new version has a commissioned score by superb jazz pianist Jason Moran.
April 18-30, at the Joyce Theater (175 Eighth Ave. at W. 19th St.). For tickets ($16-$81), call 212-242-0800 or click here. To visit the Martha Graham Dance Company website, click here. 
–END–
Chelsea Community News is an independent, hyperlocal news, arts, events, info, and opinion website made possible with the help of our awesome advertisers and the support of our readers. Our Promise: Never a paywall, no pop-up ads, all content is FREE. With that in mind, if circumstances allow, please consider taking part in our GoFundMe campaign (click here). To make a direct donation, give feedback, send a Letter to the Editor, or contact our founder/editor, email Scott Stiffler, via scott@chelseacommunitynews.com.
To join our subscriber list, click here. It's a free service providing regular (weekly, at least) Enewsletters containing links to recently published content. Subscribers also will be sent email with "Sponsored Content" in the subject line. That means it's an exclusive message from one of our advertisers, whose support, like yours, allows us to offer all content free of charge.