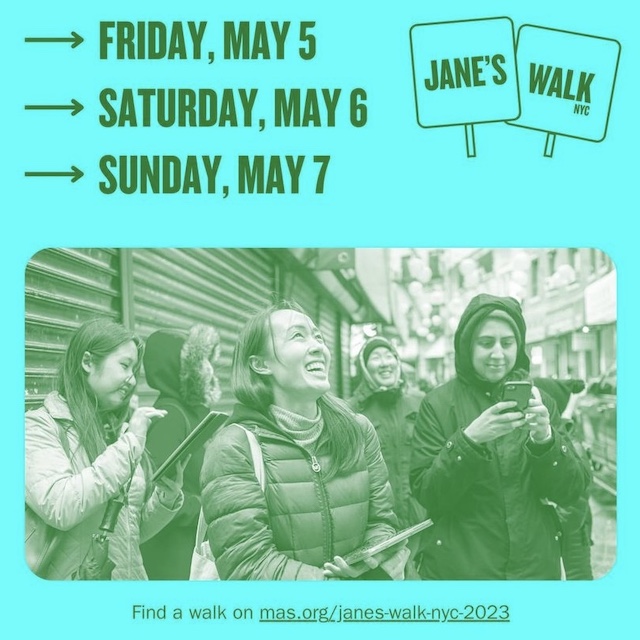 BY SCOTT STIFFLER | Take a walk in Washington Square Park and know you'll owe its intact nature, in no small part, to Jane Jacobs (1916-2006). The urbanist and activist's 1961 book, The Death and Life of Great American Cities, made the case for a break from the "demolish and replace" school of urban planning that had taken root in the years following World War II. Jacobs' pedestrian-first ethos and "eyes on the street" insistence that businesses and residences belong next to each other flew in the face of—and ran rings around—seemingly all-powerful NYC Parks Commissioner Robert Moses, whose plans to pulverize whole parts of Greenwich Village for the construction of a roadway went the way of the dinosaur when Jacobs got wind of the plan.
Jacobs' legacy of effective, coalition-based, won't-back-down activism can be seen today, as more and more wind keeps getting knocked out of the sails that once made Gov. Kathy Hochul's plan to raze the area around Penn Station seem like a done deal. Just as Jacobs and allies sprang into action when Moses acolytes once projected the notion of "blight" upon an area seemingly destined for the wrecking ball, a people's coalition coalesced when Hochul used the same technique to justify a land grab that would have demolished businesses and residences to make room for office towers. In name and deeds, Jane Jacobs has often been invoked by opponents of Hochul's plan—at community board meetings, press conferences, protest actions, and, yes, walking tours.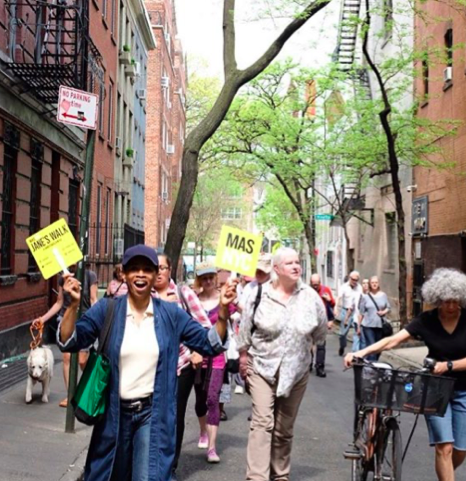 Which brings us to the upcoming "Jane's Walk"—a three-day (May 5-7) celebration that builds on the legacy of the locomotion-loving activist who moved to Toronto in 1968. Jane's Walk, the event's website tells us, "was founded in Toronto in 2006 by a group of Jane Jacobs' friends and colleagues as a way to honor her life and activate her ideas. That first year, there were a handful of walks in Toronto. Over the next decade, the movement saw rapid global uptake by urban activists around the world. In 2017, 1,700 Jane's Walks took place in 225 cities around the world, spanning 37 countries and 6 continents."
The NYC edition, fittingly, is the largest of them all—and organizing that effort is the Municipal Art Society of New York (MAS). The goal of this free, volunteer-led walking festival, MAS notes "is to inspire the public at large to more deeply engage in New York City's many neighborhoods, cultures, and stories… and use walking as a way to connect with their neighbors. New Yorkers and visitors of all backgrounds are able to join 200+ walks across all five boroughs presenting opportunities for educational urban exploration, celebrating Jane Jacobs and the city we love."
Our roundup of walks—in the material and virtual worlds—concentrates on Chelsea Community News' neighborhoods of interest (Hell's Kitchen, the Meatpacking District, Union Square, Chelsea). But as MAS noted, NYC's hyperlocal love is a five-borough affair. Access all that's available by clicking here—where you can by type, borough, and theme.
Garment District NYC: Friday, May 5, 9am | The Garment District Business Improvement District (BID) returns as a Jane's Walk contributor, with this Walk through the Fashion District. Hear about Calvin Klein and Ralph Lifshitz on the Fashion Walk of Fame, with visits to neighborhood works of art, a factory, and a showroom. This is a walk of about a quarter mile, with no stairs. RSVP required. To do so, click here.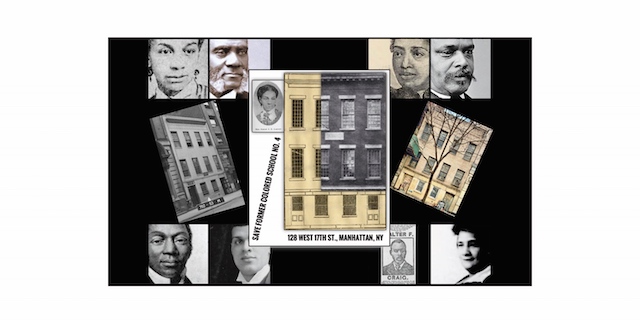 Considering a New City Landmark: The Legacy of Former "Colored" School No. 4: Friday, May 5, 11am Online via Zoom | Despite four centuries of its African American presence, New York City has few buildings that reflect the complex historical trajectory, milestones, and breadth of the Black experience in our great metropolis," notes author and MAS guide Erik K. Washington. As the person responsible for initiating an effort to landmark the historic West Chelsea building (a five-year effort expected to pay off when the Landmarks Preservation Committee meets on May 23), Washington is uniquely qualified to lead this online tour. It includes a virtual overview of the historic schoolhouse, and will introduce many of the notable teachers, students, and visitors associated with this remarkably surviving Black heritage site. To visit the Jane's Walk page for this event, where you'll access the Zoom link via the "Sign Up" option, click here.
41 Things About 41st Street on My 41st Birthday: Friday, May 5, 1pm | It's the birthday weekend of tour guide Eddie Jones, who tells you about dozens of fascinating facts (41 of them, of course) about the tour's titular street. This no-longer-than-90-minute mega meta celebration of the Big 4-0 (plus one), says Jones, talks "about Tudor City and that playground by FDR drive to the far east. Then we'll pass Grand Central, Bryant Park, the New York Times building, Port Authority, and end at Hudson Yards. If enthusiastic, broad, and sometimes irreverent historical gems from a passionate amateur are your thing, join me! Click here to sign up for the tour… and would it kill you to show up with a birthday card?
It's a Mad Mad Mad Madison Square Park: Sunday, May 7, 11am | This tour starts across the street from the iconic (and recently sold) Flatiron Building, working its way around the park's perimeter to uncover the secrets behind statues and skyscrapers. "From presidents and politicians to madams and madmen, be prepared to see this plot of greenery in a whole new light," promises tour guide Steve Madeja, who adds, "With less than half a mile over flat terrain, this is a great tour for seniors, guests with disabilities, or people with pets." To sign up, click here.

A Walk Through the Historic Meatpacking District: A 75-minute, Online, On-Demand Tour | Jacquelyn Ottman, fifth generation member of the family behind Ottman & Company, shares the intertwined story of NYC's now-famous Meatpacking District and her family's storied meat purveying business. Jacquie recounts the 400-year history of this neighborhood's journey from Lenape trading post, military fort, produce and meat market, to fashionable hub for art, food, clothing, and more. Click here, any time, to take the tour.
Hell's Kitchen South—Identifying Sites, Society, and Stories: Saturday, May 6, 9am | Embark on a 45 minute to 1-hour discovery route through Hell's Kitchen South, bounded by West 34th to the south, West 40th to the north, Eighth Avenue to the east, and Tenth Avenue to the west. This walk highlights 19th and 20th century sites, society, and stories of the immigrant and working class communities that shaped the area while exploring "to what extent this understated, unostentatious neighborhood is undergoing rebranding and redevelopments as a result of its proximity to Hudson Yards." To sign up, click here.
Andy Warhol's Union Square: Sunday, May 7, 11am | Thomas Kiedrowski, author of Andy Warhol's New York City, leads this tour zeroing in on Warhol's connection to Union Square. The tour will cover Warhol's childhood and schooling, career, and rise to Pop Art icon, with locations including Warhol-centric businesses, eateries, and nightlife destinations. To sign up, click here.
–END–
Chelsea Community News is an independent, hyperlocal news, arts, events, info, and opinionwebsite made possible with the help of our awesome advertisers and the support of our readers. Our Promise: Never a paywall, no pop-up ads, all content is FREE. With that in mind, if circumstances allow, please consider taking part in our GoFundMe campaign (click here). To make a direct donation, give feedback, send a Letter to the Editor, or contact our founder/editor, email Scott Stiffler via scott@chelseacommunitynews.com.
To join our subscriber list, click here. It's a free service provding regular (weekly, at least) Enewsletters containing links to recently published content. Subscribers also will be sent email with "Sponsored Content" in the subject line. That means it's an exclusive message from one of our advertisers, whose support, like yours, allows us to offer all content free of charge.