Full Board Meeting of Manhattan Community Board 4 / Spring Fling Saturdays / NYS Senator Brad Hoylman-Sigal's West Side Town Hall /  Community Cleanups / Down to Earth Farmers Market Chelsea /  Event Postponed: Camp Chelsea Green–An All-Ages Spring Fling Block Party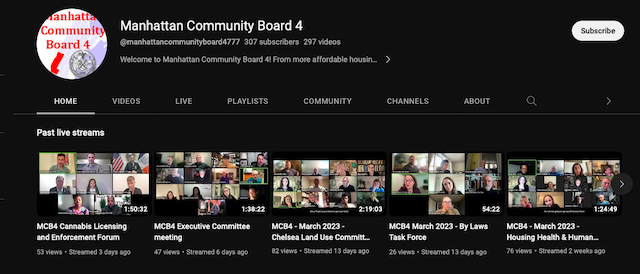 Full Board Meeting of Manhattan Community Board 4 (CB4): Wednesday, May 3, 6:30pm via Zoom | CB4's full membership meets on the first Wednesday of the month, with much of the agenda devoted to reviewing letters generated by its eight committees during the previous month. (Many letters get majority vote approval, some are sent back to committee, and others are approved pending agreed-upon changes; rarely are they voted down.) Voice your opinion on any of the proposed letters—or any matter, for that matter—by participating in the Public Session, where you're given two minutes of uninterrupted time to address the Full Board. Signing up to speak during the Public Session (General Topics) and Public Hearing (Specific topic listed on the agenda) can now be found via the Zoom Registration Link. Click here to access that link. Those who do not sign up in advance can raise their virtual hands using the raise hand function through Zoom (*9 by phone) once the public session starts. Don't want to register? View Live Stream via CB4's excellent YouTube channel (which allows you to watch the proceedings, but not participate.). To attend via phone, dial 646-518-9805 (webinar ID: 986 0945 5541). To access a package of info containing the letters to be voted on, click here. To visit the home page of CB4's website, click here.

Spring Fling Saturdays: 2-8pm May 6, 20, & June 3 and Spring Fling Festival: Sat./Sun., June 10/11 in Bella Abzug Park (542 W. 36th St.) presented by the Hudson Yards Hell's Kitchen Alliance and Colored Colors | Three Saturdays, from 2-8pm, Bella Abzug Park  will be full of artisans selling their goods, live musical performances, and food vendors. It's a great opportunity to shop small and local–and it's all leading up to a supersized, two-day Spring Fling Festval on June 10 and 11. For more info, click here. Visit the HYHK Alliance by clicking here.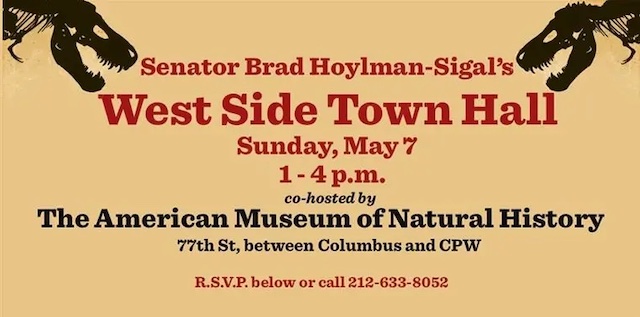 New York State Senator Brad Hoylman-Sigal's West Side Town Hall: Sunday, May 7, 1-4pm at the American Museum of Natural History (77th St. btw. Columbus & Central Park West) and Online | New York State Senator Brad Hoylman-Sigal (the 47th District rep whose coverage area includes Chelsea) invites you to discuss issues of importance, including the New York State Budget, the rights of tenants, issues of importance to seniors, actions to take, to mitigate adverse effects on the climate, bolstering public safety, and championing human rights. To RSVP, click here. Says Senator Hoylman-Sigal, "I hope you can join. Call me at 212-633-8052 if you have questions." Due to overwhelming demand, registration has been closed for this event. "If you haven't RSVP'd yet," said the Senator, in an update on the event's web page, "we'll be sure to send out a report of the event" (after the fact).
WEEKLY & LIMITED RUN EVENTS
Sunday, May 7 & 21: Community Cleanups with NYC Council Member Erik Bottcher | The District 3 Council Member whose area of coverage represents the West Village, Chelsea, and Hell's Kitchen areas invites citizen volunteers to clean house–by cleaning up their streets. Facilitating a tidy and inviting environment is one of the actions the Council Member has been advocating for since before he was running for that office. Years later, this annual tradition continues. To participate, click here.  For more info, see the below flyer.
Down to Earth Farmers Market: Saturdays, 9am-2pm, Sidewalk on North Side of W. 23rd St. off Ninth Ave. | Every Saturday through December 17, the Chelsea location of Down to Earth Farmers Market turns a patch of West 23rd Street into a fresh field of your favorite ingredients, always with the promise of new discoveries. Among the vendors on hand for April 22's Opening Day: Yellow Bell Farm, Berry Brook Farm, and Pickle Licious. To receive occasional news alerts from Down to Earth Farmers Market as well as a weekly preview of what's in store at their Chelsea location, click here to sign up. To visit the Chelsea page of their website, click here.
POSTPONED: This note via email, from event organizers, regarding this event originally scheduled for April 29: "Due to the rain on Saturday, we are rescheduling our event. Save the date: Saturday, 5/20, 10am-2pm. More information to come." Camp Chelsea Green: An All-Ages Spring Fling Block Party: Saturday, April 29, 10am-2pm Inside Chelsea Green Park and On the Block (W. 20th St. btw. Sixth & Seventh Aves.) | Friends of Chelsea Green celebrate the return of flowers, warmer weather, and the ever-increasing frequency of activity in Chelsea Green Park. This well-curated event puts its summer camp theme front and center, with plenty of information on hand about NYC Summer Camps as well as other fun things for kids, this summer and beyond. The organizers also note the presence of their affordable Children's Book Fair to support Friends of Chelsea Green. "Have too many books? Bring them to us!" say the Friends, adding, "If you plan to attend our block party please consider bringing a few children's books to donate. We will keep the prices of the books cheap: 25c to $1, maybe a few at $2 but that's it! And no child will be turned away from receiving a book or two or more." 
—Listings Compiled by Scott Stiffler
Chelsea Community News is an independent, hyperlocal news, arts, events, info, and opinion website made possible with the help of our awesome advertisers and the support of our readers. Our Promise: Never a paywall, no pop-up ads, all content is FREE. With that in mind, if circumstances allow, please consider taking part in our GoFundMe campaign (click here). To make a direct donation, give feedback, send a Letter to the Editor, or contact our founder/editor, send an email to Scott Stiffler, via scott@chelseacommunitynews.com.
To join our subscriber list, click here. It's a free service provding regular (weekly, at least) Enewsletters containing links to recently published content. Subscribers also will be sent email with "Sponsored Content" in the subject line. That means it's an exclusive message from one of our advertisers, whose support, like yours, allows us to offer all content free of charge.