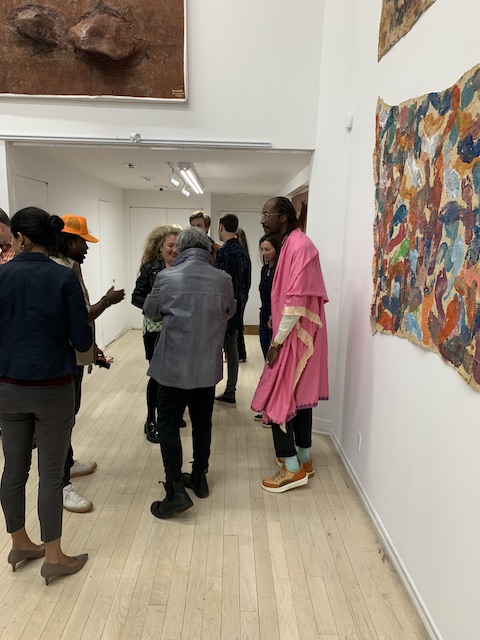 BY TRAV S.D. | April 27, 2023: Just another Thursday in Chelsea's booming Gallery District. Your correspondent thought it would be fun to take in a lighting round of openings to see what was in the air, and encountered much to please the eyes.
First on the itinerary was Innocent Nkurunziza: From Rwanda with Love at Ethan Cohen Gallery (251 W. 19th St. btw. Seventh & Eighth Aves.). One of Africa's top contemporary artists, Nkurunziza uses natural materials and textures to achieve an effect of "ritualized healing." For more information on the exhibition (on view through June 1), click here. To schedule a visit (30 minutes, 11am-5:30pm, Tues.-Sat.), click here.
Next, at the Ricco/Maresca Gallery (529 W. 20th St. 3rd Fl. btw. 10th & 11th Aves.), we caught a well-considered double header—Bill Traylor: Plain Sight (in Gallery One) and Bob Gibson Tjungarrayi: His Father's Country (in Gallery Two; supported by D'Lan Contemporary). Bill Traylor, of course is not contemporary; this self-taught artist was born in slavery in Alabama, and was only a professional during the last decade of his life. Well ahead of his time, his was my favorite work of the junket! The Ricco/Maresca folks have smartly paired him a new show of work by Aboriginal Australian Bob Gibson Tjungarrayi, whose bold, broad, block-like compositions reminded me of (very) late Picassos.
Both of these exhibitions will be on view through June 3: Tues.-Fri,  10:30am-6pm & Sat. 11am-6pm. To launch the online viewing room for Gibson, click here. To launch for Traylor, click here. For info, call 212-627-4819.
Next, at the Miles McEnery Gallery (520 W. 21st St. btw. 10th & 11th Aves.), we saw several large and colorful canvases by Los Angeles-based Alexandra Grant, mixing elements like text, patterns of stripes and dots, and action painting.
The opening night crowd was densely packed; the work is on view through June 3. Click here for more info on the Grant exhibition. To launch the online viewing room, click here. On site, the viewing hours are Tuesday through Saturday, 10am-6pm.
Lastly, at the Kasmin Gallery, we caught the work of two other artists, Jan-Ole Schiemann (New Paintings, a collection of abstractions) and Daniel Gordon (Free Transform, which includes both sculptures and his own process of two-dimensional computer-generated color prints, in this case mimicking a still life). These shows also up through June 3. New Paintings is at 509 W. 27th St. (btw. 10th & 11th Aves.), and Free Transform is at 297 10th Ave. (at W. 27 St.). Viewing hours: 10am-6pm, Tuesday through Saturday.
–END–
Chelsea Community News is an independent, hyperlocal news, arts, events, info, and opinionwebsite made possible with the help of our awesome advertisers and the support of our readers. Our Promise: Never a paywall, no pop-up ads, all content is FREE. With that in mind, if circumstances allow, please consider taking part in our GoFundMe campaign (click here). To make a direct donation, give feedback, send a Letter to the Editor, or contact our founder/editor, email Scott Stiffler via scott@chelseacommunitynews.com.
To join our subscriber list, click here. It's a free service provding regular (weekly, at least) Enewsletters containing links to recently published content. Subscribers also will be sent email with "Sponsored Content" in the subject line. That means it's an exclusive message from one of our advertisers, whose support, like yours, allows us to offer all content free of charge.