UPDATED June 1, 2023: A memorial service for Zazel Loven will take place at 11am on Saturday, June 17, at the Church of St. Luke in the Fields (487 Hudson St. btw. Christopher & Barrow Sts.), with a gathering immediately afterward.
The outpouring of respect, admiration, and, yes, love that followed the recent passing of Zazel Loven represents—as Zazel did, daily—the best of us. Regarded as an omnipresent, unassuming architect of neighborhood and nature alike, Zazel's steadfast commitment to the betterment of Chelsea expresses itself in the horticulture of Hudson River Park and the sounds of splashing, laughter, and, yes, barking coming from Chelsea Waterside Park. The below testimonials long for what we've lost upon Zazel's passing and, in doing so, give us the fortitude to gather the lessons of her legacy and draw upon them to create a future worthy of this friend from the past.—Scott Stiffler, Chelsea Community News founder/editor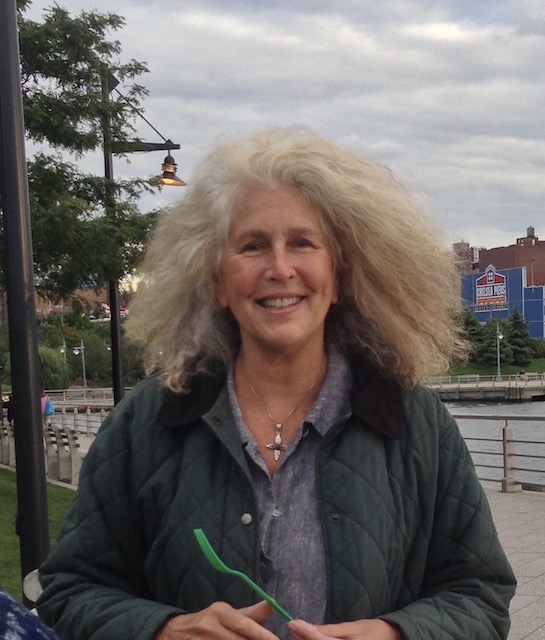 A Close Friend of Many | It is with deep sadness we report the sudden death of our beloved neighbor Zazel Loven on April 26. Zazel was a resident of the West 300 Block of 22nd Street for over 50 years and close friend of many in our block association. She was co-chair of the West 300 Block Association and president of the Chelsea Waterside Park Association, for which she worked tirelessly to make Chelsea a better place in which to live. She leaves behind daughter Hillevi, son Sven, longtime partner Robert Sherman and his daughter, Olivia. A memorial service is being planned. We extend our condolences to Zazel's family.—Joanne Downes, for the West 400 Block Association
Zazel Enhanced Reality for Everyone | Zazel joyfully gifted our community with her inspiring words and energy, working together to create beautiful flowering realities of trees gardens and parks to enhance reality for everyone. —Andra Gabrielle
She Stepped in and Stepped Up | Zazel stepped into the presidency of the Chelsea Waterside Park Association (CWPA) after Bob [Trentlyon] left—and proved to be a strong presence with vision, perseverance, and lots of people skills. She knew how to work well with others, support them, and she developed and maintained for the CWPA a critical community network. Her passing is an immense loss, and she flashes across my mind at least once or twice each day since she left us.—Burt Lazarin, CWPA treasurer & longtime member (and former Chair) of Manhattan Community Board 4
Intelligence Marked by Abundant Common Sense | I first met Zazel Loven over 50 years ago when we became members of our local babysitting co-op. Our daughters were born a year apart, and we bonded as new mothers do. Living just a block apart we often saw each other, some years more than others, and we enjoyed a wonderful friendship. Upon retirement, she became more active in community organizations and served as a leader in activities that enriched the whole community. Zazel had a unique, elegant style without pretention, a down-to-earth intelligence marked by abundant common sense, and always a joyous countenance whenever we met. I will miss her very much.—Joanne Downes
Think This Tribute to Zazel is Good? Vintage Loven Shows Us How It's Done | Courtesy of a reader comes this glimpse into the writings of Zazel Loven. A 2012 tribute event the from the West 300 Block Association saw this Zazel-generated text: "We are neighbors who see Chelsea as a small town in a big city. As neighbors, we hold out our hands to one another over big and small issues. Tom Duane, Ed Kirkland, and Bob Trentlyon have woven their lives into the fabric of this neighborhood. Together and separately, their leadership, ideas, and hard work have brought us together and shown us how vision and cooperation enhance the lives of all Chelsea residents. Thank you Tom, Ed, and Bob for being at our sides at all times, always with a gracious nod to the past, as we, together, look to the future."—Zazel Loven
The Great Zazel Loven Started It All for Me | Zazel was a force of nature because it was her true passion. She loved trees, plants, flowers, anything that bloomed, and especially Chelsea Waterside Park and Hudson River Park.
Zazel met me while I was maintaining my tree bed on 23rd Street at Ninth Avenue.  She approached me graciously and asked if I would be interested in joining the block association. We went for coffee and I became a member, with Zazel's urging.  That was over 20 years ago. Fast forward to 2023, and I'm a member of the Chelsea Council of Block Associations and Chelsea Waterside Park Association. The great Zazel Loven started it all for me.
She advocated for parks and trees, and became the President of the Chelsea Waterside Park Association after the death of Robert Trentlyon, another great neighborhood advocate. She was a wonderful individual—considerate, kind, always calm, and rational. My memories of our relationship are engrained in my mind. She will be dearly missed around the neighborhood.—Phyllis Waisman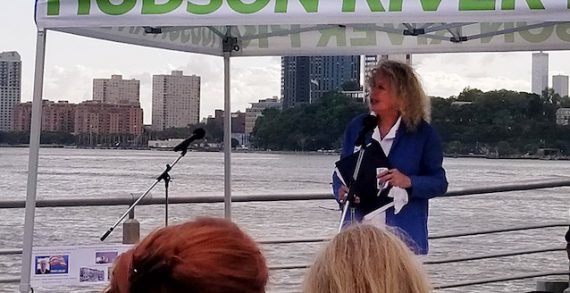 I Thought She Was Like Thor… | My name is Jason Van Trentlyon—Bob Trentlyon's son. When I heard about Zazel's passing, I was out of town. It also happens to be the day one of my best friends, Sean Kavanaugh Dowsett, had died from brain cancer.
Hudson River Park and Chelsea Waterside Park were two of my dad's favorite projects that became a reality. I watched for close to 50 years as these plans took shape. When my father was taken by dementia and not able to go on as president of the Chelsea Waterside Park Association (in fact, he stepped down even earlier), Zazel seemed to be sent from heaven to fill his shoes. She was always available to us during the last few years of my father's life. She was very generous with her time, and her empathy was genuine from the start. My biggest regret is not getting to know Zazel sooner. For like a year, I thought her name was just Zazel. I didn't know she had a last name. I thought she was like Thor…
Zazel Loven gave my sister and I so much support and love as my parents passed one after another—my mother from COVID and then my father nine months later from a number of ailments. We were determined to keep my dad at home and care for him there. I'm only sorry I didn't get to express more of my gratitude to Zazel. As we planned for the events that came after my father's passing, she always had a positive spirit about her that I needed more than anything during that time.
I will miss her and be reminded that I need to embrace those people like Zazel more in the future, because we never know when will lose them. I only hope whoever comes forward to fill Zazel's shoes is ready, willing, and able. All my love, Zazel, from myself and those in my family who maybe with you right now!—Jason Van Trentlyon | Note: Jason's contribution was added two days after the initial publication of these collected testimonials.
Grace and Warmth Characterized Every Interaction | Zazel was one of the first people in Chelsea to support Robert and me when we started the High Line, back in 1999. She and Andra, as heads of the West 300 Block Association, walked with us on one of the very first community tours we arranged of the then-abandoned viaduct. I remember her enthusiasm for the self-seeded wild landscape that set its roots in the gravel ballast of the rail tracks. Zazel had a love of nature and gardens that was as gentle as Zazel herself.
She was one of the few selfless folks who volunteered to help us set up a booth at the Eighth Avenue street fairs, to collect signatures to keep the High Line from being torn down. It was hard work, hauling the tent, table, and materials and being in the summer heat all day. Zazel did it with the grace and warmth that characterized every interaction I had with her. It might be hard to imagine today, but the High Line was not a popular cause to align yourself with at the beginning. There were many who thought it was a blight and should be torn down. But Zazel was steadfast in her support and encouragement, and was always willing to give up an evening to speak on the High Line's behalf at the many Community Board 4 hearings we had to go through before the project was finally approved in 2005.
In the years since, I would run into Zazel on the street now and then. Her stature, elegance, and mane of gorgeous hair always allowed me to see her before she saw me, and so I always got to see the light in her eyes and her smile when she recognized me. I'm not a particularly spiritual person, and so I don't use this word lightly—but I always felt blessed around Zazel, that someone of such goodness was allowing that goodness to wash over me. I'm so sad that I won't have any more lovely chance encounters with her on the streets of Chelsea, but her presence will always be there for me and for so many others.—Joshua David, Chelsea resident since 1987 / Co-Founder, the High Line
A Gentle and Loving and Elegant Manner | I'm incredibly saddened to learn of the passing of Zazel Loven, a longtime community leader in West Chelsea. A leader of the Chelsea Waterside Park Association and West 300 Block Association, Zazel advocated strongly to make our neighborhood an even better place, and she did so in a gentle and loving and elegant manner. Her untimely passing is a shock, and she will be missed.—NYC District 3 Council Member Erik Bottcher (reprinted, with permission, from Facebook)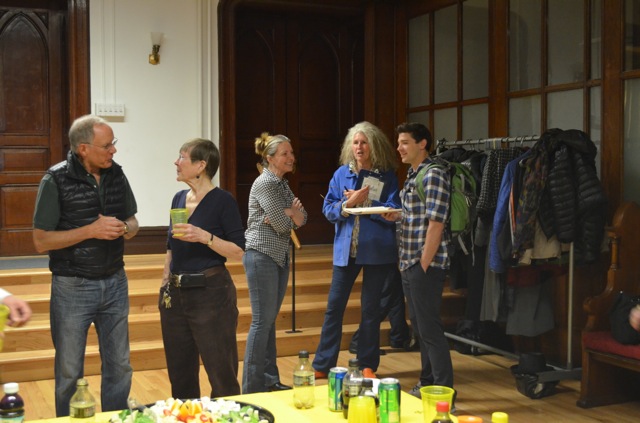 Zazel Speaks of Rules & Respect | In addition to graciously providing Chelsea Community News with the occasional free photo  (click here to see an example), Zazel also went on record, when asked—doing so with force, grounded in love. Consider this excerpt from our August 29, 2019 article ('Safer Streets Now' Say Advocates, as Chelsea Deaths Hit Double Digits): Zazel Loven, co-chair of the 300 West 23rd, 22nd, 21st Streets Block Association, echoed this sentiment, saying, "The recent tragic traffic deaths of cyclists and pedestrians in Chelsea, and all over our city, are emblematic of how separate these three groups are. Drivers, cyclists, and pedestrians need to be aware of each other and follow the rules that will help us all live and travel together with respect. Education, awareness, and law enforcement are the keys to making driving, biking, and walking safe for everyone."—Zazel Loven
Her Spirit Will Live On in the Landscapes | My first recollection of Zazel dates back many years. She was reaching out to explore whether it might be possible to change some of the plants at Chelsea Waterside. As I was soon to learn, her thoughtful, sensitive, and persuasive approach to that first question was emblematic of all her interactions with Hudson River Park. To us, she was endlessly positive, and she did so much good for the Park and the Chelsea community.
Over the years, numerous members of our staff had the chance to work with her, whether on the gardening and composting projects she loved, on Chelsea Waterside Park Association matters, or on planning for the improvements now under construction at Chelsea Waterside. Zazel made things happen, and she did so quietly and without ever tooting her own horn. As just one example, Matt Post, our Senior Director of Horticulture and Maintenance, recalls that every year, she secured 1,000 daffodil bulbs that she then helped us plant along with a team of volunteers that she also helped recruit. Zazel was one of the first dedicated Park volunteers, and our Hort team came to count on her. She certainly made the Park more beautiful.
I don't think many people know how hard she worked to ensure that Bob Trentlyon and Ed Kirkand would be properly acknowledged for all they contributed to Hudson River Park. She was always so quick to give credit to others—a quality I and others here noticed and admired. I also loved her energy, sense of humor, and her adventurous spirit. I wish I had taken notes on the places she visited in India and later described to me over a Swedish coffee break.
A few months ago, Kevin Quinn, our Senior VP of Design and Construction, was able to give her a progress tour of Chelsea Waterside Park under construction. That makes me happy, even though our hearts here are also breaking that she won't be at the ribbon-cutting ceremony that will be taking place very soon now that construction is nearing completion. We think she would have loved it. The Hudson River Park family will miss her, but her spirit will live on in the landscapes she helped improve.—Noreen Doyle, President & CEO, Hudson River Park Trust
She Was Especially Thoughtful… | I'm bereft at the sudden loss of Zazel Loven. Zazel was a gem in the Chelsea community. As President of the Chelsea Waterside Park Association and co-chair of the West 300 Block Association, the word "tirelessly" doesn't begin to describe Zazel's commitment to the neighborhood. Seeing her shock of trademark hair at a community meeting was comforting because I knew that if Zazel was there, I must be in the right place! She was especially thoughtful in paying tribute to the work of others in the community, like Bob Trentlyon and Ed Kirkland. Now we memorialize Zazel and her contributions, but far too early.—New York State Senator Brad Hoylman-Sigal
An Ardent Participant in the Whole Adventure | I first met Zazel in the mid-1970s. We were both members of a food co-op—now famous—that met at the General Theological Seminary every Wednesday night. It had been organized by graduate students, and was inclusive of neighborhood residents, most of whom had kids that played at the Seminary playground. We were organized into working groups: Set-up teams that would line the hallway in the basement of the administration building with the produce. Shoppers, drivers, and porters that would get up at 3am and drive to Hunt's Point market to do the buying. Clean-up crews to put the excess produce away in the storage room. Finally, a team to run the Surplus store the following morning.
We all rotated the jobs as much as possible. Zazel was an ardent participant in the whole adventure, with her then husband, Ulf Loven, who mostly drove the van.  The co-op survived for 12 years. Most of us had little kids through this time. We all got to know each other, and many sturdy friendships resulted from those days, and survive today.
Zazel's interest in all things green and growing was clear. Her involvement with her block association, and later with the Chelsea Waterside Park Association (CWPA) were evidence of her passion. She was at first reluctant to take a leadership role, but stepped up when Bob Trentlyon stepped down as president of CWPA. She wanted to be outside, digging in the dirt, not officiating in some tiny, unventilated room. I will think of her that way, trowel in hand.—Pamela Wolff
Yes, She Was Also a Darn Good Reporter | Never too busy to praise a neighborhood hero, Zazel Loven penned this August 22, 2019 piece for Chelsea Community News, conjuring just the right words and—take note, dear reader, refusing so much as a penny for her effort, considering it a contribution given gratefully to this website's exercise in independent journalism. Click here to read the article, in which Zazel memorably observed, "Detective Petrillo is back after recovering from a heart attack and was honored for his 30 years of service to the Chelsea community. He is a Chelsea treasure, known to all and loved by everyone—for always being available, and never hesitating to address any issues that might come up."—Zazel Loven
A True Leader—And Friend | I was saddened to hear about Zazel. She was truly a pillar of the neighborhood. She was someone I would always reach out to when the 10th Precinct needed community assistance with any issues. She was always genuinely concerned about the well-being of the men and women of the 10th Precinct. I was lucky enough to have worked with her and the rest of the West 300 Block Association for 30 years. My condolences to her family and the neighborhood for the loss of a true leader—and friend.—Detective (Ret.) Mike Petrillo | Note: Det. Petrillo's contribution was added two days after the initial publication of these collected testimonials.
A Polite and Considerate Demeanor | What a shame that Zazel has left us so soon. I will remember Zazel as having such a polite and considerate demeanor about herself, making it so easy to talk with her about what could be the rough and tumble of community activism and the bureaucratic and political world.—Bill Borock
—Testimonials Compiled & Edited by Scott Stiffler
NOTE: If you have thoughts on the life of Zazel Loven and would like to add them to this tribute, send an email to CCNews founder/editor Scott Stiffler. To do so, click here.
–END–
Chelsea Community News is an independent, hyperlocal news, arts, events, info, and opinion website made possible with the help of our awesome advertisers and the support of our readers. Our Promise: Never a paywall, no pop-up ads, all content is FREE. With that in mind, if circumstances allow, please consider taking part in our GoFundMe campaign (click here). To make a direct donation, give feedback, send a Letter to the Editor, or contact our founder/editor, send an email to Scott Stiffler, via scott@chelseacommunitynews.com.
To join our subscriber list, click here. It's a free service provding regular (weekly, at least) Enewsletters containing links to recently published content. Subscribers also will be sent email with "Sponsored Content" in the subject line. That means it's an exclusive message from one of our advertisers, whose support, like yours, allows us to offer all content free of charge.