Happening This Week, in "This Week In & Around Chelsea"
The 13th Precinct Community Council / Pop-Up Card Rigging Academy / A Seat at the Table: Political Representation in New York's Gay District / Artist Talk With Rooted in Humanity's Creator / Kids at Work Sun Session / RESCHEDULED FOR MAY 27: Spring Fling Saturdays / Down to Earth Farmers Market Chelsea /  POSTPONED: Camp Chelsea Green–An All-Ages Spring Fling Block Party / Future Events: PANDEMONIUM at the Library / Lower Chelsea Walking Tour
The 13th Precinct Community Council Meeting: Tuesday, May 16, 6pm In-Person at the 13th Precinct (230 East 21st Street) | Held on the third Tuesday of the month—sans months taken off in July, August, and December—the 13th Precinct Community Council provides a forum where the public can interact with police officers, detectives, and top leadership from the precinct tasked with protecting and serving a southern portion of Midtown Manhattan that includes swaths of easternmost Chelsea. Council President Serge Harnett moderates, fielding questions from attendees, as answered by top 13th Precinct leadership. In advance of the meeting, please direct public safety and quality-of-life questions to Detective Vincent Arlotta at vincent.arlotta@nypd.org (these questions will be answered first). Note: This meeting is held live, at the 13th Precinct and, unlike most previous editions, it will not be available to attend via Zoom.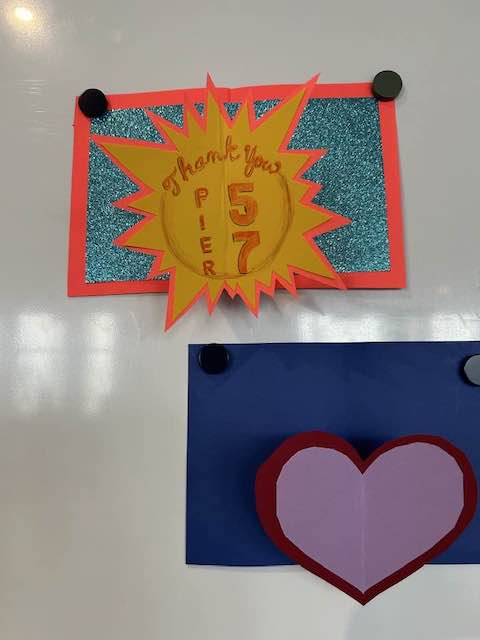 Pop-Up Card Rigging Academy: Wednesdays, 6pm at Pier 57 in the Seahorse Classroom | "Ever give someone a birthday card, graduation card, or condolence card and wished you had made it yourself, and that something could spring to life upon opening said card? Well sometimes wishes do come true." Talk about a narrative hook! If this class is as tongue-in-cheek fun to take as its descriptive text is to read—and we've every reason to believe that's the case—then Louie, I think this is the beginning of a beautiful lifelong practice of people making cards that spring to life upon opening. What's more, the class (which its creator whimsically insists is actually an "Academy) is free of charge and no advance sign-up is necessary. Chelsea's own Gustavo is your instructor. For more info, click here.
A Seat at the Table: Political Representation in New York's Gay District | Thursday, May 18, 6pm at The Center (208 W. 13th St. btw 7th & 8th Aves.) | Sometimes referred to as the "gay district," the New York City Council's District 3 (coverage area: Chelsea, the West Village, Hell's Kitchen) has been represented by gay people since 1992: Thomas Duane, Christine Quinn, Corey Johnson, and Erik Bottcher. All will be on hand for a conversation about historical and contemporary LGBTQ issues in the area. Admission is free, reservations highly recommended. For tickets, click here.
Artist Talk With Rooted in Humanity Creator Lori Horowitz: Thursday, May 18, 6-7pm at Hudson Guild Gallery (441 W. 26th St. btw 9th & 10th Aves.) | On the concluding day of her months-long exhibition of sculptural figures, artist Lori Horowitz gives a talk in the Hudson Guild Gallery, about her work. All are welcome! See the below flyer for details and click here for the event's page on the Hudson Guild website.
Kids at Work Sun Session: Friday, May 19, 10:30am at Chelsea Green Park (140 W. 20th St. btw. 6th & 7th Aves.) | Friends of Chelsea Green, the big-time boosters of Chelsea's mighty minipark, have partnered with Kids at Work for this free community music event meant for babies and toddlers aged six months through four years (older children also welcome). Teacher Sophie DeLeo leads the group in music, movement, and storysongs. Can't attend May 19 or plan to be there and are looking for more fun to follow? Once again, Chelsea Park is the place to be, as Friends of Chelsea Green debut their "Spring Fling Block Party" event: Saturday, May 20, 10am-2pm. For more info, just keep reading ("Block Party" gets its own stand-alone listing just a little bit later in the very events roundup you're reading right now!).

Spring Fling Saturdays: 2-8pm May 27 & June 3 and Spring Fling Festival: Sat./Sun., June 10/11 in Bella Abzug Park (542 W. 36th St.) presented by the Hudson Yards Hell's Kitchen Alliance and Colored Colors | Saturdays, May 20 and June 3, from 2-8pm, Bella Abzug Park  will be full of artisans selling their goods, live musical performances, and food vendors. It's a great opportunity to shop small and local–and it's all leading up to a supersized, two-day Spring Fling Festval on June 10 and 11. For more info, click here. Visit the HYHK Alliance by clicking here.
Down to Earth Farmers Market: Saturdays, 9am-2pm, Sidewalk on North Side of W. 23rd St. off Ninth Ave. | Every Saturday through December 17, the Chelsea location of Down to Earth Farmers Market turns a patch of West 23rd Street into a fresh field of your favorite ingredients, always with the promise of new discoveries. To receive occasional news alerts from Down to Earth Farmers Market as well as a weekly preview of what's in store at their Chelsea location, click here to sign up. To visit the Chelsea page of their website, click here.
MAY 20 DATE POSTPONED BECAUSE OF RAIN: Camp Chelsea Green: An All-Ages Spring Fling Block Party: Saturday, May 20, 10am-2pm Inside Chelsea Green Park and On the Block (W. 20th St. btw. Sixth & Seventh Aves.) | Friends of Chelsea Green celebrate the return of flowers, warmer weather, and the ever-increasing frequency of activity in Chelsea Green Park. This well-curated event puts its summer camp theme front and center, with plenty of information on hand about NYC Summer Camps as well as other fun things for kids, this summer and beyond. The organizers also note the presence of their affordable Children's Book Fair to support Friends of Chelsea Green. "Have too many books? Bring them to us!" say the Friends, adding, "If you plan to attend our block party please consider bringing a few children's books to donate. We will keep the prices of the books cheap: 25c to $1, maybe a few at $2 but that's it! And no child will be turned away from receiving a book or two or more." 
FUTURE EVENTS
PANDEMONIUM at the Library: Monday, May 22, 6-8pm at Jefferson Market Library (425 Sixth Ave.) | Puma Perl—a poet and award-winning arts writer (for her work with Chelsea Community News) hosts this night of music, poetry, and art. Music by LJ Murphy and Puma Perl and Friends. Readings by Nancy Mercado, Jane Ormerod, and Nicca Ray. Plus, purchase artwork and books from independent publishers, artists, and from renowned photographers Julia Gorton and Linda Troeller. For more info about this free, handicapped-accessible event, click here.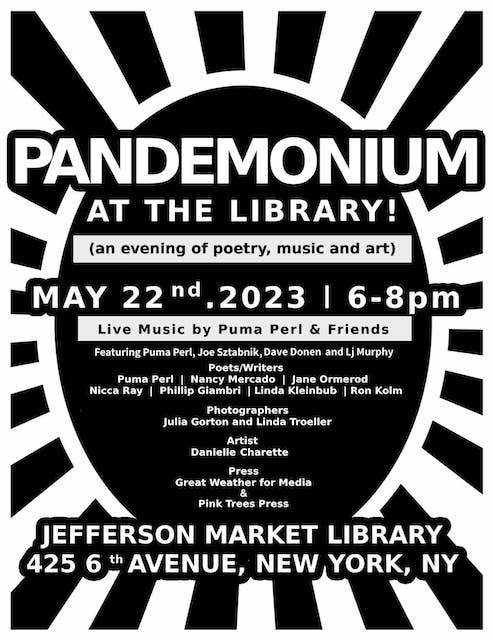 Lower Chelsea Walking Tour: Monday, June 5, 7-9pm | Here's a chance to learn a lot about a little part of the neighborhood—specifically, West 16th through West 20th Streets as well as the historic Sixth Avenue Ladies Mile. This event, sponsored by the 100 West 16th Street Block Association, would greatly appreciate it if participants would donate $20 (cash only, at the start of the tour). With NYT-praised Joyce Gold as your guide, that donation seems a bargain, especially when you consider the ground (thematic, factual, and literal) this tour covers. Here's how event organizers describe what's in store: "From the Civil War to World War I, our neighborhood was a destination for some of the first department stores in the nation. The magnificent emporiums that line Sixth Avenue today evoke the old Sixth Avenue elevated train with their street-level and el-level display windows. Great retailers like Stern Brothers, B. Altman, and Siegel-Cooper built these palaces now on view in all their beauty since the el was removed. These beautifully restored structures today house contemporary retailers like Old Navy, the Container Store, and Bed, Bath and Beyond and have brought retail excitement back to the landmark neighborhood. The grandeur of the past now enriches the present." There. Thoroughly convinced of the event's red-hot coolness, you'll want to RSVP, which is necessary to know the tour's meet-up point. To RSVP, click here.
—Listings Compiled by Scott Stiffler
Chelsea Community News is an independent, hyperlocal news, arts, events, info, and opinion website made possible with the help of our awesome advertisers and the support of our readers. Our Promise: Never a paywall, no pop-up ads, all content is FREE. With that in mind, if circumstances allow, please consider taking part in our GoFundMe campaign (click here). To make a direct donation, give feedback, send a Letter to the Editor, or contact our founder/editor, send an email to Scott Stiffler, via scott@chelseacommunitynews.com.
To join our subscriber list, click here. It's a free service provding regular (weekly, at least) Enewsletters containing links to recently published content. Subscribers also will be sent email with "Sponsored Content" in the subject line. That means it's an exclusive message from one of our advertisers, whose support, like yours, allows us to offer all content free of charge.