"First and foremost, he really cares," said New York City Council Member Erik Bottcher, when asked why he chose Carl Wilson to become his new Chief of Staff. "He cares deeply about the community and the people who live in it—and that always needs to be a person's North Star when they're in public service. You have to be driven by a desire to help others. And as a longtime community activist, Carl has those qualities."
On the job since March of this year, Chelsea Community News conducted a Q&A with Wilson just a few weeks later—and found the former professional actor had confidently plunged into his new role, thanks to a resume whose recent entries took him from City Council to Community Board and back again.
Scott Stiffler for Chelsea Community News (CCNews): You had to resign as a member of CB4 to take the Chief of Staff job. Take us up to that point; what happened prior to CB4 that prepared you to be chosen as one of its members?
Carl Wilson, Chief of Staff, NYC Council Member Erik Bottcher, District 3 (Wilson): I'm originally from Maryland, outside of Washington DC. I moved to New York in 2009 to go to college [NYU]. I was a drama major studying to be an actor. Once I graduated, I pursued that for a little while and, you know, had a little bit of success in some regional work and some workshops and whatnot in New York City.
CCNews: I've heard raves about your work as a cast member in one of CB4's satirical stage productions. So why are you climbing the steps of City Hall instead of treading the Great White Way?
Wilson: It all started in 2016. I was really moved to pursue public service because I was deeply disturbed by the presidential [Clinton/Trump] election. But I'd always had an interest in politics and government. I interned in the Senate when I was in college—my dad worked for the Senate's Sgt. of Arms. It [public service] had always been an interest—but when the election happened, I thought, "People who really care about this kind of stuff have to get off the sidelines." It changed my life, that moment. So from there, I just went to the first thing that I could find to get my foot in the door here [in NYC], which turned out to be some political community organizing. And I ended up becoming a founding member of the Hell's Kitchen Democrats, which is still a thriving club in Hell's Kitchen on the West Side.
CCNews: Did your background in political organizing inform why and how you became one of the HK Dems founders?
Wilson: Oh yes, very much. After the 2016 elections, there were a lot of groups organizing, asking, "How can we fix this? What can we do?" But I discovered there were a lot of things that, if we wanted effect change outside of New York, we had to get our house in order here. At the time, there was no [Democratic] political home in Hell's Kitchen. And that was a problem that was identified by some other organizers. So a group of us started meeting regularly—and that's how the [Hell's Kitchen Democrats] club was born. In order to legitimize a club, you need to run District Leaders. I was tapped to be a campaign manager for the District Leader race in 2017.
So that was really my first job [in NYC politics]. I was very green. I had no idea what I was doing. But I had a lot of people help me and we worked really hard, and we were able to pull that race off. And from there is how I caught the attention of at-the-time Council Member [Corey] Johnson, and Erik Bottcher was [Corey's] Chief of Staff at that moment. So I approached Erik about working for Corey when he became [NYC Council] Speaker and that's how I got my job as Community Liaison [to CB4] in the Speaker's Office.
And then I took some time away from the Council office. I went to work for a Business Improvement District for Fifth Avenue, which was a whole other side of how government works and functions. I also applied to be on the Community Board [4] at that time, too. And then this [Council Member Bottcher's Chief of Staff] position opened up, and Erik approached me and asked me if I'd be interested—and that's how I got here.
CCNews: Why are you a Democrat? Why go that route—to affiliate yourself with an long-established party, as opposed to becoming an Independent?
Wilson: Well, I was raised by two parents who were Democrats. I remember them speaking to me about issues, particularly I remember my dad saying, "Were voting for Al Gore because he protects a woman's right to choose." And then, I always I found growing up, I thought the Democratic party was the one of empathy. I felt that it was welcoming, I thought it was defending people who otherwise would not be defended.
Particularly when I was younger, I was really drawn to gay rights issues. I just thought very clearly there was a party that was right on this and there was a party that was wrong. And then I was very swept up into Barack Obama's campaign and that solidified my identity as being a Democrat. Also, you asked, "Why not an Independent?" It's very clear that there's a two-party system here and the best way to effect change, I think, is inside the system—and there was one side I thought was right on a lot of these issues and one that was not.
CCNews: How long have you been a Hell's Kitchen resident?
Wilson: I have been in New York for 12 years. Seven of those have been in Hell's Kitchen, the majority have been in Manhattan. I think there was only eight or nine months that I lived in Brooklyn out of college… I joke that I'm a Manhattan snob. I like being in Manhattan. I like being on the island, I like being in the center of the action… I venture out there [to the other boroughs] every now and then. I've definitely developed a network of friends, many of whom live in Brooklyn and Queens. And there are wonderful communities out there, too; but my heart is in Manhattan… If I may be sappy for a second, I think there really is no other place that encompasses what America is all about as well as Manhattan. It represent this utopia, in a way—everyone from all around the world, all different languages, all different walks of life manage to live together relatively peacefully on this chunk of land. Especially if you are an out and proud queer person, it's hard to think, "Where else am I going to live?" That's always been the other side of it, too.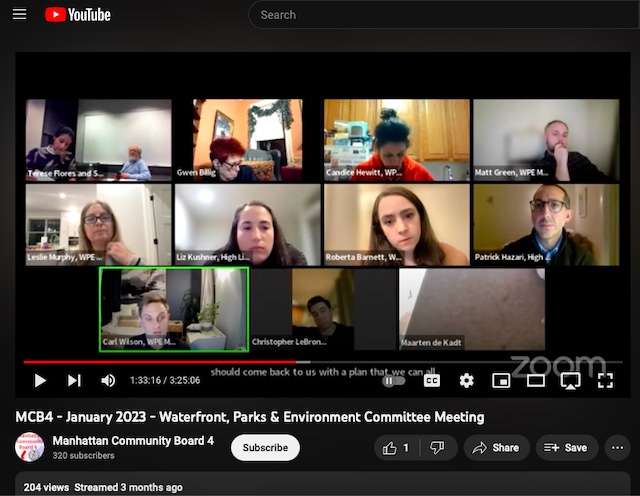 CCNews: Talk about effecting change from inside the system, as it related to being a CB4 member.  
Wilson: I was only on the board for a little under a year. But as the Community Board 4 liaison, I had been to basically every single meeting that community board had for almost four years. So even though I was a new member, I was quite seasoned in how the board operated and functioned and the dynamics, and how they operate in a larger city civic system. I also say that Community Board 4 was where I went to graduate school. Everything I learned about the West Side really comes through that time, and the really brilliant minds that board has on it—the sort of, community guardians that have been pillars in the community for a long time. I learned a ton from them. And I was on the Transportation Planning and the Waterfront, Parks & Environment committees. And we were able to mediate a couple of community disputes. I was able to write some of the letters [that, if approved by the full board are sent to electeds and heads of City departments]. That's where you can see how the Board can flex its power and influence.
CCNews: Can you give an example? 
Wilson: I ended up writing a couple of letters on the matter of this temporary dog run that was placed at Penn South. The board listened to a lot of people talk about what was wrong with this location what was right with it. In working with our Council Member and Parks and the community, we were able to identify an alternative location that was not far, that was a good compromise… These types of issues really effect how people live, and their quality of life. And also, well, it's not open yet but Parks is working on it. There's going to be a permanent dog run in Chelsea Park, and feel good about the role I had in making that happen. 
CCNews: And yet, when asked, you left CB4. Why go back to the City Council? Why Erik? 
Wilson: Erik has been a political mentor of mine. He's always been  somebody that I have respected. He's got a really great temperament and great instincts, and he uses those qualities to bring people together to solve problems. And I really admire his practicality and his thoughtfulness. So I thought, "Why not come back and be a part of a team with someone that I admire?"
CCNews: In what ways does your job tether you to the constituent services role that the District 3 Office plays?
Wilson: First of all, we have a fantastic District team here. I have colleagues that worked with me at Corey's office that are in new roles here. My District team really knows what they're doing, and they are great with constituents. They work hard to help everybody solve problems in the neighborhood, and that's what this is all about: How we help people solve problems. The things that get elevated to me are the ones that are a little more difficult where we're not sure how to move forward or we need to make a higher-level call to this agency or that agency to help this person. So I help on some of the trickier issues as it relates specifically to constituents.
But also, through our constituent interactions is how we learn about larger problems in the neighborhood. Then it's my job to work with Erik to think about, "Is there something that we can do legislatively to solve this problem?" Or, "Is this a more pervasive problem in the district? Is there somebody we can call about a policy change, or is there some kind of legislation that could help solve this? So you know, my role in terms of District [3] work is, when it comes to constituent and neighborhood issues, to try to work with everyone to solve some of the trickier problems. 
CCNews: And in the Chief of Staff role, you're also engaging on issues of interest to the City Council as a whole—issues where District 3 concerns may not necessarily be on the "winning" end. How do you reconcile—or perhaps one should say "navigate"—that?
Wilson: I'm still growing in the role. There are things I work on now that are more central to the City Council. That's something new that I didn't do very much of in my Community Liaison role. It broadens your perspective a little bit, about certain issues in our community—how those issues play out in other communities, and how their representative wants to solve it. That's been really interesting to start to learn about that…
CCNews: Can you give an example?
Wilson: One example is how our [District 3's] relationship to transportation issues is different from somebody who lives in, say, Brooklyn. Our relationship to cars, bikes—that relationship is way different on the West Side of Manhattan than in a borough that does not have access to the abundance of public transit that we have. So you've got to take those things into consideration when you're operating at a Council level but also think about how you can still push forward what's important to your constituents. That's just one example, but most issues are quite different in each Council District Even if you go just a few blocks east [of District 3], Keith Powers [City Council Member, District 4] is dealing with a different constituency than we are, here on the West Side.
CCNews: I know this is asking you to paint with broad strokes, but is there a District 3 temperament or a mood?
Wilson: I think our constituency is pretty smart, pretty active—engaged. And I think a lot of people are considering how we can make New York a more attractive place to live, work, and visit—especially as we emerge from this pandemic era that we were in, that really took its toll on the city, took its toll on the West Side as well. But I do see an optimism. Because these folks are still here are really thinking about how we can continue to make life more comfortable. And I think that's why you've seen my Council Member speak a lot about the need for sanitation improvement and the need for [better, expanded] mental health services. These are quality of life issues, and just to always keep working on making life better for all of us. That so many of us have this concern and work every day toward achieving it—that's why I've come to love Hell's Kitchen and Chelsea and the West Side. This is the greatest city in the world, and to be a small part of doing what it takes to make it even better is, for me, a really exciting thing.
—END—
Chelsea Community News is an independent, hyperlocal news, arts, events, info, and opinionwebsite made possible with the help of our awesome advertisers and the support of our readers. Our Promise: Never a paywall, no pop-up ads, all content is FREE. With that in mind, if circumstances allow, please consider taking part in our GoFundMe campaign (click here). To make a direct donation, give feedback, send a Letter to the Editor, or contact our founder/editor, email Scott Stiffler via scott@chelseacommunitynews.com.
To join our subscriber list, click here. It's a free service provding regular (weekly, at least) Enewsletters containing links to recently published content. Subscribers also will be sent email with "Sponsored Content" in the subject line. That means it's an exclusive message from one of our advertisers, whose support, like yours, allows us to offer all content free of charge.