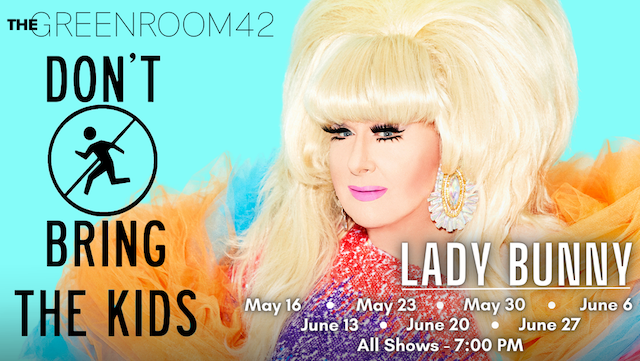 BY SCOTT STIFFLER | Dirty, dirty, bad Bunny! This "Lady" in name only knew what she was doing when naming her new show Don't Bring the Kids—and you'll have your proof of that within the first few seconds of this relentless smorgasbord of scatological humor and sex jokes.
Yes, Lady Bunny is back, every Tuesday through June 27, at The Green Room 42. Located on 10th Ave., the venue—on the fourth floor of Yotel—has booked a talent whose throwback take on filth casts a Brigadoon-like spell, returning this modest patch of West 42nd Street to the peep show and glory hole heyday of 1970s Times Square.
Hey, did somebody say they like dick jokes? If you winced at the last two words of that last sentence, this article—like its titillatingly transgressive topic, Lady Bunny—may not be for you. So please, move on.
As for those of you who stuck around, this new show from the legendary Lady Bunny is a must-see for drag purists and the just plain prurient alike. The veteran writer/performer—born and raised in Tennessee, drag teeth cut in Atlanta, name made in NYC, where she still resides—has crafted a fast-paced, politically incorrect potpourri of parody songs, video segments, audience participation, and snappy moments of candid confession that crackle with candid truth before popping into a cesspool of cum and poop jokes.
Well, don't say she didn't warn you. "I put it [a disclaimer] on the ticket link.  I say, 'This is rude and offensive.' I want people to know that," said Lady Bunny, in a phone interview of generous length and refreshing candor conducted prior to the Easter-adjacent, originally scheduled run of Don't Bring the Kids.
A foot injury caused the show's month-long delay—all the better to give Bunny more prep time (and PrEP time?) for her latest all-out assault on good taste. That's not to say machine gun-paced smut is all you'll get. This entry in the Bunny cannon packs some unexpected touches—including a cover version of a song likely little-known to much of the crowd. It was performed by Bunny in a manner devoid of parody but tightly packed with soul and soaring vocals—earning the self-professed "pig in a wig" a very warm and welcome reception, the audience hooting and hollering their approval at song's end with the same volume and intensity that greeted the meat and potatoes nastiness the packed house of filth-loving fans showed up for.
Hopefully, it was a sweet reward—and positive reinforcement for the notion of expanding one's range—for the gal who told us in that late March interview, "I'm going to try out some of those [non-parody musical] things, sandwiched between my more foolproof numbers. And there's also going to be themes of reawakening and blossoming and that kind of thing, cuz it has been, for me, a long, hard winter. And I do need to bust out of this [NYC] apartment and get out there and get moving… And also, this [The Green Room 42] is a lovely space. It's very airy. I mean, it's the tables. They're spaced far apart."
At the time, this reporter wondered why Bunny was praising the floor plan. Did the meds she was taking for her bum foot render her incomprehensible—and if so, was she selling them? And if so, what was the street price vs. the discount a veteran reporter of all things drag might be given? No matter. The actual show put Bunny's very specific mention of the space between tables in its proper light. Spoiler alert: Bunny gave one number some up-close-and-personal visual panache, working the room in a 360-degree manner with such speed and skill, it made one question if the foot brace she sported was just a visual aid to prop up her month-long delay so as to spend it perfecting that swish-twirl-swish sojourn around the room. That's not to say we actually think Bunny was pulling our leg about her injured rabbit's foot. She's nothing if not honest. In which case, what's a fair resell price on those painkillers?
If Lady Bunny is indeed monetizing her injury with a black market side hustle, it's worth noting the old gal said in our recent interview something she's mentioned more than once in the past: "I'm not painting myself as a role model. The stuff I do is not meant to change people's lives or say that I'm a great person with knowledge or with anything to share—except, you know, maybe a tiny bit of glamour."
As of this article's publication date, the remaining performances in the recently extended run of "Lady Bunny: Don't Bring the Kids" are at 7pm, Tuesdays, May 23 & 30 and June 6, 13, 20 & 27 at The Green Room 42 (570 Tenth Ave. at W. 42nd St. on the fourth floor of Yotel). For reservations (from $22.50 + $4.85 fee), click here. If you purchase a livestream ticket, the link will be sent out 30 minutes prior to the show. At showtime, the link will be sent out for a second time to any last-minute ticket buyers. All sales are final. No transfers or refunds. To hear some of Bunny's sizzling Top Tracks (including the "Who's Your Mummy?" duet with Jackie Beat), click here. To preview the venue's menu, click here. To visit the artist's website, click here.
LADY BUNNY is a living drag legend, international sensation, razor-witted comic, fab DJ, and one kooky queen. Since Wigstock and the days of cutting her comic teeth reducing even the toughest New York City crowds to shrieking hysterics, Bunny's fame has gone global. She tours constantly, taking her bawdy brand of humor to audiences from Cincinnati to Los Angeles, Buenos Aires, London, Marrakesh and Sydney. Bunny has been lucky enough to share the stage or screen with many of her idols including Patti Labelle, Joan Rivers, Bea Arthur, Charo, Lynda Carter, Chaka Khan, Grace Jones, and Christina Aguilera at Radio City Music Hall. One-woman show titles like "That Ain't No Lady!," "Trans-Jester," "Pig in a Wig," and most recently, "Cuntageous," offer a hint as to what to expect. From riotously risqué to vividly vulgar, Bunny gleefully delivers full-strength, downright dirty, gobsmackingly un-P.C. adult humor. Lady Bunny can be seen in films and television, most recently in Wig, the HBO Wigstock documentary made with Neil Patrick Harris, and the feature film Hurricane Bianca: From Russia with Hate. She was the "Dean of Drag" on three seasons of "RuPaul's Drag U," has been roasted by Joan Rivers, roasted Pam on "The Comedy Central Roast of Pamela Anderson," and emceed the LGBT prom in one of the most popular episodes of "Sex and the City."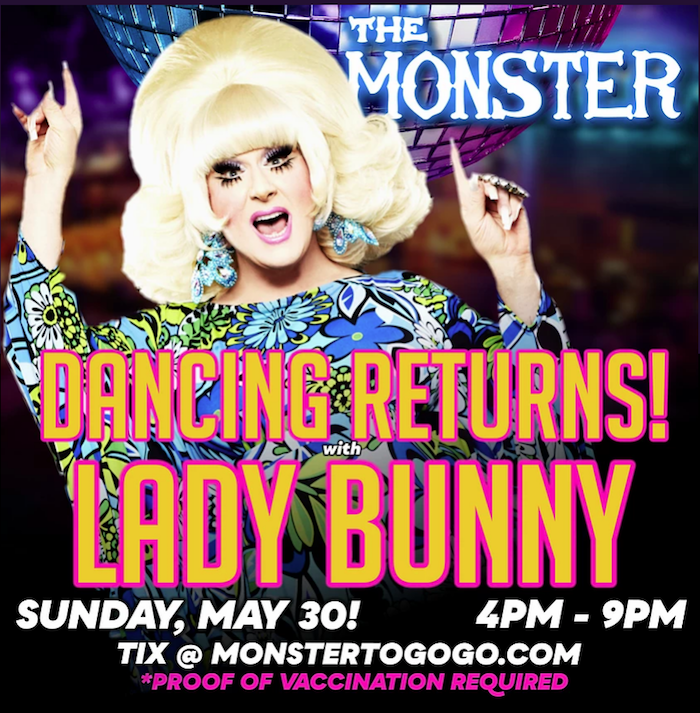 Bunny DJs lavish fashion week affairs, corporate bashes, and private parties as well as–yes!–gay weddings and bar mitzvahs. Like many DJs, Bunny moved into songwriting and recording. In addition to writing and producing her pop song parodies, she has released several solo singles, including "Take Me Up High," which hit #18 on the Billboard Dance Chart, and two duets with RuPaul, "Throw Ya Hands Up" and "Lick it Lollipop." Bunny has been photographed by Andy Warhol and many of the world's most influential fashion photographers, including Francesco Scavullo, Mario Testino, and Ellen Von Unwerth. The Daily News, Time Out New York and V named Bunny as one of the most stylish New Yorkers. Her shows have elicited rave reviews from The New Yorker and The New York Times.
Bunny can be seen co-starring with Flotilla DeBarge in "DAP," the duo's video parody of Cardi B's "WAP." Their filthy version racked up over 100,000 views in its first week and cheered by fellow comedians Margaret Cho and Jenifer Lewis. "Ebony and Irony," Bunny's new podcast with "RuPaul's Drag Race: All Stars" winner Monet X Change, is available on all platforms, and she has a new on-demand duet special with Bianca del Rio called "HHN: Hateful Hags Network."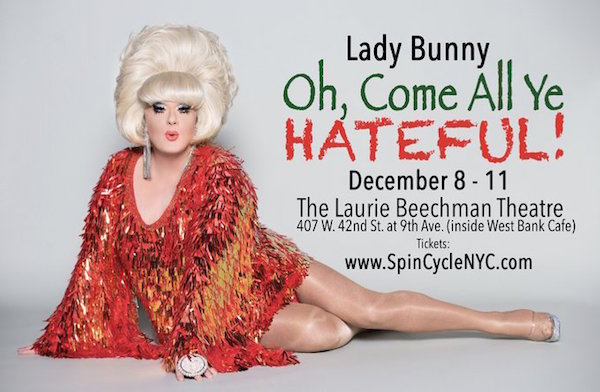 THE GREEN ROOM 42 | Founded in 2017 and located in the heart of the theatre district in YOTEL Times Square, The Green Room 42 is Broadway's newest and most spacious cabaret club. Hailed by the New York Times as "Broadway's Off-Night Hotspot," our curated nightlife experience features your favorite Broadway stars in live performance, and a delicious menu of food and drink. The Green Room 42 opens the doors of hospitality to the nightclub stage while providing value and accessibility to the New York theatre community. Past shows have featured artists such as Josh Groban, Tina Fey, Katharine McPhee, Sara Bareilles, Kathleen Turner, Alice Ripley, Eva Noblezada, Reeve Carney, Lillias White, Frances Ruffelle, Frankie Grande, David Phelps, and over 5,000 others. The Green Room 42 has become a cornerstone of the Broadway community, redefining the cabaret industry, and all it's missing is YOU. Sit back, have a drink, and relax, because we've got your evening all planned in Broadway's off-night hotspot.
–END–
Chelsea Community News is an independent, hyperlocal news, arts, events, info, and opinionwebsite made possible with the help of our awesome advertisers and the support of our readers. Our Promise: Never a paywall, no pop-up ads, all content is FREE. With that in mind, if circumstances allow, please consider taking part in our GoFundMe campaign (click here). To make a direct donation, give feedback, send a Letter to the Editor, or contact our founder/editor, email Scott Stiffler via scott@chelseacommunitynews.com.
To join our subscriber list, click here. It's a free service provding regular (weekly, at least) Enewsletters containing links to recently published content. Subscribers also will be sent email with "Sponsored Content" in the subject line. That means it's an exclusive message from one of our advertisers, whose support, like yours, allows us to offer all content free of charge.