Happening This Week, in "This Week In & Around Chelsea"
PANDEMONIUM at the Library / FJK Dance / Caftans & Cocktails / Free Classes at Pier 57 / Children's Book Reading Series / Down to Earth Farmers Market Chelsea / Future Events: Lower Chelsea Walking Tour / Community Cleanups
PANDEMONIUM at the Library: Monday, May 22, 6-8pm at Jefferson Market Library (425 Sixth Ave.) |
Puma Perl—a poet and award-winning arts writer (for her work with Chelsea Community News) hosts this night of music, poetry, and art. Music by LJ Murphy and Puma Perl and Friends. Readings by Nancy Mercado, Jane Ormerod, and Nicca Ray. Plus, purchase artwork and books from independent publishers, artists, and from renowned photographers Julia Gorton and Linda Troeller. For more info about this free, handicapped-accessible event, click here.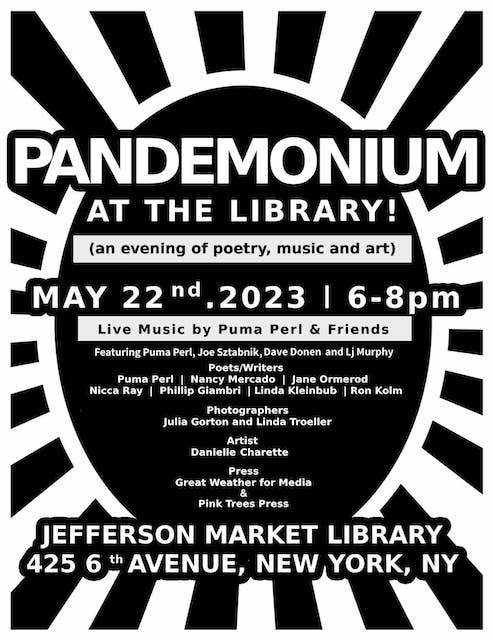 FJK Dance: Tuesday, May 23 through Thursday, May 25, 7:30pm at New York Live Arts (219 W. 19th St. btw. 7th & 8th Aves.) 
| FJK Dance, the 10-member, Iraqi-curated contemporary dance company, celebrates their ninth season with new and signature works. Ballet and ballroom 
dancing are among the influences that inform 
work created for the ensemble by Fadi J. Khoury, 
FJK
's Arab-American choreographer and Artistic Director. Using dance, music, and visual art to celebrate his Middle heritage while questioning stereotypes and gender roles, Khoury hopes, he says, "to inspire a cross-cultural dialogue, and a world where culture is safe." General Admission tickets are $45 ($20 for students). To order,
click here
. To visit the FJK website,
click here
.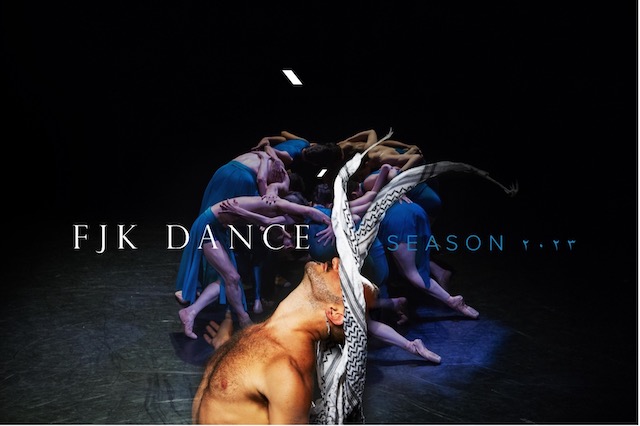 Caftans & Cocktails / Wednesday, May 24, 5pm-8pm at Housing Works Thrift Shop Chelsea (143 W. 17th St. btw. 6th & 7th Aves.) | Ever since Sondheim made it the clothing of choice for a certain type of monied Mrs. lounging around while planning a brunch on her own behalf, the caftan's reputation has been diminished (to say nothing of what Mrs. Roper did to the widely misunderstood frock). But as the draw of this May 24 event, it's looking good these days. Seriously, we're not being charitable—you are.
Caftans & Cocktails is a wardrobe-enhancing, soirée whose proceeds help further the mission of Housing Works—a "healing community of people living with and affected by HIV/AIDS" working toward ending "the dual crises of homelessness and AIDS through relentless advocacy, the provision of lifesaving services, and entrepreneurial businesses." Up for grabs at amazing prices will be a mix of current and vintage caftan styles. Attendees are encouraged to "come dressed in your more glamorous caftan, enjoy a cocktail, and shop styles ready for your next trip to the beach!"
Upping the event's fabulous factor: The presence of co-hosts Natalie Kates, Mickey Boardman, Justin Vivian Bond, Julia Clancey, Jay Inkpen, Monica Mahoney, Francesca Romana Mondello, Florence Müller, SisterFace, and Melody Weir. Music by DJ Lady Bunny with punch-packing libations provided by Coppa Cocktails. To register for this event (general admission, $23.18), click here.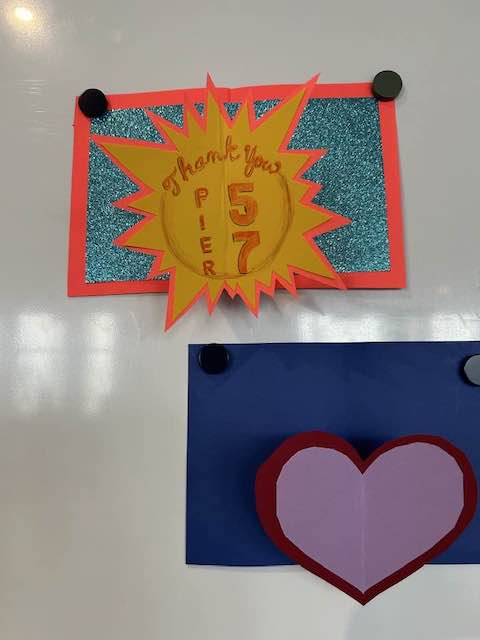 Free Classes at Pier 57  | "Ever give someone a birthday card, graduation card, or condolence card and wished you had made it yourself, and that something could spring to life upon opening said card? Well sometimes wishes do come true." Talk about a narrative hook! If this class is as tongue-in-cheek fun to take as its descriptive text is to read—and we've every reason to believe that's the case—then Louie, I think this is the beginning of a beautiful lifelong practice of people making cards that spring to life upon opening. What's more, the class (which its creator whimsically insists is actually an "Academy) is free of charge and no advance sign-up is necessary. Chelsea's own Gustavo is your instructor, and those instructions "pop" out at you Wednesdays, 6pm, in Pier 57's Seahorse Classroom. For more info, click here.
Elsewhere on the schedule of free weekly instructional events, Gustavo is your guide once again, when school's in for the Finger Puppet class—Tuesdays, 4-5pm at Pier 57's ROOM. Puppetry enthusiasts and absolute beginners alike can learn how to craft an original creation from the raw material of poster board cylinders, air drying clay, and pure imagination. It's appropriate for, the instructor tells us, "ages 4 to 104." Sorry 1-,2-, and 3-year-olds—go find your fun some other place! Okay, sorry. Quit crying. You guys are babies! Speaking of which, instructor Rachel has something special for babies and toddlers: Her Musikgarten classes (ages 0 to 3 years) happen Tuesdays at 10:15am and 11:15am, offering "a chance for families to learn to connect with children
in a musical setting." Finally, on Thursdays at 6pm, Rachel's Ukulele class is just for adults—ironic, because by the end of this one-hour class, you'll feel like a kid again. Designed for any level of experience but with distinct notes of instruction for first-timers, Rachel makes sure that by hour's end, everybody will be able to contribute good-sounding stuff to the group jam session. Best of all, no uke required! There will be some on hand for those who have yet to make the plunge and purchase one of the quirky little instruments. All of these classes run through July and are the brainchildren of Smartworks, an instructional business founded and staffed by married couple Gustavo and Rachel. For more info on all sorts of Pier 57 classes, click here. For all things Smarworks, click here.
Spring Fling Saturdays: 2-8pm May 27 & June 3 and Spring Fling Festival: Sat./Sun., June 10/11 in Bella Abzug Park (542 W. 36th St.) presented by the Hudson Yards Hell's Kitchen Alliance and Colored Colors| Saturdays, May 27 and June 3, from 2-8pm, Bella Abzug Park  will be full of artisans selling their goods, live musical performances, and food vendors. It's a great opportunity to shop small and local–and it's all leading up to a supersized, two-day Spring Fling Festval on June 10 and 11. For more info, click here. Visit the HYHK Alliance by clicking here.
Children's Book Reading Series: Saturday, June 3, 1pm at St. Peter's Rectory (340 W. 20th St. btw. 8th & 9th Aves.) | The members of Chelsea Community Church (CCC)—the nondenominational, lay-led church whose Candlelight Carol Service long ago became a Chelsea Christmastime tradition—is launching their first-ever Children's Book Reading Series. The choice for its inaugural edition: Written by Drew Daywalt and illustrated by Oliver Jeffers, The Day the Crayons Quit looks at a labor dispute between a little boy and his collection of crayons. It's got a lot to say about airing grievances and the great things a team can create when playing the strengths of each individual member.  Bringing the tale to life: Broadway and Cabaret's Karen Mason, who'll be joined by CCCs Music Director Jeff Cubeta for a short musical presentation following the reading. After that is the perfect way to wrap up any kid-friendly event—a pizza party! gf to follow. Please register through CCC's website, so event organizers know how much pizza to have on hand.
Down to Earth Farmers Market: Saturdays, 9am-2pm, Sidewalk on North Side of W. 23rd St. off Ninth Ave. | Every Saturday through December 17, the Chelsea location of Down to Earth Farmers Market turns a patch of West 23rd Street into a fresh field of your favorite ingredients, always with the promise of new discoveries. To receive occasional news alerts from Down to Earth Farmers Market as well as a weekly preview of what's in store at their Chelsea location, click here to sign up. To visit the Chelsea page of their website, click here.
Lower Chelsea Walking Tour: Monday, June 5, 7-9pm | Here's a chance to learn a lot about a little part of the neighborhood—specifically, West 16th through West 20th Streets as well as the historic Sixth Avenue Ladies Mile. This event, sponsored by the 100 West 16th Street Block Association, would greatly appreciate it if participants would donate $20 (cash only, at the start of the tour). With NYT-praised Joyce Gold as your guide, that donation seems a bargain, especially when you consider the ground (thematic, factual, and literal) this tour covers. Here's how event organizers describe what's in store: "From the Civil War to World War I, our neighborhood was a destination for some of the first department stores in the nation. The magnificent emporiums that line Sixth Avenue today evoke the old Sixth Avenue elevated train with their street-level and el-level display windows. Great retailers like Stern Brothers, B. Altman, and Siegel-Cooper built these palaces now on view in all their beauty since the el was removed. These beautifully restored structures today house contemporary retailers like Old Navy, the Container Store, and Bed, Bath and Beyond and have brought retail excitement back to the landmark neighborhood. The grandeur of the past now enriches the present." There. Thoroughly convinced of the event's red-hot coolness, you'll want to RSVP, which is necessary to know the tour's meet-up point. To RSVP, click here.
—Listings Compiled by Scott Stiffler
Chelsea Community News is an independent, hyperlocal news, arts, events, info, and opinion website made possible with the help of our awesome advertisers and the support of our readers. Our Promise: Never a paywall, no pop-up ads, all content is FREE. With that in mind, if circumstances allow, please consider taking part in our GoFundMe campaign (click here). To make a direct donation, give feedback, send a Letter to the Editor, or contact our founder/editor, send an email to Scott Stiffler, via scott@chelseacommunitynews.com.
To join our subscriber list, click here. It's a free service provding regular (weekly, at least) Enewsletters containing links to recently published content. Subscribers also will be sent email with "Sponsored Content" in the subject line. That means it's an exclusive message from one of our advertisers, whose support, like yours, allows us to offer all content free of charge.