ROUNDUP BY SCOTT STIFFLER (additional content to post here throughout June)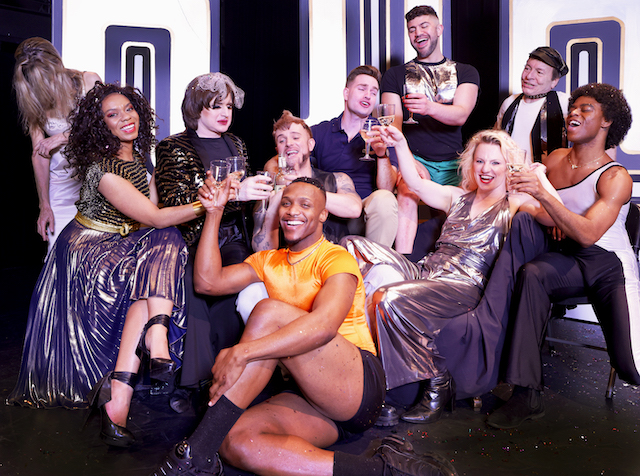 The Village: A Disco Daydream | Take it from somebody who saw her on stage with the long-running sketch ensembles Unitard and the Nellie Olesons: The comedic creations of writer/performer Nora Burns demand your attention. Alternately sexy, sardonic, silly, sad, sublime, and a million other things that don't fit neatly into our list of "S" words, Burns the character actor was a presence you couldn't stop watching. But that was way back in the pre- -n- post-millennial years, when giants walked among us. It's difficult to convey if you weren't there. The Nora Burns of present day has managed to pull off such a feat. As the core mind behind The Village: A Disco Daydream, playwright Burns deploys a highly watchable cast of 10 to conjure up the broadly drawn but deeply felt crowd of heady hedonists she fell in with upon arriving in the New York City of 1979.
Was it really all they say it was? Are all who've flocked to the Big Apple ever since doomed to play second banana to that one-time-only convergence of sex, song, friendship, and funky apartments paid for by sugar daddies or not paid for at all? Witness to history Nora Burns knows that only the survivors get to tell the tales, and to do so she borrows liberally and lovingly from Thorton Wilder's Our Town. Chief among the borrowed items is the Stage Manager character, a dead ringer for what our gal Burns might have looked like after getting her circa-1979 moorings. She's a keen device whose way with exposition allows the rest of the cast to get right to the action. That they do, oozing energy and charisma as young (and not so young, and totally strung out) searchers primed to feast upon all NYC has to offer. When the bill comes due, as it always does, Burns turns the glorification of her time in the sun into a benediction that resonates across the decades, rather than a snotty reminder that we who watch this recreation will never soar to such heights. When the Stage Manager, never on the scene without a live mic, encourages you to get out of her time trip and go make some NYC memories of your own, it's all the encouragement you need.
"Listen to all the life going on around you, the life that went on before you were here and will go on after you are gone," she says. "Feel the buzz of the City. It's part of you and you are part of it. Just by being here, you've left your mark, like an old hound dog on a fire hydrant." Damn. What more do you want, a sick day and a subway token? Plan to see the show and then stay up all night—and in 30 years, you can tell the new arrivals what a hot time in the old town was really like.
Through June 22 at Dixon Place (161A Chrystie St. btw. Rivington & Delancey Sts.). Runtime: approx. 70 minutes. For tickets ($24-$34, early bird pricing available), click here for the Dixon Place website. Written by Nora Burns, directed by Adam Pivirotto, with choreography by Robin Carrigan, sets by Steven Hammel, and costumes by Paul Alexander. The cast includes Jack Bartholet, Chuck Blasius, Glace Chase, Ashley Chavonne, Antony Cherrie, Eileen Dover, Richard JMV, Antwon LeMonte, and Christopher Patterson-Rosso.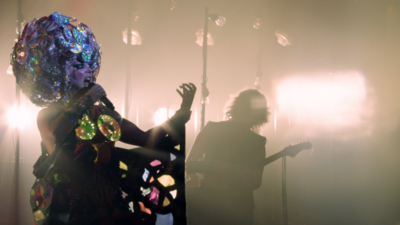 Taylor Mac's 24-Decade History of Popular Music at the Tribeca Film Festival | Documentary; 106 minutes | This glittery, cotton candy-colored concert film documents NYC theater, performance art, queer icon and possibly dangerous pied piper Taylor Mac performs everything from Tin Pan Alley tunes to American Popular Standards to sea shanties to bubble gum pop confections. These songs that imprinted themselves upon a those who weathered the Great Depression and wars of the World and Cold variety guide contemporary audiences through a cathartic journey of their own. Mac is assisted in this endeavor by virtuoso musicians, innovative costumes, and spectacle of such volume, length, and intensity as is rarely seen on the stage. If the film has managed to bottle even a fraction of that lightning, you're in for ride worth repeating. Wed., June 14, 8pm at Indeed Theater at Spring Studios; Thurs., June 15, 5:45pm and Sat., June 17, 8:45pm at Village East by Angelika. Click here for the film's Tribeca Film Festival page.
The Ninth Annual Queerly Festival at The Kraine Theater (85 E 4th St) and UNDER St. Marks (94 St Marks Pl), June 15 through July 3. | Queerly–FRIGID New York's annual celebration of LGBTQA+ artists–strives for diversity on and off stage, seeking out a wide range of shows and performances and providing them a space to tell their stories their way. Most performances will also be available to livestream from home. Tickets ($25 in-person; $20 streaming) are available for advance purchase at www.frigid.nyc. Among the offerings:
Drag Sings | Host Sam Kaseta asks, "Did you know that the New York City drag community comprises not just an amazing array of drag artists, but also many performers who also compose music?" Drag Sings showcases singer-songwriters in a cabaret setting, performing their own work in drag.
walkOver | Martin was the first openly trans gymnast to make the U.S. Men's Artistic Gymnastics team. Now, he's a broke 25-year-old with no prospects, about to be evicted from his apartment. Torn between the examples of a fellow trans gymnast who has carved out a second career in sports writing and a high school teacher who never left her hometown, Martin must pick a new direction in life. Written by Elena Freck walkOver asks, "Where do you go next once you've completed the first line of your obituary?"
Becoming Austin Nation: From Crack to PhD – One Drag Queen's Story | Written and Performed by Austin Nation, this looks back at a life that changed dramatically in 1986, when the 26-year-old received an HIV/AIDS diagnosis. "I knew my time had to be near. Drugs and alcohol became my best friends and I began playing around in drag as part of my experience while getting high," writes the author/performer. "Today, I am 19 years clean and sober. I have tapped back into an important part of myself: this drag persona, my feminine side. Now, at age 60, I am without a doubt living my best Black gay drag life." Bravo!
Drag Story Hour NYC | This special Juneteenth edition of Drag Story Hour NYC (formerly Drag Queen Story Hour NYC) produces storytelling and creative arts programs for children and teens, presented by local drag artists, in libraries, schools, and other community spaces in all five boroughs of New York City, and virtually. "Through fun and fabulous educational experiences," say the curators, "our programs celebrate gender diversity and all forms of difference to build empathy and give kids the confidence to express themselves however they feel comfortable."
The Real Black Swan | Written by Les Kurkendaal Barrett, this show tells the story of William Dorsey Swann, a former slave who became the Queen of Drag in Washington DC in the late 1800s (she was also the first queer activist on record). Winner of the Doric Wilson Award in Dublin Ireland, Winner of The Cincy Fringe Encore (Producer's Pick).
–END–
Chelsea Community News is an independent, hyperlocal news, arts, events, info, and opinionwebsite made possible with the help of our awesome advertisers and the support of our readers. Our Promise: Never a paywall, no pop-up ads, all content is FREE. With that in mind, if circumstances allow, please consider taking part in our GoFundMe campaign (click here). To make a direct donation, give feedback, send a Letter to the Editor, or contact our founder/editor, email Scott Stiffler via scott@chelseacommunitynews.com.
To join our subscriber list, click here. It's a free service provding regular (weekly, at least) Enewsletters containing links to recently published content. Subscribers also will be sent email with "Sponsored Content" in the subject line. That means it's an exclusive message from one of our advertisers, whose support, like yours, allows us to offer all content free of charge.