BY MICHAEL THERIAULT | Ladies, gentlemen, and fabulous beings of all gender expressions, hold onto your feather boas because Pride Weekend 2023 is here! Can you believe it? It snuck up on us like a mischievous unicorn, but hey, we can't stop time, so let's embrace it with open arms and glitter cannons. We want it all, darlings: the sparkle, the tiaras, the gemstones, the jaw-dropping costumes, the infectious beats, and, of course, the gorgeous boys!
We're ready to conquer the blistering heat, drenched in body paint and adorned with thousands of beads, all for the sake of fashion. Even if that fabulous look lasts a mere 20 minutes, we will live by the motto, "nothing in, nothing out." We'll survive on tic tacs and water, while sleep becomes a distant memory. So, my dears, you could say I'm completely and utterly obsessed with this whole shebang.
But before we dive headfirst into the weekend's glittery festivities, let's take a moment to reflect on the true essence of Pride. Because, let's face it, over the past few years, it seems like Pride has become a bit diluted. And if there's one thing we will never forget, it's the reason why we celebrate this glorious weekend in the first place. The word "pride" holds immense cultural significance within the LGBTQ+ community, representing solidarity, unity, and self-expression, while also serving as a defiant stand against discrimination and violence. Just thinking about it gives me goosebumps! Always remember that we owe our progress to those fierce drag queens who stood up and said, "Enough is enough!" So, my loves, keep that in mind as you sashay through the city this weekend, spreading your fabulous cheer. For lack of a better term…
Now, my darlings, as you all well know, the events surrounding Pride are always beyond amazing. And let me tell you, this year is shaping up to be a spectacular extravaganza. So, allow me to highlight a few events that are an absolute must-attend. It would be a crime against fabulousness to miss out on these, trust me.
Let's kick off the weekend on Friday, June 23 with none other than the Queen of New York Nightlife herself, the sensational Ladyfag, presenting "LadyLand." This annual outdoor queer music extravaganza and Pride party held in the heart of Brooklyn is an absolute must for any self-respecting Pride-goer. With an incredible lineup of DJs, special performances, and a surprise or two up Ladyfag's sequined sleeves, it's the logical starting point for your sensational Pride weekend. (For tickets and info, click here.)
Now, my dears, Saturday is the day to pace yourselves because honey, the parties are going to be off the charts! First up, we have a banger that will make you want to set your alarms: Antonio Cedeno presents Oscuro Pride. This one starts at 4am, darlings, taking place at The Cockpit (355 W. 41st St.). Talk about kicking off your day with a fabulous bang! (For tickets and info, click here.)
Saturday night (June 24), brace yourselves as Masterbeat takes over Terminal 5, bringing together the incomparable Miss Deborah Cox and the sensational Offer Nissim for the very first time! If you miss this party, you might as well pack your bags and head home early. Trust me, this will be a night to remember, filled with electrifying energy. (For tickets and info, click here).
Now, my loves, Sunday is all about the march, and you know NYC Pride sets the bar high in this department. But don't say I didn't warn you about pacing yourselves! Pride Island is going to be absolutely mind-blowing, as it always is. And this year, hold onto your rainbow wigs, because the one and only Christina Aguilera herself will be gracing the stage with her powerhouse vocals. Need I say more? (For tickets and info, click here.)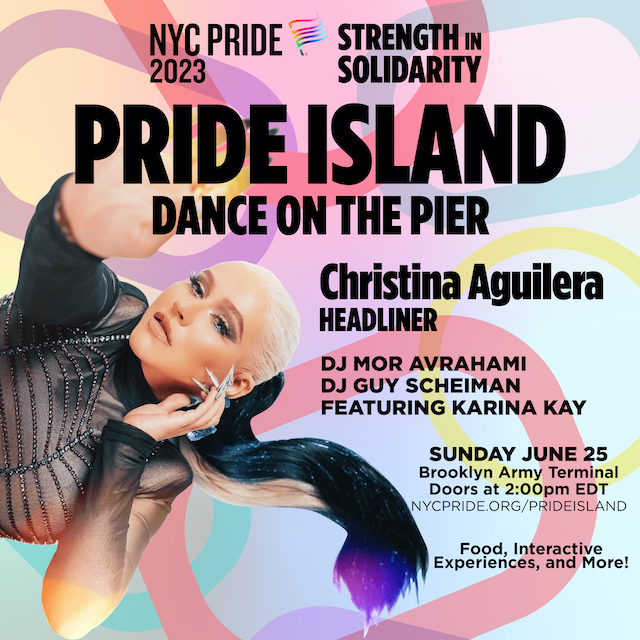 However, that's not all, my darlings! The undisputed king of New York nightlife, the marvelous Jake Resnicow, will be bringing us Dreamland in Central Park. And let me tell you, this is an event you can't afford to miss. Why, you ask? Because the fabulous Paris Hilton will be there, spinning the beats and taking us on a journey of pure bliss. And if any of you are familiar with a Jake Resnicow party, you know he's going to turn us out! (For tickets and info, click here.)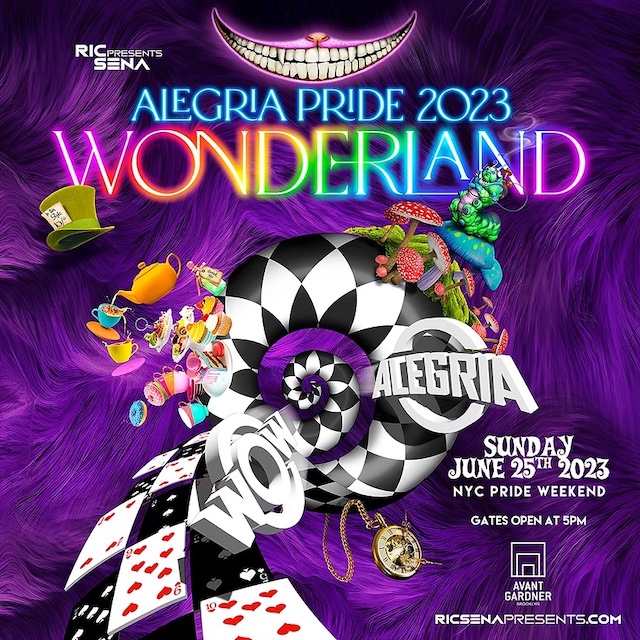 And finally, for those of you who still have some energy left in your and Beyond tanks, the legendary Rick Cena presents Alegria to close out what promises to be one of the most unforgettable Prides ever in the Big Apple. (Wonderland is this year's theme; gates open at 5pm, June 25; for passes and info, click here). Personally, I'm going to attempt the feat of attending each and every one of these incredible events, and I highly suggest you all do the same. Happy Pride, darlings!
So there you have it, my glamorous readers. Pride Week 2023 is upon us, and we're ready to embrace it with all the sass, style, and fabulousness that our hearts desire. Remember, as we celebrate, let's never forget the roots of Pride and the fearless pioneers who paved the way for our freedom and self-expression.
Now go forth, my fabulous creatures, and paint the town rainbow! Embrace the glitz, the glamour, and the pure magic that is Pride. Let's dance, sing, and spread love and acceptance wherever we go. Happy Pride, my darlings, and may this be a celebration for the ages!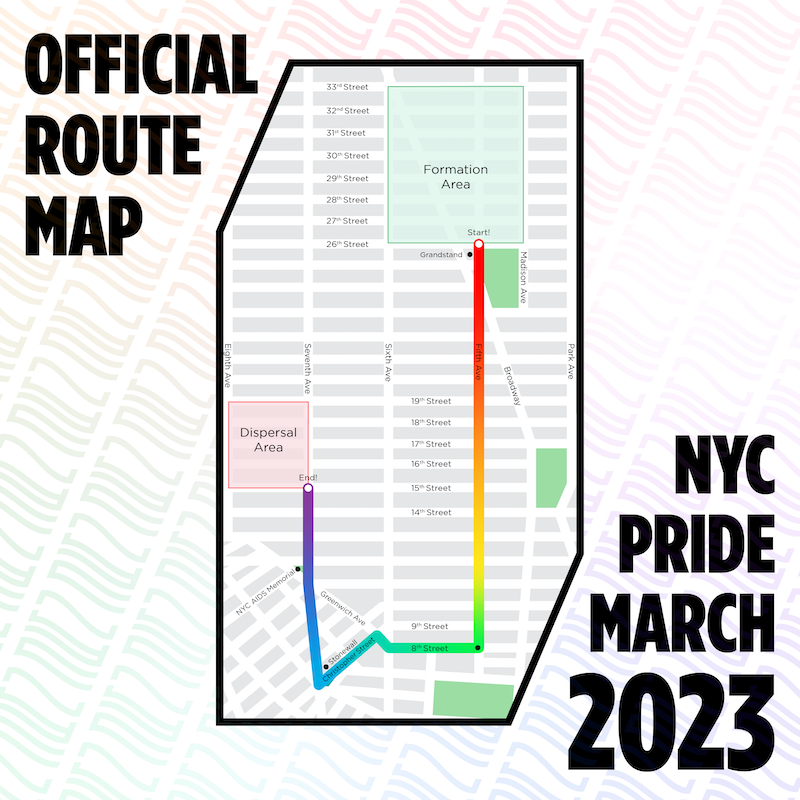 —END—
NOTE: Chelsea Community News is an independent, hyperlocal news, arts, events, info, and opinion website made possible with the help of our awesome advertisers and the support of our readers. Our Promise: Never a paywall, no pop-up ads, all content is FREE. With that in mind, if circumstances allow, please consider taking part in our GoFundMe campaign (click here). To make a direct donation, give feedback, send a Letter to the Editor, or contact our founder/editor, send an email to Scott Stiffler, via scott@chelseacommunitynews.com.
To join our subscriber list, click here. It's a free service providing regular (weekly, at least) Enewsletters containing links to recently published content. Subscribers will also be sent email with "Sponsored Content" in the subject line. That means it's an exclusive message from one of our advertisers—whose support, like yours, allows us to offer all content free of charge.