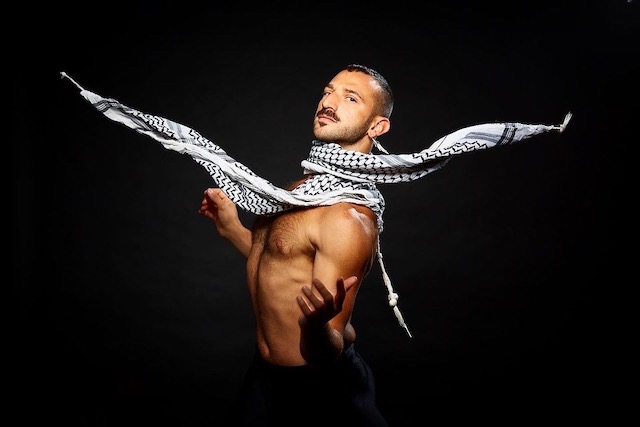 BY CHARLI BATTERSBY | Fadi J. Khoury is a dancer, choreographer, and visual artist, as well as an Artist-in-Residence at Kings County Hospital and the Artistic Director-co-founder of FJK Dance. But those titles only sum up a part of his identity. He's Arab American, an immigrant and, after working in New York for over 10 years as a dancer, he has recently come out as gay. We spoke with him earlier this Pride Month about coming out in both the dance and Arabic communities.
Khoury lived his early life in Iraq and Lebanon, the son of a prominent Iraqi choreographer. Because of his father's career, he was "exposed to the most beautiful standards of art and culture and the art world. And being in Bagdad in the late eighties and the beginning of the nineties was really beautiful."
As I child, recalled Khoury, "I was given the opportunity to just be a dreamer and a dancer or be an artist. My family resisted me being a dancer in my teenage years, but that didn't work," he added with a laugh. "When I was really young, I loved dresses and I loved fabric. I loved to be the queen that I was. I was always a dancer and a performer. I was never shy," he said, specifying that this was when he was around four and five years old.
"And I was always celebrated and loved, until I was six or seven years old, and I was getting older and going to school. That was the beginning of my resistance in my life." When prompted about this resistance, he talked about how gay men sometimes have a distinctive stereotypical voice; a theme which later became important in his work as an artist. "I had to suddenly be told 'No, lower your voice, you can't talk like that.' "
As his teen years came and the family moved to Lebanon, he recalls how his family, "knew they couldn't confine me if I danced. Because as soon as I danced, everyone loved it, including them. So the fear of me being a dancer at that time meant they had to confront to society… that their son is gay. In the Arab world, that challenge is only faced with death, and humiliation, and aggressive hate. So my family, with all the love I know they have for me, they can't even imagine putting me in a situation where people would offend me and would hate me, or would eventually feel the right to kill me." After a pause, he added, "I can only say that now that I'm in New York, expressing myself."
Khoury's dance journey as a teen in Lebanon consisted mostly of folk dancing, but he distanced himself from ballet—and "Don't even mention belly dancing," he added, with another laugh. "It's beautiful and glorious to perform, but it's so coded with a specific facet of performance," he said, about the sexualized Western view of belly dancing women.
"I know that there's more than the beads and the shimmers." He joked that he's triggered by "Defining the dance of the Middle East by belly dancing, and defining belly dancing by its gender. It's not really 'Male Belly Dancers' and 'Female belly dancers.' Dance is that beautiful marriage of the body and music."
He compared the female-centered view of belly dancing to the view of ballerinas in the Western ballet world. "Now we're calling it 'male belly dancers' or 'male ballerinas.' I think we can do better. We can go into the human definition of the art form and release the gender stereotype from it. Because then we can tell human stories and not gender stories."
When he came to New York, he worked in social dance as a teacher and competitor, always dancing with female partners. "I was far more comfortable with these women than with men. Like most gay men, there's a level of intimidation that you grow up with, like you're not man enough. You don't really belong to that football field. You don't belong to that basketball game. And when you do, you are threatened by your expression of love."
Still in the closet, even after years of living in New York, he recalled how he had trouble relating to men. "Women on the other hand were extremely embracing and loving. Because I am sensitive to their aesthetics, and beauty, and emotions. I still was a man for those women. It was easier to find beautiful connections with women. And form profound relationships through dance with these women."
"The trick was to face myself and be authentic," he said of the years before he came out. "I feel like I worked for years to justify why I am not gay. The first ten years I had in New York, while I am in the gayest city on the planet, and I'm surrounded by the most liberated humans all the time."
His dance partner (and co-founder of FJK Dance) Sevin Ceviker was instrumental helping Khoury attain the authenticity he sought. "She knew from the beginning that part of me was held captive. Eventually, she was the one who released me. She was the one who said, 'No you are gay, you have to live your life and we have to separate.' And that was how I challenged myself to find authenticity."
The pandemic arrived shortly thereafter—giving Khoury, like many other performers, time to reflect. During the lockdown, "I created my first solo ever. That journey helped me realize that learn I needed to love myself. Even artistically." That solo piece, Unforbidden, was part of FJK Dance's most recent performance at New York Live Arts in May, but he's already at work on next year's season, a new project called Voices.
"There is one aspect of the human experience that I've muted since my childhood," explained Khoury, "That voice in all of our heads that we hear as gay men. 'Lower your voice. Don't squeak.' I don't know how you say it in English, but we have all these humiliations about gay voices. That you sound gay. 'Don't talk like that.' In my next project, I am collaborating with a vocal artist. The goal is to bring a connection between voice and the dancing body. I want to tell stories of the Middle East that we don't expect to see in that form."
–END–
NOTE: Chelsea Community News is an independent, hyperlocal news, arts, events, info, and opinion website made possible with the help of our awesome advertisers and the support of our readers. Our Promise: Never a paywall, no pop-up ads, all content is FREE. With that in mind, if circumstances allow, please consider taking part in our GoFundMe campaign (click here). To make a direct donation, give feedback, send a Letter to the Editor, or contact our founder/editor, send an email to Scott Stiffler, via scott@chelseacommunitynews.com.
To join our subscriber list, click here. It's a free service providing regular (weekly, at least) Enewsletters containing links to recently published content. Subscribers will also be sent email with "Sponsored Content" in the subject line. That means it's an exclusive message from one of our advertisers—whose support, like yours, allows us to offer all content free of charge.