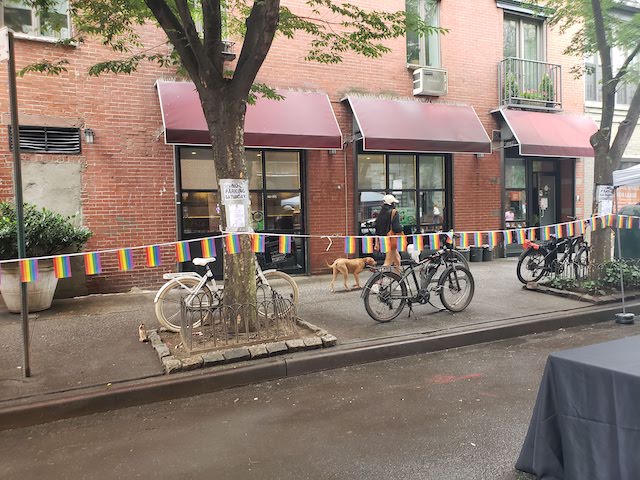 BY SCOTT STIFFLER | On Wednesday, June 21, the NYC Department of Transportation presented to Manhattan Community Board 4 their design proposal for the 200 block of West 22nd Street. As part of the City's Open Streets program since May 2020, the elimination of most vehicular traffic between Seventh and Eighth Aves. for as much as 12 hours daily has been met with high praise as well as vocal and persistent opposition. All was well, however, from 2pm-7pm on Saturday, June 24, at West 22nd Street's first-ever Pride Pop-Up event. Stormy weather at the outset soon gave way to sunny skies—a perfect metaphor for the creation of something wonderous, when two disparate forces coexist.
OK, in all fairness, the metaphor wasn't 100 percent perfect—there was no rainbow. But there was face painting, free stuff, and four ferociously talented drag queens singing, lip synching, and strutting down the middle of West 22nd Street while earning the adoration of an enthusiastic crowd.
"The queens went to the mat to give us all they had, and it was great," said Melodie Bryant, a member of the West 22nd Open|Shared Street Committee, which sponsored the event and has been at the forefront of efforts to further pedestrianize the block on which the Pride Pop-Up took place. "Most charming," said Bryant, of the entertainment, "was that I saw at least three toddlers brought by straight parents to see their first drag queen show! So sweet."
Learn more about the captivating performers by clicking on their names. They were: Androgyny, Lola Michele-Kiki, Catrina LoveLace, and Flipee Kikee.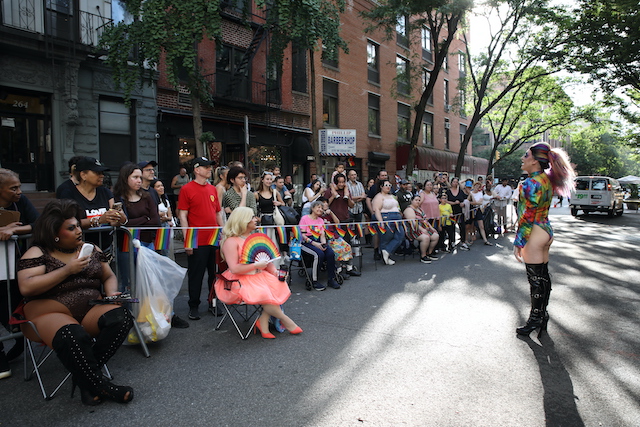 "Working with [W. 22nd St. gay bar] Barracuda and a group of dedicated and talented individuals was nothing short of amazing," Androgyny told Chelsea Community News shortly after the event. "To be able to work directly with the community and put on a show literally on the street where they live is wonderful. It was a fantastic event that I was honored to be a part of, and I hope and believe that it was the first of many to come."
Tom Lunke, also with the West 22nd Open/Shared Street Committee, seemed pleased with the group's first-ever public event on the block—but deferred to others when asked to assign praise.
"We hired Ms. Patreinnah Acosta-Pelle of PR City, Company to organize and obtain all the permits needed, and for working with Barracuda to book the four queens who gave crowd-pleasing performances," he said. Flyers promoting the Pride Pop-Up in advance were kindly posted by businesses on and near the event's block, noted Lunke, who added, "Some of the businesses gave us giveaway items to place in our swag bags, while Open Plans and Home Office set up tables on the street. In addition, we had a DJ, a face painter and a 360 photo booth."
But don't take Lunke's word for it—or ours. Seeing is believing, so keep scrolling down for a more-or-less chronological account of the fab afternoon.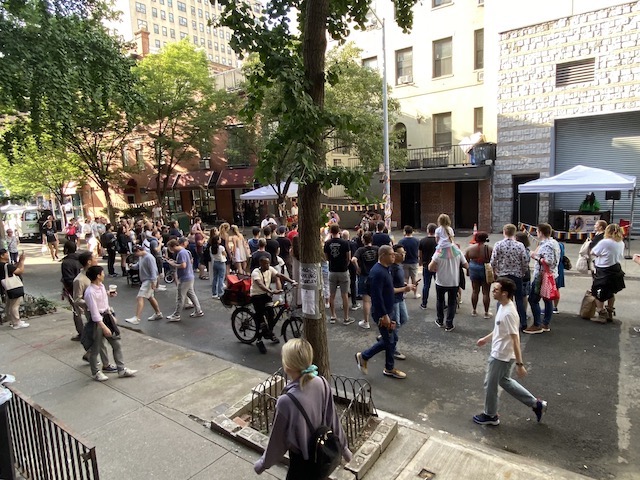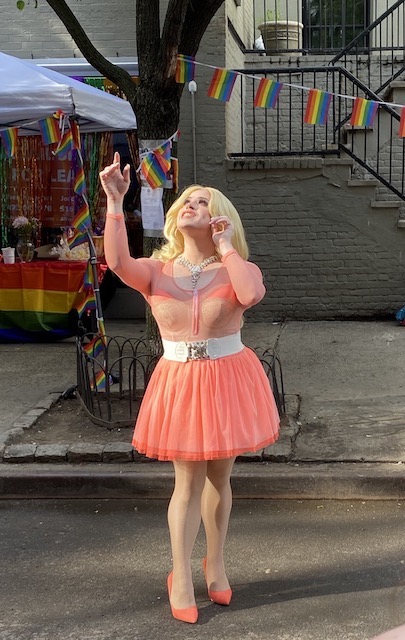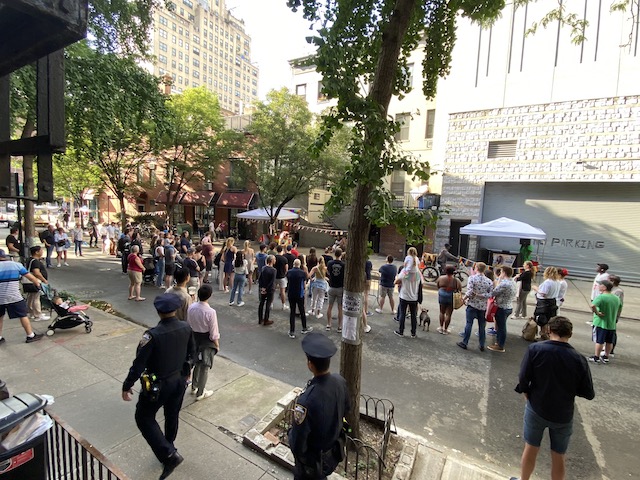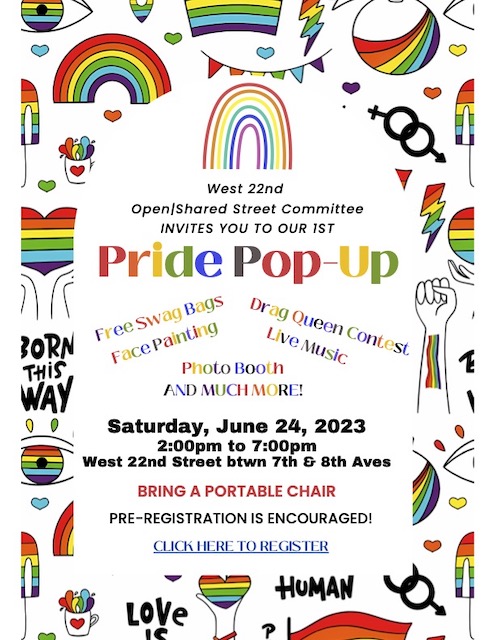 –END–
NOTE: Chelsea Community News is an independent, hyperlocal news, arts, events, info, and opinion website made possible with the help of our awesome advertisers and the support of our readers. Our Promise: Never a paywall, no pop-up ads, all content is FREE. With that in mind, if circumstances allow, please consider taking part in our GoFundMe campaign (click here). To make a direct donation, give feedback, send a Letter to the Editor, or contact our founder/editor, send an email to Scott Stiffler, via scott@chelseacommunitynews.com.
To join our subscriber list, click here. It's a free service providing regular (weekly, at least) Enewsletters containing links to recently published content. Subscribers will also be sent email with "Sponsored Content" in the subject line. That means it's an exclusive message from one of our advertisers—whose support, like yours, allows us to offer all content free of charge.