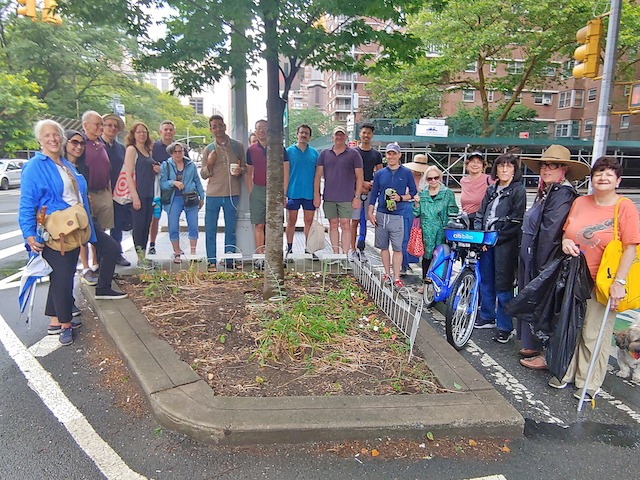 BY SCOTT STIFFLER | If you were trapped on an island that conveniently contained all of the gardening equipment you could ever want/need, what's the one thing you would be sure to plant: Russian Sage? Hollyhock? Take a look at the small but mighty gardens growing in the tree pits that dot pedestrian islands on Seventh, Eighth, and Ninth Aves. in the heart of Chelsea, and you'll have some insight as to the favorite plantings of volunteers from the Chelsea Garden Club. These people pour their hearts and souls (and time, and money) into beautifying Chelsea and making every moment we're stranded on that pedestrian island a chance to commune with nature before crossing the street and continuing on our way.
Once a year, Garden Club members and their friends put on comfortable shoes and gather for the Chelsea Garden Club Tree Pit Tour. This year's edition took place on Saturday, June 24, with participants convening "at 30th Street and Ninth Aveue in front of Sharon's pit on the South side of the intersection," according to an email sent by the Club in advance of the event. From there, the plan was to walk down Ninth Ave. to W. 17th St., then East to Eighth Ave., and then North up to W. 23rd St. "where we will take a side trip to see Napat and Josh's lovely pit on 23rd and Seventh then we will double back and head North on Eighth to finish at about 28th Street," read the email.
Asked for a statement in the days following the Tour, Chelsea Garden Club member Phyllis Waisman sent us this: "Despite some rain at the beginning of the tour, it was a grand walking tour with about 30 gardeners. It's always fun to see the gardeners together and to learn about their tree beds and the flowers that are planted. Congratulations to the new gardeners who created beautiful tree beds along the route."
Chelsea Community News could not be at this year's tour (an annual rite of passage when we have a summertime intern), so we asked Garden Club member Kent Wang for permission to reprint the photos he took along the way, and the captions he wrote for a post on the Club's Facebook page. Wang kindly granted permission–so keep scrolling down, and take the tour for yourself!
To follow Chelsea Garden Club on Facebook, click here. To contact them via email, click here.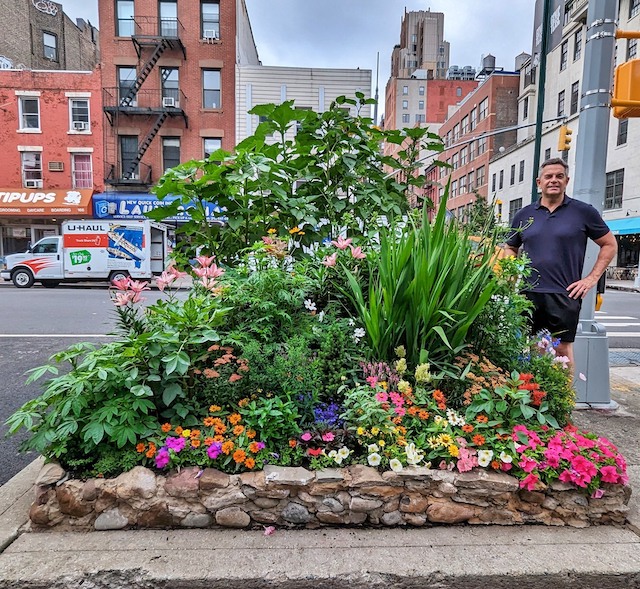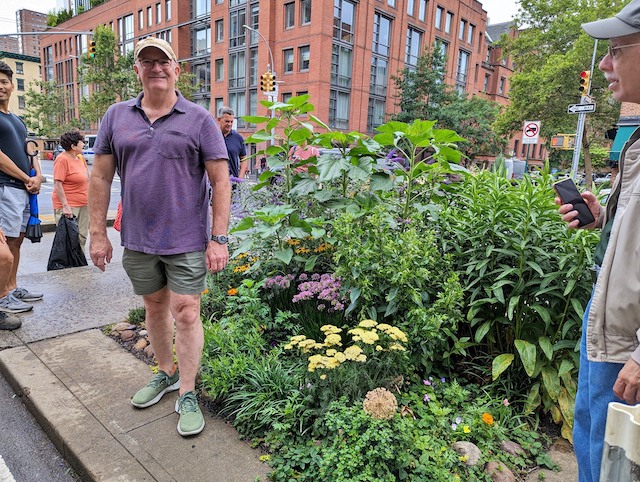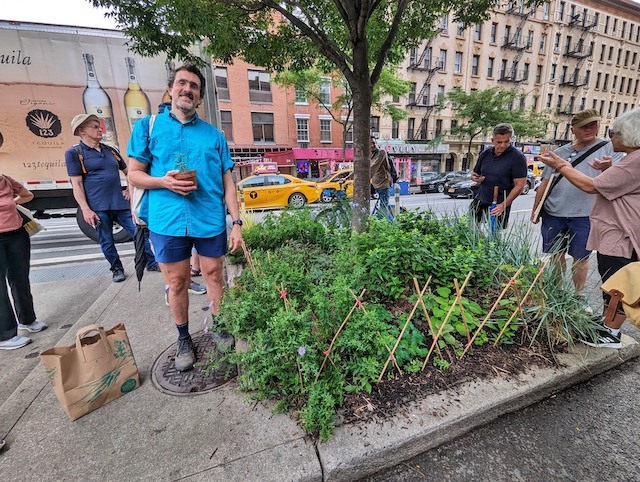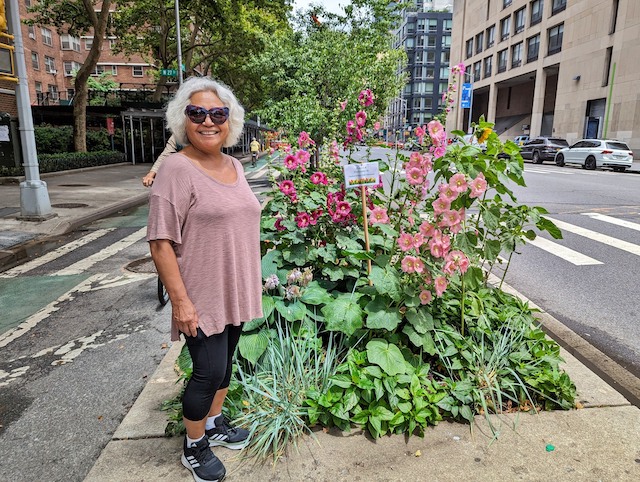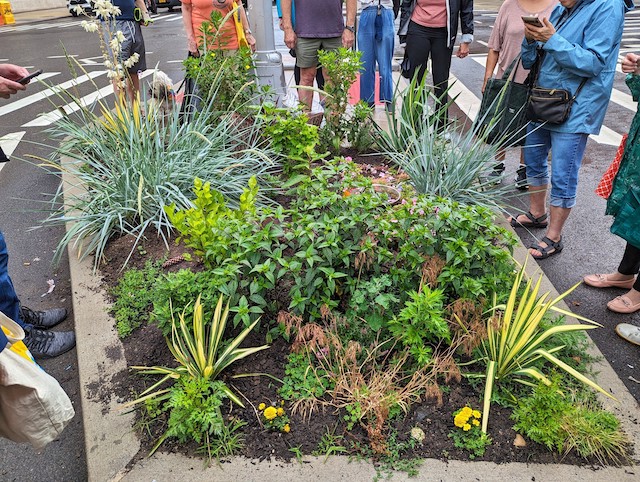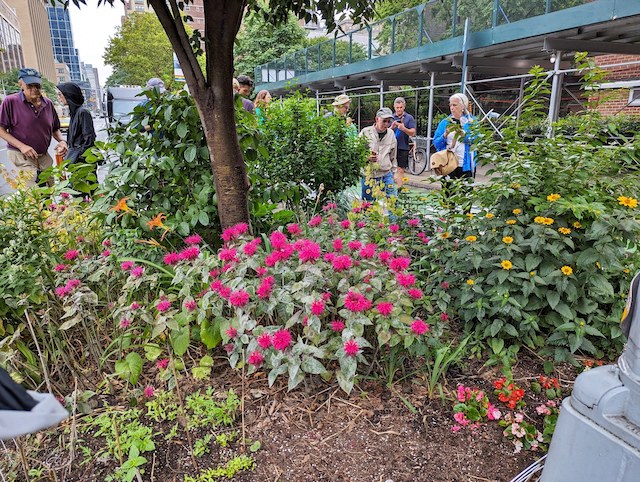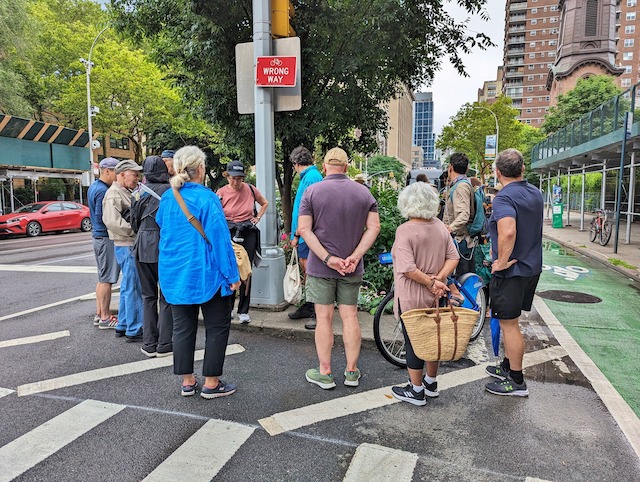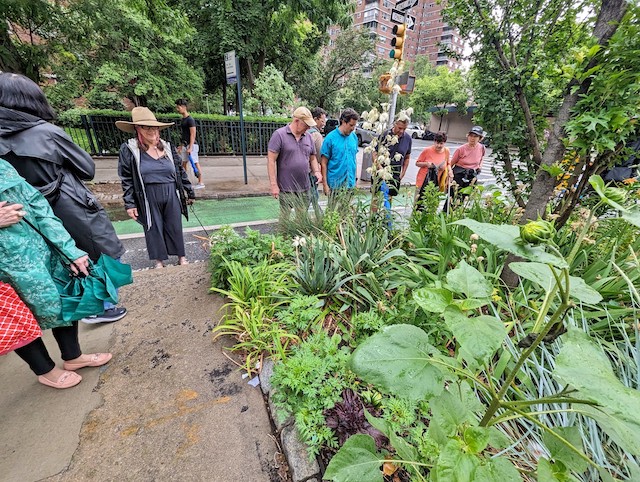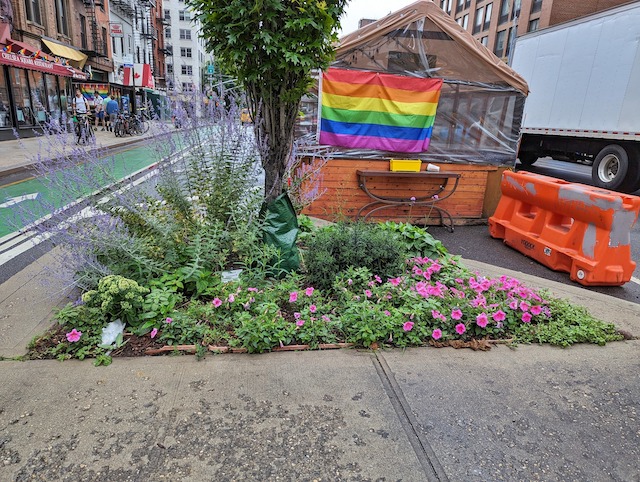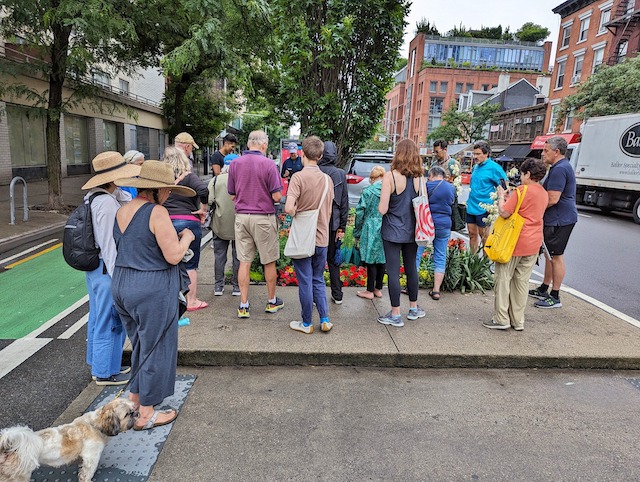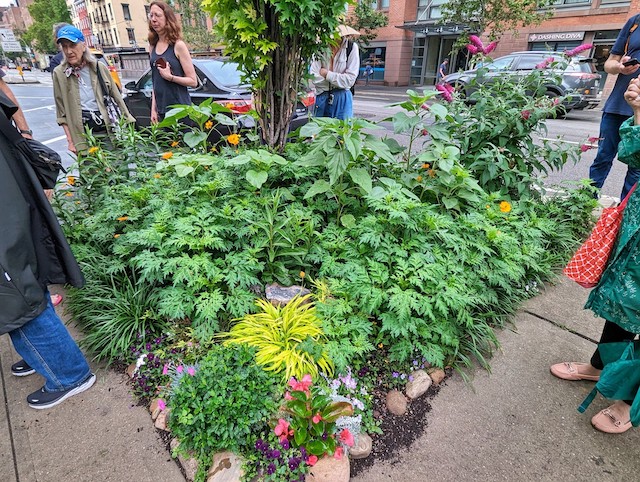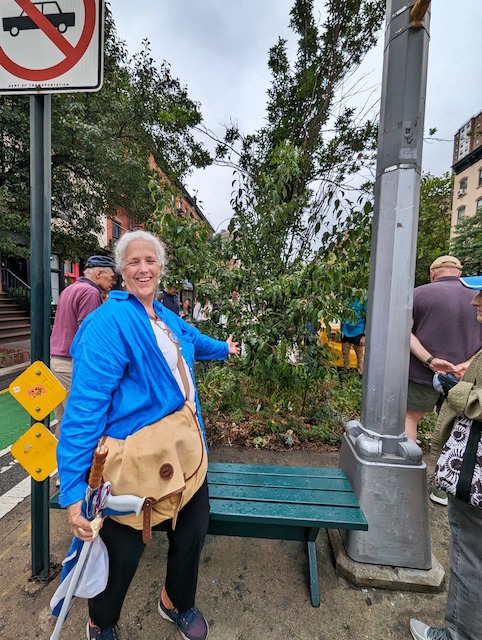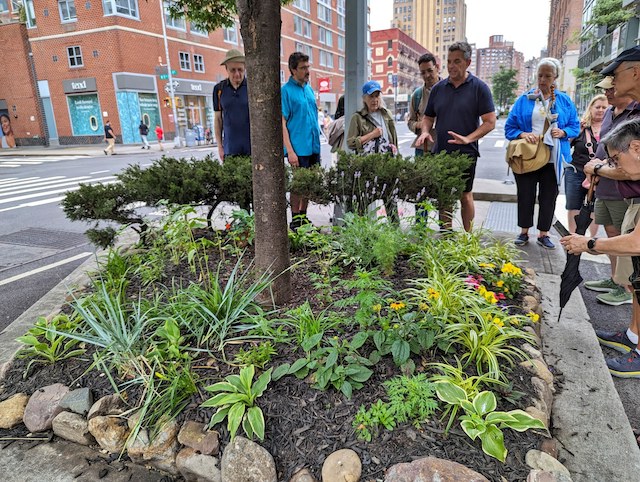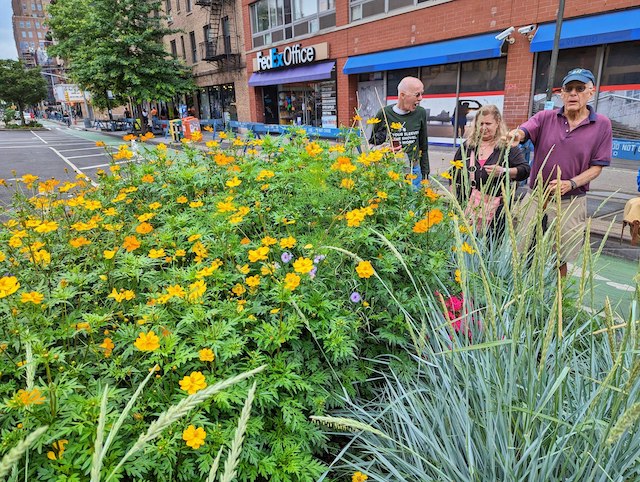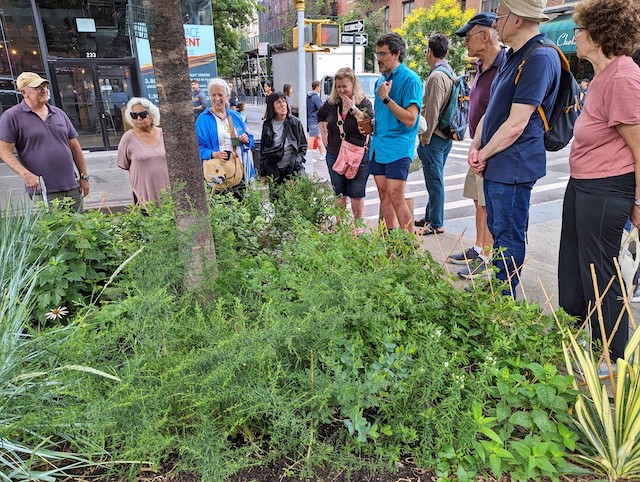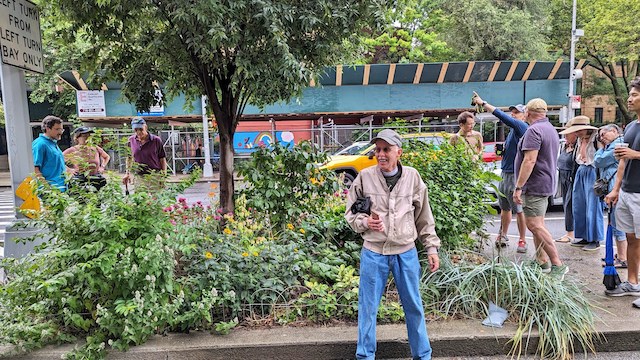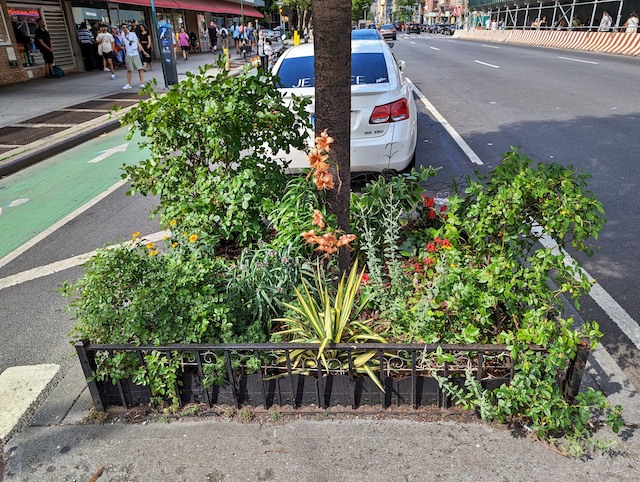 –END–
NOTE: Chelsea Community News is an independent, hyperlocal news, arts, events, info, and opinion website made possible with the help of our awesome advertisers and the support of our readers. Our Promise: Never a paywall, no pop-up ads, all content is FREE. With that in mind, if circumstances allow, please consider taking part in our GoFundMe campaign (click here). To make a direct donation, give feedback, send a Letter to the Editor, or contact our founder/editor, send an email to Scott Stiffler, via scott@chelseacommunitynews.com.
To join our subscriber list, click here. It's a free service providing regular (weekly, at least) Enewsletters containing links to recently published content. Subscribers will also be sent email with "Sponsored Content" in the subject line. That means it's an exclusive message from one of our advertisers—whose support, like yours, allows us to offer all content free of charge.