Happening This Week, in "This Week In & Around Chelsea"
The July/August Full Board Meeting of CB4  / The 10th Precinct Sector A Build the Block Meeting / This Stretch of Montpelier / Fitness Boot Camp /  Wellness Wednesdays / Black Girls CODE Summer Camp / 
The July/August Combo Meeting of Manhattan Community Board 4 (CB4): A Hybrid (Virtual and In-Person) Event at 6:30pm on Wednesday, July 26 | The first Wednesday of the month is when the complete membership of CB4 normally gathers to hear from the public, elected officials and their reps, local law enforcement, and others with a stake in matters happening between 14th and 59th Streets—to the west of Eighth Ave. north of 26th Street, and to the west of Sixth Ave. south of 26th Street (aka Chelsea and Clinton/Hell's Kitchen). The operative word in that last sentence was "normally." Religious holidays sometimes usurp the "first Wednesday" factor—and then there's the fact that there's no August meeting, hence the July 26 "combo" event functions as the full board's only formal gathering until the normal schedule resumes on September 6. To register for the meeting and view it via Zoom, click here. To view the live stream via CB4's YouTube channel, click here.
Note: Zoom registration allows you to sign up for a slot in the Public Session, where you're allowed to speak on topics of your choice (usually for 2 minutes). Those wanting to interact with the meeting in this manner cannot do so by simply live streaming; they must attend via Zoom or in person. The "real world" location will be The High Line Park (West 14th Street and 10th Ave.). Want to take in the proceedings using nothing more than your phone? Dial 646-518-9805 and use the webinar ID 986-0945-5541. Click Here to view the letters scheduled for discussion and vote. Generated by the individual committees of CB4, the letters articulate CB4's position on a matter, and/or appeal to the recipient to take certain actions. Well-vetted by the time they reach the full board, committee letters are often voted on favorably. Sometimes, a letter will be approved pending the addition changes the board has just discussed; and in rare cases, letters will be sent back to committee for more work.  As for you, dear reader, your work here is done, unless you want more info on CB4. Find it on their website, which can be reached by clicking here.
The 10th Precinct Build the Block Sector A Meeting: Thursday, July 27, 5pm at Dr. Gertrude B. Kelly Playground (W. 17th St. btw. 8th & 9th Aves.) | As May 31's 10th Precinct Community Council meeting drew to a close, it was noted that during the Council's July through August summer hiatus, local residents, business owners, and stakeholders could still access the latest crime statistics and voice their concerns by attending Build the Block meetings, one of which—for Sector A—happens this Thursday. The 10th Precinct, it's worth noting, is divided into Sectors A, B, and C. Sector A covers W. 14th St. to W. 21st St., 7th Ave. to the Hudson. Two NCOs, or Neighborhood Coordination Officers, are assigned to a sector. NCOs "are given the time and flexibility to make strong bonds with the community they serve," notes the NYPD. These quarterly public Build the Block meetings are your chance to interact with your Sector NCOs, pose questions, and get answers. "All meeting times, dates, and locations are subject to change," further notes the NYPD, adding, "Please call your local precinct and speak to a Neighborhood Coordination Officer to verify correct meeting information." To find your Sector and its meeting info, click here.  To contact the Sector A NCOs via email: PO William Lleras, WILLAIM.LLERAS2@nypd.org and PO Taimoor Ahmad, TAIMOOR.AHMAD@nypd.org.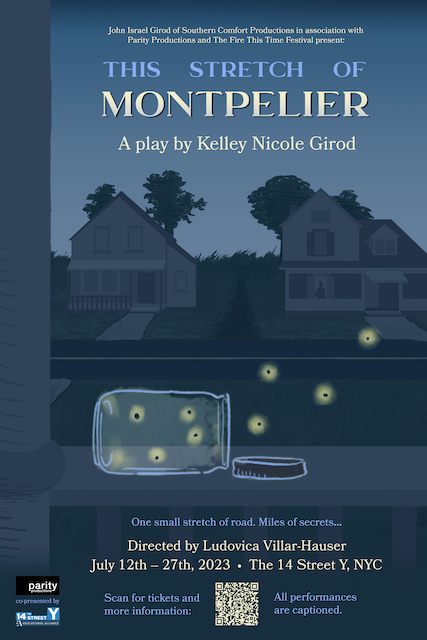 A Developmental Production of This Stretch of Montpelier: Through July 27 at the 14Y Theater (344 E. 14th St.) | Finding its origins in the discovery that a grandmother whose "palpable personal peace" came after enduring a series of extreme hardships, playwright Kelley Nicole Girod grafted that bothersome incongruity onto "the Louisiana that I grew up in—a beautiful natural world that hides a dark past." Taking place on a hot and humid summer day in black and white communities isolated by geography but linked by deeds done long ago, the restless residents seek relief—perhaps even escape—from the race, class, and traditions that divide them.
The play is presented by Parity Productions (a theatre company dedicated to "producing new work by women, trans, and gender-expansive playwrights) in association with Southern Comfort Productions and The Fire This Time Festival. Runtime: 90 minutes, no intermission. To purchase tickets ($33.85 or VIP tix for $55.20), click here. For a minimum of $15, pay-what-you-can tickets are available at the door 30 minutes prior to the performance. To visit the Parity Productions website, click here.
Free Fitness Boot Camp in Bella Abzug Park (Hudson Boulevard West btw. West 36th & 37th Sts.), Tuesdays & Thursdays, 7-8am, Weekly Through September 28 | Early risers reap the reward of feeling great and having accomplished something substantial, before some of us have found the strength to roll out of bed. That sense of well-being is to be found at the twice-weekly Morning Boot Camp brought to you by the Hudson Yards Hell's Kitchen Alliance. Ave and Olivia, Manhattan Plaza Health Club instructors, have designed an invigorating, high-intensity interval training workout (HIIT) combining strength and cardio in creative ways that challenge participants to use body weight as resistance. Start your day the MPHC Boot Camp way at these classes that are open to the public (please bring your own mat). For more info, and to register, click here.
"Wellness Wednesdays" Free Fitness Classes, Through August 9, 6pm in the Flatiron South Public Plaza (Broadway btw. W. 22nd & 23rd Sts.) | The Flatiron NoMad Partnership presents this free fitness series, whose instructors hail from nearby gymns and studios. Wed., June 28, it was DanceBody: Dance + Sculpt. On July 26, Equinox NoMad: Mat Pilates incorporates a continuous series of mat exercises rooted in the teachings of Joseph Pilates. Strengthen your core, improve flexibility, and dramatically transform your body. On August 2, Power Pilates: Open Mat teaches the classical Pilates exercise sequence. Using your own body as resistance, you will effectively work all muscle groups with low-impact movements such as the hundred and the teaser. This open class allows for easier modifications and challenging variations. Registration Begins July 19. Finally, on August 9, bodē nyc: HIIT 50 is a Tabata-style cardio class that combines High-Intensity Interval Training (HIIT), muscle toning, and cardio to create a powerful workout experience that strengthens your core, burns fat, and increases flexibility. Registration Begins July 19. These fitness classes are part of the Flatiron NoMad Partnership's Summer Series, which also includes salsa music and dancing, and the opportunity to participate in experiential public art. To register and for more info, click here.
Black Girls CODE Summer Camp: August 21 to September 1, Monday through Friday, 9am-4pm at the Google Learning Hub (118 Eighth Ave.) | Black Girls CODE  teaches young Black girls and girls of color computer programming and coding skills to spark their interest in technology, unlock their potential, and eventually change the face of tech. At this year's Summer Camp, participants ages 12-17 will learn how to create an animated art piece with code (exactly what they create will be the product of their own imagination). For more info about the Camp, see the below flyer and also click here. The enrollment fee is $100—but scholarships are available! For details, see the below flyer and also click here.
—Listings Compiled by Scott Stiffler
Chelsea Community News is an independent, hyperlocal news, arts, events, info, and opinion website made possible with the help of our awesome advertisers and the support of our readers. Our Promise: Never a paywall, no pop-up ads, all content is FREE. With that in mind, if circumstances allow, please consider taking part in our GoFundMe campaign (click here). To make a direct donation, give feedback, send a Letter to the Editor, or contact our founder/editor, send an email to Scott Stiffler, via scott@chelseacommunitynews.com.
To join our subscriber list, click here. It's a free service provding regular (weekly, at least) Enewsletters containing links to recently published content. Subscribers also will be sent email with "Sponsored Content" in the subject line. That means it's an exclusive message from one of our advertisers, whose support, like yours, allows us to offer all content free of charge.