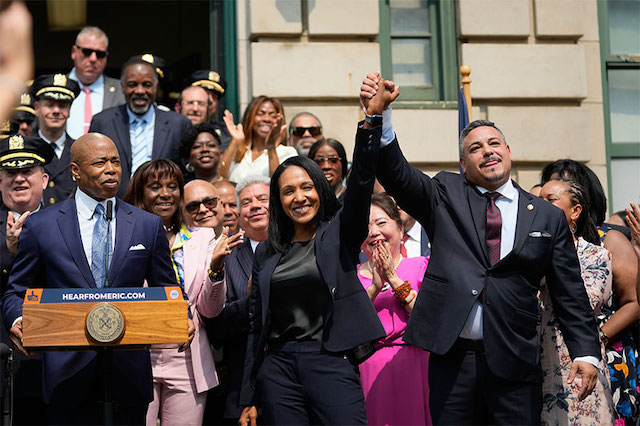 BY NYC MAYOR ERIC ADAMS | As Mayor of New York, I know just how important public safety is to our city, and how important the right leadership is in achieving it. Over the last 18 months, this Administration has made major progress in driving down major crime, and last week I named a new leadership team at the NYPD that will continue to improve safety across our city and keep New York the safest big city in America.
This new team is not just making news–they are making history. Police Commissioner Edward Caban is the first Hispanic Police Commissioner in our city's history, bringing decades of experience and leadership to this role. Our incoming First Deputy Commissioner, Tania Kinsella, is the first woman of color to serve in this role. Rebecca Weiner, our new Deputy Commissioner for Intelligence and Counterterrorism, is also the first woman to serve in her position.
And when I reflect on my time as being mayor of this great city, the appointment of Edward Caban as the new Police Commissioner will probably be one of the most significant and emotional moments for me. Eddie is blue-collar. He is a working New Yorker. His story is a New York City story. His father was a transit cop when I was a transit cop. And as the head of the Transit Police Hispanic Society, Eddie's father fought for diversity every day to improve the rank and file of the NYPD. And now his son is the Police Commissioner.
These are the new faces of the NYPD. They are from immigrant families, Hispanic, Black, and female. This is an NYPD that looks like the people they serve. They all bring impressive credentials and a record of success to their roles and will build on the historic work begun by Police Commissioner Sewell.
When we came into office in January 2022, our city was on the brink. Together with Commissioner Sewell's leadership, we made major strides and turned the tide on the most violent crimes. Shootings are down. Murders are down. Overall crime is down. We have seized over 10,000 guns from our streets since coming into office, disrupting the iron pipeline. Hate crimes are down. And our subways are getting safer.
We have recovered 99.9% of pre-pandemic private sector jobs, and tourists are filling our Broadway theaters and spending money across the five boroughs. This is progress. And it is clear, New York City is not coming back, we are back. But we still have much to left to do.
This new leadership team will continue to bring crime down, reduce transit crime, reduce car thefts and enhance the NYPD's focus on quality-of-life issues like retail theft. They are New York's finest and understand the importance of both safety and justice. And they reflect who we are as a city. Diverse and full of hustle. This is an amazing moment for our city. This team has the right leaders for right now.
To visit the Office of the Mayor of New York City online, click here.
—END—
NOTE: The views expressed by our Guest Opinion writers are not necessarily those of Chelsea Community News–an independent, hyperlocal news, arts, events, info, and opinion website made possible with the help of our awesome advertisers and the support of our readers. Our Promise: Never a paywall, no pop-up ads, all content is FREE. With that in mind, if circumstances allow, please consider taking part in our GoFundMe campaign (click here). To make a direct donation, give feedback, send a Letter to the Editor, or contact our founder/editor, send an email to Scott Stiffler, via scott@chelseacommunitynews.com.
To join our subscriber list, click here. It's a free service providing regular (weekly, at least) Enewsletters containing links to recently published content. Subscribers will also be sent email with "Sponsored Content" in the subject line. That means it's an exclusive message from one of our advertisers—whose support, like yours, allows us to offer all content free of charge.