Here's What's Happening "This Week In & Around Chelsea"
Movies in the Park / Retrospection/Continuance at Hudson Guild Gallery / Fresh Food for Seniors / Fitness Boot Camp /  Wellness Wednesdays / Black Girls CODE Summer Camp /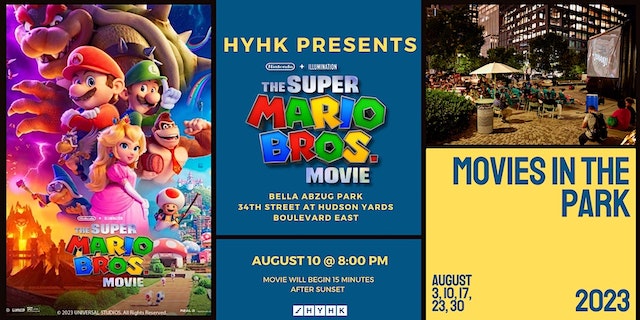 Movies in the Park: A Free Film Screening Series Thursdays in August, 8pm, at Bella Abzug Park (W. 34th St. at Hudson Boulevard East) | This free summertime series (presented by the Hudson Yards Hell's Kitchen Alliance BID) returns, with a well-curated roster whose five films are fit for all ages yet also calibrated to appeal to lovers of both classic and contemporary fare. Seating is first come, first served—but making a reservation by clicking on the links provided gives organizers a good idea of how much free popcorn to pop. The "classics" get first crack at bat, so to speak, on Aug. 3, as Audrey Hepburn knocks it out of the park as the main character in 1961's Breakfast at Tiffany's (click on film title for details). Next up, on Aug. 10, it's a screening of The Super Mario Bros. Movie. Whether you come to this cotton candy-colored 2023 flick as a nostalgic adult who remembers the first Super video arcade adventure (1983!) or a kid who's just along for the eye-popping ride: All viewers can agree it's best not to wonder where Chris Pratt's divisive "Mario" accent comes from. An early career entry from NYC's own Spike Lee resonates with the racial, cultural, and class issues of every accumulating year since its 1989 release—and launches worthy debates about ethics and morality with just the mention of its title alone: Do the Right Thing screens on Aug. 17. On Aug. 24, it's modern classic that's a must-see for those who need to know why nobody wants to talk about Bruno. The film, of course, is Disney's tuneful 2021 Encanto. And finally, don't dismiss this last entry as an afterthought: Beyond the flyboy bravado, ample afterburners, and constant action, there's actual dramatic meat on the bone to be had by the mix of contemporary characters and throwback icons gunning for glory in 2022's crowd-pleasing Top Gun: Maverick.
Retrospection/Continuance at Hudson Guild Gallery (441 W. 26th St.), August 3-September 27 | Artworks from the American Indian Community House collection will be on view. Following the opening reception (Thurs., Aug. 3, 5:30-7pm), Hudson Guild Gallery hours are Tues. to Fri., 10am-6pm and Sat., 12-3pm. For more info, see the below flyer and/or click here.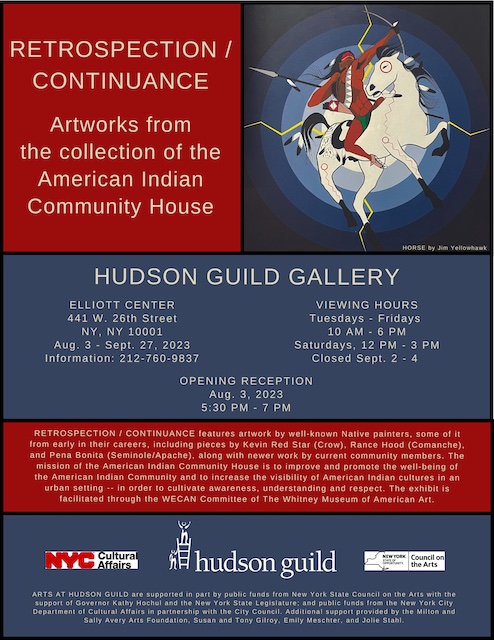 Fresh Food for Seniors | The second annual version of this program from NYC Council Member Erik Bottcher and Manhattan Borough President Mark Levine sees to it that you receive a bag of fresh, locally harvested fruits and vegetables every other week through November 14. The cost is $10 per bag. Sign up for Fresh Food Bag participation on certain Mondays and Tuesdays at local senior centers, with pick-up the following Tuesday.
Local participating senior centers include Visions at 135 W. 23rd St., where sign-up is 10am-3pm; Hudson Guild NORC at 441 W. 26th St., where sign-up is 8:30am-5:30pm; Penn South Program for Seniors at 290A Ninth Ave., where sign-up is 9am-5pm; and Encore Senior Center at 239 W. 49th St., where sign-up is 8:30am-4:30pm. For more info, call 212-554-7757 or email district3@council.nyc.gov.
For the schedule of dates, see the below flyer.
Free Fitness Boot Camp in Bella Abzug Park (Hudson Boulevard West btw. West 36th & 37th Sts.), Tuesdays & Thursdays, 7-8am, Weekly Through September 28 | Early risers reap the reward of feeling great and having accomplished something substantial, before some of us have found the strength to roll out of bed. That sense of well-being is to be found at the twice-weekly Morning Boot Camp brought to you by the Hudson Yards Hell's Kitchen Alliance. Ave and Olivia, Manhattan Plaza Health Club instructors, have designed an invigorating, high-intensity interval training workout (HIIT) combining strength and cardio in creative ways that challenge participants to use body weight as resistance. Start your day the MPHC Boot Camp way at these classes that are open to the public (please bring your own mat). For more info, and to register, click here.
"Wellness Wednesdays" Free Fitness Classes, Through August 9, 6pm in the Flatiron South Public Plaza (Broadway btw. W. 22nd & 23rd Sts.) | The Flatiron NoMad Partnership presents this free fitness series, whose instructors hail from nearby gymns and studios. On August 2, Power Pilates: Open Mat teaches the classical Pilates exercise sequence. Using your own body as resistance, you will effectively work all muscle groups with low-impact movements such as the hundred and the teaser. This open class allows for easier modifications and challenging variations. Registration is open. Finally, on August 9, bodē nyc: HIIT 50 is a Tabata-style cardio class that combines High-Intensity Interval Training (HIIT), muscle toning, and cardio to create a powerful workout experience that strengthens your core, burns fat, and increases flexibility. Registration is now open. These fitness classes are part of the Flatiron NoMad Partnership's Summer Series, which also includes salsa music and dancing, and the opportunity to participate in experiential public art. To register and for more info, click here.
Black Girls CODE Summer Camp: August 21 to September 1, Monday through Friday, 9am-4pm at the Google Learning Hub (118 Eighth Ave.) | Black Girls CODE  teaches young Black girls and girls of color computer programming and coding skills to spark their interest in technology, unlock their potential, and eventually change the face of tech. At this year's Summer Camp, participants ages 12-17 will learn how to create an animated art piece with code (exactly what they create will be the product of their own imagination). For more info about the Camp, see the below flyer and also click here. The enrollment fee is $100—but scholarships are available! For details, see the below flyer and also click here.
—Listings Compiled by Scott Stiffler
Chelsea Community News is an independent, hyperlocal news, arts, events, info, and opinion website made possible with the help of our awesome advertisers and the support of our readers. Our Promise: Never a paywall, no pop-up ads, all content is FREE. With that in mind, if circumstances allow, please consider taking part in our GoFundMe campaign (click here). To make a direct donation, give feedback, send a Letter to the Editor, or contact our founder/editor, send an email to Scott Stiffler, via scott@chelseacommunitynews.com.
To join our subscriber list, click here. It's a free service provding regular (weekly, at least) Enewsletters containing links to recently published content. Subscribers also will be sent email with "Sponsored Content" in the subject line. That means it's an exclusive message from one of our advertisers, whose support, like yours, allows us to offer all content free of charge.