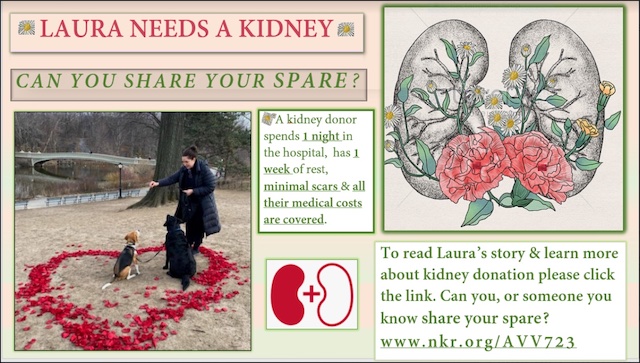 Creative, witty, and dedicated, Chelsea resident Laura Solimene has been giving her time and talents to support the community engagement efforts of the West 400 Block Association. Such volunteerism certainly merits a little special recognition, perhaps even a gesture of appreciation. Flowers are always nice—but what if she's allergic? It's got to be something that matches her needs…say, perhaps…one of your kidneys? Hey, in certain circumstances, you've got to think big—and this is one of those times. Which brings us to the below message, reproduced from an August 9 email from the West 400 Block Association. Originally sent to its membership, we're told it's suitable for public consumption. So please read, share, and consider looking into seeing if this epic way to thank Laura is right for you.—Scott Siffler
On August 9, 2023, The West 400 Block Association Wrote:
Hi!  We are sending out this message because a special member of our Block Association family could really use our help. Many of you know Laura Solimene personally, and those who don't certainly know her as the sender of our wonderful weekly newsletters and the creator/organizer of all our special events. Laura has lived in Chelsea for twenty years, and ever since she (and her Beagle Churchill) moved to West 22nd Street several years ago she has become invaluable to all of us here as both a neighbor and a creative leader.
Laura has Polycystic Kidney Disease (PKD), an inherited disease that will soon bring about the necessity of a kidney transplant. Her family is not an available resource for a transplant, as both of her sisters also have PKD. The good news is that we are all born with two kidneys, but need only one of them. This means we each have an amazing gift—a spare we can share!  Not all of us, of course would qualify to be a donor, but those who cannot donate can be enormously helpful by spreading the word to those we know. The more people we reach, the better the chance for finding a donor.
We have attached here a link to Laura's site with the National Kidney Registry, where you can learn more about what is involved. We found this information enlightening and inspiring!
Please share this information with those you know. We can all be a part of making this happen!
Thanks so much!
West 400 Block Association
Laura's National Kidney Registry link (click on it to view): https://www.nkr.org/AVV723
—END—
Chelsea Community News is an independent, hyperlocal news, arts, events, info, and opinion website made possible with the help of our awesome advertisers and the support of our readers. Our Promise: Never a paywall, no pop-up ads, all content is FREE. With that in mind, if circumstances allow, please consider taking part in our GoFundMe campaign (click here). To make a direct donation, give feedback, send a Letter to the Editor, or contact our founder/editor, email Scott Stiffler via scott@chelseacommunitynews.com.
To join our subscriber list, click here. It's a free service providing regular (weekly, at least) Enewsletters containing links to recently published content. Subscribers also will be sent email with "Sponsored Content" in the subject line.  That means it's an exclusive message from one of our advertisers, whose support, like yours, allows us to offer all content free of charge.