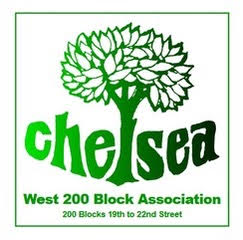 How very appropriate that the Chelsea West 200 Block Association's recently updated logo (seen on the left) is anchored by a towering tree whose thick trunk implies deep roots. As one of the neighborhood's very first block associations, West 200 was instrumental in establishing and inspiring the practice of lining Chelsea's side streets with the trees we take for granted as always having been there (pre-1950s Chelsea was more concrete jungle than leafy canopy). Over the years, the  BA covering the 200 blocks of West 19th to 22nd Streets branched out, so to speak, from matters of hyperlocal beautification to citywide concerns. Taking the BA into the future–with an eye toward shoring up current concerns, is its new president, Jesenko Cukadinovic, who recently went on the record with us. The yield of that exchange can be seen in the Q&A directly below.
Scott Stiffler for Chelsea Community News (CCNews): How and why did you come to be the president—and what, exactly, does the job entail?
Jesenko Vukadinovic, for the Chelsea West 200 Block Association (Jesenko): When I moved to Chelsea in 2009, it was like a dream come true. As a gay man, I've known about this neighborhood for most of my adult life. After having lived in different countries and states in the US where I didn't always feel comfortable being openly gay, it was my desire to move into a vibrant, diverse neighborhood with a large LGBT community. Chelsea was a perfect balance of bustling and exciting, but also charming and livable with a distinct neighborhood feel. The neighborhood has faced many challenges, and it has changed a lot in the last 15 years. I still love it, and it is a permanent home. It is also a very transient place—in all these years, I've seen dozens of people move in and out of my building.
I realized that in order to find a community with people who also consider Chelsea a permanent home and to preserve things I love, I would have to become more actively engaged. During the pandemic, my husband and I were the only people still living in our building. The businesses around us were boarded up, we were threatened on our block for being gay, and it almost felt like a war zone. It was a reminder of how easily things we love can disappear if we take them for granted, and to preserve them. I wanted to take on a more active role. I got in touch with Pamela Wolff, who was one of founding members of the BA almost 50 years ago, and who told me that there was a need for new leadership.
This is when I decided to run for President. The job is a collaborative effort involving the other officers (vice president, secretary, treasurer) and block representatives. In addition to organizing traditional neighborhood activities, the job entails following the events and the issues that affect the quality of life, initiating and moderating a conversation about how the community feels about any particular issue—which often entails trying to reach a consensus, and then trying to affect the outcomes based on community input. I see this Block Association as a way to build community with people who also love this neighborhood, who are invested in making it more livable, green, and hospitable for themselves and for others.
CCNews: How does your BA interact with, support, coordinate, etc. with the Council of Chelsea Block Associations (CCBA)?
Jesenko: The current president of CCBA, Sally Greenspan keeps us constantly up to date on issues that affect Chelsea as a whole, and asks for our input. She is also very responsive to helping us elevate and amplify issues that affect our BA and that could benefit from mobilizing the greater Chelsea neighborhood. It really is a great partnership.
CCNews: What are three top concerns of your BA, and what are your plans to confront/achieve them?
Jesenko: The original mission of the BA to plant more trees and to make our blocks greener and more beautiful is still the main focus and a work in progress. Traditionally, the BA has tried to stay out of politically contentious issues, but given many recent changes such as Open Streets and Open Restaurants programs, with many competing opinions and interests, the BA has stepped in to try to serve as a conduit for that conversation. There are other citywide challenges such as the Penn Station/MSG project and the future of Fulton Houses and Elliott-Chelsea Houses that will have a great impact on our neighborhood, and we try to engage in that greater conversation and have our voices heard. Finally, one of the most important concerns is the safety, and in particular pedestrian and bike safety which has recently become a very important issue given the changes to the parking and traffic patterns. In all of these issues we try to remain a part of the conversation with the political leadership, city agencies, law enforcement, and citizen organizations.
CCNews: How often, and how, does the membership meet?
Jesenko: The full membership meets twice a year, typically in May and December. In order to facilitate an ongoing conversation with the membership, I have formed a Google group which members can join and have their voices heard.
CCNews: Who is eligible to join and how can they do so?
Jesenko: Anyone with a current address in the West 200 Block of 19th, 20th, 21st or 22nd Street can join. All they need to do is send an email to me with the request [click here to send], providing the address and the email address and will be added to the membership list.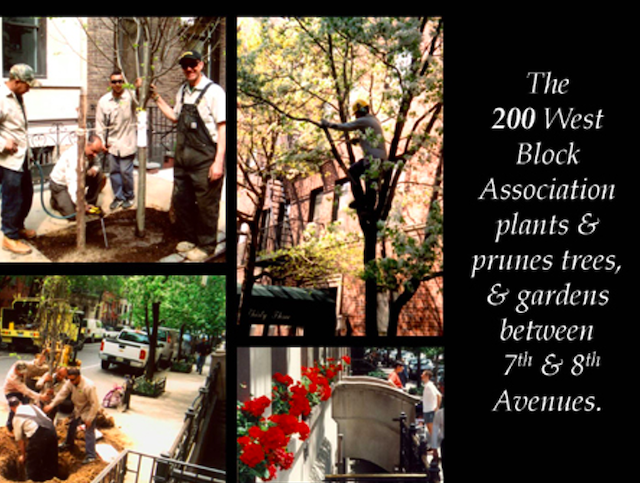 —END—
Chelsea Community News is an independent, hyperlocal news, arts, events, info, and opinion website made possible with the help of our awesome advertisers and the support of our readers. Our Promise: Never a paywall, no pop-up ads, all content is FREE. With that in mind, if circumstances allow, please consider taking part in our GoFundMe campaign (click here). To make a direct donation, give feedback, send a Letter to the Editor, or contact our founder/editor, email Scott Stiffler via scott@chelseacommunitynews.com.
To join our subscriber list, click here. It's a free service providing regular (weekly, at least) Enewsletters containing links to recently published content. Subscribers also will be sent email with "Sponsored Content" in the subject line.  That means it's an exclusive message from one of our advertisers, whose support, like yours, allows us to offer all content free of charge.