Here's What's Happening "This Week In & Around Chelsea"
Salsa and Bachata Brunch / CB4 Presents an Online Informational Session Regarding a W. 23rd St. Cannabis Dispensary /  Movies in the Park / Retrospection/Continuance at Hudson Guild Gallery / Fresh Food for Seniors / Fitness Boot Camp /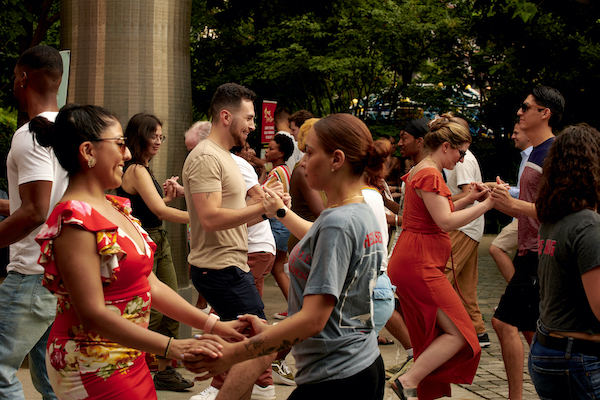 Salsa and Bachata Brunch: Sunday, August 27, 12pm-4pm in Bella Abzug Park (539 W. 34th St.) | The Hudson Yards Hell's Kitchen Alliance (HYHK BID) is hosting a salsa and bachata brunch in partnership with Hudson Yards-based café/vendor Paradis in the Park and West 38th Street-based Somos Latin Dance. The beginning of the event will include a short dance lesson from Somos Latin Dance, so no prior experience is necessary. Paradis in the Park will be selling food and drinks throughout, and the featured spinner of tracks is DJ El Matatan. To purchase tickets ($20) and for more info, click here.
NOTE: To view a recording of the Aug. 24 event described below (as archived on CB4's YouTube channel), click here.
Manhattan Community Board 4 (CB4) Brings You an Informational Presentation from the Owners of the Licensed Cannabis Dispensary Set to Open at 158 West 23rd Street (btw. 6th & 7th Aves.): Presentation Takes Place on Thursday, August 24, 6:30pm via Zoom and CB4's YouTube Channel | When cannabis posession and its recreational use became  legal in New York State (NYS), it inspired a sort of green Gold Rush. Smoke shops soon lit up the night and dotted the landscape. But beyod their bright, inviting signs was a little fine print you might not be aware of: The legal sale of cannabis in NYS must take place on Native American reservations or via state-approved dispensaries. One such dispensary is planned for a high (pun intended) traffic area of Chelsea. To learn more about this, CB4 is hosting an Informational Presentation from the owners of the licensed cannabis dispensary set to open at 158 West 23d Street. The public is encouraged to attend and raise questions or concerns. Those wishing to participate in this manner must register for the meeting, and attend via Zoom. To register, click here. Note: The meeting can also be viewed on CB4's YouTube channel, but doing so does not allow for participation. Click here to visit the Home page of CB4's YouTube channel, which will livestream the August 24 event and then archive its recording on YouTube for viewing at your convenience.
But there's nothing like the real thing unfolding as you watch it, an experience made all the better if you come to the proceedings knowing a little about the new laws and policies in place. CB4 provided an excellent primer back in March, when they hosted a Cannabis Licensing and Enforcement Forum. Guests on the panel included Phillip Rumsey, from the NYS  Office of Cannabis Management, aka OCM) and Dasheeda ("Cannabis Czar") Dawson, Director of the NYC Cannabis initiative. Highlighted by a presentation from the OCM and a Q&A session featuring panel participants, Forum covered the topic of licensed dispensaries while answering the lingering quesition, "Why are there so many smoke shops?" To access the online recording of that March meeting, click here.
A similar helpful primer exists in the form of a CB4-created questionarre the158 W. 23rd St. applicant filled out. Covering everything from their previous experience in retail to the number of employees, the questionarre can be seen in full if you
click here
.  Unable to make the meeting but still want the live experience? CB4 notes:"If your block association or local organization would like to schedule a time to meet with the applicant separately, you can contact them directly at 
soodaksinc@gmail.com
." To understand the rules and implications of legal cannabis, statewide,
click here
to visit NYS's Office of Cannabis Management.
Movies in the Park: A Free Film Screening Series Thursdays in August, 8pm, at Bella Abzug Park (W. 34th St. at Hudson Boulevard East) | This free summertime series (presented by the Hudson Yards Hell's Kitchen Alliance BID) returns, with a well-curated roster whose five films are fit for all ages yet also calibrated to appeal to lovers of both classic and contemporary fare. Seating is first come, first served—but making a reservation by clicking on the links provided gives organizers a good idea of how much free popcorn to pop.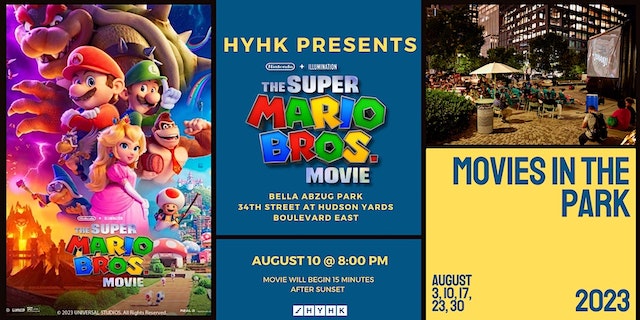 On Aug. 24, it's a screening of a must-see for those who need to know why nobody wants to talk about Bruno. The film, of course, is Disney's tuneful 2021 Encanto. And finally, don't dismiss this last entry as an afterthought: Beyond the flyboy bravado, ample afterburners, and constant action, there's actual dramatic meat on the bone to be had by the mix of contemporary characters and throwback icons gunning for glory in 2022's crowd-pleasing Top Gun: Maverick.
Retrospection/Continuance at Hudson Guild Gallery (441 W. 26th St.), Through September 27 | Artworks from the American Indian Community House collection will be on view. Hudson Guild Gallery hours are Tues. to Fri., 10am-6pm and Sat., 12-3pm. For more info, see the below flyer and/or click here.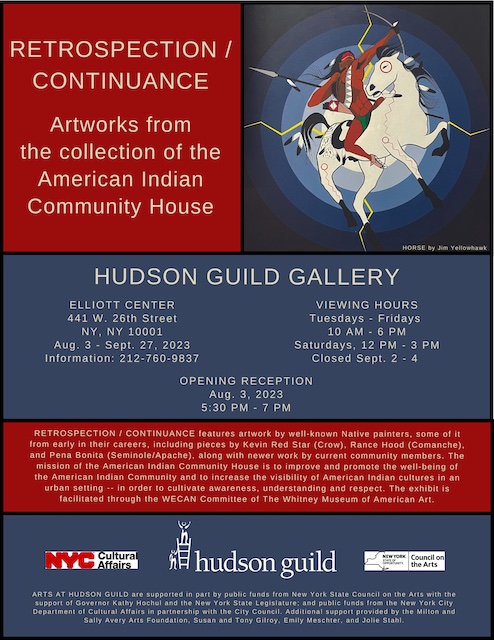 Fresh Food for Seniors | The second annual version of this program from NYC Council Member Erik Bottcher and Manhattan Borough President Mark Levine sees to it that you receive a bag of fresh, locally harvested fruits and vegetables every other week through November 14. The cost is $10 per bag. Sign up for Fresh Food Bag participation on certain Mondays and Tuesdays at local senior centers, with pick-up the following Tuesday.
Local participating senior centers include Visions at 135 W. 23rd St., where sign-up is 10am-3pm; Hudson Guild NORC at 441 W. 26th St., where sign-up is 8:30am-5:30pm; Penn South Program for Seniors at 290A Ninth Ave., where sign-up is 9am-5pm; and Encore Senior Center at 239 W. 49th St., where sign-up is 8:30am-4:30pm. For more info, call 212-554-7757 or email district3@council.nyc.gov.
For the schedule of dates, see the below flyer.
Free Fitness Boot Camp in Bella Abzug Park (Hudson Boulevard West btw. West 36th & 37th Sts.), Tuesdays & Thursdays, 7-8am, Weekly Through September 28 | Early risers reap the reward of feeling great and having accomplished something substantial, before some of us have found the strength to roll out of bed. That sense of well-being is to be found at the twice-weekly Morning Boot Camp brought to you by the Hudson Yards Hell's Kitchen Alliance. Ave and Olivia, Manhattan Plaza Health Club instructors, have designed an invigorating, high-intensity interval training workout (HIIT) combining strength and cardio in creative ways that challenge participants to use body weight as resistance. Start your day the MPHC Boot Camp way at these classes that are open to the public (please bring your own mat). For more info, and to register, click here.
—Listings Compiled by Scott Stiffler
Chelsea Community News is an independent, hyperlocal news, arts, events, info, and opinion website made possible with the help of our awesome advertisers and the support of our readers. Our Promise: Never a paywall, no pop-up ads, all content is FREE. With that in mind, if circumstances allow, please consider taking part in our GoFundMe campaign (click here). To make a direct donation, give feedback, send a Letter to the Editor, or contact our founder/editor, send an email to Scott Stiffler, via scott@chelseacommunitynews.com.
To join our subscriber list, click here. It's a free service provding regular (weekly, at least) Enewsletters containing links to recently published content. Subscribers also will be sent email with "Sponsored Content" in the subject line. That means it's an exclusive message from one of our advertisers, whose support, like yours, allows us to offer all content free of charge.