It's sad to find out a store you've shopped at for years is suddenly no longer there. But those who can no longer find Landmark Wine & Spirits at its decades-old 167 West 23rd Street location need not mourn the loss of a longtime local business. They need only cross the street and walk less than a half block to the west, between Seventh and Eighth Avenues. There, we find the new home of Landmark Wine & Spirits. Alongside Minoru's Sake Shop they're two parts of an independent, local retailer of wine, sake and, spirits whose global selection features big and small producers. Owner, James Kumm reached out to Chelsea Community News to let us know of the address change, and ask us to spread the word. To that end, Kumm kindly consented to returning a list of our questions in a truly impressive turnaround time—yielding the below Q&A. And yes, it goes without saying that we'll drink to that!
Scott Stiffler, for Chelsea Community News (CCNews): When did the original 23rd Street location open?
James Kumm, for Landmark Wine & Spirits (James): It opened in 1990, and I bought it in 2003.
CCNews: Prior to your purchase of the business, did you or any of your employees work there?
James: There's no one remaining from the old guard, but here's a funny story.  Maybe 15 years ago, a man who was maybe in his eighties popped into the store and told me that many years ago, he used to gamble in an illegal casino that was in our basement. This kind of stuff happens all the time in NYC—there's so many great stories we shouldn't forget.
CCNews: Why did you decide to purchase it? Was that your crash course in small business ownership or did you have prior education/experience?
James: I just couldn't handle working in the structured environment of corporate America. Running a small business is truly painful at times and there's always something to deal with, but looking back, it was totally worth it.  The people of Chelsea are a big part of that sentiment.
CCNews: Do you have any other businesses?
James: This is it for me.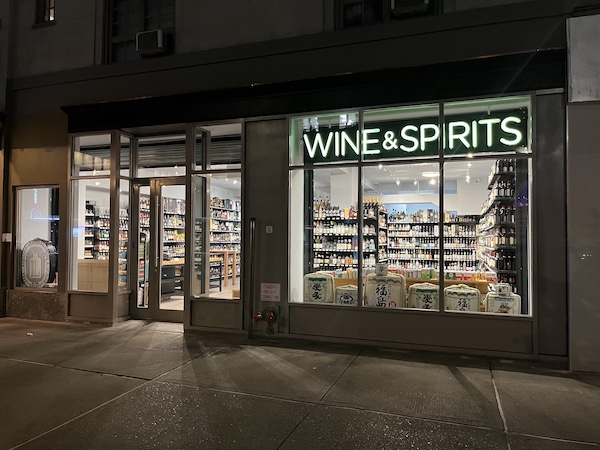 CCNews: You didn't go far. Why stay in Chelsea?
James: Practically speaking, it's really hard to move a wine shop to another part of the city due to state licensing restrictions. But really, it wouldn't make sense for Landmark to exist anywhere else. Without Chelsea, there's no Landmark Wine & Spirits, because the people here made and still make this business what it is.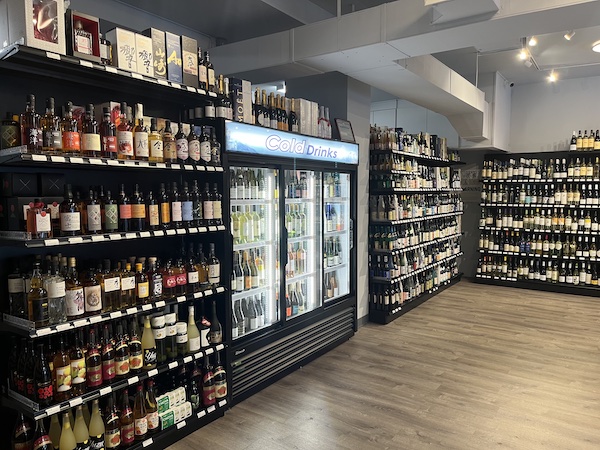 CCNews: How did you find a space so close to the original?
James: We just got lucky. The new store is very close in size to our previous space, and was available.  Even though our landlord is a big company, they've been pretty great so far, which is not necessarily the norm.
CCNews: Describe the area of the new location—any difference in foot traffic, visibility, surrounding businesses?
James: Let me give a big shout out to our awesome new neighbors: Hotel Chelsea, Gotham Comedy Club, Sushi Seki, Jake's Saloon—these and other businesses have transformed this block from being "a historic block that had seen better times" to "a thriving block of stylish and high quality consumer facing businesses." So many of our customers are people who live/work here or are interested in Chelsea, which makes our clientele some of the best in the city. Also, I think the block association and landlords deserve a lot of credit for the hard work they do for our block.
CCNews: Has the demand/popularity of brand names, types of drink etc. changed over the years? If so, how?
James: Like with many consumer goods, people want the brands they know. I don't blame them. That being said, we still carry a lot of brands you may not have heard of and have a sake/shochu/soju selection that is our pride and joy. We love the category and do whatever we can to promote it.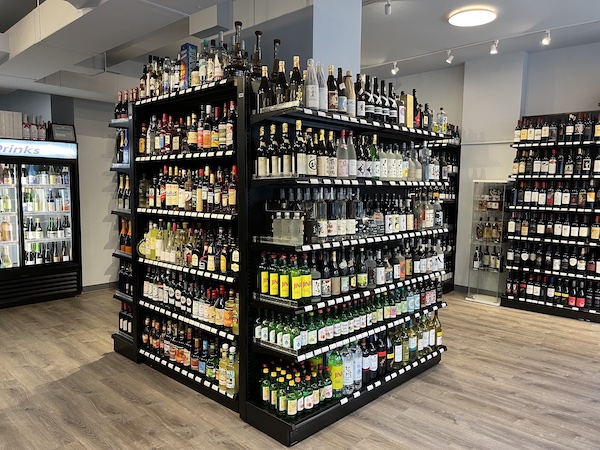 CCNews: Your store has seen many changes to Chelsea over the years. What type of impact has that had on the volume of business, type of customer, etc.?
James: Chelsea used to be such a frenetic place when I first started here. It was full of so many great characters—young families, recent college graduates, workers, revelers, etc. As many of the small businesses and residents got pushed out by rising real estate costs, we had an awkward few years where Chelsea was trying to regain some of the identity it lost. I see some of the characters coming back these days—artists, musicians, young people. They're adding a lot of energy back to the scene. But let's not forget all the OG Chelsea folks—it's a diverse bunch, and they'll always be the heart of the community.
CCNews: What should local office workers, business owners, and residents know about the store? What sets it apart from others offering spirits/alcohol/etc.?
James: A lot of people used to poke their heads in our store and ask, "Do you sell liquor/spirits?" We have a really wide offering of wine and spirits. We also have one of the top Japanese sake/shochu/whiskey selections in the region.
CCNews: Do you have wine tastings or classes or in-store events?
James: We have tasting events regularly which will likely resume this fall after we get settled in. They are always free.
CCNews: Please talk about anything you feel is important, that we did not cover with the above questions.
James: We're truly a small business, not a big one in disguise. We've been a part of the community for a long time—the wilder days of Chelsea, the bomb on 23rd, Sandy, COVID, all the current issues. Like you [CCNews], we're still standing and always cultivating hope. If we didn't love our neighborhood or see a bright future for all of us, we wouldn't have doubled down and moved our store—which was so not fun to do! Let's keep moving forward together!
Landmark Wine & Spirits is located at 208 West 23rd Street (btw. 7th & 8th Aves.). Open Mon.-Thurs. 11am-10pm, Fri.-Sat. 11am-11pm, and Sun 12pm-9pm. To visit them on the web, click here. To reach them by phone, call 212-242-2323.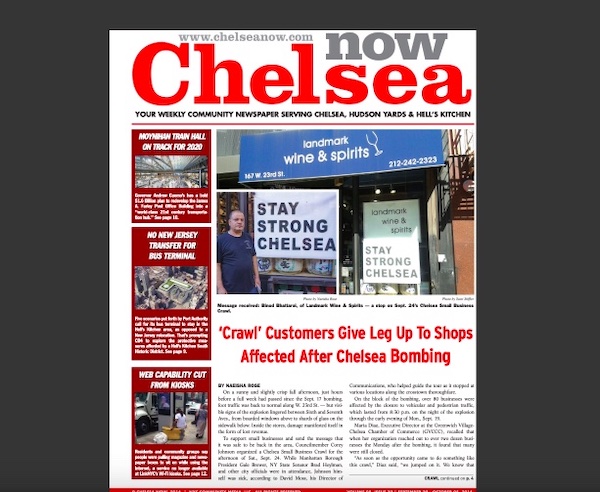 —END—
Chelsea Community News is an independent, hyperlocal news, arts, events, info, and opinion website made possible with the help of our awesome advertisers and the support of our readers. Our Promise: Never a paywall, no pop-up ads, all content is FREE. With that in mind, if circumstances allow, please consider taking part in our GoFundMe campaign (click here). To make a direct donation, give feedback, send a Letter to the Editor, or contact our founder/editor, email Scott Stiffler via scott@chelseacommunitynews.com.
To join our subscriber list, click here. It's a free service providing regular (weekly, at least) Enewsletters containing links to recently published content. Subscribers also will be sent email with "Sponsored Content" in the subject line.  That means it's an exclusive message from one of our advertisers, whose support, like yours, allows us to offer all content free of charge.