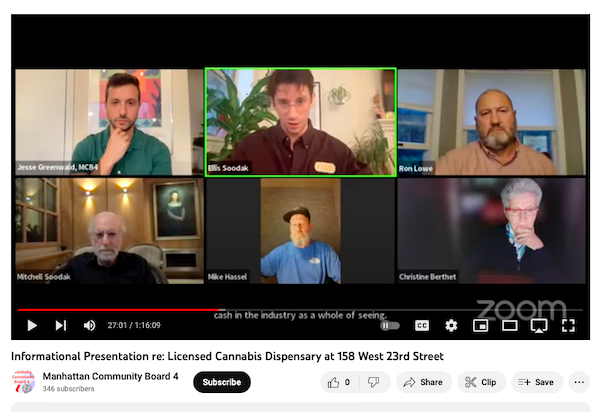 BY SCOTT STIFFLER | Buoyed by equally effective "justice served" and "family business" backstories, the proprietors of the legal cannabis dispensary expected to open at 158 West 23rd Street found a mostly receptive audience at an informational presentation they gave to Manhattan Community Board 4 (CB4). The Thursday, August 24 online gathering (click here to view it) was rife with reportable details regarding state-sanctioned brick and mortar cannabis retailers—so much so, that it might be as late as the fifth paragraph before we begin filling this thing with thematically appropriate puns. (Just kidding: We're going to pot right now.)
Although the occasion was meant to center around what is expected to be Chelsea's first licensed cannabis dispensary, their ubiquitous, unsanctioned, widely loathed counterparts—smoke shops—loomed over the proceedings, portrayed as magnets for crimes both large (the cash-centric businesses are tempting robbery targets) and small (loitering customers block sidewalks and contribute a distinct new aroma to the area).
Jesse Greenwald, Chair of CB4's Cannabis Working Group, moderated the evening–a task he handled with equal aplomb at CB4's March, 2023 Cannabis Licensing & Enforcement Forum (click here to view that event, which is an excellent primer or chaser for many topics addressed in this article). Greenwald opened the August 24 event by noting that smoke shops are "selling products that are unlabeled or mislabeled," are generating "reported incidents of sales to minors," and "have been associated with crime. Smoke shop robberies have increased more than four times between the first and second years of cannabis legalization." (Click here for the source of that stat.)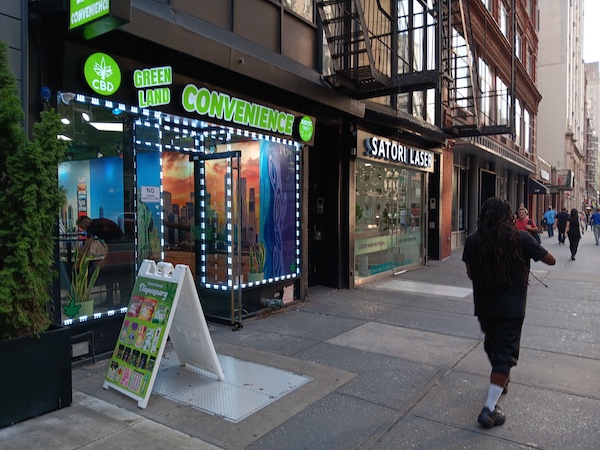 What's more, said Greenwald, smoke shops have denied the New York State coffers "millions of dollars of revenue…that should have been taxed at 13 percent." In contrast, he noted, cannabis distributors licensed by the NYS Office of Cannabis Management are poised to fill local and state coffers mightily—and also have a meritorious social justice element: "Those who are justice involved," said Greenwald, "meaning that those who have a cannabis conviction…and have been jailed for it—or have faced repercussions because of that conviction—or are nonprofit, those are the institutions that we want to give our licenses to first." Greenwald further noted that smoke shops have "jumped the line" by opening for business sans the layers of rules and regulations required by licensed distributors. In doing so, he said, they've "completely undermined what New York State was trying very thoughtfully to do, and at great cost to us all.
As for the evening's guest presenters, Greenwald noted the while the 158 West 23rd Street store has secured their license, its opening date is beholden to favorable results from a pending on-site inspection by the Office of Cannabis Management (the NYS entity tasked with all aspects of creating a statewide sales apparatus from the ground up).
But wait—another barrier's been added to the mix, threatening the forward momentum of all above-board operations. "Just last week," said Greenwald, "a state judge issued an injunction enjoining any legal dispensary from opening." That muddies the waters for the West 23rd Street dispensary, whose possession of a license may or may not grandfather it. In situations like this, Greenwald cautiously speculated, "It's likely the judge will decide on a case by case basis, but we're [CB4] moving forward with respect that the injunction will be lifted in the short term." (For details about the injunction, click here to read Tony Lange's Aug. 24, 2023 reporting for Cannabis Business Times.)
At this point (8 minutes into the 1-hour, 16-minute event), Greenwald noted that what followed would function as "a dialogue; an opportunity to learn and hear"—but the CB4 members present would not be taking the matter of the dispensary—or any other matter—to a vote (a common occurrence when committees convene monthly). Instead, Greenwald would outline the meeting's major takeaways in a letter addressed to the Office of Cannabis Management that will be voted on when the CB4's full membership convenes on September 6 (click here for more info). With that, Greenwald declared his intent to "kick it over to Ellis." That would be Ellis Soodak, son of veteran NYC retailer Mitchell Soodak.
"We're going to be the first 100 percent family-owned licensed dispensary in New York State," said Ellis, who vowed that day-to-day operations at the West 23rd Street dispensary would mirror the mood at their other businesses, where "we believe in treating our customers and employees like family." Ellis, who left a Wall Street job to be among NYS's first crop of pot purveyors, said he'd spent the last half year laying the groundwork for a store Chelsea can be proud of (or at least not have a problem with). The Soodak family narrative took an unexpected turn when Ellis revealed the source of his confidence in pursuing a vendor license. Mindful of the burgeoning industry's commitment to tip the scales of justice in favor of those who faced incarceration or trauma stemming from sometimes decades-old marijuana possession arrests, Ellis encouraged his father, Mitchell Soodak, to share his story and claim his reparation.
"My story starts in late '60s, in the era of the hippies and peace love and drugs," said Mitchell, recalling his marijuana possession arrest while a 21-year-old senior at NYU. Stonybrook. "At that time, it was considered a really evil drug," said Mitchell of Mary Jane, noting the stigma that came not just with an arrest, but with being labeled as a user of the drug. That stigma and the subsequent worries one projects onto the future of a so-called "user" seems to have played a part in the untimely death of Mitchell's father, the owner of a wine and liquor store. After getting bailed out, Mitchell called his father and related how his cellmates and fellow possession arrestees, had been overheard "saying, 'Why don't we pin it all on Mitchell. I was scared at that point. My dad, he said, 'Don't worry about it.' So I went to sleep. Around five in the morning, I got a call—my dad had a heart attack and died."
Ultimately, the judge in Mitchell's case noted his father's death played a part in the decision not to send him to prison. Still, the young college graduate with a degree in chemistry who found lab work I a hospital and a stint on Wall Street, but "Something inside me said there was something bigger, that it was about family."
Since 1972, said Mitchell, "I've owned wine and liquor stores in Manhattan," including his current ownership Union Square Wines and Spirits. With his help, his sister owns East Village-based Warehouse Wines. In all his years of ownership, said Mitchell, "I've never received any violation at all from the State Liquor Authority or for selling to a minor." That spotless record, Mitchell (and later, Ellis) noted, is an ethos the family will bring to the licensed cannabis dispensary business. What's more, Mitchell pointed out, Ellis will soon be living in close proximity to the West 23rd Street store. "Over time," said Mitchell, "you'll get to know us personally. We'll be involved in the community…Ellis is revved and ready to go. Me? I'm like the old man in the background giving advice when needed…It's kind of like moving on in the family business of selling something that's controlled and watched over by the government."
Turning over the generational—and literal—reins to his son, Mitchell deferred to Ellis, who doubled down on previous remarks by others regarding smoke shops, calling them "nuisances in terms of light pollution. They're eyesores, and they don't pay taxes—and that directly effects you." Of the 13 percent excise tax paid by legal dispensaries, noted Ellis, "Four percent of that goes back to the local community. So one percent of that four percent goes to New York City, and the other three goes straight to CB4 [area of coverage]." Ellis estimated that their dispensary could generate over $150,000 annually in tax revenue for the CB4 area.
As for following the strict protocols for operation required by the New York State Office of Cannabis Management: As planned, said Ellis, "We follow the rules and regulations to the letter of the law and actually go above and beyond in terms of security and compliance." To provide details, Ellis noted the presence on his team (and at the meeting) of John Cutter, of John Cutter Investigations. Cutter, he said, is a "former Deputy Chief of the NYPD, making sure we're bringing more security to the neighborhood that makes the neighborhood a better and safer place."
As for entrance to the dispensary, said Ellis, "If you come into our store, you will have your ID checked. It will be scanned, it will be on camera, and it will happen regardless of how old you look. If you're under 21, you're not coming in." Regarding the store itself, said Ellis, "We have a state of the art security system. We have cameras that double as motion sensors…they can detect whether or not the motion they see after hours is a person or an animal or a car going by. If it is a person, it sends an alert to a 24/7 monitoring service" that will send the video, along with an alert, "over to the local precinct." This is a significant leap forward, noted Ellis, because most security systems simply send alerts, sans video, when motion is detected—which take more time to elicit a response by the NYPD, and most often turns out to be a false alarm. Video of an actual person trying to enter the dispensary, he noted, allows the NYPD to legitimize, and prioritize, the alert.
Moving on, Greenwald (and later, questions from other CB4 members) took Ellis through two possible/likely scenarios: That the dispensary would have an on-site consumption lounge, and that it would offer delivery services. Both, Greenwald noted, would merit another appearance before the community board. (Such upgrades are analogous to a change in hours or addition of live music request that compels liquor license holders to appear before CB4's Business Licenses & Permits committee.)
"That's like opening a tavern instead of a dispensary," said Mitchell of on-site consumption lounges, "You walk into a dispensary, there is no smell of marijuana smoke in there at all. You cannot get high by being in the store, and that is very important to me."
"We are not launching with delivery," said Ellis, of their first 30 days in business. But of its eventual featured service, delivering to private residences concerned some CB4 members, as it opens the possibility of minors placing and receiving orders. But, said Ellis, the family has years of experience delivering liquor with the savvy to make sure orders are signed for the adult who orders them. And their drivers, he assured, will know the rules of the road and face no pressure to deliver within a certain time frame.
Mike Hassel, a consultant for the dispensary, noted they'll be "using an app called OnFleet, which is something that delivery companies in all different industries use. Basically, it's for the last mile of delivery and so we can track our people in the field. When they make the actual delivery? What they'll have to do is they'll have to physically scan or take a picture of the person's ID to confirm that indeed, that is the person that we're supposed to bring the product to and that's the person who's paid for the product."
Now at the 43-minute point, CB4's Nelly Gonzalez moderated questions from members of the public in attendance. Kathy noted the block in question, on which the dispensary would reside, "has gotten a little better" since its COVID-era low point, but the area "is still bad. How will you try to keep it a little safer?"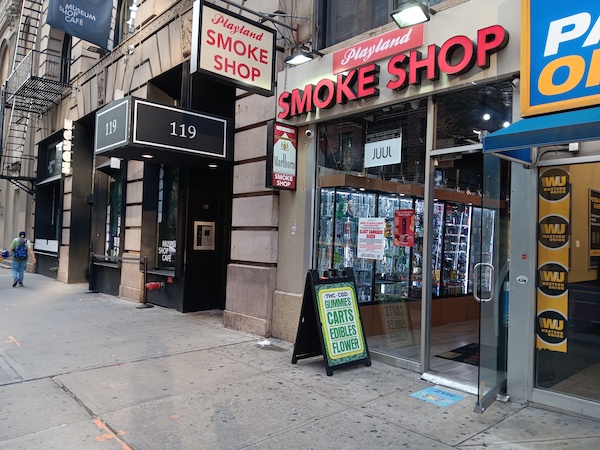 Ellis noted that blocks, like neighborhoods, ebb and flow in terms of the crowds they attract and their relative safety—and yet, all things considered, they felt confident betting on West 23rd between Sixth and Seventh, which was not their only option. "We were approved down on Bowery," he said, "but we ended up on this location even though people said, 'Oh, that block's so dangerous,'… But I believe in it. A big part of why there's a lot of issues on that block is, there's a lot of vacancies right now most of the retail spaces on that block are vacant."
This got pushback from a condo owner on the block. "I'm an avid fan of cannabis but I'm not an avid fan of being flanked by two cannabis stores," said Sean Jenkins, who, with wife Sharon and their children, resides at 148 West 23rd Street. "We love our block, we love our building," said Sean. "We spent a lot of money on this… and right now, I'm hearing [about] my property value deprecating by multiples… so I'm struggling to understand what your family business can do for my property value."
Ellis responded, stating, "State regulations limit the number of dispensaries to a 1,000-foot radius. Right now, there's two illegal dispensaries on your block and there's going to be more if we're not open….The thing that's hurting your property value more than anything else is the extreme number of vacancies on this block. There are dozens, literally, on our block alone, of retail vacancies."
"I don't mean to interrupt," said Sean, "but 'dozens,' it's puffery… I'm not seeing the enormous amount of vacancies you are eluding to." A walk of the block the next day by Chelsea Community News confirmed this: We counted 34 operating businesses and 7 empty spaces on the ground floor of West 23rd Street between Sixth and Seventh Aves.—hardly the "dozens" claimed by Ellis, and a fact he did not acknowledge when answering Sean's pushback on the matter.
Ellis did say, however, "Nobody wants the illegal smoke shops on 23rd btween Sixth and Seventh closed more than us… until we provide a legal, safe, better alternative for consumers, they're not gonna get closed…If you're against illegal dispensaries in your neighborhood, then you should want legal dispensaries to move in. We're never going to be concentrated like they are. There's two on the block. That can never happen with us…They can't be within 1,000 feet of us…And eventually, there's gonna be one every 1,000 feet: All over Manhattan, all over Brooklyn, all over Queens, all over the Bronx—every 1,000, feet there's gonna be one, just like there are with liquor stores. So it's better to get this process started now. Put it in the hands of operators who know what they're doing, rather than saying, 'Not in my back yard,' because it's going to be in everybody's back yard. So it might as well be people who are doing it the right way. '
Ultimaely, that assurance of competence—and the family's spotless record of zero violations from the liquor stores—earned CB4's implied endorsement, as Greenwald said, "A big reason these [illegal] stores have proliferated is because there wasn't a legal market and there hasn't been for so long. So if we really do want to tackle the issue of illegal dispensaries, unless we're gonna recriminalize cannabis altogether, which I don't think anyone wants to do, we need to get the legal market up and running and we need to do it with responsible store owners, which I'm hoping everyone consents Ellis and Mitchell and the team here have demonstrated themselves to be tonight."
NOTE: For more details on the Soodak family's plans for their West 23rd Street Dispensary, click here to access the questionnaire they filled out prior to the August 24 CB4 event. Below, find some of the highlights.
Corporation Name: Soodaks, Inc.
Doing Business As: Verdi
Please provide a brief overview of the applicant's previous business experience: Mitchell has been a licensed liquor store operator in Manhattan for nearly 50 years, most notably as the proprietor and founder of Union Square Wines. Ellis grew up working in his father's liquor store and has two years of experience on Wall Street as an ETF trader.
Is there any other information the applicant would like to provide the Board regarding work or life experience? / We have never had a violation in 50 years of liquor store ownership, and plan to continue to follow regulations to the letter of the law as cannabis operators. We are also a 4th-generation family of New Yorkers and are committed to the city's and the community's long-term success.
What are the hours of operation M-F?  M-Th: 10AM-10PM, F: 10AM-11PM
What are the hours of operation Sat-Sun? Sat: 12PM – 11PM, Sun: 12PM – 8PM
Please provide the applicant's detailed security plan. 
During business hours, we will have an unarmed off-duty or retired officer provided by John Cutter Investigations, a security team founded by a former NYPD Deputy Chief. The guard will have a direct line to the NYPD. The guard will be required to check all IDs, regardless of age, prior to authorizing entry.
For locks, we will have a high-tech maglocked front door that can only be unlocked/locked by employees with a key fob. To enter the back-of-house, there will similarly be a large steel door that can only be opened with a key fob. To access our bulk product storage, again a key fob will be needed, which will only be possessed by ownership and the general manager. The bulk storage will also be secured by a maglock. The basement of the store will be separated from the building's basement by a steel gate with a bolt lock. The locks are provided by storied CB4 locksmith SOS Locksmith.
As for cameras, we will have cameras monitoring all areas of the store, including the outside entrance, the ID check foyer, POS station, and product storage. The cameras will store all video for 60 days. They will have a battery back-up in the event of a power failure. The cameras also function as an alarm system, which will send a video and an alert to a 24/7 monitoring service in the case of unauthorized access during off- business hours. If the monitoring service confirms a break-in in-progress, video will be instantly sent to the NYPD along with a high-priority alert. The camera monitoring system is provided by Solink.
How many employees does the applicant expect to employ? How many full-time/part-time?  / Salaried full-time: 4 | hourly full-time: 12
Please provide the applicant's hiring plan; please explain if the applicant will take steps to hire from CB4. / We are working with a consultant to hire high quality experienced cannabis professionals. Many of our budtenders will come from Hospitality Pathways, which provides cannabis and hospitality training to individuals from disenfranchised and marginalized communities. We will post job postings on the main entrance as well as on major online job bulletins.
What products does the applicant expect to carry? / An array of cannabis products that come exclusively from in-state farms and processors, in particular organic, sun-grown, small-farmed natural products. We will also sell sophisticated branded merchandise as well as cannabis accoutrements.
Will the applicant accept online or telephone orders? If yes, how will the applicant verify the purchaser is over the age of 21 / Yes, we will accept online orders; no, we will not accept telephone orders. Age verification occurs when they come to pick up their order if there is in-person pick up. If the order is a delivery, then their ID will be scanned upon delivery to ensure age verification. If the purchaser cannot provide ID or is not present at the delivery location, then the order will be returned to the store and the purchaser will be credited back.
–END–
Chelsea Community News is an independent, hyperlocal news, arts, events, info, and opinion website made possible with the help of our awesome advertisers and the support of our readers. Our Promise: Never a paywall, no pop-up ads, all content is FREE. With that in mind, if circumstances allow, please consider taking part in our GoFundMe campaign (click here). To make a direct donation, give feedback, send a Letter to the Editor, or contact our founder/editor, email Scott Stiffler via scott@chelseacommunitynews.com.
To join our subscriber list, click here. It's a free service providing regular (weekly, at least) Enewsletters containing links to recently published content. Subscribers also will be sent email with "Sponsored Content" in the subject line.  That means it's an exclusive message from one of our advertisers, whose support, like yours, allows us to offer all content free of charge.