On August 28, 2023, the NYC Council's Committee on Land Use voted on a Special Permit for Madison Square Garden. To view the archived recording on the Council's YouTube channel,
click here
. Chelsea Community News solicited comment from three individuals representing groups or organizations with strong opinions on the matter. Their responses comprise the following Guest Opinion pieces.
—##—
Now, MSG Must 'Cooperate, Contribute, and Aspire'
BY SALLY GREENSPAN, PRESIDENT OF THE COUNCIL OF CHELSEA BLOCK ASSOCIATIONS (CCBA) | CCBA's longtime position has been for Madison Square Garden to move from its current location to make way for a state-of-the-art transit hub. In keeping with this long-term goal, CCBA has been focused on a new special operating permit for no longer than 3 years.
On Monday, August 28, 2023, the vote was taken allowing for a 5-year renewal. This was a great outcome considering the number of advocates for a 10-year renewal and others supporting a renewal in perpetuity. Our Council Member, Erik Bottcher, is to be commended for sticking to his commitment to public infrastructure. CCBA knows that the Council Member was under enormous political pressure from both the city and state to vote for a much longer term. The 5-year renewal is a good compromise to move the planning process forward.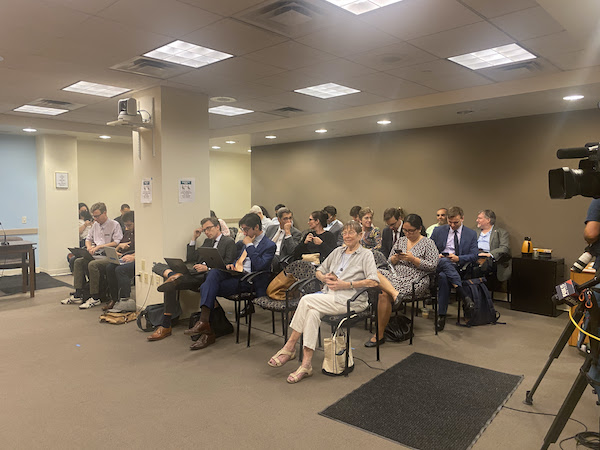 During the immediate short term, it is imperative that all the stakeholders meet to iron out issues and plans. Everyone needs a seat at the table—Madison Square Garden, Amtrak, New Jersey Transit, the MTA, federal, state and local elected officials—to create a doable and constructive path forward. Ideally, planning would mandate MSG to volunteer contributions that would make it possible to move the best design forward. Potentially, MSG could yield the Hulu Theater so a grand train hall on Eighth Avenue can be created. They could also yield the taxiway area to allow for a dramatic mid-block hall and desperately needed improvements for the truck loading operations that contribute to congestion on local streets.
It is pretty certain that in 5 years, MSG will be coming back to the city and state for yet another renewal. It behooves them to cooperate, contribute, and aspire to complete many immediate improvements. They should also set a path for longer term improvements as quickly as possible. These actions and improvements will demonstrate MSG's commitment to be a good neighbor and to be a real participant in the creation of a grand train hall. A train hall that is built on sound state of the art infrastructure. Accomplishing nothing or almost nothing in 5 years will not serve MSG well.
CCBA is grateful to Council Member Bottcher, Senator Hoylman-Sigal, Senator Krueger and Assemblymember Simone—all of whom consistently stood up for infrastructure and a first-class Penn Station. The organizational and leadership skills of Layla Law-Gisiko, at Manhattan Community Board 5, cannot be overstated.
—END—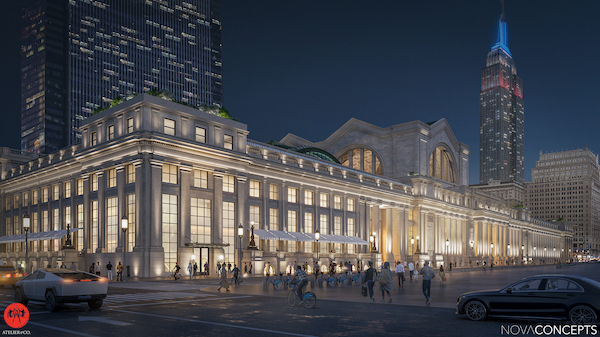 After the Council's MSG Vote, Next Step is 'RFP and/or Bona Fide Station Design Discussion'
BY SAMUEL TURVEY, on behalf of ReThinkPennStationNYC.org (Turvey is their current Chairperson) | I am very pleased that Erik Bottcher and other members of the City Council saw fit to recommend to shorten the 10-year permit extension for Madison Square Garden recommended by the City Planning Commission to 5 years. I commend all the other elected officials who weighed in on this as well, including Liz Krueger, Brad Hoylman-Sigal, and Tony Simone. These electeds deserve special thanks for withstanding the last-minute attempt by the Governor and others to sidestep Erik Bottcher's recommendation. The will of the people for a better Penn Station needs to be embraced in this not manipulated and further ignored.
The Garden has had 10 years to work with the City and State to come up with a better Penn Station plan and has thumbed their nose at the whole exercise. While we greatly preferred a shorter permit of 3 years with more restrictive conditions as Community Board 5 and their leadership rightly championed and recommended, the 5-year period may be short enough to hold the feet of MSG and all the other key stakeholders to the fire, so that we continue, in real time, the important process of finding the best solutions to the conundrum posed by Penn Station.
As we all agree, the plans, to date, for Penn Station represent one of the worst infrastructure proposals at and above track level we have seen since the end of the Robert Moses era. We look forward to seeing options progress and emerge that favor the public first and don't favor disproportionately one arena owner or property developer. ASTM may be right that the best way to accomplish this in the five-year term is an RFP (Request for Proposal) that can fairly assess quality proposals for Penn in the designated time frame. Transit plans should be part of such an RFP. The Governor needs to bring transparency, substance, and fairness to the process and need not repeat her effort to change the Council's permit recommendation.
Equally important, we need to see the Governor and Empire State Development Corporation's General Project Plan ("GPP") to demolish the Penn neighborhood retired so that quality plans and discussions can proceed without the spectre of  the neighborhood surrounding Penn being demolished. The GPP was ill-conceived by former Governor Cuomo, favored one developer and his hopes to mint the neighborhood as his own corporate campus, and was never needed to fund station improvements.  To leave the GPP in place is the ultimate "Heads I win and tails you lose" proposition for Vornado at the expense of the Penn neighborhood—it needs to go.
The next step is RFP and/or bona fide station design discussion. A design competition or forum would also be helpful.
—END—
What Comes Next? The Fight Continues.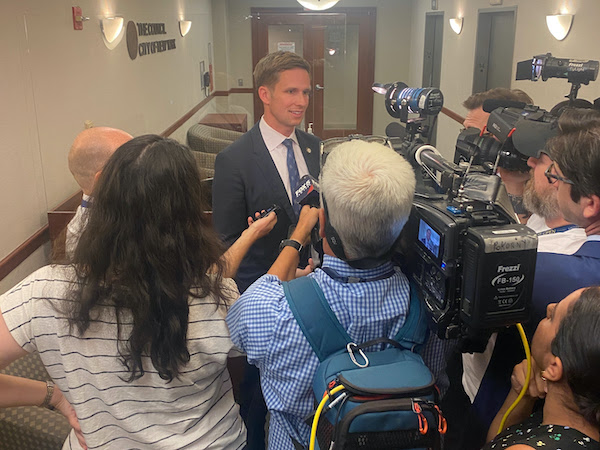 BY LAYLA LAW-GISIKO (Chair, Land Use, Housing & Zoning Committee of Manhattan Community Board 5 and President, The City Club of New York.) The following text is taken, with permission, from an Aug. 28 email sent to her subscribers.) | I'm not going to bury the lede. Today, Madison Square Garden was granted a 5-year special permit by the NY City Council Subcommittee on Zoning and Franchises and the subsequent Committee on Land Use.
This is an incredible victory for all New Yorkers, for commuters, and for the economic growth of our region. In land use and urban planning semantic, five years is very short. This term creates the adequate timeframe to keep all parties and the table and compel good-faith negotiations.
Today [August 28, 2023], at 1pm, the windowless 14th floor room was packed, with a mix of community leaders, reporters, delegates of MSG and civic group representatives. The majority of members of the subcommittee, including Chair Riley and Council Member Bottcher, arrived on time—and yet, it's only 3 ½ hours later that the subcommittee took its vote. After their arrival, leadership soon retreated into a room for further discussions.
Today's outcome was born from pain and anguish, frictions and palavers. While I don't have all the details, obviously the council members did not capriciously decide to start the meeting late. It is rather a clear sign that intense last minute (or rather last-hour) negotiations were ongoing.
When Council Member Bottcher, who represents the district where MSG sits, and Chair Riley finally made their way back into chamber at 4.20pm, the tension was palpable. The room went silent (except for Chair Riley's adorable baby who decided to coo and reminded us that our future generations deserve our robust investment in infrastructure).
Council Member Bottcher read the council determination and stated ,"At this time, the Council cannot determine the long-term viability of an arena at this location, therefore five years is an appropriate term for the special permit'. The subcommittee voted unanimously to approve the recommendation. 
This victory is particularly meaningful because it demonstrates that priority is given to public infrastructure over private interests. It also shows that even if we are outspent, we can't be out-organized. Our coalition has been remarkable. Our voices have been united. The outcome, although it was uncertain, is commensurate with the effort we deployed.
Finally, this victory demonstrates that the 3rd Council District has elected one of the finest council members. Erik Bottcher has been a champion for transit. Today, his resolve, leadership and commitment to public infrastructure is cause for awe.

What comes next? The fight continues. It is about Penn Station. It is about major infrastructure investments. It is complicated, because it involves three railroad agencies (Amtrak, MTA, NJ Transit), three levels of government (Federal, State, City), two large property owners (MSG, and Vornado, owner of Two Penn Plaza). They all have diverging views, interests, and agendas. If it was easy, the problems would have been resolved already.
The 5-year term sets the pace for everyone to stay at the table. Under the right leadership, there is a path forward where our region gets the rail infrastructure it deserves, where MSG becomes a vibrant and iconic venue that does not overburden our transit system, and where our neighborhood is preserved and enhanced.
To those who say, "But we tried that already and it failed," to those who think it is impossible, who squabble that it's too hard, that it will never work, I will leave them with a few parting words from Theodore Roosevelt: "Believe you can and you're halfway there."
—END—
NOTE: The views expressed by our Guest Opinion writers are not necessarily those of Chelsea Community News–an independent, hyperlocal news, arts, events, info, and opinion website made possible with the help of our awesome advertisers and the support of our readers. Our Promise: Never a paywall, no pop-up ads, all content is FREE. With that in mind, if circumstances allow, please consider taking part in our GoFundMe campaign (click here). To make a direct donation, give feedback, send a Letter to the Editor, or contact our founder/editor, send an email to Scott Stiffler, via scott@chelseacommunitynews.com.
To join our subscriber list, click here. It's a free service providing regular (weekly, at least) Enewsletters containing links to recently published content. Subscribers will also be sent email with "Sponsored Content" in the subject line. That means it's an exclusive message from one of our advertisers—whose support, like yours, allows us to offer all content free of charge.