BY ELIZABETH ZIMMER | There's been a sea-change in our dance and performance art communities. Building since before the pandemic, it is now firmly entrenched. The first inkling of the shift came years ago, when the proportion of Bessies (New York Dance and Performance Awards) won by BIPOC artists began to rise dramatically. On August 4, at a rousing free ceremony at Lincoln Center's Damrosch Park, the 2023 Bessie Awards went almost without exception to artists of color. (And, it was announced from the stage, more than 50 percent of the city's dance community identifies as LGBTQIA+, but that's a conversation for another day…)
Chelsea's New York Live Arts has been run for the past decade by Black celebrity choreographer Bill T. Jones and his associate artistic director, Janet Wong; it's no surprise that this year's Live Arts programming leans heavily on Black dance, much of it from Africa and Europe. And the fall bill of fare at the Joyce features one interesting BIPOC troupe after another; even ensembles helmed by white directors are represented in the program book by photos of Black dancers doing work by Black choreographers. The dramatic exception to this trend is Twyla Tharp, who landed a Bessie for Best Revival for her In the Upper Room at City Center, and whose troupe arrives for a two-week run at the Joyce in February. Tharp is not merely white; she's 82!
I find all of this quite bracing, and fascinating. See the list below for the first few nearby offerings of the fall season, shaping up to lure us into theaters as days grow short and temperatures drop.
Heart of Brick | The Joyce Theater—one of the largest, most dedicated dance presenters in the country—fills its stage almost exclusively with movers. So this season's opener in startling in several ways: It was co-commissioned by the Joyce Theater Foundation, Kampnagel International Summer Festival Hamburg, and the LA Phil (with support from a trio of American presenters); it features live music by LA R&B artist serpentwithfeet (a/k/a Josiah Wise), a physical environment by visual artist/filmmaker Wu Tsang, and seven dancers in a genre-defying story woven together by director-choreographer Raja Feather Kelly (born in Texas, raised in New Jersey, trained at Connecticut College, and renowned for his crafty, outrageous embrace of pop-cultural icons as well as directing on Broadway and beyond). These three queer Black artists and their collaborators capture the tale of blossoming love between two men in a gay Black nightclub. (Note: The Wed., Sept. 20 performance features an installment of Curtain Chat—the Joyce's free, post-performance series of discussions with artists designed to offer audiences new perspectives on dance performances.
Fri., Sept. 15 through Fri., Sept. 22 at the Joyce Theater (175 Eighth Ave. at W. 19th St.). The performance schedule is Thurs./Fri./Sat. at 8pm; Sun. at 2pm; and Tues./Wed. at 7:30pm. Tickets are $12-$82 including fees and prices are subject to change. (Call JoyceCharge at 212-242-0800 to inquire about $10 tickets.) To order tickets online, click here to visit the production's page on the Joyce website.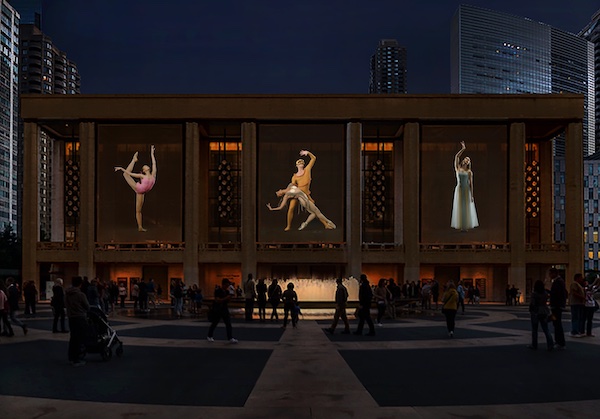 SlowDancing/NYCB | Artist David Michalek, husband of New York City Ballet's Associate Artistic Director, Wendy Whelan, worked with her to collect images from over 30 iconic ballets in the company's repertory—choreographed between 1928 to 2023 and performed by current company dancers—in celebration of the troupe's 75th anniversary season. Michalek's ultra-slow-mo films, each of which projects five-second dance phrases played back over 10 minutes on a trio of screens measuring 40 feet high and 28 feet wide, are stunning. They will transform your experience of the art form. He describes them as operating "in a realm between action and image, animation and immobility, theater and painting." Settle down on Lincoln Center's Plaza and absorb the whole display.
From 7pm to 11:30pm nightly, Mon., Sept. 18 through Sun., Oct. 1. Free. Displayed on a triptych of screens on the façade of the David H. Koch Theater (south side of the main plaza at Columbus Ave. & W. 63rd St.). For more info, click here.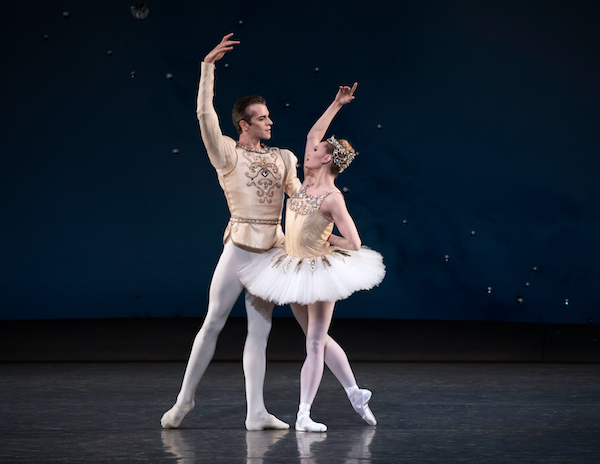 New York City Ballet: Jewels | If you can tear yourself away from the projections described above, duck into the State Theater and catch George Balanchine's only full-length ballet, which was inspired by emeralds (and performed to Faure), rubies (graced with a jazzy score by Stravinsky), and diamonds (celebrating Balanchine's Russian origins and his roots in classical ballet, to music by Tchaikovsky). First performed in 1967, it remains a favorite, and serves as the opening salvo in a 75th anniversary celebration that runs into next summer.
Tues., Sept. 19 through Thurs., Sept. 21 at 7:30pm; Fri./Sat., Sept. 22/23 at 8pm; and Sat./Sun., Sept. 23/24 at 2pm & 3pm, respectively. For tickets ($50-$240), click here to visit the applicable page on NYC Ballet's website. At the David H. Koch Theater at Lincoln Center (south side of the main plaza at Columbus Ave. & W. 63rd St.).
—END—
Chelsea Community News is an independent, hyperlocal news, arts, events, info, and opinion website made possible with the help of our awesome advertisers and the support of our readers. Our Promise: Never a paywall, no pop-up ads, all content is FREE. With that in mind, if circumstances allow, please consider taking part in our GoFundMe campaign (click here). To make a direct donation, give feedback, send a Letter to the Editor, or contact our founder/editor, send an email to Scott Stiffler, via scott@chelseacommunitynews.com.
To join our subscriber list, click here. It's a free service provding regular (weekly, at least) Enewsletters containing links to recently published content. Subscribers also will be sent email with "Sponsored Content" in the subject line. That means it's an exclusive message from one of our advertisers, whose support, like yours, allows us to offer all content free of charge.