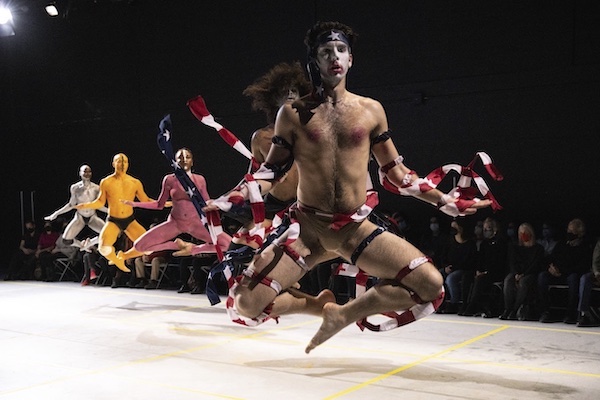 BY ELIZABETH ZIMMER | October is, in its way, our most colorful month, and a reprise of Bill T. Jones/Arnie Zane Company's Curriculum II—a rich stew of language, idea, movement phrases, and buckets of bright paint applied to the bodies of 10 gorgeous, diverse dancers—seems a good way of welcoming it to town. From its initial local appearance at Montclair State to its sold-out, extended, in-the-round run last year at New York Live Arts, the piece has trafficked in concepts from Achille Mbembe, Louis Chude-Sokei, and Sylvia Wynter, manifested to sound design by David van Tieghem, installation and costumes by Liz Prince, and video design by the troupe's associate artistic director, Janet Wong. It's a compelling evening, as enlightening as it is dramatic.
Wed., Oct. 4 through Sat., Oct. 7, 7:30pm, at New York Live Arts (219 W. 19th St. btw. 7th & 8th Aves.). For tickets (starting at $25, with limited $15 ConEdison options), call 212-924-0077 or click here to visit the New York Live Arts website.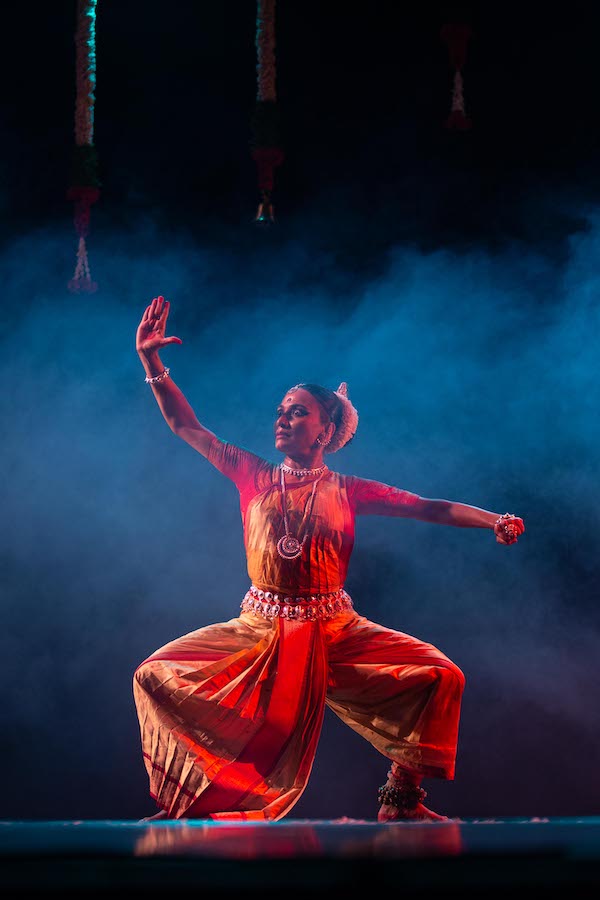 Three more bills of this season's Fall for Dance happen Tuesday, October 3 through Sunday, October 8. Program 3, October 3 & 4, features a ballet by Stanton Welch for his Houston Ballet, a world-premiere reconstruction of a vintage hip-hop piece by GhettOriginal Productions Dance Co., and, perhaps the most compelling work in the whole festival, the New York premiere of an ancient hula work, Hawaiki (The Homeland), by an authentic halau (school for hula) called Ka Leo O Laka I Ka Hikina O Ka Lā. Watching male hula dancers is perhaps my favorite thing to do; these are large, round men who absolutely command the stage. Program 4, October 5 & 6, includes a suite from José Limón's A Choreographic Offering performed by his superb company, which has now survived him by more than half a century; Juliano Nunes' Interlinked, a U.S. premiere by the Birmingham Royal Ballet; and a world premiere commission created and directed by the talented Ephrat Asherie and Michelle Dorrance. The final show, Program 5 (October 7 & 8), brings to City Center the award-winning Odissi dancer Bijayini Satpathy in SITAHARANI, by Guru Kelucharan Mohapatra; Germain Louvet & Hugo Marchand of the Paris Opera Ballet in a vintage work by Maurice Béjart; and the Brazilian dance theater troupe Grupo Corpo in Rodrigo Pederneiras' Gira.
At New York City Center (131 W. 55th St. btw. 6th & 7th Aves.). All shows at 8pm; Sunday, October 8 at 3pm. For tickets ($20) and info, click here. For the content of each Program, click here.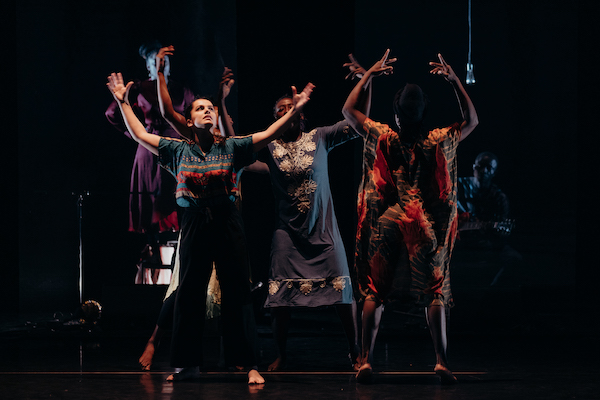 The Joyce's incredibly diverse programing continues to unfold this month, with the Olivier Tarpaga Dance Project, native to Burkina Faso, taking the stage October 3-8; Cuban troupe Malpaso Dance Company in residence October 10-15, and Hope Boykin's new States Of Hope, a dance theater work by a dancer (Philadanco, Ailey) making a transition into directing and composing for her own ensemble, to an original score by Ali Jackson, October 17-22.
At the Joyce Theater (175 Eighth Ave. at W. 19th St.). For performance schedule and tickets (prices vary and are subject to change), visit joyce.org or call 212-242-0800, where you can inquire about $10 tickets.
—END—
Chelsea Community News is an independent, hyperlocal news, arts, events, info, and opinion website made possible with the help of our awesome advertisers and the support of our readers. Our Promise: Never a paywall, no pop-up ads, all content is FREE. With that in mind, if circumstances allow, please consider taking part in our GoFundMe campaign (click here). To make a direct donation, give feedback, send a Letter to the Editor, or contact our founder/editor, email Scott Stiffler via scott@chelseacommunitynews.com.
To join our subscriber list, click here. It's a free service providing regular (weekly, at least) Enewsletters containing links to recently published content. Subscribers also will be sent email with "Sponsored Content" in the subject line.  That means it's an exclusive message from one of our advertisers, whose support, like yours, allows us to offer all content free of charge.