Here's What's Happening In & Around Chelsea
Pick of the Week  / CB4's Full Board Meeting  / CB4 District Needs Survey / Music at Chelsea Green Park / The London Terrace Street Fair / Don't Tell Comedy Comes to Chelsea  / Carri Skoczek: Portraits at Hudson Guild's Guild Gallery II / Fresh Food for Seniors /  
PICK OF THE WEEK
Butchered Jokes: A Free Comedy Night on Wednesday, October 4 at Dickson's Farmstand Meats on the Lower Level of Chelsea Market. Doors open at 7pm, Comedy starts at 7:30pm | Nine fantastic comics make for a rich menu of talent, as they dig into the marrow of matters mundane, surreal, and everything in between. The atmosphere is casual and supportive, in keeping with the general vibe cultivated by the driven but easy-going folks at Dickson's Farmstand Meats. In addition to consuming the comedy, Dickson's amazing hot dogs, steaks, and burgers are at the ready, with $5 draft and hard seltzer and $20 bottles of red, white, and Rose. Butchered Jokes is a free event, but you're asked to register in advance. To do so, click here. To visit the Dickson's website where you can access the menu and find out about other activities including classes, ), click here.
The Full Board Meeting of Manhattan Community Board 4 (CB4)—A Hybrid Event at 6:30pm on Wednesday, October 7: Online via Zoom & In-Person at Pier 57 (Hudson River & W. 15th St.) | After a July/August combo meeting and a relatively light agenda in September, this October gathering of CB4's full membership sees the proceedings decidedly back in the New York groove, so to speak—with a full agenda derived from items generated by September committee meetings as well as the usual featured elements: Updates from elected officials or their reps, and a Public Session that lets you speak directly to the board (uninterrupted and usually for 2 minutes). To register for the meeting and view it via Zoom, click here. To view the live stream via CB4's well-curated YouTube channel, click here. Note: Zoom registration allows you to sign up for a slot in the Public Session, Early sign-up to speak closes at 4pm on the day of the meeting. Those who do not sign up by 4pm can raise their virtual hands using the raise hand function through Zoom (*9 by phone) once the public session starts, with a 5-minute grace period. There will also be a sign-up sheet at the meeting for those attending in person. To attend by phone, dial the conference call number: 646-518-9805. When prompted, enter the Webinar ID: 986 0945 5541.
Click here to view agenda items for the Oct. 4 meeting. Generated by the individual committees of CB4, the letters (each one assigned an agenda item number) articulate CB4's position on a matter, and/or appeal to the recipient to take certain actions. Well-vetted by the time they reach the full board, committee letters are often voted on favorably. Sometimes, a letter will be approved pending the addition changes the board has just discussed; and in rare cases, letters will be sent back to committee for more work.  For info about all things CB4, you'll find it on their website, which can be reached by clicking here. Can't attend in real time? View it at your convenience, via CB4's YouTube channel (click here). 
Take the Manhattan Community Board 4 (MCB4) Annual Community District Needs Survey | As of late, the individual committees of CB4 have shared a common Agenda Item: Consider the most pressing needs of the community for improved government services and capital investment. You can view MCB4's previous Statement of District Needs on their website by clicking here. Doing so will make you a more informed respondent, when you answer the call to add your voice to CB4's online District Needs Survey (click here to take the survey). Pro Tip: Consider what occurs to you as the top three issues facing the community board's district (that's the Chelsea/Clinton and Hell's Kitchen areas; only those who live/work there are asked to fill out the survey, which provides a myriad of responses for the "issues" questions, and allows for your anonymity). The survey remains accessible to the public through Monday, October 16, 2023.
RAIN DATE, RESCHEDULED FROM SEPT. 29: Music at Chelsea Green Presents Cellist Leah Coloff: Free on Friday, October 6, 5:30-7:30pm in Chelsea Green Park (140 W. 20th St. btw. 6th & 7th Aves.) | Friends of Chelsea Green is a group of boosters and believers whose efforts have filled the air in and around Chelsea Green Park with music. The well-curated series (often spotlighting local talent) has, of late, been programmed thanks to a grant from the West Side Community Fund (click here to read about it).
On Friday of this week, that series continues with a solo performance from Leah Coloff. Among the selections for this all-ages performance will be classical works, standards, and a contemporary pop tune or two. Attending this free concert is a great way to continue or cultivate a love for the deeply expressive cello. Capable of conveying much more than melancholy, the cello—in the hands of singer/composer Coloff—has been deployed in the performances and/or recordings of Philip Glass, David Bowie, Iggy Pop, Rufus Wainwright, Linda Thompson, and Nancy Sinatra. It's no wonder Coloff has been described (by the New York Times, no less!) as "a combination of artful angularity and rock-infused assertiveness." To visit the artist's website, click here.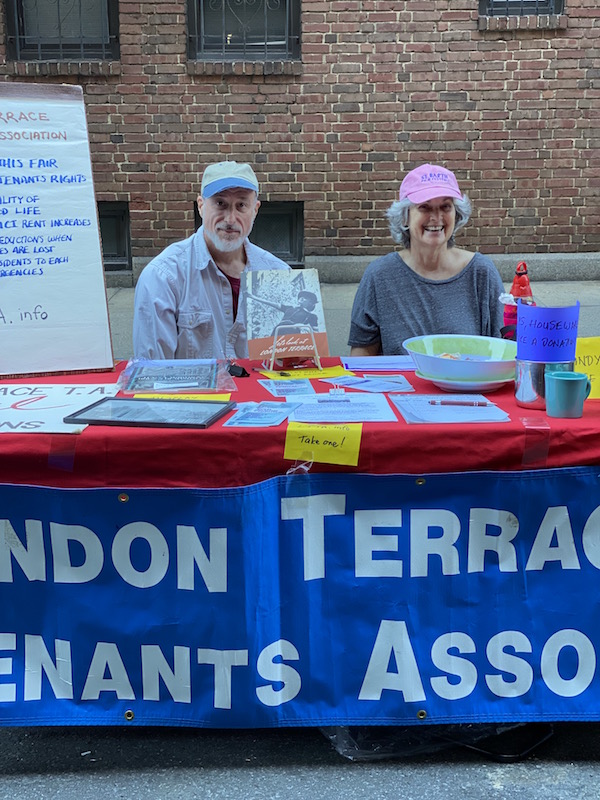 RESCHEDULED FROM RAINSWEPT SEPT. 23, The 31st Annual London Terrace Street Fair: Saturday, October 7, 10am-5pm on West 24th Street (btw. 9th & 10th Aves.) | The best little street fair in Manhattan is back, rain or shine, bearing many surprises. There will be vendors of fine art, jewelry, clothing, furniture, vintage collectibles, physical media (records, tapes, CDs, DVDs, etc.), light food and drink, and inexpensive trinkets. It's the perfect place to find an affordable gifts for the holidays—or a practical item for your kitchen, a new rug, a pillow, possibly a spread for your sofa in the living room, a new piece of jewelry or clothing, or your favorite LP record from your high school days.
It's also the place where one walk down a crosstown block can mean running into an old friend, being greeted by an elected official, and learning about a community organization. What's more, it's where treasure long-buried in the back of your closet can find a new home, while providing a nice profit for your own home! To reserve your Vendor Tables space, click here (and do it quickly; available slots are going fast!). For more information about this annual event brought to you by the London Terrace Tenants Association, click here.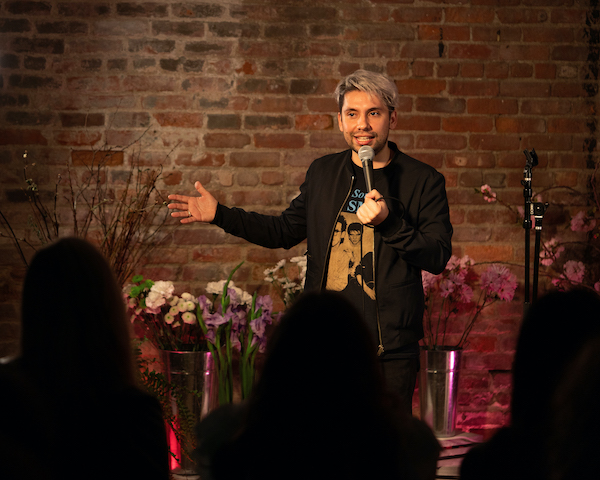 Don't Tell Comedy: Friday, October 6, 7:30-9pm & 9:30-11pm in East Williamsburg and Saturday, October 7, 7:30-9pm & 9:30-11pm in Chelsea | This hush-hush, ha-ha happening is all about, they say, "Unique locations. Secret lineups. Live comedy." If you like to laugh and haven't yet heard about Don't Tell Comedy (DTC), chances are one of your likeminded cronies is already in the loop—perhaps taking in the proceedings at this very moment, via YouTube, in the form of DTC's Secret Sets comedy performance compilation series. In the brick and mortar world, the busy collective keeps the buzz going by producing 100+ shows every week in cities across the US, UK, and Canada. Giving ticketbuyers nothing more than the name of the city to go on, the exact location of each week's show—and its roster of talent—"is kept a secret until the day of the show," they say. One thing, at least, is promised: The mystery performers aren't just plucked from Amateur Night at Dirty Dan's Discount Chuckle Hut. "The lineups of comedians," promises the press material, "are on-the-rise regulars at the Comedy Cellar, The Stand, Union Hall, and tour the world." Chelsea-based lovers of live comedy can take that claim for a test drive this Saturday, when Don't Tell Comedy lands in the neighborhood for two shows—both of which will be taped for future Secret Sets content! As for what you're left with at the end of the night (besides, we damn well expect, a new catch phrase or punchline to invoke ad nauseum), DTC's bonus content is actually pretty cool. As the Where Can I Find a List of Comics Who Performed at a Show I Attended? section of their website notes, "After the show, our team will send you an email with the full lineup of comedians you saw at the show." For tickets ($25) and info, click here to peruse their reassuringly engaging website.
ONGOING
Carri Skoczek: Portraits at Hudson Guild's Guild Gallery II (119 9th Ave. ): On View Through November 21 | This exhibit features a selection of women's portraits from several series by Skoczek: Fallen Women (based on Bellocq's photographs of Storyville prostitutes); Soiled Doves (based on photographs of prostitutes from the early wild west, female circus performers, and Alice in Wonderland). "The inherent sensuousness of drawing the portraits with her fingers, using pearl powders on top of wet relief printmaking ink," the curators note, "enhances the lusciousness of the drawings and subject matter." Viewing Hours: Tues. through Fri., 10am-5pm and Sat., Nov. 11 & 18, 2pm-5pm. Free admission. For info, call 212-760-9837 or click here to view exhibit info on the Hudson Guild website.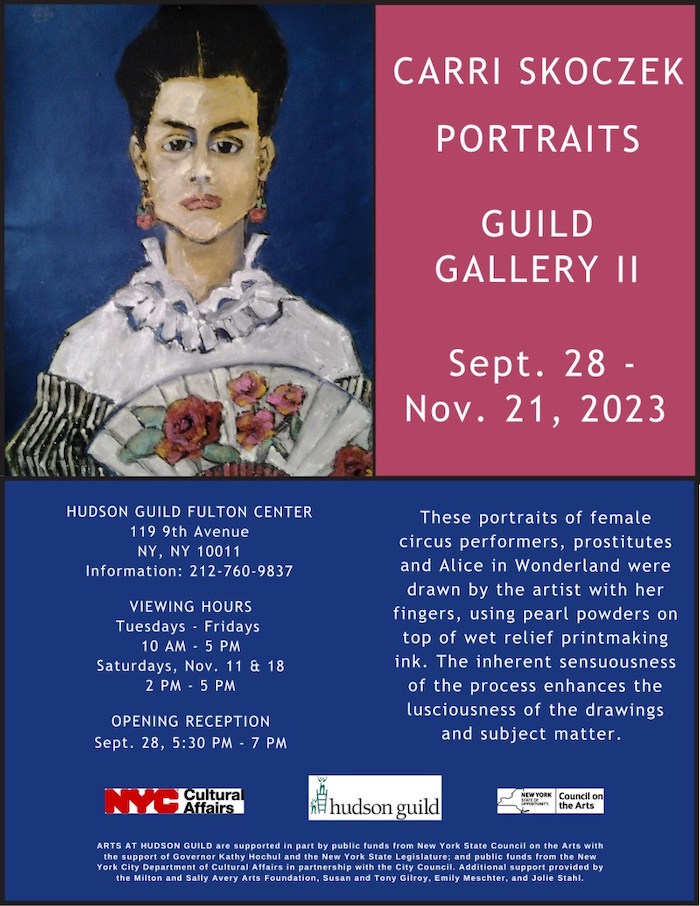 Fresh Food for Seniors | The second annual version of this program from NYC Council Member Erik Bottcher and Manhattan Borough President Mark Levine sees to it that you receive a bag of fresh, locally harvested fruits and vegetables every other week through November 14. The cost is $10 per bag. Sign up for Fresh Food Bag participation on certain Mondays and Tuesdays at local senior centers, with pick-up the following Tuesday.Local participating senior centers include Visions at 135 W. 23rd St., where sign-up is 10am-3pm; Hudson Guild NORC at 441 W. 26th St., where sign-up is 8:30am-5:30pm; Penn South Program for Seniors at 290A Ninth Ave., where sign-up is 9am-5pm; and Encore Senior Center at 239 W. 49th St., where sign-up is 8:30am-4:30pm. For more info, call 212-554-7757 or email district3@council.nyc.gov. For the schedule of dates, see the below flyer.
—Listings Compiled by Scott Stiffler
—END—
Chelsea Community News is an independent, hyperlocal news, arts, events, info, and opinion website made possible with the help of our awesome advertisers and the support of our readers. Our Promise: Never a paywall, no pop-up ads, all content is FREE. With that in mind, if circumstances allow, please consider taking part in our GoFundMe campaign (click here). To make a direct donation, give feedback, send a Letter to the Editor, or contact our founder/editor, send an email to Scott Stiffler, via scott@chelseacommunitynews.com.
To join our subscriber list, click here. It's a free service provding regular (weekly, at least) Enewsletters containing links to recently published content. Subscribers also will be sent email with "Sponsored Content" in the subject line. That means it's an exclusive message from one of our advertisers, whose support, like yours, allows us to offer all content free of charge.