Here's What's Happening In & Around Chelsea
Pick of the Week: St. Peter's Chelsea Blessing of the Animals  / CB4's Waterfront, Parks & Environment Committee Meets / Community Cleanups / CB4 District Needs Survey / Free Paper Shredding Day / District 3 Participatory Budgeting Meetings / UPCOMING: Halloween Block Party at Chelsea Green Park; Senior Resource Fair  / ONGOING: Carri Skoczek: Portraits at Hudson Guild's Guild Gallery II /  
PICK OF THE WEEK
The Manhattan Community Board 4 (CB4) Waterfront, Parks & Environment (WPE) Committee: Thursday, October 12, 6:30pm In-Person & Online via Zoom | The Committee will be updated on the topic of a cruise ship terminal, and the West Side Task Force will address the topic of "Resiliency." Access the full agenda by clicking here. To attend via Zoom, click here to register. By telephone, dial 646-518-9805 (Webinar ID: 935 1888 4814). Attend in-person at the CB4 Office (424 W. 33rd St., Suite 580). "In keeping with all health and safety precautions," notes CB4, "there will be limited space for in person attendees. If you would like to attend in person, we ask that you register with District Manager Jesse Bodine by 4pm n the day of the meeting. Email him at jbodine@cb.nyc.gov." For info about all things CB4, visit their website by clicking here. Can't attend in real time? View all CB4 meetings at your convenience, via its archived recording on CB4's well-curated YouTube channel (click here).
The Fall Return of Community Cleanups in Chelsea, Hell's Kitchen & the West Village | NYC Council Member Erik Bottcher's  partnership with the Sanitation Foundation and the people of Council District 3—in which folks fan out across their neighborhoods to show litter the business end of a garbage bag—returns for a slew of fall dates. First up is Sunday, October 15. Gloves, bags, and tools will be provided. Here's where to meet at 11am: In Chelsea, at the northwest corner of 23rd St. & Eighth Ave. In Hell's Kitchen, at the northeast corner of 47th St. & Ninth Ave. In the West Village, at Abingdon Square (Eighth Ave. & Hudson St.). Gloves, bags, and litter collection equipment will be provided. Additional fall dates are: Oct. 22, Nov. 5 & 19, and Dec. 3. To sign up, click here.
Take the Manhattan Community Board 4 (MCB4) Annual Community District Needs Survey | As of late, the individual committees of CB4 have shared a common Agenda Item: Consider the most pressing needs of the community for improved government services and capital investment. You can view MCB4's previous Statement of District Needs on their website by clicking here. Doing so will make you a more informed respondent, when you answer the call to add your voice to CB4's online District Needs Survey (click here to take the survey). Pro Tip: Consider what occurs to you as the top three issues facing the community board's district (that's the Chelsea/Clinton and Hell's Kitchen areas; only those who live/work there are asked to fill out the survey, which provides a myriad of responses for the "issues" questions, and allows for your anonymity). The survey remains accessible to the public through Monday, October 16, 2023.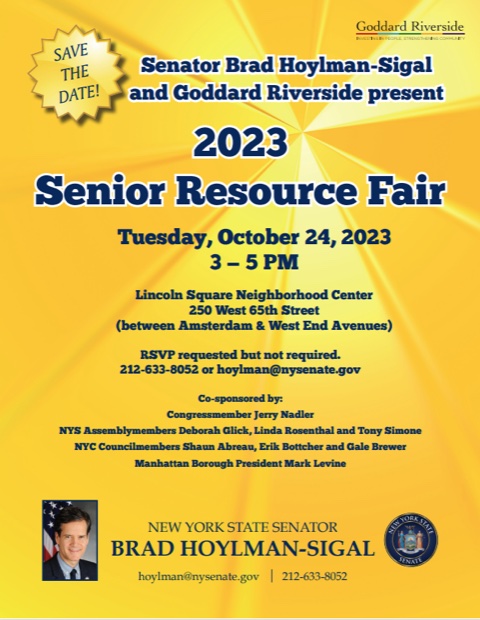 ONGOING
Carri Skoczek: Portraits at Hudson Guild's Guild Gallery II (119 9th Ave. ): On View Through November 21 | This exhibit features a selection of women's portraits from several series by Skoczek: Fallen Women (based on Bellocq's photographs of Storyville prostitutes); Soiled Doves (based on photographs of prostitutes from the early wild west, female circus performers, and Alice in Wonderland). "The inherent sensuousness of drawing the portraits with her fingers, using pearl powders on top of wet relief printmaking ink," the curators note, "enhances the lusciousness of the drawings and subject matter." Viewing Hours: Tues. through Fri., 10am-5pm and Sat., Nov. 11 & 18, 2pm-5pm. Free admission. For info, call 212-760-9837 or click here to view exhibit info on the Hudson Guild website.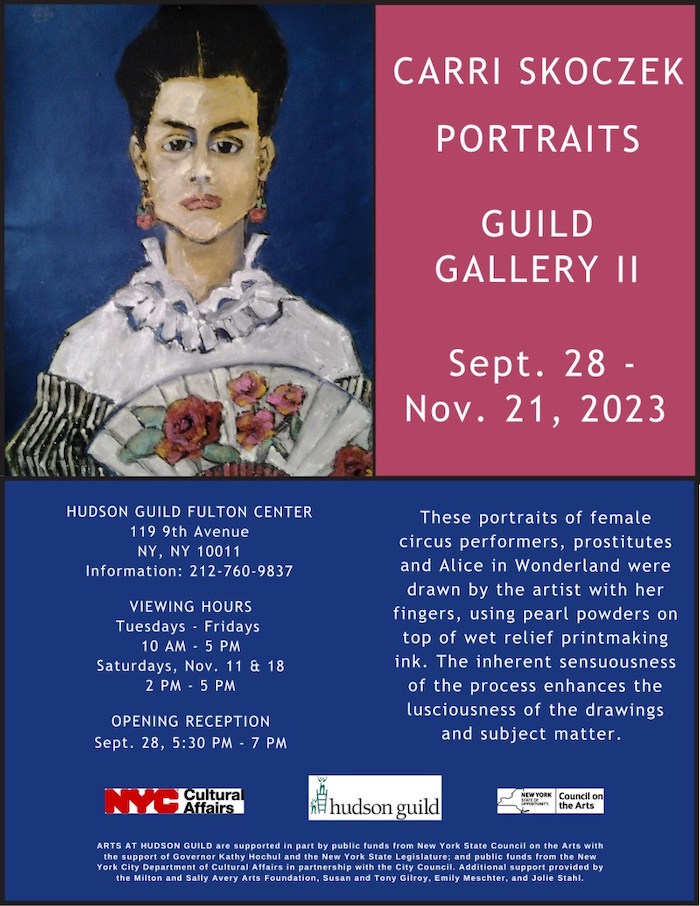 —Listings Compiled by Scott Stiffler
—END—
Chelsea Community News is an independent, hyperlocal news, arts, events, info, and opinion website made possible with the help of our awesome advertisers and the support of our readers. Our Promise: Never a paywall, no pop-up ads, all content is FREE. With that in mind, if circumstances allow, please consider taking part in our GoFundMe campaign (click here). To make a direct donation, give feedback, send a Letter to the Editor, or contact our founder/editor, send an email to Scott Stiffler, via scott@chelseacommunitynews.com.
To join our subscriber list, click here. It's a free service provding regular (weekly, at least) Enewsletters containing links to recently published content. Subscribers also will be sent email with "Sponsored Content" in the subject line. That means it's an exclusive message from one of our advertisers, whose support, like yours, allows us to offer all content free of charge.